Abstract
Thirty years ago it was shown that the non-enzymatic, template-directed polymerization of activated mononucleotides proceeds readily in a homochiral system, but is severely inhibited by the presence of the opposing enantiomer1. This finding poses a severe challenge for the spontaneous emergence of RNA-based life, and has led to the suggestion that either RNA was preceded by some other genetic polymer that is not subject to chiral inhibition2 or chiral symmetry was broken through chemical processes before the origin of RNA-based life3,4. Once an RNA enzyme arose that could catalyse the polymerization of RNA, it would have been possible to distinguish among the two enantiomers, enabling RNA replication and RNA-based evolution to occur. It is commonly thought that the earliest RNA polymerase and its substrates would have been of the same handedness, but this is not necessarily the case. Replicating d- and l-RNA molecules may have emerged together, based on the ability of structured RNAs of one handedness to catalyse the templated polymerization of activated mononucleotides of the opposite handedness. Here we develop such a cross-chiral RNA polymerase, using in vitro evolution starting from a population of random-sequence RNAs. The d-RNA enzyme, consisting of 83 nucleotides, catalyses the joining of l-mono- or oligonucleotide substrates on a complementary l-RNA template, and similar behaviour occurs for the l-enzyme with d-substrates and a d-template. Chiral inhibition is avoided because the 106-fold rate acceleration of the enzyme only pertains to cross-chiral substrates. The enzyme's activity is sufficient to generate full-length copies of its enantiomer through the templated joining of 11 component oligonucleotides.
Your institute does not have access to this article
Relevant articles
Open Access articles citing this article.
Ji Chen

,

Mengyin Chen

&

Ting F. Zhu

Nature Biotechnology Open Access 06 June 2022

Aaron Döring

,

Elena Ushakova

&

Andrey L. Rogach

Light: Science & Applications Open Access 27 March 2022

Konstantin K Konstantinov

&

Alisa F Konstantinova

Origins of Life and Evolution of Biospheres Open Access 18 September 2020
Access options
Subscribe to Journal
Get full journal access for 1 year
$199.00
only $3.90 per issue
All prices are NET prices.
VAT will be added later in the checkout.
Tax calculation will be finalised during checkout.
Buy article
Get time limited or full article access on ReadCube.
$32.00
All prices are NET prices.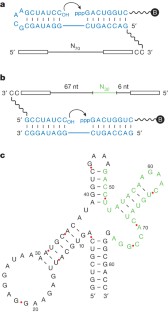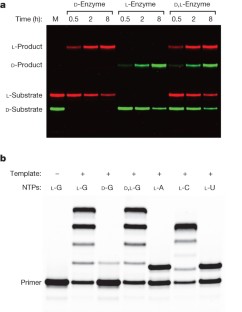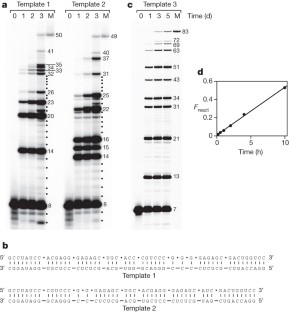 References
Joyce, G. F. et al. Chiral selection in poly(C)-directed synthesis of oligo(G). Nature 310, 602–604 (1984)

Joyce, G. F., Schwartz, A. W., Miller, S. L. & Orgel, L. E. The case for an ancestral genetic system involving simple analogues of the nucleotides. Proc. Natl Acad. Sci. USA 84, 4398–4402 (1987)

Klussmann, M. et al. Thermodynamic control of asymmetric amplification in amino acid catalysis. Nature 441, 621–623 (2006)

Hein, J. E., Tse, E. & Blackmond, D. G. A route to enantiopure RNA precursors from nearly racemic starting materials. Nat. Chem. 3, 704–706 (2011)

Ashley, G. W. Modeling, synthesis, and hybridization properties of l-ribonucleic acid. J. Am. Chem. Soc. 114, 9731–9736 (1992)

Garbesi, A. et al. l-DNAs as potent antimessenger oligonucleotides: a reassessment. Nucleic Acids Res. 21, 4159–4165 (1993)

Sczepanski, J. T. & Joyce, G. F. Binding of a structured d-RNA molecule by an l-RNA aptamer. J. Am. Chem. Soc. 135, 13290–13293 (2013)

Johnston, W. K., Unrau, P. J., Lawrence, M. S., Glasner, M. E. & Bartel, D. P. RNA-catalyzed RNA polymerization: accurate and general RNA-templated primer extension. Science 292, 1319–1325 (2001)

Wochner, A., Attwater, J., Coulson, A. & Holliger, P. Ribozyme-catalyzed transcription of an active ribozyme. Science 332, 209–212 (2011)

Zaher, H. S. & Unrau, P. J. Selection of an improved RNA polymerase ribozyme with superior extension and fidelity. RNA 13, 1017–1026 (2007)

Rohatgi, R., Bartel, D. P. & Szostak, J. W. Kinetic and mechanistic analysis of nonenzymatic, template-directed oligoribonucleotide ligation. J. Am. Chem. Soc. 118, 3332–3339 (1996)

Ekland, E. H. & Bartel, D. P. RNA-catalysed RNA polymerization using nucleoside triphosphates. Nature 382, 373–376 (1996)

McGinness, K. E. & Joyce, G. F. RNA-catalyzed RNA ligation on an external RNA template. Chem. Biol. 9, 297–307 (2002)

Böhler, C., Nielsen, P. E. & Orgel, L. E. Template switching between PNA and RNA oligonucleotides. Nature 376, 578–581 (1995)

Inoue, T. & Orgel, L. E. A nonenzymatic RNA polymerase model. Science 219, 859–862 (1983)

Adamala, K. & Szostak, J. W. Nonenzymatic template-directed RNA synthesis inside model protocells. Science 342, 1098–1100 (2013)

Paul, N., Springsteen, G. & Joyce, G. F. Conversion of a ribozyme to a deoxyribozyme through in vitro evolution. Chem. Biol. 13, 329–338 (2006)

Pluthero, F. G. Rapid purification of high-activity Taq DNA polymerase. Nucleic Acids Res. 21, 4850–4851 (1993)

Wang, L. K., Ho, C. K., Pei, Y. & Shuman, S. Mutational analysis of bacteriophage T4 RNA ligase 1: different functional groups are required for the nucleotidyl transfer and phosphodiester bond formation steps of the ligation reaction. J. Biol. Chem. 278, 29454–29462 (2003)

Caton-Williams, J., Hoxhaj, R., Fiaz, B. & Huang, Z. Use of a novel 5′-regioselective phosphitylating reagent for one-pot synthesis of nucleoside 5′-triphosphates from unprotected nucleosides. Curr. Protoc. Nucleic Acid Chem. 52, Chapter 1, Unit 1.30. (2013)

Cadwell, R. C. & Joyce, G. F. Randomization of genes by PCR mutagenesis. PCR Methods Appl. 2, 28–33 (1992)
Acknowledgements
This work was supported by grant NNX10AQ91G from NASA and by grant 287624 from the Simons Foundation. J.T.S. was supported by Ruth L. Kirschstein National Research Service Award No. F32 GM101741 from the National Institutes of Health.
Ethics declarations
Competing interests
The authors declare no competing financial interests.
Extended data figures and tables
Supplementary information
This file contains sequences of oligonucleotides used in the study. (PDF 83 kb)
About this article
Cite this article
Sczepanski, J., Joyce, G. A cross-chiral RNA polymerase ribozyme. Nature 515, 440–442 (2014). https://doi.org/10.1038/nature13900
Received:

Accepted:

Published:

Issue Date:

DOI: https://doi.org/10.1038/nature13900
Comments
By submitting a comment you agree to abide by our Terms and Community Guidelines. If you find something abusive or that does not comply with our terms or guidelines please flag it as inappropriate.