Abstract
Plant stem cells in the shoot apical meristem (SAM) and root apical meristem are necessary for postembryonic development of aboveground tissues and roots, respectively, while secondary vascular stem cells sustain vascular development1,2,3,4. WUSCHEL (WUS), a homeodomain transcription factor expressed in the rib meristem of the Arabidopsis SAM, is a key regulatory factor controlling SAM stem cell populations5,6, and is thought to establish the shoot stem cell niche through a feedback circuit involving the CLAVATA3 (CLV3) peptide signalling pathway7. WUSCHEL-RELATED HOMEOBOX 5 (WOX5), which is specifically expressed in the root quiescent centre, defines quiescent centre identity and functions interchangeably with WUS in the control of shoot and root stem cell niches8. WOX4, expressed in Arabidopsis procambial cells, defines the vascular stem cell niche9,10,11. WUS/WOX family proteins are evolutionarily and functionally conserved throughout the plant kingdom12 and emerge as key actors in the specification and maintenance of stem cells within all meristems13. However, the nature of the genetic regime in stem cell niches that centre on WOX gene function has been elusive, and molecular links underlying conserved WUS/WOX function in stem cell niches remain unknown. Here we demonstrate that the Arabidopsis HAIRY MERISTEM (HAM) family of transcription regulators act as conserved interacting cofactors with WUS/WOX proteins. HAM and WUS share common targets in vivo and their physical interaction is important in driving downstream transcriptional programs and in promoting shoot stem cell proliferation. Differences in the overlapping expression patterns of WOX and HAM family members underlie the formation of diverse stem cell niche locations, and the HAM family is essential for all of these stem cell niches. These findings establish a new framework for the control of stem cell production during plant development.
This is a preview of subscription content
Access options
Subscribe to Journal
Get full journal access for 1 year
$199.00
only $3.90 per issue
All prices are NET prices.
VAT will be added later in the checkout.
Tax calculation will be finalised during checkout.
Rent or Buy article
Get time limited or full article access on ReadCube.
from$8.99
All prices are NET prices.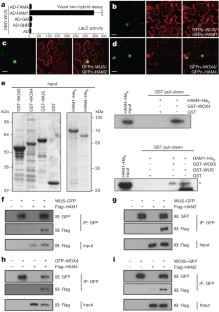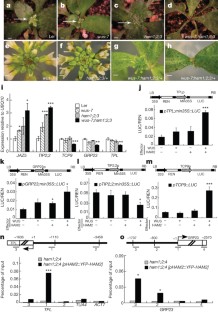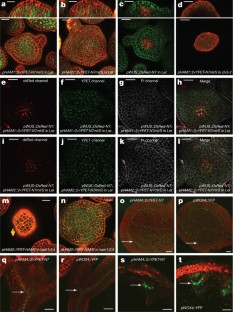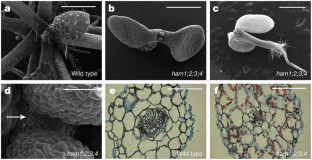 References
1

Meyerowitz, E. M. Genetic control of cell division patterns in developing plants. Cell 88, 299–308 (1997)

2

Sablowski, R. The dynamic plant stem cell niches. Curr. Opin. Plant Biol. 10, 639–644 (2007)

3

Miyashima, S., Sebastian, J., Lee, J. Y. & Helariutta, Y. Stem cell function during plant vascular development. EMBO J. 32, 178–193 (2012)

4

Dinneny, J. R. & Benfey, P. N. Plant stem cell niches: standing the test of time. Cell 132, 553–557 (2008)

5

Laux, T., Mayer, K. F., Berger, J. & Jurgens, G. The WUSCHEL gene is required for shoot and floral meristem integrity in Arabidopsis. Development 122, 87–96 (1996)

6

Mayer, K. F. et al. Role of WUSCHEL in regulating stem cell fate in the Arabidopsis shoot meristem. Cell 95, 805–815 (1998)

7

Schoof, H. et al. The stem cell population of Arabidopsis shoot meristems in maintained by a regulatory loop between the CLAVATA and WUSCHEL genes. Cell 100, 635–644 (2000)

8

Sarkar, A. K. et al. Conserved factors regulate signalling in Arabidopsis thaliana shoot and root stem cell organizers. Nature 446, 811–814 (2007)

9

Hirakawa, Y., Kondo, Y. & Fukuda, H. TDIF peptide signaling regulates vascular stem cell proliferation via the WOX4 homeobox gene in Arabidopsis. Plant Cell 22, 2618–2629 (2010)

10

Ji, J. et al. WOX4 promotes procambial development. Plant Physiol. 152, 1346–1356 (2010)

11

Suer, S., Agusti, J., Sanchez, P., Schwarz, M. & Greb, T. WOX4 imparts auxin responsiveness to cambium cells in Arabidopsis. Plant Cell 23, 3247–3259 (2011)

12

Nardmann, J., Reisewitz, P. & Werr, W. Discrete shoot and root stem cell-promoting WUS/WOX5 functions are an evolutionary innovation of angiosperms. Mol. Biol. Evol. 26, 1745–1755 (2009)

13

van der Graaff, E., Laux, T. & Rensing, S. A. The WUS homeobox-containing (WOX) protein family. Genome Biol. 10, 248 (2009)

14

Pruneda-Paz, J. L. et al. A genome-scale resource for the functional characterization of Arabidopsis transcription factors. Cell Rep. 8, 622–632 (2014)

15

Stuurman, J., Jaggi, F. & Kuhlemeier, C. Shoot meristem maintenance is controlled by a GRAS-gene mediated signal from differentiating cells. Genes Dev. 16, 2213–2218 (2002)

16

Engstrom, E. M. et al. Arabidopsis homologs of the petunia hairy meristem gene are required for maintenance of shoot and root indeterminacy. Plant Physiol. 155, 735–750 (2011)

17

Schulze, S., Schafer, B. N., Parizotto, E. A., Voinnet, O. & Theres, K. LOST MERISTEMS genes regulate cell differentiation of central zone descendants in Arabidopsis shoot meristems. Plant J. 64, 668–678 (2010)

18

Graf, P. et al. MGOUN1 encodes an Arabidopsis type IB DNA topoisomerase required in stem cell regulation and to maintain developmentally regulated gene silencing. Plant Cell 22, 716–728 (2010)

19

Llave, C., Xie, Z., Kasschau, K. D. & Carrington, J. C. Cleavage of Scarecrow-like mRNA targets directed by a class of Arabidopsis miRNA. Science 297, 2053–2056 (2002)

20

Busch, W. et al. Transcriptional control of a plant stem cell niche. Dev. Cell 18, 841–853 (2010)

21

Yadav, R. K. et al. WUSCHEL protein movement mediates stem cell homeostasis in the Arabidopsis shoot apex. Genes Dev. 25, 2025–2030 (2011)

22

Nawy, T. et al. Transcriptional profile of the Arabidopsis root quiescent center. Plant Cell 17, 1908–1925 (2005)

23

Brady, S. M. et al. A high-resolution root spatiotemporal map reveals dominant expression patterns. Science 318, 801–806 (2007)

24

Fletcher, J. C., Brand, U., Running, M. P., Simon, R. & Meyerowitz, E. M. Signaling of cell fate decisions by CLAVATA3 in Arabidopsis shoot meristems. Science 283, 1911–1914 (1999)

25

Gordon, S. P., Chickarmane, V. S., Ohno, C. & Meyerowitz, E. M. Multiple feedback loops through cytokinin signaling control stem cell number within the Arabidopsis shoot meristem. Proc. Natl Acad. Sci. USA 106, 16529–16534 (2009)

26

Walter, M. et al. Visualization of protein interactions in living plant cells using bimolecular fluorescence complementation. Plant J. 40, 428–438 (2004)

27

Voinnet, O., Rivas, S., Mestre, P. & Baulcombe, D. An enhanced transient expression system in plants based on suppression of gene silencing by the p19 protein of tomato bushy stunt virus. Plant J. 33, 949–956 (2003)

28

Ohashi-Ito, K. & Bergmann, D. C. Arabidopsis FAMA controls the final proliferation/differentiation switch during stomatal development. Plant Cell 18, 2493–2505 (2006)

29

Curtis, M. D. & Grossniklaus, U. A gateway cloning vector set for high-throughput functional analysis of genes in planta. Plant Physiol. 133, 462–469 (2003)

30

Pierce, N. W. et al. Cand1 promotes assembly of new SCF complexes through dynamic exchange of F box proteins. Cell 153, 206–215 (2013)

31

Harper, S. & Speicher, D. W. Expression and purification of GST fusion proteins. Curr. Protoc. Protein Sci. Chapter 6, Unit 6.6. (2008)

32

Huang, X. et al. Arabidopsis FHY3 and HY5 positively mediate induction of COP1 transcription in response to photomorphogenic UV-B light. Plant Cell 24, 4590–4606 (2012)

33

Carlsbecker, A. et al. Cell signalling by microRNA165/6 directs gene dose-dependent root cell fate. Nature 465, 316–321 (2010)

34

Wang, L., Mai, Y. X., Zhang, Y. C., Luo, Q. & Yang, H. Q. MicroRNA171c-targeted SCL6-II, SCL6-III, and SCL6-IV genes regulate shoot branching in Arabidopsis. Mol. Plant 3, 794–806 (2010)

35

Barrell, P. J. & Conner, A. J. Minimal T-DNA vectors suitable for agricultural deployment of transgenic plants. Biotechniques 41, 708–710 (2006)

36

Heisler, M. G. et al. Patterns of auxin transport and gene expression during primordium development revealed by live imaging of the Arabidopsis inflorescence meristem. Curr. Biol. 15, 1899–1911 (2005)

37

Reddy, G. V. & Meyerowitz, E. M. Stem-cell homeostasis and growth dynamics can be uncoupled in the Arabidopsis shoot apex. Science 310, 663–667 (2005)

38

Sugimoto, K., Jiao, Y. & Meyerowitz, E. M. Arabidopsis regeneration from multiple tissues occurs via a root development pathway. Dev. Cell 18, 463–471 (2010)

39

Roeder, A. H., Ferrandiz, C. & Yanofsky, M. F. The role of the REPLUMLESS homeodomain protein in patterning the Arabidopsis fruit. Curr. Biol. 13, 1630–1635 (2003)

40

Bowler, C. et al. Chromatin techniques for plant cells. Plant J. 39, 776–789 (2004)

41

Truernit, E. et al. High-resolution whole-mount imaging of three-dimensional tissue organization and gene expression enables the study of phloem development and structure in Arabidopsis. Plant Cell 20, 1494–1503 (2008)
Acknowledgements
The authors are grateful to R. Deshaies for his support with the protein purification and pull-down experiments, to D. Rees for sharing the 96-well format luminometer, to T. Laux, T. Greb and X. Deng for sharing published reagents, to K. Sugimoto and A. Roeder for help with the histology experiments and critical reading of the manuscript, to A. Sampathkumar for the suggestion of confocal imaging, and to A. Garda and L. Wang for technical support. Scanning electron microscopy was performed at the Applied Research Center of the College of William and Mary with technical assistance from B. Robertson. This work was funded by National Institutes of Health (NIH) grant R01 GM104244 and by the Howard Hughes Medical Institute and the Gordon and Betty Moore Foundation (through grant GBMF3406) to E.M.M., by a Caltech Gosney Postdoctoral Fellowship to Y.Z., by NIH grants GM094212, GM056006 and GM067837 to S.A.K., and was aided by a grant from The Jane Coffin Childs (JCC) Memorial Fund for Medical Research to X.L., a JCC fellow.
Ethics declarations
Competing interests
The authors declare no competing financial interests.
Extended data figures and tables
Supplementary information
Complete stacks of confocal imaging sections of HAM1 transcriptional reporter (green) in L-er inflorescence meristem with cellular outlines (red) stained with propidium iodide (PI), from bottom to the top, showing that HAM1 is expressed in rib meristem and peripheral zones but not in the L1 or L2 in the central zone. (MOV 17043 kb)
About this article
Cite this article
Zhou, Y., Liu, X., Engstrom, E. et al. Control of plant stem cell function by conserved interacting transcriptional regulators. Nature 517, 377–380 (2015). https://doi.org/10.1038/nature13853
Received:

Accepted:

Published:

Issue Date:
Comments
By submitting a comment you agree to abide by our Terms and Community Guidelines. If you find something abusive or that does not comply with our terms or guidelines please flag it as inappropriate.