Abstract
The mammary gland is composed of multiple types of epithelial cells, which are generated by mammary stem cells (MaSCs) residing at the top of the hierarchy1,2. However, the existence of these multipotent MaSCs remains controversial and the nature of such cells is unknown3,4. Here we demonstrate that protein C receptor (Procr), a novel Wnt target in the mammary gland, marks a unique population of multipotent mouse MaSCs. Procr-positive cells localize to the basal layer, exhibit epithelial-to-mesenchymal transition characteristics, and express low levels of basal keratins. Procr-expressing cells have a high regenerative capacity in transplantation assays and differentiate into all lineages of the mammary epithelium by lineage tracing. These results define a novel multipotent mammary stem cell population that could be important in the initiation of breast cancer.
Your institute does not have access to this article
Relevant articles
Open Access articles citing this article.
Hyesung Kim

,

Dong Hui Lee

…

Bogun Jang

Scientific Reports Open Access 01 July 2022

Guadalupe Gutierrez

,

Peng Sun

…

Xing Dai

Scientific Reports Open Access 22 March 2022

Elena Spina

,

Julia Simundza

…

Pamela Cowin

Nature Communications Open Access 17 March 2022
Access options
Subscribe to Journal
Get full journal access for 1 year
$199.00
only $3.90 per issue
All prices are NET prices.
VAT will be added later in the checkout.
Tax calculation will be finalised during checkout.
Buy article
Get time limited or full article access on ReadCube.
$32.00
All prices are NET prices.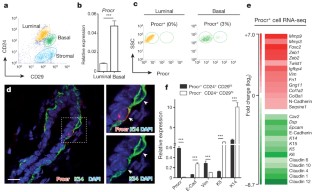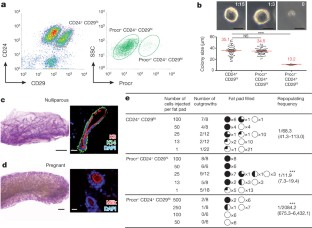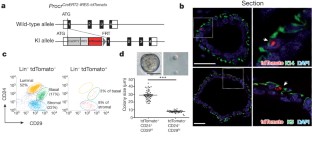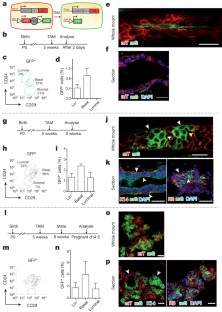 References
Shackleton, M. et al. Generation of a functional mammary gland from a single stem cell. Nature 439, 84–88 (2006)

Stingl, J. et al. Purification and unique properties of mammary epithelial stem cells. Nature 439, 993–997 (2006)

Van Keymeulen, A. et al. Distinct stem cells contribute to mammary gland development and maintenance. Nature 479, 189–193 (2011)

Rios, A. C., Fu, N. Y., Lindeman, G. J. & Visvader, J. E. In situ identification of bipotent stem cells in the mammary gland. Nature 506, 322–327 (2014)

van Amerongen, R., Bowman, A. N. & Nusse, R. Developmental stage and time dictate the fate of Wnt/β-catenin-responsive stem cells in the mammary gland. Cell Stem Cell 11, 387–400 (2012)

de Visser, K. E. et al. Developmental stage-specific contribution of LGR5+ cells to basal and luminal epithelial lineages in the postnatal mammary gland. J. Pathol. 228, 300–309 (2012)

Zeng, Y. A. & Nusse, R. Wnt proteins are self-renewal factors for mammary stem cells and promote their long-term expansion in culture. Cell Stem Cell 6, 568–577 (2010)

Badders, N. M. et al. The Wnt receptor, Lrp5, is expressed by mouse mammary stem cells and is required to maintain the basal lineage. PLoS ONE 4, e6594 (2009)

Fukudome, K. & Esmon, C. T. Identification, cloning, and regulation of a novel endothelial cell protein C/activated protein C receptor. J. Biol. Chem. 269, 26486–26491 (1994)

Cheng, T. et al. Activated protein C blocks p53-mediated apoptosis in ischemic human brain endothelium and is neuroprotective. Nature Med. 9, 338–342 (2003)

Balazs, A. B., Fabian, A. J., Esmon, C. T. & Mulligan, R. C. Endothelial protein C receptor (CD201) explicitly identifies hematopoietic stem cells in murine bone marrow. Blood 107, 2317–2321 (2006)

Vetrano, S. et al. Unexpected role of anticoagulant protein C in controlling epithelial barrier integrity and intestinal inflammation. Proc. Natl Acad. Sci. USA 108, 19830–19835 (2011)

Ivanova, N. B. et al. A stem cell molecular signature. Science 298, 601–604 (2002)

Bae, J. S., Yang, L., Manithody, C. & Rezaie, A. R. The ligand occupancy of endothelial protein C receptor switches the protease-activated receptor 1-dependent signaling specificity of thrombin from a permeability-enhancing to a barrier-protective response in endothelial cells. Blood 110, 3909–3916 (2007)

Plaks, V. et al. Lgr5-expressing cells are sufficient and necessary for postnatal mammary gland organogenesis. Cell Rep. 3, 70–78 (2013)

Gu, J. M. et al. Disruption of the endothelial cell protein C receptor gene in mice causes placental thrombosis and early embryonic lethality. J. Biol. Chem. 277, 43335–43343 (2002)

Muzumdar, M. D., Tasic, B., Miyamichi, K., Li, L. & Luo, L. A global double-fluorescent Cre reporter mouse. Genesis 45, 593–605 (2007)

Mani, S. A. et al. The epithelial-mesenchymal transition generates cells with properties of stem cells. Cell 133, 704–715 (2008)

Shipitsin, M. et al. Molecular definition of breast tumor heterogeneity. Cancer Cell 11, 259–273 (2007)

Schaffner, F. et al. Endothelial protein C receptor function in murine and human breast cancer development. PLoS ONE 8, e61071 (2013)

Hwang-Verslues, W. W. et al. Multiple lineages of human breast cancer stem/progenitor cells identified by profiling with stem cell markers. PLoS ONE 4, e8377 (2009)

Beaulieu, L. M. & Church, F. C. Activated protein C promotes breast cancer cell migration through interactions with EPCR and PAR-1. Exp. Cell Res. 313, 677–687 (2007)

Spek, C. A. & Arruda, V. R. The protein C pathway in cancer metastasis. Thromb. Res. 129 (suppl. 1). S80–S84 (2012)

Lustig, B. et al. Negative feedback loop of Wnt signaling through upregulation of conductin/axin2 in colorectal and liver tumors. Mol. Cell. Biol. 22, 1184–1193 (2002)

Barker, N. et al. Identification of stem cells in small intestine and colon by marker gene Lgr5 . Nature 449, 1003–1007 (2007)

Willert, K. et al. Wnt proteins are lipid-modified and can act as stem cell growth factors. Nature 423, 448–452 (2003)

Shehata, M. et al. Phenotypic and functional characterization of the luminal cell hierarchy of the mammary gland. Breast Cancer Res. 14, R134 (2012)
Acknowledgements
The screening was initiated in the laboratory of R. Nusse and we are grateful for his support and generosity. We thank Y. Zhang and Biocytogen for assistance in knock-in mouse generation, and Q. Yin and H. Fang for technical support in RNA-seq analysis. We are grateful to C.-C. Hui and E. Verheyen for critical reading of the manuscript. We thank D. Li for helpful discussion. This work is supported by grants from the Ministry of Science and Technology of China (2014CB964800, 2012CB945000 to Y.A.Z., 2014CB910600 to L.Y.), National Natural Science Foundation of China (31171421, 31371500 to Y.A.Z., 31201098 to C.C.), the Chinese Academy of Sciences (XDA01010307, 2010OHTP03 to Y.A.Z., 2012OHTP08 to L.Y.), Shanghai Municipal Science and Technology Commission (12PJ1410100 to Y.A.Z.).
Ethics declarations
Competing interests
The authors declare no competing financial interests.
Extended data figures and tables
About this article
Cite this article
Wang, D., Cai, C., Dong, X. et al. Identification of multipotent mammary stem cells by protein C receptor expression. Nature 517, 81–84 (2015). https://doi.org/10.1038/nature13851
Received:

Accepted:

Published:

Issue Date:

DOI: https://doi.org/10.1038/nature13851
Comments
By submitting a comment you agree to abide by our Terms and Community Guidelines. If you find something abusive or that does not comply with our terms or guidelines please flag it as inappropriate.