Abstract
The semi-conservative centrosome duplication in cycling cells gives rise to a centrosome composed of a mother and a newly formed daughter centriole1. Both centrioles are regarded as equivalent in their ability to form new centrioles and their symmetric duplication is crucial for cell division homeostasis2,3,4. Multiciliated cells do not use the archetypal duplication program and instead form more than a hundred centrioles that are required for the growth of motile cilia and the efficient propelling of physiological fluids5. The majority of these new centrioles are thought to appear de novo, that is, independently from the centrosome, around electron-dense structures called deuterosomes6,7,8. Their origin remains unknown. Using live imaging combined with correlative super-resolution light and electron microscopy, we show that all new centrioles derive from the pre-existing progenitor cell centrosome through multiple rounds of procentriole seeding. Moreover, we establish that only the daughter centrosomal centriole contributes to deuterosome formation, and thus to over ninety per cent of the final centriole population. This unexpected centriolar asymmetry grants new perspectives when studying cilia-related diseases5,9 and pathological centriole amplification observed in cycling cells and associated with microcephaly and cancer2,3,4,10.
Relevant articles
Open Access articles citing this article.
Norman L. Lehman

,

Nathalie Spassky

…

Akshitkumar M. Mistry

Nature Communications Open Access 19 April 2022

Vicente Herranz-Pérez

,

Jin Nakatani

…

Shinya Ohata

Scientific Reports Open Access 27 January 2022

Olivier Mercey

,

Adel Al Jord

…

Alice Meunier

Scientific Reports Open Access 10 September 2019
Access options
Subscribe to Journal
Get full journal access for 1 year
$199.00
only $3.90 per issue
All prices are NET prices.
VAT will be added later in the checkout.
Tax calculation will be finalised during checkout.
Buy article
Get time limited or full article access on ReadCube.
$32.00
All prices are NET prices.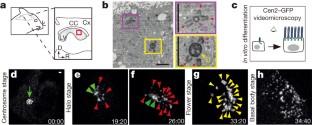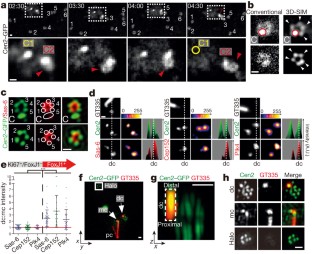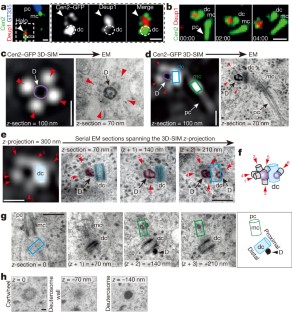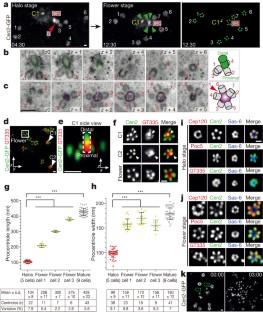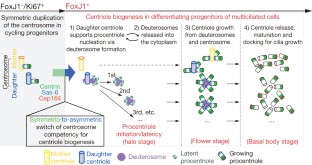 References
Vorobjev, I. A. & Chentsov Centrioles in the cell cycle. I. Epithelial cells. J. Cell Biol. 93, 938–949 (1982)

Lingle, W. L. et al. Centrosome amplification drives chromosomal instability in breast tumor development. Proc. Natl Acad. Sci. USA 99, 1978–1983 (2002)

Ganem, N. J., Godinho, S. A. & Pellman, D. A mechanism linking extra centrosomes to chromosomal instability. Nature 460, 278–282 (2009)

Marthiens, V. et al. Centrosome amplification causes microcephaly. Nature Cell Biol. 15, 731–740 (2013)

Sharma, N., Berbari, N. F. & Yoder, B. K. Ciliary dysfunction in developmental abnormalities and diseases. Curr. Top. Dev. Biol. 85, 371–427 (2008)

Sorokin, S. P. Reconstructions of centriole formation and ciliogenesis in mammalian lungs. J. Cell Sci. 3, 207–230 (1968)

Zhao, H. et al. The Cep63 paralogue Deup1 enables massive de novo centriole biogenesis for vertebrate multiciliogenesis. Nature Cell Biol. 15, 1434–1444 (2013)

Klos Dehring, D. A. et al. Deuterosome-mediated centriole biogenesis. Dev. Cell 27, 103–112 (2013)

Wallmeier, J. et al. Mutations in CCNO result in congenital mucociliary clearance disorder with reduced generation of multiple motile cilia. Nature Genet. 46, 646–651 (2014)

Godinho, S. A. et al. Oncogene-like induction of cellular invasion from centrosome amplification. Nature 510, 167–171 (2014)

Anderson, R. G. & Brenner, R. M. The formation of basal bodies (centrioles) in the rhesus monkey oviduct. J. Cell Biol. 50, 10–34 (1971)

Dirksen, E. R. Centriole morphogenesis in developing ciliated epithelium of the mouse oviduct. J. Cell Biol. 51, 286–302 (1971)

Loots, G. P. & Nel, P. P. Early stages of ciliogenesis in the respiratory epithelium of the nasal cavity of rabbit embryos. Cell Tissue Res. 255, 589–594 (1989)

Higginbotham, H., Bielas, S., Tanaka, T. & Gleeson, J. G. Transgenic mouse line with green-fluorescent protein-labeled Centrin 2 allows visualization of the centrosome in living cells. Transgenic Res. 13, 155–164 (2004)

Piel, M., Meyer, P., Khodjakov, A., Rieder, C. L. & Bornens, M. The respective contributions of the mother and daughter centrioles to centrosome activity and behavior in vertebrate cells 7. J. Cell Biol. 149, 317–330 (2000)

Wang, X. et al. Asymmetric centrosome inheritance maintains neural progenitors in neocortex. Nature 461, 947–955 (2009)

Anderson, C. T. & Stearns, T. Centriole age underlies asynchronous primary cilium growth in mammalian cells. Curr. Biol. 19, 1498–1502 (2009)

Kitagawa, D. et al. Structural basis of the 9-fold symmetry of centrioles. Cell 144, 364–375 (2011)

Dzhindzhev, N. S. et al. Asterless is a scaffold for the onset of centriole assembly. Nature 467, 714–718 (2010)

Habedanck, R., Stierhof, Y.-D., Wilkinson, C. J. & Nigg, E. A. The Polo kinase Plk4 functions in centriole duplication. Nature Cell Biol. 7, 1140–1146 (2005)

Singla, V. & Reiter, J. F. The primary cilium as the cell's antenna: signaling at a sensory organelle. Science 313, 629–633 (2006)

Robbins, E., Jentzsch, G. & Micali, A. The centriole cycle in synchronized HeLa cells. J. Cell Biol. 36, 329–339 (1968)

Azimzadeh, J. et al. hPOC5 is a centrin-binding protein required for assembly of full-length centrioles. J. Cell Biol. 185, 101–114 (2009)

Wolff, A. et al. Distribution of glutamylated alpha and beta-tubulin in mouse tissues using a specific monoclonal antibody, GT335. Eur. J. Cell Biol. 59, 425–432 (1992)

Roux, K. J., Kim, D. I., Raida, M. & Burke, B. A promiscuous biotin ligase fusion protein identifies proximal and interacting proteins in mammalian cells. J. Cell Biol. 196, 801–810 (2012)

Hoh, R. A., Stowe, T. R., Turk, E. & Stearns, T. Transcriptional program of ciliated epithelial cells reveals new cilium and centrosome components and links to human disease. PLoS ONE 7, e52166 (2012)

Stubbs, J. L., Vladar, E. K., Axelrod, J. D. & Kintner, C. Multicilin promotes centriole assembly and ciliogenesis during multiciliate cell differentiation. Nature Cell Biol. 14, 140–147 (2012)

Tan, F. E. et al. Myb promotes centriole amplification and later steps of the multiciliogenesis program. Development 140, 4277–4286 (2013)

Marcet, B. et al. Control of vertebrate multiciliogenesis by miR-449 through direct repression of the Delta/Notch pathway. Nature Cell Biol. 13, 693–799 (2011)

Ma, L., Quigley, I., Omran, H. & Kintner, C. Multicilin drives centriole biogenesis via E2f proteins. Genes Dev. 28, 1461–1471 (2014)

Marszalek, J. R., Ruiz-Lozano, P., Roberts, E., Chien, K. R. & Goldstein, L. S. Situs inversus and embryonic ciliary morphogenesis defects in mouse mutants lacking the KIF3A subunit of kinesin-II. Proc. Natl Acad. Sci. USA 96, 5043–5048 (1999)

Mirzadeh, Z., Doetsch, F., Sawamoto, K., Wichterle, H. & Alvarez-Buylla, A. The subventricular zone en-face: wholemount staining and ependymal flow. J. Vis. Exp. 39, 1938 (2010)

Lin, Y. N. et al. CEP120 interacts with CPAP and positively regulates centriole elongation. J. Cell Biol. 202, 211–219 (2013)

Graser, S. et al. Cep164, a novel centriole appendage protein required for primary cilium formation. J. Cell Biol. 179, 321–330 (2007)

Hung, L. Y., Tang, C. J. & Tang, T. K. Protein 4.1 R-135 interacts with a novel centrosomal protein (CPAP) which is associated with the γ-tubulin complex. Mol. Cell. Biol. 20, 7813–7825 (2000)

Bosch Grau, M. et al. Tubulin glycylases and glutamylases have distinct functions in stabilization and motility of ependymal cilia. J. Cell Biol. 202, 441–451 (2013)

Delgehyr, N., Sillibourne, J. & Bornens, M. Microtubule nucleation and anchoring at the centrosome are independent processes linked by ninein function. J. Cell Sci. 118, 1565–1575 (2005)

Kleylein-Sohn, J. et al. Plk4-induced centriole biogenesis in human cells. Dev. Cell 13, 190–202 (2007)
Acknowledgements
We thank P. Rostaing of the IBENS Electron microscopy facility for making the correlative 3D-SIM and electron microscopy experiments possible. We also thank the Imaging Facility of IBENS, which is supported by grants from Fédération pour la Recherche sur le Cerveau, Région Ile de France DIM NeRF 2009 and 2011 and France-BioImaging. We wish to thank L. Sengmanivong from the Nikon Imaging Centre at Institut Curie-CNRS. We are grateful to L. Goldstein for providing us with the Kif3a mutant mice. We thank C. Janke for the GT335 antibody, E. A. Nigg for the Cep164 and Plk4 antibodies, T. K. Tang for Cep120 and Cpap antibodies, X. Yan and X. Zhu for Deup1 and Cep152 antibodies, J. Azimzadeh for the Poc5 antibody and X. Morin for his gift of the pCAAGS-Cen2–GFP-mCherry plasmid. We also thank M. Bornens, B. Guirao, J. B. Boulé, C. Janke and J.-F. Brunet for their comments on the manuscript and all the members of the Spassky laboratory for discussions. This study was supported by the CNRS, the ENS, INSERM, an FPGG grant, ANR award ANR-12-BSV4-0006 CILIASTEM, ARC award PJA-20131200184, La ligue contre le cancer-comité de Paris RS14/75-88, the 'Investissements d'Avenir' program of the French Government and implemented by the ANR (referenced ANR-10-LABX-54 MEMO LIFE and ANR-11-IDEX-0001-02 PSL* Research University), a start-up grant from the City of Paris and a start-up grant from the FRM. A.A.J. and A.-I.L. received fellowships from the French Ministry of Higher Education and Research.
Ethics declarations
Competing interests
The authors declare no competing financial interests.
Extended data figures and tables
Supplementary information
About this article
Cite this article
Al Jord, A., Lemaître, AI., Delgehyr, N. et al. Centriole amplification by mother and daughter centrioles differs in multiciliated cells. Nature 516, 104–107 (2014). https://doi.org/10.1038/nature13770
Received:

Accepted:

Published:

Issue Date:

DOI: https://doi.org/10.1038/nature13770
Comments
By submitting a comment you agree to abide by our Terms and Community Guidelines. If you find something abusive or that does not comply with our terms or guidelines please flag it as inappropriate.