Abstract
Curli are functional amyloid fibres that constitute the major protein component of the extracellular matrix in pellicle biofilms formed by Bacteroidetes and Proteobacteria (predominantly of the α and γ classes)1,2,3. They provide a fitness advantage in pathogenic strains and induce a strong pro-inflammatory response during bacteraemia1,4,5. Curli formation requires a dedicated protein secretion machinery comprising the outer membrane lipoprotein CsgG and two soluble accessory proteins, CsgE and CsgF6,7. Here we report the X-ray structure of Escherichia coli CsgG in a non-lipidated, soluble form as well as in its native membrane-extracted conformation. CsgG forms an oligomeric transport complex composed of nine anticodon-binding-domain-like units that give rise to a 36-stranded β-barrel that traverses the bilayer and is connected to a cage-like vestibule in the periplasm. The transmembrane and periplasmic domains are separated by a 0.9-nm channel constriction composed of three stacked concentric phenylalanine, asparagine and tyrosine rings that may guide the extended polypeptide substrate through the secretion pore. The specificity factor CsgE forms a nonameric adaptor that binds and closes off the periplasmic face of the secretion channel, creating a 24,000 Å3 pre-constriction chamber. Our structural, functional and electrophysiological analyses imply that CsgG is an ungated, non-selective protein secretion channel that is expected to employ a diffusion-based, entropy-driven transport mechanism.
Access options
Subscribe to Journal
Get full journal access for 1 year
$199.00
only $3.83 per issue
All prices are NET prices.
VAT will be added later in the checkout.
Rent or Buy article
Get time limited or full article access on ReadCube.
from$8.99
All prices are NET prices.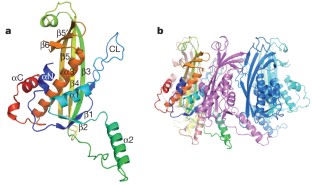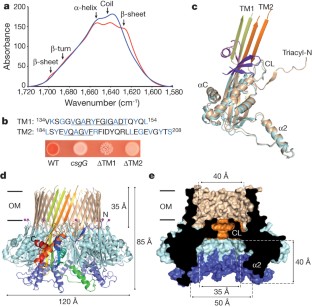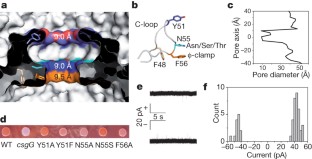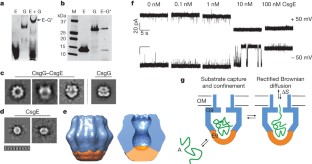 Accession codes
Accessions
Electron Microscopy Data Bank
Protein Data Bank
Data deposits
Coordinates and structure factors for CsgGC1S and CsgG have been deposited in the Protein Data Bank under accession codes 4uv2 and 4uv3, respectively. The cryo-EM map for CsgG–CsgE has been deposited in the EMDataBank under accession code EMDB-2750.
References
1

Olsen, A., Jonsson, A. & Normark, S. Fibronectin binding mediated by a novel class of surface organelles on Escherichia coli. Nature 338, 652–655 (1989)

2

Collinson, S. K. et al. Thin, aggregative fimbriae mediate binding of Salmonella enteritidis to fibronectin. J. Bacteriol. 175, 12–18 (1993)

3

Dueholm, M. S., Albertsen, M., Otzen, D. & Nielsen, P. H. Curli functional amyloid systems are phylogenetically widespread and display large diversity in operon and protein structure. PLoS ONE 7, e51274 (2012)

4

Cegelski, L. et al. Small-molecule inhibitors target Escherichia coli amyloid biogenesis and biofilm formation. Nature Chem. Biol. 5, 913–919 (2009)

5

Herwald, H. et al. Activation of the contact-phase system on bacterial surfaces—a clue to serious complications in infectious diseases. Nature Med. 4, 298–302 (1998)

6

Hammar, M., Arnqvist, A., Bian, Z., Olsen, A. & Normark, S. Expression of two csg operons is required for production of fibronectin- and Congo red-binding curli polymers in Escherichia coli K-12. Mol. Microbiol. 18, 661–670 (1995)

7

Chapman, M. R. et al. Role of Escherichia coli curli operons in directing amyloid fiber formation. Science 295, 851–855 (2002)

8

Wang, X., Smith, D. R., Jones, J. W. & Chapman, M. R. In vitro polymerization of a functional Escherichia coli amyloid protein. J. Biol. Chem. 282, 3713–3719 (2007)

9

Dueholm, M. S. et al. Fibrillation of the major curli subunit CsgA under a wide range of conditions implies a robust design of aggregation. Biochemistry 50, 8281–8290 (2011)

10

Hung, C. et al. Escherichia coli biofilms have an organized and complex extracellular matrix structure. MBio 4, e00645–13 (2013)

11

Hammar, M., Bian, Z. & Normark, S. Nucleator-dependent intercellular assembly of adhesive curli organelles in Escherichia coli. Proc. Natl Acad. Sci. USA 93, 6562–6566 (1996)

12

Bian, Z. & Normark, S. Nucleator function of CsgB for the assembly of adhesive surface organelles in Escherichia coli. EMBO J. 16, 5827–5836 (1997)

13

Loferer, H., Hammar, M. & Normark, S. Availability of the fibre subunit CsgA and the nucleator protein CsgB during assembly of fibronectin-binding curli is limited by the intracellular concentration of the novel lipoprotein CsgG. Mol. Microbiol. 26, 11–23 (1997)

14

Robinson, L. S., Ashman, E. M., Hultgren, S. J. & Chapman, M. R. Secretion of curli fibre subunits is mediated by the outer membrane-localized CsgG protein. Mol. Microbiol. 59, 870–881 (2006)

15

Nenninger, A. A., Robinson, L. S. & Hultgren, S. J. Localized and efficient curli nucleation requires the chaperone-like amyloid assembly protein CsgF. Proc. Natl Acad. Sci. USA 106, 900–905 (2009)

16

Nenninger, A. A. et al. CsgE is a curli secretion specificity factor that prevents amyloid fibre aggregation. Mol. Microbiol. 81, 486–499 (2011)

17

Okuda, S. & Tokuda, H. Lipoprotein sorting in bacteria. Annu. Rev. Microbiol. 65, 239–259 (2011)

18

Iacovache, I., Bischofberger, M. & van der Goot, F. G. Structure and assembly of pore-forming proteins. Curr. Opin. Struct. Biol. 20, 241–246 (2010)

19

Goyal, P., Van Gerven, N., Jonckheere, W. & Remaut, H. Crystallization and preliminary X-ray crystallographic analysis of the curli transporter CsgG. Acta Crystallogr. F 69, 1349–1353 (2013)

20

Krantz, B. A. et al. A phenylalanine clamp catalyzes protein translocation through the anthrax toxin pore. Science 309, 777–781 (2005)

21

Janowiak, B. E., Fischer, A. & Collier, R. J. Effects of introducing a single charged residue into the phenylalanine clamp of multimeric anthrax protective antigen. J. Biol. Chem. 285, 8130–8137 (2010)

22

Feld, G. K., Brown, M. J. & Krantz, B. A. Ratcheting up protein translocation with anthrax toxin. Protein Sci. 21, 606–624 (2012)

23

Van Gerven, N. et al. Secretion and functional display of fusion proteins through the curli biogenesis pathway. Mol. Microbiol. 91, 1022–1035 (2014)

24

Brinker, A. et al. Dual function of protein confinement in chaperonin-assisted protein folding. Cell 107, 223–233 (2001)

25

Busby, J. N., Panjikar, S., Landsberg, M. J., Hurst, M. R. & Lott, J. S. The BC component of ABC toxins is an RHS-repeat-containing protein encapsulation device. Nature 501, 547–550 (2013)

26

Takagi, F., Koga, N. & Takada, S. How protein thermodynamics and folding mechanisms are altered by the chaperonin cage: molecular simulations. Proc. Natl Acad. Sci. USA 100, 11367–11372 (2003)

27

Zhou, H. X. Protein folding in confined and crowded environments. Arch. Biochem. Biophys. 469, 76–82 (2008)

28

Chen, A. Y. et al. Synthesis and patterning of tunable multiscale materials with engineered cells. Nature Mater. 13, 515–523 (2014)

29

Sivanathan, V. & Hochschild, A. A bacterial export system for generating extracellular amyloid aggregates. Nature Protocols 8, 1381–1390 (2013)

30

Datsenko, K. A. & Wanner, B. L. One-step inactivation of chromosomal genes in Escherichia coli K-12 using PCR products. Proc. Natl Acad. Sci. USA 97, 6640–6645 (2000)

31

Swamy, M., Siegers, G. M., Minguet, S., Wollscheid, B. & Schamel, W. W. A. Blue native polyacrylamide gel electrophoresis (BN-PAGE) for the identification and analysis of multiprotein complexes. Sci. STKE 2006, pl4, http://dx.doi.org/10.1126/stke.3452006pl4 (2006)

32

Winter, G. xia2: an expert system for macromolecular crystallography data reduction. J. Appl. Crystallogr. 43, 186–190 (2010)

33

Kabsch, W. Xds. Acta Crystallogr. D 66, 125–132 (2010)

34

Sheldrick, G. M. Experimental phasing with SHELXC/D/E: combining chain tracing with density modification. Acta Crystallogr. D 66, 479–485 (2010)

35

Bricogne, G., Vonrhein, C., Flensburg, C., Schiltz, M. & Paciorek, W. Generation, representation and flow of phase information in structure determination: recent developments in and around SHARP 2.0. Acta Crystallogr. D 59, 2023–2030 (2003)

36

Cowtan, K. Recent developments in classical density modification. Acta Crystallogr. D 66, 470–478 (2010)

37

Cowtan, K. The Buccaneer software for automated model building. 1. Tracing protein chains. Acta Crystallogr. D 62, 1002–1011 (2006)

38

Adams, P. D. et al. PHENIX: a comprehensive Python-based system for macromolecular structure solution. Acta Crystallogr. D 66, 213–221 (2010)

39

Emsley, P., Lohkamp, B., Scott, W. G. & Cowtan, K. Features and development of Coot. Acta Crystallogr. D 66, 486–501 (2010)

40

Davis, I. W. et al. MolProbity: all-atom contacts and structure validation for proteins and nucleic acids. Nucleic Acids Res. 35, (Suppl 2)W375–W383 (2007)

41

Strong, M. et al. Toward the structural genomics of complexes: crystal structure of a PE/PPE protein complex from Mycobacterium tuberculosis. Proc. Natl Acad. Sci. USA 103, 8060–8065 (2006)

42

McCoy, A. J. et al. Phaser crystallographic software. J. Appl. Crystallogr. 40, 658–674 (2007)

43

Smart, O. S. et al. Exploiting structure similarity in refinement: automated NCS and target-structure restraints in BUSTER. Acta Crystallogr. D 68, 368–380 (2012)

44

Murshudov, G. N. et al. REFMAC5 for the refinement of macromolecular crystal structures. Acta Crystallogr. D 67, 355–367 (2011)

45

Nicholls, R. A., Long, F. & Murshudov, G. N. Low-resolution refinement tools in REFMAC5. Acta Crystallogr. D 68, 404–417 (2012)

46

Goormaghtigh, E. & Ruysschaert, J. M. Subtraction of atmospheric water contribution in Fourier transform infrared spectroscopy of biological membranes and proteins. Spectrochim. Acta 50A, 2137–2144 (1994)

47

Mindell, J. A. & Grigorieff, N. Accurate determination of local defocus and specimen tilt in electron microscopy. J. Struct. Biol. 142, 334–347 (2003)

48

Shaikh, T. R. et al. SPIDER image processing for single-particle reconstruction of biological macromolecules from electron micrographs. Nature Protocols 3, 1941–1974 (2008)

49

Tang, G. et al. EMAN2: an extensible image processing suite for electron microscopy. J. Struct. Biol. 157, 38–46 (2007)

50

Pettersen, E. F. et al. UCSF Chimera—a visualization system for exploratory research and analysis. J. Comput. Chem. 25, 1605–1612 (2004)

51

Del Rio Martinez, J. M., Zaitseva, E., Petersen, S., Baaken, G. & Behrends, J. C. Automated formation of lipid membrane microarrays for ionic single molecule sensing with protein nanopores. Smallhttp://dx.doi.org/10.1002/smll.201402016 (13 August 2014)

52

Movileanu, L., Howorka, S., Braha, O. & Bayley, H. Detecting protein analytes that modulate transmembrane movement of a polymer chain within a single protein pore. Nature Biotechnol. 18, 1091–1095 (2000)

53

Im, W. & Roux, B. Ions and counterions in a biological channel: a molecular dynamics simulation of OmpF porin from Escherichia coli in an explicit membrane with 1 M KCl aqueous salt solution. J. Mol. Biol. 319, 1177–1179 (2002)

54

Pronk, S. et al. GROMACS 4.5: a high-throughput and highly parallel open source molecular simulation toolkit. Bioinformatics 29, 845–854 (2013)

55

Lindorff-Larsen, K. et al. Improved side-chain torsion potentials for the Amber ff99SB protein force field. Proteins 78, 1950–1958 (2010)

56

Capra, J. A. & Singh, M. Predicting functionally important residues from sequence conservation. Bioinformatics 23, 1875–1882 (2007)
Acknowledgements
This research was supported by VIB through project grant PRJ9 (P.G., N.V.G. and H.R.), by Hercules Foundation through equipment grant UABR/09/005, by National Institutes of Health RO1 grants AI099099 and AI048689 (J.P. and S.J.H.) and A1073847 (M.R.C.), and by Institut Pasteur and Centre national de la recherche scientifique (F.G., G.P.A. and R.F.). S.H. is funded by the Engineering and Physical Sciences Research Council (Institutional Sponsorship Award), the National Physical Laboratory and University College London Chemistry. F.G. is the recipient of a 'Bourse Roux' from Institut Pasteur. P.V.K. was supported by the European Research Council (ERC). We acknowledge Diamond Light Source for time on beamlines I02, I03, I04 and I24 under proposal mx7351, and the Soleil synchrotron for access to Proxima-1 and Proxima-2a under proposals 20100734, 20110924 and 20121253.
Ethics declarations
Competing interests
The authors declare no competing financial interests.
Extended data figures and tables
About this article
Cite this article
Goyal, P., Krasteva, P., Van Gerven, N. et al. Structural and mechanistic insights into the bacterial amyloid secretion channel CsgG. Nature 516, 250–253 (2014) doi:10.1038/nature13768
Received:

Accepted:

Published:

Issue Date:
Comments
By submitting a comment you agree to abide by our Terms and Community Guidelines. If you find something abusive or that does not comply with our terms or guidelines please flag it as inappropriate.