Abstract
Given the global burden of diarrhoeal diseases1, it is important to understand how members of the gut microbiota affect the risk for, course of, and recovery from disease in children and adults. The acute, voluminous diarrhoea caused by Vibrio cholerae represents a dramatic example of enteropathogen invasion and gut microbial community disruption. Here we conduct a detailed time-series metagenomic study of faecal microbiota collected during the acute diarrhoeal and recovery phases of cholera in a cohort of Bangladeshi adults living in an area with a high burden of disease2. We find that recovery is characterized by a pattern of accumulation of bacterial taxa that shows similarities to the pattern of assembly/maturation of the gut microbiota in healthy Bangladeshi children3. To define the underlying mechanisms, we introduce into gnotobiotic mice an artificial community composed of human gut bacterial species that directly correlate with recovery from cholera in adults and are indicative of normal microbiota maturation in healthy Bangladeshi children3. One of the species, Ruminococcus obeum, exhibits consistent increases in its relative abundance upon V. cholerae infection of the mice. Follow-up analyses, including mono- and co-colonization studies, establish that R. obeum restricts V. cholerae colonization, that R. obeum luxS (autoinducer-2 (AI-2) synthase) expression and AI-2 production increase significantly with V. cholerae invasion, and that R. obeum AI-2 causes quorum-sensing-mediated repression of several V. cholerae colonization factors. Co-colonization with V. cholerae mutants discloses that R. obeum AI-2 reduces Vibrio colonization/pathogenicity through a novel pathway that does not depend on the V. cholerae AI-2 sensor, LuxP. The approach described can be used to mine the gut microbiota of Bangladeshi or other populations for members that use autoinducers and/or other mechanisms to limit colonization with V. cholerae, or conceivably other enteropathogens.
Relevant articles
Open Access articles citing this article.
Kateryna Melnyk

,

Kuba Weimann

&

Tim O. F. Conrad

Scientific Reports Open Access 04 February 2023

Shengbo Wu

,

Jie Feng

…

Jianjun Qiao

Nature Communications Open Access 02 June 2022

Taraprasad Das

,

Rajagopalaboopathi Jayasudha

…

Sisinthy Shivaji

Scientific Reports Open Access 02 February 2021
Access options
Subscribe to this journal
Receive 51 print issues and online access
$199.00 per year
only $3.90 per issue
Rent or buy this article
Get just this article for as long as you need it
$39.95
Prices may be subject to local taxes which are calculated during checkout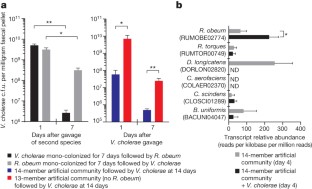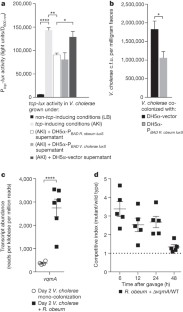 Accession codes
Primary accessions
European Nucleotide Archive
Data deposits
All 16S rRNA, shotgun sequencing, and RNA-seq data sets generated from faecal samples have been deposited in the European Nucleotide Archive in raw format before post-processing and data analysis under accession number PRJEB6358.
References
World Health Organization Cholera, 2013. Wkly Epidemiol. Rec. 89, 345–356 (2014)

Chowdhury, F. et al. Impact of rapid urbanization on the rates of infection by Vibrio cholerae O1 and enterotoxigenic Escherichia coli in Dhaka, Bangladesh. PLoS Negl. Trop. Dis. 5, e999 (2011)

Subramanian, S. et al. Persistent gut microbiota immaturity in malnourished Bangladeshi children. Nature 510, 417–421 (2014)

Dufrene, M. & Legendre, P. Species assemblages and indicator species: the need for a flexible asymmetrical approach. Ecol. Monogr. 67, 345–366 (1997)

Lozupone, C. & Knight, R. UniFrac: a new phylogenetic method for comparing microbial communities. Appl. Environ. Microbiol. 71, 8228–8235 (2005)

Martens, E. C. et al. Recognition and degradation of plant cell wall polysaccharides by two human gut symbionts. PLoS Biol. 9, e1001221 (2011)

McNulty, N. P. et al. Effects of diet on resource utilization by a model human gut microbiota containing Bacteroides cellulosilyticus WH2, a symbiont with an extensive glycobiome. PLoS Biol. 11, e1001637 (2013)

McNulty, N. P. et al. The impact of a consortium of fermented milk strains on the gut microbiome of gnotobiotic mice and monozygotic twins. Sci. Translat. Med. 3, 106ra106 (2011)

Taylor, R. K., Miller, V. L., Furlong, D. B. & Mekalanos, J. J. Use of phoA gene fusions to identify a pilus colonization factor coordinately regulated with cholera toxin. Proc. Natl Acad. Sci. USA 84, 2833–2837 (1987)

Herrington, D. A. et al. Toxin, toxin-coregulated pili, and the toxR regulon are essential for Vibrio cholerae pathogenesis in humans. J. Exp. Med. 168, 1487–1492 (1988)

Olivier, V., Salzman, N. H. & Satchell, K. J. Prolonged colonization of mice by Vibrio cholerae El Tor O1 depends on accessory toxins. Infect. Immun. 75, 5043–5051 (2007)

Olivier, V., Haines, G. K., III, Tan, Y. & Satchell, K. J. Hemolysin and the multifunctional autoprocessing RTX toxin are virulence factors during intestinal infection of mice with Vibrio cholerae El Tor O1 strains. Infect. Immun. 75, 5035–5042 (2007)

Yang, M. et al. Bile salt-induced intermolecular disulfide bond formation activates Vibrio cholerae virulence. Proc. Natl Acad. Sci. USA 110, 2348–2353 (2013)

Miller, M. B., Skorupski, K., Lenz, D. H., Taylor, R. K. & Bassler, B. L. Parallel quorum sensing systems converge to regulate virulence in Vibrio cholerae . Cell 110, 303–314 (2002)

Zhu, J. et al. Quorum-sensing regulators control virulence gene expression in Vibrio cholerae . Proc. Natl Acad. Sci. USA 99, 3129–3134 (2002)

Kovacikova, G. & Skorupski, K. Regulation of virulence gene expression in Vibrio cholerae by quorum sensing: HapR functions at the aphA promoter. Mol. Microbiol. 46, 1135–1147 (2002)

Higgins, D. A. et al. The major Vibrio cholerae autoinducer and its role in virulence factor production. Nature 450, 883–886 (2007)

Pereira, C. S., Thompson, J. A. & Xavier, K. B. AI-2-mediated signalling in bacteria. FEMS Microbiol. Rev. 37, 156–181 (2013)

Sun, J., Daniel, R., Wagner-Dobler, I. & Zeng, A. P. Is autoinducer-2 a universal signal for interspecies communication: a comparative genomic and phylogenetic analysis of the synthesis and signal transduction pathways. BMC Evol. Biol. 4, 36 (2004)

Duan, F. & March, J. C. Engineered bacterial communication prevents Vibrio cholerae virulence in an infant mouse model. Proc. Natl Acad. Sci. USA 107, 11260–11264 (2010)

Liu, Z. et al. Mucosal penetration primes Vibrio cholerae for host colonization by repressing quorum sensing. Proc. Natl Acad. Sci. USA 105, 9769–9774 (2008)

Liu, Z., Stirling, F. R. & Zhu, J. Temporal quorum-sensing induction regulates Vibrio cholerae biofilm architecture. Infect. Immun. 75, 122–126 (2007)

Taga, M. E., Semmelhack, J. L. & Bassler, B. L. The LuxS-dependent autoinducer AI-2 controls the expression of an ABC transporter that functions in AI-2 uptake in Salmonella typhimurium . Mol. Microbiol. 42, 777–793 (2001)

Bassler, B. L., Wright, M. & Silverman, M. R. Multiple signalling systems controlling expression of luminescence in Vibrio harveyi: sequence and function of genes encoding a second sensory pathway. Mol. Microbiol. 13, 273–286 (1994)

Surette, M. G., Miller, M. B. & Bassler, B. L. Quorum sensing in Escherichia coli, Salmonella typhimurium, and Vibrio harveyi: a new family of genes responsible for autoinducer production. Proc. Natl Acad. Sci. USA 96, 1639–1644 (1999)

Iwanaga, M. et al. Culture conditions for stimulating cholera toxin production by Vibrio cholerae O1 El Tor. Microbiol. Immunol. 30, 1075–1083 (1986)

Liu, Z., Hsiao, A., Joelsson, A. & Zhu, J. The transcriptional regulator VqmA increases expression of the quorum-sensing activator HapR in Vibrio cholerae . J. Bacteriol. 188, 2446–2453 (2006)

Faiz, M. A. & Basher, A. Antimicrobial resistance: Bangladesh experience. Reg. Health Forum 15, 1–18 (2011)

Morgan, D. J., Okeke, I. N., Laxminarayan, R., Perencevich, E. N. & Weisenberg, S. Non-prescription antimicrobial use worldwide: a systematic review. Lancet Infect. Dis. 11, 692–701 (2011)

Yatsunenko, T. et al. Human gut microbiome viewed across age and geography. Nature 486, 222–227 (2012)

Caporaso, J. G. et al. QIIME allows analysis of high-throughput community sequencing data. Nature Methods 7, 335–336 (2010)

Cole, J. R. et al. The ribosomal database project (RDP-II): introducing myRDP space and quality controlled public data. Nucleic Acids Res. 35, D169–D172 (2007)

DeSantis, T. Z. et al. Greengenes, a chimera-checked 16S rRNA gene database and workbench compatible with ARB. Appl. Environ. Microbiol. 72, 5069–5072 (2006)

Rodrigue, S. et al. Unlocking short read sequencing for metagenomics. PLoS ONE 5, e11840 (2010)

Kanehisa, M. & Goto, S. KEGG: Kyoto Encyclopedia of Genes and Genomes. Nucleic Acids Res. 28, 27–30 (2000)

Edgar, R. C. Search and clustering orders of magnitude faster than BLAST. Bioinformatics 26, 2460–2461 (2010)

Ridaura, V. K. et al. Gut microbiota from twins discordant for obesity modulate metabolism in mice. Science 341, 1241214 (2013)

Langmead, B., Trapnell, C., Pop, M. & Salzberg, S. L. Ultrafast and memory-efficient alignment of short DNA sequences to the human genome. Genome Biol. 10, R25 (2009)

Kristiansson, E., Hugenholtz, P. & Dalevi, D. ShotgunFunctionalizeR: an R-package for functional comparison of metagenomes. Bioinformatics 25, 2737–2738 (2009)

Anders, S. & Huber, W. Differential expression analysis for sequence count data. Genome Biol. 11, R106 (2010)
Acknowledgements
We thank S. Wagoner, J. Hoisington-López, M. Meier, J. Cheng, D. O'Donnell, and M. Karlsson for technical support, J. Zhu for providing strains of V. cholerae and Vibrio harveyi, and W.-L. Ng for providing ΔluxP V. cholerae. This work was supported in part by a grant from the Bill & Melinda Gates Foundation. The singleton birth cohort of Bangladeshi children was supported by a grant from the National Institutes of Health (AI 43596). The post-doctoral fellowship stipend of A.H. was funded in part by NIH training grants (T32DK077653, T32AI007172) and by the Crohn's and Colitis Foundation of America. The International Centre for Diarrhoeal Disease Research, Bangladesh, acknowledges the following donors, which provided unrestricted support: the Australian Agency for International Development, the Government of Bangladesh, the Canadian International Development Agency, the Swedish International Development Cooperation Agency, and the Department for International Development, UK.
Ethics declarations
Competing interests
J.I.G. is co-founder of Matatu Inc., a company that characterizes the role of diet-by-microbiota interactions in defining health.
Extended data figures and tables
Supplementary information
This file contains Supplementary Results and Discussion, additional references and a list of the Supplementary Tables. (PDF 213 kb)
This file contains Supplementary Tables 1-13. (XLSX 1114 kb)
About this article
Cite this article
Hsiao, A., Ahmed, A., Subramanian, S. et al. Members of the human gut microbiota involved in recovery from Vibrio cholerae infection. Nature 515, 423–426 (2014). https://doi.org/10.1038/nature13738
Received:

Accepted:

Published:

Issue Date:

DOI: https://doi.org/10.1038/nature13738
Comments
By submitting a comment you agree to abide by our Terms and Community Guidelines. If you find something abusive or that does not comply with our terms or guidelines please flag it as inappropriate.