Abstract
Post-translational histone modifications have a critical role in regulating transcription, the cell cycle, DNA replication and DNA damage repair1. The identification of new histone modifications critical for transcriptional regulation at initiation, elongation or termination is of particular interest. Here we report a new layer of regulation in transcriptional elongation that is conserved from yeast to mammals. This regulation is based on the phosphorylation of a highly conserved tyrosine residue, Tyr 57, in histone H2A and is mediated by the unsuspected tyrosine kinase activity of casein kinase 2 (CK2). Mutation of Tyr 57 in H2A in yeast or inhibition of CK2 activity impairs transcriptional elongation in yeast as well as in mammalian cells. Genome-wide binding analysis reveals that CK2α, the catalytic subunit of CK2, binds across RNA-polymerase-II-transcribed coding genes and active enhancers. Mutation of Tyr 57 causes a loss of H2B mono-ubiquitination as well as H3K4me3 and H3K79me3, histone marks associated with active transcription. Mechanistically, both CK2 inhibition and the H2A(Y57F) mutation enhance H2B deubiquitination activity of the Spt-Ada-Gcn5 acetyltransferase (SAGA) complex, suggesting a critical role of this phosphorylation in coordinating the activity of the SAGA complex during transcription. Together, these results identify a new component of regulation in transcriptional elongation based on CK2-dependent tyrosine phosphorylation of the globular domain of H2A.
Your institute does not have access to this article
Relevant articles
Open Access articles citing this article.
Kazunori Sano

,

Yasushi Iwasaki

…

Kenichi Mishima

Acta Neuropathologica Communications Open Access 12 November 2021

Amila Suraweera

,

Neha S. Gandhi

…

Derek J. Richard

Communications Biology Open Access 19 April 2021

Ke-Wu Zeng

,

Jing-Kang Wang

…

Pengfei Tu

Signal Transduction and Targeted Therapy Open Access 19 February 2021
Access options
Subscribe to Journal
Get full journal access for 1 year
$199.00
only $3.90 per issue
All prices are NET prices.
VAT will be added later in the checkout.
Tax calculation will be finalised during checkout.
Buy article
Get time limited or full article access on ReadCube.
$32.00
All prices are NET prices.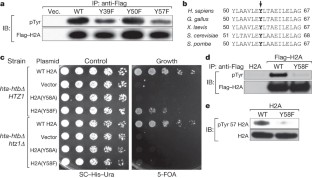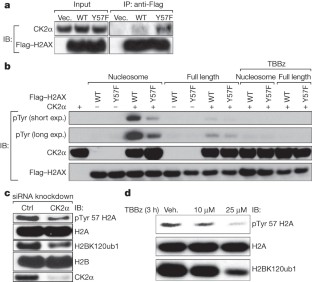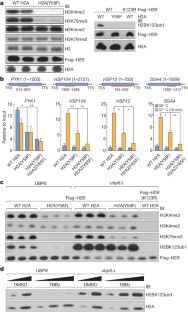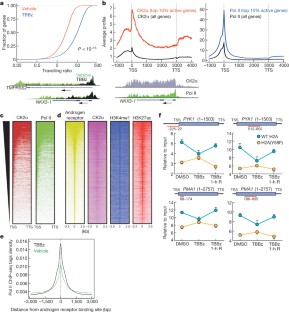 References
Kouzarides, T. Chromatin modifications and their function. Cell 128, 693–705 (2007)

Nakanishi, S. et al. A comprehensive library of histone mutants identifies nucleosomal residues required for H3K4 methylation. Nature Struct. Mol. Biol. 15, 881–888 (2008)

Matsubara, K., Sano, N., Umehara, T. & Horikoshi, M. Global analysis of functional surfaces of core histones with comprehensive point mutants. Genes Cells 12, 13–33 (2007)

Flint, A. J., Tiganis, T., Barford, D. & Tonks, N. K. Development of 'substrate-trapping' mutants to identify physiological substrates of protein tyrosine phosphatases. Proc. Natl Acad. Sci. USA 94, 1680–1685 (1997)

Wilson, L. K., Dhillon, N., Thorner, J. & Martin, G. S. Casein kinase II catalyzes tyrosine phosphorylation of the yeast nucleolar immunophilin Fpr3. J. Biol. Chem. 272, 12961–12967 (1997)

Vilk, G. et al. Protein kinase CK2 catalyzes tyrosine phosphorylation in mammalian cells. Cell. Signal. 20, 1942–1951 (2008)

Pagano, M. A. et al. 2-Dimethylamino-4,5,6,7-tetrabromo-1H-benzimidazole: a novel powerful and selective inhibitor of protein kinase CK2. Biochem. Biophys. Res. Commun. 321, 1040–1044 (2004)

Xiao, T. et al. Histone H2B ubiquitylation is associated with elongating RNA polymerase II. Mol. Cell. Biol. 25, 637–651 (2005)

Tanny, J. C., Erdjument-Bromage, H., Tempst, P. & Allis, C. D. Ubiquitylation of histone H2B controls RNA polymerase II transcription elongation independently of histone H3 methylation. Genes Dev. 21, 835–847 (2007)

Uptain, S. M., Kane, C. M. & Chamberlin, M. J. Basic mechanisms of transcript elongation and its regulation. Annu. Rev. Biochem. 66, 117–172 (1997)

Ferguson, S. B. et al. Protein kinase A regulates constitutive expression of small heat-shock genes in an Msn2/4p-independent and Hsf1p-dependent manner in Saccharomyces cerevisiae. Genetics 169, 1203–1214 (2005)

Chao, S.-H. & Price, D. H. Flavopiridol inactivates P-TEFb and blocks most RNA Polymerase II transcription in vivo. J. Biol. Chem. 276, 31793–31799 (2001)

Robzyk, K., Recht, J. & Osley, M. A. Rad6-dependent ubiquitination of histone H2B in yeast. Science 287, 501–504 (2000)

Wood, A., Schneider, J., Dover, J., Johnston, M. & Shilatifard, A. The Paf1 complex is essential for histone monoubiquitination by the Rad6–Bre1 complex, which signals for histone methylation by COMPASS and Dot1p. J. Biol. Chem. 278, 34739–34742 (2003)

Ng, H. H., Dole, S. & Struhl, K. The Rtf1 component of the Paf1 transcriptional elongation complex is required for ubiquitination of histone H2B. J. Biol. Chem. 278, 33625–33628 (2003)

Rahl, P. B. et al. c-Myc regulates transcriptional pause release. Cell 141, 432–445 (2010)

Reppas, N. B., Wade, J. T., Church, G. M. & Struhl, K. The transition between transcriptional initiation and elongation in E. coli is highly variable and often rate limiting. Mol. Cell 24, 747–757 (2006)

Wang, D. et al. Reprogramming transcription by distinct classes of enhancers functionally defined by eRNA. Nature 474, 390–394 (2011)

Heintzman, N. D. et al. Histone modifications at human enhancers reflect global cell type-specific gene expression. Nature 459, 108–112 (2009)

Meggio, F. & Pinna, L. A. One-thousand-and-one substrates of protein kinase CK2? FASEB J. 17, 349–368 (2003)

Wade, J. T. & Struhl, K. The transition from transcriptional initiation to elongation. Curr. Opin. Genet. Dev. 18, 130–136 (2008)

Suka, N., Suka, Y., Carmen, A. A., Wu, J. & Grunstein, M. Highly specific antibodies determine histone acetylation site usage in yeast heterochromatin and euchromatin. Mol. Cell 8, 473–479 (2001)

Henry, K. W. et al. Transcriptional activation via sequential histone H2B ubiquitylation and deubiquitylation, mediated by SAGA-associated Ubp8. Genes Dev. 17, 2648–2663 (2003)

Shin, H., Liu, T., Manrai, A. K. & Liu, X. S. CEAS: cis-regulatory element annotation system. Bioinformatics 25, 2605–2606 (2009)

O'Neill, L. P. & Turner, B. M. Immunoprecipitation of native chromatin: NChIP. Methods 31, 76–82 (2003)

Strahl-Bolsinger, S., Hecht, A., Luo, K. & Grunstein, M. SIR2 and SIR4 interactions differ in core and extended telomeric heterochromatin in yeast. Genes Dev. 11, 83–93 (1997)

Kamps, M. P. & Sefton, B. M. Acid and base hydrolysis of phosphoproteins bound to immobilon facilitates analysis of phosphoamino acids in gel-fractionated proteins. Anal. Biochem. 176, 22–27 (1989)

Guttman, M. et al. Interactions of the NPXY microdomains of the low density lipoprotein receptor-related protein 1. Proteomics 9, 5016–5028 (2009)

McCormack, A. L. et al. Direct analysis and identification of proteins in mixtures by LC/MS/MS and database searching at the low-femtomole level. Anal. Chem. 69, 767–776 (1997)
Acknowledgements
We acknowledge M. Ghassemian for assistance in mass spectrometry analysis. We also acknowledge K. Arndt for providing the UBP8 null yeast strain. CK2 constructs were provided by D. Litchfield. We acknowledge J. Hightower for assistance in figure preparation. We acknowledge K. Tumaneng and I. Bassets for critical reading of the manuscript and D. J. Forbes for discussion. This work was supported by grants NS034934, DK039949, DK018477, HL065445 and CA173903 from NIH to M.G.R., UC-CRCC to L.P., NIH-GM033279 support for X.B.S. and NCI CA82683 grant to T.H. M.G.R. is an Investigator with the HHMI. T.H. is a Frank and Else Schilling American Cancer Society Professor and holds the Renato Dulbecco Chair in Cancer Research.
Ethics declarations
Competing interests
The authors declare no competing financial interests.
Extended data figures and tables
Supplementary information
About this article
Cite this article
Basnet, H., Su, X., Tan, Y. et al. Tyrosine phosphorylation of histone H2A by CK2 regulates transcriptional elongation. Nature 516, 267–271 (2014). https://doi.org/10.1038/nature13736
Received:

Accepted:

Published:

Issue Date:

DOI: https://doi.org/10.1038/nature13736
Comments
By submitting a comment you agree to abide by our Terms and Community Guidelines. If you find something abusive or that does not comply with our terms or guidelines please flag it as inappropriate.