Abstract
Experimental realization of a universal set of quantum logic gates is the central requirement for the implementation of a quantum computer. In an 'all-geometric' approach to quantum computation1,2, the quantum gates are implemented using Berry phases3 and their non-Abelian extensions, holonomies4, from geometric transformation of quantum states in the Hilbert space5. Apart from its fundamental interest and rich mathematical structure, the geometric approach has some built-in noise-resilience features1,2,6,7. On the experimental side, geometric phases and holonomies have been observed in thermal ensembles of liquid molecules using nuclear magnetic resonance8,9; however, such systems are known to be non-scalable for the purposes of quantum computing10. There are proposals to implement geometric quantum computation in scalable experimental platforms such as trapped ions11, superconducting quantum bits12 and quantum dots13, and a recent experiment has realized geometric single-bit gates in a superconducting system14. Here we report the experimental realization of a universal set of geometric quantum gates using the solid-state spins of diamond nitrogen–vacancy centres. These diamond defects provide a scalable experimental platform15,16,17 with the potential for room-temperature quantum computing16,17,18,19, which has attracted strong interest in recent years20. Our experiment shows that all-geometric and potentially robust quantum computation can be realized with solid-state spin quantum bits, making use of recent advances in the coherent control of this system15,16,17,18,19,20.
Access options
Subscribe to Journal
Get full journal access for 1 year
$199.00
only $3.90 per issue
All prices are NET prices.
VAT will be added later in the checkout.
Tax calculation will be finalised during checkout.
Rent or Buy article
Get time limited or full article access on ReadCube.
from$8.99
All prices are NET prices.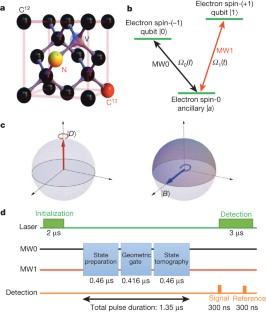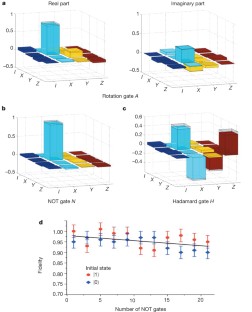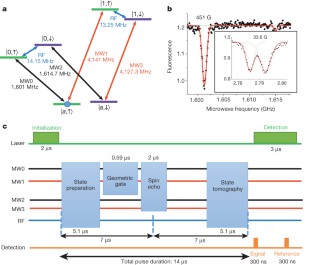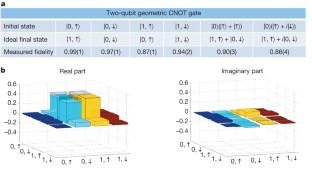 References
1

Zanardi, P. & Rasetti, M. Holonomic quantum computation. Phys. Lett. A 264, 94–99 (1999)

2

Pachos, J., Zanardi, P. & Rasetti, M. Non-Abelian Berry connections for quantum computation. Phys. Rev. A 61, 010305(R) (2000)

3

Berry, M. V. Quantal phase-factors accompanying adiabatic changes. Proc. R. Soc. Lond. A 392, 45–57 (1984)

4

Wilczek, F. & Zee, A. Appearance of gauge structure in simple dynamical systems. Phys. Rev. Lett. 52, 2111–2114 (1984)

5

Lloyd, S. Computation from geometry. Science 292, 1669 (2001)

6

Sjöqvist, E. et al. Non-adiabatic holonomic quantum computation. New J. Phys. 14, 103035 (2012)

7

Johansson, M. et al. Robustness of non-adiabatic holonomic gates. Phys. Rev. A 86, 062322 (2012)

8

Jones, J. A., Vedral, V., Ekert, A. & Castagnoli, G. Geometric quantum computation using nuclear magnetic resonance. Nature 403, 869–871 (2000)

9

Feng, G., Xu, G. & Long, G. Experimental realization of nonadiabatic holonomic quantum computation. Phys. Rev. Lett. 110, 190501 (2013)

10

Nielsen, M. A. & Chuang, I. L. Quantum Computation and Quantum Information (Cambridge Univ. Press, 2010)

11

Duan, L. M., Cirac, J. I. & Zoller, P. Geometric manipulation of trapped ions for quantum computation. Science 292, 1695–1697 (2001)

12

Falci, G. et al. Detection of geometric phases in superconducting nanocircuits. Nature 407, 355–358 (2000)

13

Solinas, P., Zanardi, P., Zanghi, N. & Rossi, F. Holonomic quantum gates: a semiconductor-based implementation. Phys. Rev. A 67, 062315 (2003)

14

Abdumalikov, A. A. et al. Experimental realization of non-Abelian non-adiabatic geometric gates. Nature 496, 482–485 (2013)

15

Pfaff, W. et al. Unconditional quantum teleportation between distant solid-state quantum bits. Science 345, 532–535 (2014)

16

Neumann, P. et al. Scalable quantum register based on coupled electron spins in a room temperature solid. Nature Phys. 6, 249–253 (2010)

17

Yao, N. Y. et al. Scalable architecture for a room temperature solid-state quantum information processor. Nature Commun. 3, 800 (2012)

18

Dolde, F. et al. Room-temperature entanglement between single defect spins in diamond. Nature Phys. 9, 139–143 (2013)

19

Dolde, F. et al. High-fidelity spin entanglement using optimal control. Nature Commun. 5, 3371 (2014)

20

Doherty, M. W. et al. The nitrogen-vacancy colour centre in diamond. Phys. Rep. 528, 1–45 (2013)

21

Shapere, A. & Wilczek, F. Geometric Phases in Physics (World Scientific, 1989)

22

Zhu, S. L. & Wang, Z. D. Implementation of universal quantum gates based on nonadiabatic geometric phases. Phys. Rev. Lett. 89, 097902 (2002)

23

Jacques, V. et al. Dynamic polarization of single nuclear spins by optical pumping of nitrogen-vacancy color centers in diamond at room temperature. Phys. Rev. Lett. 102, 057403 (2009)

24

White, A. G. et al. Measuring two-qubit gates. J. Opt. Soc. Am. B 24, 172–183 (2007)

25

Jelezko, F. et al. Observation of coherent oscillation of a single nuclear spin and realization of a two-qubit conditional quantum gate. Phys. Rev. Lett. 93, 130501 (2004)

26

Yao, N. Y. et al. Robust quantum state transfer in random unpolarized spin chains. Phys. Rev. Lett. 106, 040505 (2011)

27

Jiang, L., Taylor, J. M., Sorensen, A. S. & Lukin, M. D. Distributed quantum computation based-on small quantum registers. Phys. Rev. A 76, 062323 (2007)

28

Duan, L. M. & Monroe, C. Quantum networks with trapped ions. Rev. Mod. Phys. 82, 1209 (2010)

29

Loredo, J. C., Broome, M. A., Smith, D. H. & White, A. G. Observation of entanglement-dependent two-particle holonomic phase. Phys. Rev. Lett. 112, 143603 (2014)

30

Pachos, J. K. Introduction to Topological Quantum Computation (Cambridge Univ. Press, 2012)
Acknowledgements
We thank M. Lukin's group for discussions. This work was supported by the National Basic Research Program of China 2011CBA00302 and the quantum information project from the Ministry of Education of China. In addition, L.-M.D. acknowledges support from the IARPA MUSIQC program, the AFOSR and the ARO MURI program.
Ethics declarations
Competing interests
The authors declare no competing financial interests.
About this article
Cite this article
Zu, C., Wang, WB., He, L. et al. Experimental realization of universal geometric quantum gates with solid-state spins. Nature 514, 72–75 (2014). https://doi.org/10.1038/nature13729
Received:

Accepted:

Published:

Issue Date:
Comments
By submitting a comment you agree to abide by our Terms and Community Guidelines. If you find something abusive or that does not comply with our terms or guidelines please flag it as inappropriate.