Abstract
The Ras-like GTPases RalA and RalB are important drivers of tumour growth and metastasis1. Chemicals that block Ral function would be valuable as research tools and for cancer therapeutics. Here we used protein structure analysis and virtual screening to identify drug-like molecules that bind to a site on the GDP-bound form of Ral. The compounds RBC6, RBC8 and RBC10 inhibited the binding of Ral to its effector RALBP1, as well as inhibiting Ral-mediated cell spreading of murine embryonic fibroblasts and anchorage-independent growth of human cancer cell lines. The binding of the RBC8 derivative BQU57 to RalB was confirmed by isothermal titration calorimetry, surface plasmon resonance and 1H–15N transverse relaxation-optimized spectroscopy (TROSY) NMR spectroscopy. RBC8 and BQU57 show selectivity for Ral relative to the GTPases Ras and RhoA and inhibit tumour xenograft growth to a similar extent to the depletion of Ral using RNA interference. Our results show the utility of structure-based discovery for the development of therapeutics for Ral-dependent cancers.
Access options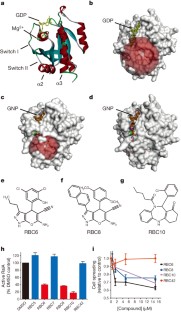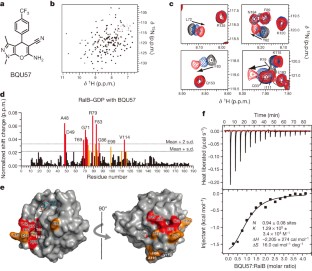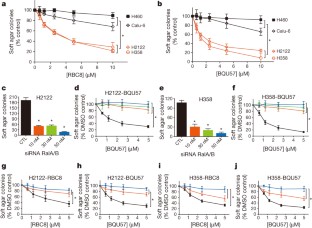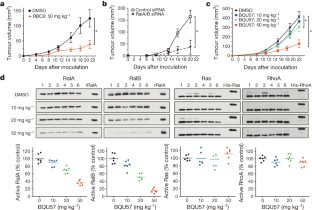 References
1

Lim, K. H. et al. Divergent roles for RalA and RalB in malignant growth of human pancreatic carcinoma cells. Curr. Biol. 16, 2385–2394 (2006)

2

Schubbert, S., Shannon, K. & Bollag, G. Hyperactive Ras in developmental disorders and cancer. Nature Rev. Cancer 7, 295–308 (2007)

3

Tsimberidou, A. M., Chandhasin, C. & Kurzrock, R. Farnesyltransferase inhibitors: where are we now? Expert Opin. Investig. Drugs 19, 1569–1580 (2010)

4

Roberts, P. J. & Der, C. J. Targeting the Raf–MEK–ERK mitogen-activated protein kinase cascade for the treatment of cancer. Oncogene 26, 3291–3310 (2007)

5

Yap, T. A. et al. Targeting the PI3K–AKT–mTOR pathway: progress, pitfalls, and promises. Curr. Opin. Pharmacol. 8, 393–412 (2008)

6

Neel, N. F. et al. The RalGEF–Ral effector signaling network: the road less traveled for anti-Ras drug discovery. Genes Cancer 2, 275–287 (2011)

7

Awasthi, S., Sharma, R., Singhal, S. S., Zimniak, P. & Awasthi, Y. C. RLIP76, a novel transporter catalyzing ATP-dependent efflux of xenobiotics. Drug Metab. Dispos. 30, 1300–1310 (2002)

8

Oxford, G. et al. RalA and RalB: antagonistic relatives in cancer cell migration. Cancer Res. 65, 7111–7120 (2005)

9

Lim, K. H. et al. Activation of RalA is critical for Ras-induced tumorigenesis of human cells. Cancer Cell 7, 533–545 (2005)

10

Camonis, J. H. & White, M. A. Ral GTPases: corrupting the exocyst in cancer cells. Trends Cell Biol. 15, 327–332 (2005)

11

Zipfel, P. A. et al. Ral activation promotes melanomagenesis. Oncogene 29, 4859–4864 (2010)

12

Peschard, P. et al. Genetic deletion of RALA and RALB small GTPases reveals redundant functions in development and tumorigenesis. Curr. Biol. 22, 2063–2068 (2012)

13

Martin, T. D. & Der, C. J. Differential involvement of RalA and RalB in colorectal cancer. Small GTPases 3, 126–130 (2012)

14

Yin, J. et al. Activation of the RalGEF/Ral Pathway promotes prostate cancer metastasis to bone. Mol. Cell. Biol. 27, 7538–7550 (2007)

15

Smith, S. C. et al. Expression of Ral GTPases, their effectors, and activators in human bladder cancer. Clin. Cancer Res. 13, 3803–3813 (2007)

16

Smith, S. C., Baras, A. S., Owens, C. R., Dancik, G. & Theodorescu, D. Transcriptional signatures of Ral GTPase are associated with aggressive clinicopathologic characteristics in human cancer. Cancer Res. 72, 3480–3491 (2012)

17

Pautsch, A., Vogelsgesang, M., Trankle, J., Herrmann, C. & Aktories, K. Crystal structure of the C3bot–RalA complex reveals a novel type of action of a bacterial exoenzyme. EMBO J. 24, 3670–3680 (2005)

18

Shoichet, B. K. Virtual screening of chemical libraries. Nature 432, 862–865 (2004)

19

Irwin, J. J. & Shoichet, B. K. ZINC—a free database of commercially available compounds for virtual screening. J. Chem. Inf. Model. 45, 177–182 (2005)

20

Balasubramanian, N. et al. RalA–exocyst complex regulates integrin-dependent membrane raft exocytosis and growth signaling. Curr. Biol. 20, 75–79 (2010)

21

Fenwick, R. B. et al. Solution structure and dynamics of the small GTPase RalB in its active conformation: significance for effector protein binding. Biochemistry 48, 2192–2206 (2009)

22

Hinoi, T. et al. Post-translational modifications of Ras and Ral are important for the action of Ral GDP dissociation stimulator. J. Biol. Chem. 271, 19710–19716 (1996)

23

Fang, Z., Grutter, C. & Rauh, D. Strategies for the selective regulation of kinases with allosteric modulators: exploiting exclusive structural features. ACS Chem. Biol. 8, 58–70 (2013)

24

Sun, Q. et al. Discovery of small molecules that bind to K-Ras and inhibit Sos-mediated activation. Angew. Chem. Int. Edn Engl. 51, 6140–6143 (2012)

25

Maurer, T. et al. Small-molecule ligands bind to a distinct pocket in Ras and inhibit SOS-mediated nucleotide exchange activity. Proc. Natl Acad. Sci. USA 109, 5299–5304 (2012)

26

Shima, F. et al. In silico discovery of small-molecule Ras inhibitors that display antitumor activity by blocking the Ras-effector interaction. Proc. Natl Acad. Sci. USA 110, 8182–8187 (2013)

27

Holbourn, K. P., Sutton, J. M., Evans, H. R., Shone, C. C. & Acharya, K. R. Molecular recognition of an ADP-ribosylating Clostridium botulinum C3 exoenzyme by RalA GTPase. Proc. Natl Acad. Sci. USA 102, 5357–5362 (2005)

28

Jin, R. et al. Exo84 and Sec5 are competitive regulatory Sec6/8 effectors to the RalA GTPase. EMBO J. 24, 2064–2074 (2005)

29

Fukai, S., Matern, H. T., Jagath, J. R., Scheller, R. H. & Brunger, A. T. Structural basis of the interaction between RalA and Sec5, a subunit of the sec6/8 complex. EMBO J. 22, 3267–3278 (2003)

30

Thompson, G., Owen, D., Chalk, P. A. & Lowe, P. N. Delineation of the Cdc42/Rac-binding domain of p21-activated kinase. Biochemistry 37, 7885–7891 (1998)

31

Delaglio, F. et al. NMRPipe: a multidimensional spectral processing system based on UNIX pipes. J. Biomol. NMR 6, 277–293 (1995)

32

Vranken, W. F. et al. The CCPN data model for NMR spectroscopy: development of a software pipeline. Proteins 59, 687–696 (2005)

33

Bahrami, A., Assadi, A. H., Markley, J. L. & Eghbalnia, H. R. Probabilistic interaction network of evidence algorithm and its application to complete labeling of peak lists from protein NMR spectroscopy. PLOS Comput. Biol. 5, e1000307 (2009)

34

Steggerda, S. M. & Paschal, B. M. The mammalian Mog1 protein is a guanine nucleotide release factor for Ran. J. Biol. Chem. 275, 23175–23180 (2000)
Acknowledgements
This work was supported in part by NIH grants CA091846, CA075115, CA104106 and GM47214 by the IUPUI Research Scholar Grant Foundation and by an American Cancer Society Research Scholar grant. The researchers used the services of the Medicinal Chemistry Core (MCC) facility (M.F.W.) housed within the Department of Pharmaceutical Sciences, University of Colorado. In part, the MCC is funded by Colorado Clinical and Translational Sciences Institute grant UL1TR001082 from the National Center for Research Resources, NIH. We acknowledge D. S. Backos for assistance with computational modelling, A. Spencer for biochemical assays, B. Helfrich for assistance with lung cancer cell line culturing, and H. Mo and J. Harwood for assistance in the training and collection of NMR data in the early stages of the project.
Ethics declarations
Competing interests
The authors declare no competing financial interests.
Extended data figures and tables
Supplementary information
This file contains Supplementary Methods describing the chemical synthesis pathway for BQU57 and Supplementary Table 1, which shows that none of the 88 compounds identified by computational screening inhibited GTP or GDP binding to purified recombinant RalA. (PDF 146 kb)
About this article
Cite this article
Yan, C., Liu, D., Li, L. et al. Discovery and characterization of small molecules that target the GTPase Ral. Nature 515, 443–447 (2014). https://doi.org/10.1038/nature13713
Received:

Accepted:

Published:

Issue Date:
Comments
By submitting a comment you agree to abide by our Terms and Community Guidelines. If you find something abusive or that does not comply with our terms or guidelines please flag it as inappropriate.