Abstract
Quasars are rapidly accreting supermassive black holes at the centres of massive galaxies. They display a broad range of properties across all wavelengths, reflecting the diversity in the physical conditions of the regions close to the central engine. These properties, however, are not random, but form well-defined trends. The dominant trend is known as 'Eigenvector 1', in which many properties correlate with the strength of optical iron and [O iii] emission1,2,3. The main physical driver of Eigenvector 1 has long been suspected4 to be the quasar luminosity normalized by the mass of the hole (the 'Eddington ratio'), which is an important parameter of the black hole accretion process. But a definitive proof has been missing. Here we report an analysis of archival data that reveals that the Eddington ratio indeed drives Eigenvector 1. We also find that orientation plays a significant role in determining the observed kinematics of the gas in the broad-line region, implying a flattened, disk-like geometry for the fast-moving clouds close to the black hole. Our results show that most of the diversity of quasar phenomenology can be unified using two simple quantities: Eddington ratio and orientation.
This is a preview of subscription content
Access options
Subscribe to Journal
Get full journal access for 1 year
$199.00
only $3.90 per issue
All prices are NET prices.
VAT will be added later in the checkout.
Tax calculation will be finalised during checkout.
Buy article
Get time limited or full article access on ReadCube.
$32.00
All prices are NET prices.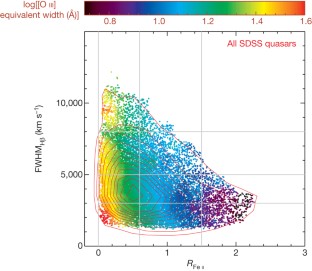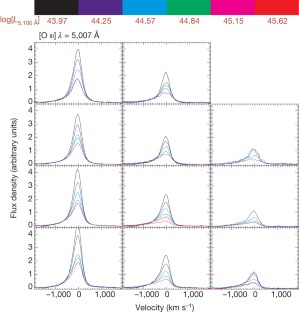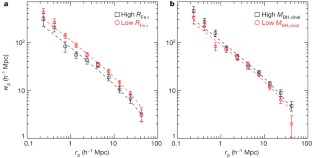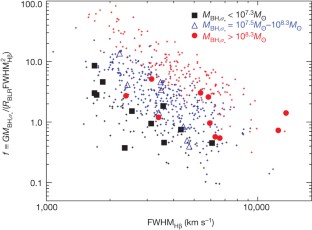 References
Boroson, T. A. & Green, R. F. The emission-line properties of low-redshift quasi-stellar objects. Astrophys. J. 80 (suppl.). 109–135 (1992)

Sulentic, J. W., Zwitter, T., Marziani, P. & Dultzin-Hacyan, D. Eigenvector 1: an optimal correlation space for active galactic nuclei. Astrophys. J. 536, L5–L9 (2000)

Wang, T., Brinkmann, W. & Bergeron, J. X-ray properties of active galactic nuclei with optical FeII emission. Astron. Astrophys. 309, 81–96 (1996)

Boroson, T. A. Black hole mass and Eddington ratio as drivers for the observable properties of radio-loud and radio-quiet QSOs. Astrophys. J. 565, 78–85 (2002)

Laor, A. The soft X-ray properties of a complete sample of optically selected quasars. II. Final results. Astrophys. J. 477, 93–113 (1997)

Schneider, D. P. et al. The Sloan Digital Sky Survey quasar catalog. V. Seventh data release. Astron. J. 139, 2360–2373 (2010)

Shen, Y. et al. A catalog of quasar properties from Sloan Digital Sky Survey data release 7. Astrophys. J. 194 (suppl.). 45 (2011)

Stern, J. & Laor, A. Type 1 AGN at low z—III. The optical narrow-line ratios. Mon. Not. R. Astron. Soc. 431, 836–857 (2013)

Zhang, K., Wang, T.-G., Gaskell, C. M. & Dong, X.-B. The Baldwin effect in the narrow emission lines of active galactic nuclei. Astrophys. J. 762, 51 (2013)

Baldwin, J. A. Luminosity indicators in the spectra of quasi-stellar objects. Astrophys. J. 214, 679–684 (1977)

Dopita, M. A. & Sutherland, R. S. Spectral signatures of fast shocks. II. Optical diagnostic diagrams. Astrophys. J. 455, 468–479 (1995)

Wright, E. L. et al. The Wide-field Infrared Survey Explorer (WISE): mission description and initial on-orbit performance. Astron. J. 140, 1868–1881 (2010)

Antonucci, R. Unified models for active galactic nuclei and quasars. Annu. Rev. Astron. Astrophys. 31, 473–521 (1993)

Urry, C. M. & Padovani, P. Unified schemes for radio-loud active galactic nuclei. Publ. Astron. Soc. Pacif. 107, 803–845 (1995)

Peterson, B. M. et al. Central masses and broad-line region sizes of active galactic nuclei. II. A homogeneous analysis of a large reverberation-mapping database. Astrophys. J. 613, 682–699 (2004)

Laor, A. On black hole masses and radio loudness in active galactic nuclei. Astrophys. J. 543, L111–L114 (2000)

Vestergaard, M. & Peterson, B. M. Determining central black hole masses in distant active galaxies and quasars. II. Improved optical and UV scaling relationships. Astrophys. J. 641, 689–709 (2006)

Bardeen, J. M., Bond, J. R., Kaiser, N. & Szalay, A. S. The statistics of peaks of Gaussian random fields. Astrophys. J. 304, 15–61 (1986)

Ahn, C. et al. The tenth data release of the Sloan Digital Sky Survey: first spectroscopic data from the SDSS-III Apache Point Observatory Galactic Evolution Experiment. Astrophys. J. 211 (Supp.). 17 (2014)

Shen, Y. et al. Cross-correlation of SDSS DR7 quasars and DR10 BOSS galaxies: the weak luminosity dependence of quasar clustering at z ∼ 0.5. Astrophys. J. 778, 98 (2013)

Wills, B. J. & Browne, I. W. A. Relativistic beaming and quasar emission lines. Astrophys. J. 302, 56–63 (1986)

Runnoe, J. C., Brotherton, M. S., Shang, Z., Wills, B. J. & DiPompeo, M. A. The orientation dependence of quasar single-epoch black hole mass scaling relationships. Mon. Not. R. Astron. Soc. 429, 135–149 (2013)

Park, D., Kelly, B. C., Woo, J.-H. & Treu, T. Recalibration of the virial factor and MBH-σ* relation for local active galaxies. Astrophys. J. 203 (suppl.). 6 (2012)

Marziani, P. et al. An optical spectroscopic atlas of low-redshift active galactic nuclei. Astrophys. J. 145 (suppl.). 199–211 (2003)

Kormendy, J. & Ho, L. C. Coevolution (or not) of supermassive black holes and host galaxies. Annu. Rev. Astron. Astrophys. 51, 511–653 (2013)

Shen, J., Vanden Berk, D. E., Schneider, D. P. & Hall, P. B. The black hole-bulge relationship in luminous broad-line active galactic nuclei and host galaxies. Astron. J. 135, 928–946 (2008)

Bentz, M. C. et al. The radius-luminosity relationship for active galactic nuclei: the effect of host-galaxy starlight on luminosity measurements. II. The full sample of reverberation-mapped AGNs. Astrophys. J. 697, 160–181 (2009)
Acknowledgements
Support for the work of Y.S. was provided by NASA through Hubble Fellowship grant number HST-HF-51314.01, awarded by the Space Telescope Science Institute, which is operated by the Association of Universities for Research in Astronomy for NASA, under contract number NAS 5-26555. L.C.H. acknowledges support from the Kavli Foundation, Peking University, and the Chinese Academy of Science through grant number XDB09030102 (Emergence of Cosmological Structures) from the Strategic Priority Research Program. This work makes extensive use of SDSS-I/II and SDSS-III data (http://www.sdss.org/ and http://www.sdss3.org/).
Ethics declarations
Competing interests
The authors declare no competing financial interests.
Extended data figures and tables
Supplementary information
This file contains Supplementary text and additional references. (PDF 333 kb)
About this article
Cite this article
Shen, Y., Ho, L. The diversity of quasars unified by accretion and orientation. Nature 513, 210–213 (2014). https://doi.org/10.1038/nature13712
Received:

Accepted:

Published:

Issue Date:

DOI: https://doi.org/10.1038/nature13712
Comments
By submitting a comment you agree to abide by our Terms and Community Guidelines. If you find something abusive or that does not comply with our terms or guidelines please flag it as inappropriate.