Abstract
The mechanisms by which physical forces regulate endothelial cells to determine the complexities of vascular structure and function are enigmatic1,2,3,4,5. Studies of sensory neurons have suggested Piezo proteins as subunits of Ca2+-permeable non-selective cationic channels for detection of noxious mechanical impact6,7,8. Here we show Piezo1 (Fam38a) channels as sensors of frictional force (shear stress) and determinants of vascular structure in both development and adult physiology. Global or endothelial-specific disruption of mouse Piezo1 profoundly disturbed the developing vasculature and was embryonic lethal within days of the heart beating. Haploinsufficiency was not lethal but endothelial abnormality was detected in mature vessels. The importance of Piezo1 channels as sensors of blood flow was shown by Piezo1 dependence of shear-stress-evoked ionic current and calcium influx in endothelial cells and the ability of exogenous Piezo1 to confer sensitivity to shear stress on otherwise resistant cells. Downstream of this calcium influx there was protease activation and spatial reorganization of endothelial cells to the polarity of the applied force. The data suggest that Piezo1 channels function as pivotal integrators in vascular biology.
This is a preview of subscription content
Access options
Subscribe to Journal
Get full journal access for 1 year
$199.00
only $3.90 per issue
All prices are NET prices.
VAT will be added later in the checkout.
Tax calculation will be finalised during checkout.
Buy article
Get time limited or full article access on ReadCube.
$32.00
All prices are NET prices.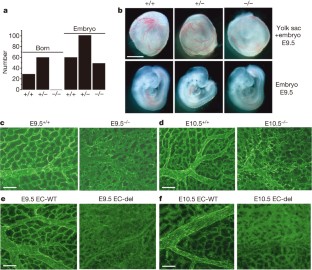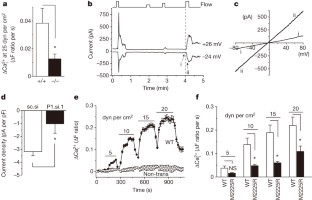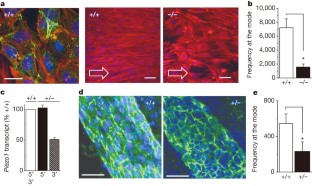 References
Conway, D. & Schwartz, M. A. Lessons from the endothelial junctional mechanosensory complex. F1000 Biol. Rep. 4, 1 (2012)

Chiu, J. J. & Chien, S. Effects of disturbed flow on vascular endothelium: pathophysiological basis and clinical perspectives. Physiol. Rev. 91, 327–387 (2011)

Ando, J. & Yamamoto, K. Flow detection and calcium signaling in vascular endothelial cells. Cardiovasc. Res. 99, 260–268 (2013)

Mammoto, T. & Ingber, D. E. Mechanical control of tissue and organ development. Development 137, 1407–1420 (2010)

Lucitti, J. L. et al. Vascular remodeling of the mouse yolk sac requires hemodynamic force. Development 134, 3317–3326 (2007)

Coste, B. et al. Piezo1 and Piezo2 are essential components of distinct mechanically activated cation channels. Science 330, 55–60 (2010)

Coste, B. et al. Piezo proteins are pore-forming subunits of mechanically activated channels. Nature 483, 176–181 (2012)

Kim, S. E., Coste, B., Chadha, A., Cook, B. & Patapoutian, A. The role of Drosophila Piezo in mechanical nociception. Nature 483, 209–212 (2012)

Olsson, A. K., Dimberg, A., Kreuger, J. & Claesson-Welsh, L. VEGF receptor signalling - in control of vascular function. Nature Rev. Mol. Cell Biol. 7, 359–371 (2006)

Bae, C., Sachs, F. & Gottlieb, P. A. The mechanosensitive ion channel Piezo1 is inhibited by the peptide GsMTx4. Biochemistry 50, 6295–6300 (2011)

Song, J. W. & Munn, L. L. Fluid forces control endothelial sprouting. Proc. Natl Acad. Sci. USA 108, 15342–15347 (2011)

Dolan, J. M., Kolega, J. & Meng, H. High wall shear stress and spatial gradients in vascular pathology: a review. Ann. Biomed. Eng. 41, 1411–1427 (2013)

Johnson, B. D., Mather, K. J. & Wallace, J. P. Mechanotransduction of shear in the endothelium: basic studies and clinical implications. Vasc. Med. 16, 365–377 (2011)

Matthews, B. D., Overby, D. R., Mannix, R. & Ingber, D. E. Cellular adaptation to mechanical stress: role of integrins, Rho, cytoskeletal tension and mechanosensitive ion channels. J. Cell Sci. 119, 508–518 (2006)

Tzima, E. et al. A mechanosensory complex that mediates the endothelial cell response to fluid shear stress. Nature 437, 426–431 (2005)

Brakemeier, S., Eichler, I., Hopp, H., Kohler, R. & Hoyer, J. Up-regulation of endothelial stretch-activated cation channels by fluid shear stress. Cardiovasc. Res. 53, 209–218 (2002)

AbouAlaiwi, W. A. et al. Ciliary polycystin-2 is a mechanosensitive calcium channel involved in nitric oxide signaling cascades. Circ. Res. 104, 860–869 (2009)

Hartmannsgruber, V. et al. Arterial response to shear stress critically depends on endothelial TRPV4 expression. PLoS ONE 2, e827 (2007)

Yamamoto, K. et al. Impaired flow-dependent control of vascular tone and remodeling in P2X4-deficient mice. Nature Med. 12, 133–137 (2006)

Zarychanski, R. et al. Mutations in the mechanotransduction protein PIEZO1 are associated with hereditary xerocytosis. Blood 120, 1908–1915 (2012)

Bae, C., Gnanasambandam, R., Nicolai, C., Sachs, F. & Gottlieb, P. A. Xerocytosis is caused by mutations that alter the kinetics of the mechanosensitive channel PIEZO1. Proc. Natl Acad. Sci. USA 110, E1162–E1168 (2013)

Li, S. et al. The role of the dynamics of focal adhesion kinase in the mechanotaxis of endothelial cells. Proc. Natl Acad. Sci. USA 99, 3546–3551 (2002)

Langille, B. L. & Adamson, S. L. Relationship between blood flow direction and endothelial cell orientation at arterial branch sites in rabbits and mice. Circ. Res. 48, 481–488 (1981)

Balligand, J. L., Feron, O. & Dessy, C. eNOS activation by physical forces: from short-term regulation of contraction to chronic remodeling of cardiovascular tissues. Physiol. Rev. 89, 481–534 (2009)

Lebart, M. C. & Benyamin, Y. Calpain involvement in the remodeling of cytoskeletal anchorage complexes. FEBS J. 273, 3415–3426 (2006)

McHugh, B. J. et al. Integrin activation by Fam38A uses a novel mechanism of R-Ras targeting to the endoplasmic reticulum. J. Cell Sci. 123, 51–61 (2010)

Miyazaki, T., Honda, K. & Ohata, H. Requirement of Ca2+ influx- and phosphatidylinositol 3-kinase-mediated m-calpain activity for shear stress-induced endothelial cell polarity. Am. J. Physiol. Cell Physiol. 293, C1216–C1225 (2007)

Arthur, J. S., Elce, J. S., Hegadorn, C., Williams, K. & Greer, P. A. Disruption of the murine calpain small subunit gene, Capn4: calpain is essential for embryonic development but not for cell growth and division. Mol. Cell. Biol. 20, 4474–4481 (2000)

Zhuang, X., Cross, D., Heath, V. L. & Bicknell, R. Shear stress, tip cells and regulators of endothelial migration. Biochem. Soc. Trans. 39, 1571–1575 (2011)

Hahn, C. & Schwartz, M. A. Mechanotransduction in vascular physiology and atherogenesis. Nature Rev. Mol. Cell Biol. 10, 53–62 (2009)

van Beijnum, J. R., Rousch, M., Castermans, K., van der Linden, E. & Griffioen, A. W. Isolation of endothelial cells from fresh tissues. Nature Protocols 3, 1085–1091 (2008)

Wiśniewski, J. R., Zougman, A., Nagaraj, N. & Mann, M. Universal sample preparation method for proteome analysis. Nature Methods 6, 359–362 (2009)

Thingholm, T. E., Jorgensen, T. J., Jensen, O. N. & Larsen, M. R. Highly selective enrichment of phosphorylated peptides using titanium dioxide. Nature Protocols 1, 1929–1935 (2006)

Babaei, F. et al. Novel blood collection method allows plasma proteome analysis from single zebrafish. J. Proteome Res. 12, 1580–1590 (2013)

Huang Da W, Sherman, B. T. & Lempicki, R. A. Systematic and integrative analysis of large gene lists using DAVID bioinformatics resources. Nature Protocols 4, 44–57 (2009)

Warboys, C. M. et al. Disturbed flow promotes endothelial senescence via a p53-dependent pathway. Arterioscler. Thromb. Vasc. Biol. 34, 985–995 (2014)

Rezakhaniha, R. et al. Experimental investigation of collagen waviness and orientation in the arterial adventitia using confocal laser scanning microscopy. Biomech. Model. Mechanobiol. 11, 461–473 (2012)
Acknowledgements
The research was supported by research grants from the Wellcome Trust, the Medical Research Council, the Leeds Teaching Hospitals Trust Charitable Foundation, and the British Heart Foundation. B.H. was supported by a Scholarship from the University of Leeds and the China Scholarship Council. A.J.H. was supported by a BBSRC PhD Studentship. R.S.Y. was supported by a Cancer Research UK Clinical Fellowship. L.A.W. was supported by a BBSRC-AstraZeneca PhD Studentship. M.A.B. was supported by a British Heart Foundation Fellowship.
Ethics declarations
Competing interests
The authors declare no competing financial interests.
Additional information
The mass spectrometry proteomics data have been deposited to the ProteomeXchange Consortium via the PRIDE partner repository (dataset identifier: PXD001099 and DOI 10.6019/PXD001099).
Extended data figures and tables
Supplementary information
About this article
Cite this article
Li, J., Hou, B., Tumova, S. et al. Piezo1 integration of vascular architecture with physiological force. Nature 515, 279–282 (2014). https://doi.org/10.1038/nature13701
Received:

Accepted:

Published:

Issue Date:

DOI: https://doi.org/10.1038/nature13701
Comments
By submitting a comment you agree to abide by our Terms and Community Guidelines. If you find something abusive or that does not comply with our terms or guidelines please flag it as inappropriate.