Abstract
Liquid–liquid phase separation is ubiquitous in suspensions of nanoparticles, proteins and colloids. It has an important role in gel formation, protein crystallization and perhaps even as an organizing principle in cellular biology1,2. With a few notable exceptions3,4, liquid–liquid phase separation in bulk proceeds through the continuous coalescence of droplets until the system undergoes complete phase separation. But when colloids, nanoparticles or proteins are confined to interfaces, surfaces or membranes, their interactions differ fundamentally from those mediated by isotropic solvents5,6, and this results in significantly more complex phase behaviour7,8,9,10,11,12,13. Here we show that liquid–liquid phase separation in monolayer membranes composed of two dissimilar chiral colloidal rods gives rise to thermodynamically stable rafts that constantly exchange monomeric rods with the background reservoir to maintain a self-limited size. We visualize and manipulate rafts to quantify their assembly kinetics and to show that membrane distortions arising from the rods' chirality lead to long-range repulsive raft–raft interactions. Rafts assemble into cluster crystals at high densities, but they can also form bonds to yield higher-order structures. Taken together, our observations demonstrate a robust membrane-based pathway for the assembly of monodisperse membrane clusters that is complementary to existing methods for colloid assembly in bulk suspensions14,15,16. They also reveal that chiral inclusions in membranes can acquire long-range repulsive interactions, which might more generally have a role in stabilizing assemblages of finite size13,17.
Relevant articles
Open Access articles citing this article.
Yujia Liang

,

Yong Xie

…

Qian Liu

Nature Communications Open Access 10 November 2017

Simone Dussi

&

Marjolein Dijkstra

Nature Communications Open Access 12 April 2016

Anna Modlińska

,

Ahmed M. Alsayed

&

Thomas Gibaud

Scientific Reports Open Access 14 December 2015
Access options
Subscribe to Journal
Get full journal access for 1 year
$199.00
only $3.90 per issue
All prices are NET prices.
VAT will be added later in the checkout.
Tax calculation will be finalised during checkout.
Buy article
Get time limited or full article access on ReadCube.
$32.00
All prices are NET prices.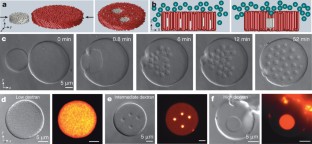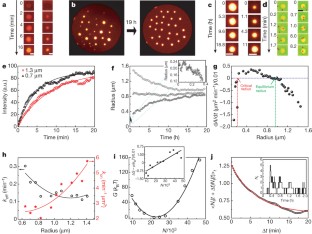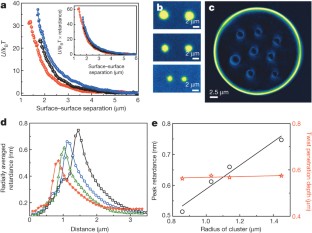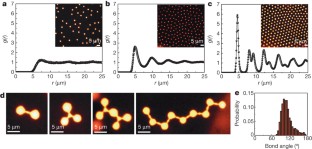 References
ten Wolde, P. R. & Frenkel, D. Enhancement of protein crystal nucleation by critical density fluctuations. Science 277, 1975–1978 (1997)

Hyman, A. A. & Simons, K. Beyond oil and water-phase transitions in cells. Science 337, 1047–1049 (2012)

Stradner, A. et al. Equilibrium cluster formation in concentrated protein solutions and colloids. Nature 432, 492–495 (2004)

Groenewold, J. & Kegel, W. K. Anomalously large equilibrium clusters of colloids. J. Phys. Chem. B 105, 11702–11709 (2001)

Goulian, M., Bruinsma, R. & Pincus, P. Long-range forces in heterogeneous fluid membranes. Europhys. Lett. 23, 155 (1993)

Dan, N., Berman, A., Pincus, P. & Safran, S. A. Membrane-induced interactions between inclusions. J. Phys. II 4, 1713–1725 (1994)

Weis, R. M. & McConnell, H. M. Two-dimensional chiral crystals of phospholipid. Nature 310, 47–49 (1984)

Dietrich, C. et al. Lipid rafts reconstituted in model membranes. Biophys. J. 80, 1417–1428 (2001)

Dinsmore, A. D. et al. Colloidosomes: selectively permeable capsules composed of colloidal particles. Science 298, 1006–1009 (2002)

Lin, Y., Skaff, H., Emrick, T., Dinsmore, A. D. & Russell, T. P. Nanoparticle assembly and transport at liquid–liquid interfaces. Science 299, 226–229 (2003)

Veatch, S. L. & Keller, S. L. Separation of liquid phases in giant vesicles of ternary mixtures of phospholipids and cholesterol. Biophys. J. 85, 3074–3083 (2003)

Baumgart, T., Hess, S. T. & Webb, W. W. Imaging coexisting fluid domains in biomembrane models coupling curvature and line tension. Nature 425, 821–824 (2003)

Lingwood, D. & Simons, K. Lipid rafts as a membrane-organizing principle. Science 327, 46–50 (2010)

Meng, G. N., Arkus, N., Brenner, M. P. & Manoharan, V. N. The free-energy landscape of clusters of attractive hard spheres. Science 327, 560–563 (2010)

Chen, Q. et al. Supracolloidal reaction kinetics of Janus spheres. Science 331, 199–202 (2011)

Wang, Y. F. et al. Colloids with valence and specific directional bonding. Nature 491, 51–55 (2012)

Sarasij, R. C., Mayor, S. & Rao, M. Chirality-induced budding: a raft-mediated mechanism for endocytosis and morphology of caveolae? Biophys. J. 92, 3140–3158 (2007)

Barry, E. & Dogic, Z. Entropy driven self-assembly of nonamphiphilic colloidal membranes. Proc. Natl Acad. Sci. USA 107, 10348–10353 (2010)

Barry, E., Beller, D. & Dogic, Z. A model liquid crystalline system based on rodlike viruses with variable chirality and persistence length. Soft Matter 5, 2563–2570 (2009)

Sprague, B. L., Pego, R. L., Stavreva, D. A. & McNally, J. G. Analysis of binding reactions by fluorescence recovery after photobleaching. Biophys. J. 86, 3473–3495 (2004)

Gasser, U., Weeks, E. R., Schofield, A., Pusey, P. N. & Weitz, D. A. Real-space imaging of nucleation and growth in colloidal crystallization. Science 292, 258–262 (2001)

Crocker, J. C. & Grier, D. G. Microscopic measurement of the pair interaction potential of charge-stabilized colloid. Phys. Rev. Lett. 73, 352–355 (1994)

Barry, E., Dogic, Z., Meyer, R. B., Pelcovits, R. A. & Oldenbourg, R. Direct measurement of the twist penetration length in a single smectic A layer of colloidal virus particles. J. Phys. Chem. B 113, 3910–3913 (2009)

Tombolato, F., Ferrarini, A. & Grelet, E. Chiral nematic phase of suspensions of rodlike viruses: left-handed phase helicity from a right-handed molecular helix. Phys. Rev. Lett. 96 http://dx.doi.org/10.1103/PhysRevLett.96.258302 (2006)

Gibaud, T. et al. Reconfigurable self-assembly through chiral control of interfacial tension. Nature 481, 348–351 (2012)

Kaplan, C. N. & Meyer, R. B. Colloidal membranes of hard rods: unified theory of free edge structure and twist walls. Soft Matter 10, 4700–4710 (2014)

Rozovsky, S., Kaizuka, Y. & Groves, J. T. Formation and spatio-temporal evolution of periodic structures in lipid bilayers. J. Am. Chem. Soc. 127, 36–37 (2005)

Reynwar, B. J. et al. Aggregation and vesiculation of membrane proteins by curvature-mediated interactions. Nature 447, 461–464 (2007)

Ursell, T. S., Klug, W. S. & Phillips, R. Morphology and interaction between lipid domains. Proc. Natl Acad. Sci. USA 106, 13301–13306 (2009)

Seul, M. & Andelman, D. Domain shapes and patterns—the phenomenology of modulated phases. Science 267, 476–483 (1995)

Dogic, Z. & Fraden, S. Development of model colloidal liquid crystals and the kinetics of the isotropic–smectic transition. Phil. Trans. R. Soc. A 359, 997–1014 (2001)

Maniatis, T., Sambrook, J. & Fritsch, E. Molecular Cloning (Cold Spring Harbor Laboratory, 1989)

Lettinga, M. P., Barry, E. & Dogic, Z. Self-diffusion of rod-like viruses in the nematic phase. Europhys. Lett. 71, 692–698 (2005)

Lau, A. W. C., Prasad, A. & Dogic, Z. Condensation of isolated semi-flexible filaments driven by depletion interactions. Europhys. Lett. 87, 48006 (2009)

Oldenbourg, R. & Mei, G. New polarized-light microscope with precision universal compensator. J Microsc. 180, 140–147 (1995)

Zakhary, M. J. et al. Imprintable membranes from incomplete chiral coalescence. Nature Commun. 5 http://dx.doi.org/10.1038/ncomms4063 (2014)

Gardiner, C. W. Handbook of Stochastic Methods (Springer, 1985)

Crocker, J. C. & Grier, D. G. Methods of digital video microscopy for colloidal studies. J. Colloid Interf. Sci. 179, 298–310 (1996)
Acknowledgements
We acknowledge discussions with R. B. Meyer. This work was supported by the US National Science Foundation (NSF-MRSEC-0820492, NSF-DMR-0955776 and NSF-MRI-0923057) and the Petroleum Research Fund (ACS-PRF 50558-DNI7). We acknowledge use of the Brandeis MRSEC optical microscopy facility.
Ethics declarations
Competing interests
The authors declare no competing financial interests.
Supplementary information
About this article
Cite this article
Sharma, P., Ward, A., Gibaud, T. et al. Hierarchical organization of chiral rafts in colloidal membranes. Nature 513, 77–80 (2014). https://doi.org/10.1038/nature13694
Received:

Accepted:

Published:

Issue Date:

DOI: https://doi.org/10.1038/nature13694
Comments
By submitting a comment you agree to abide by our Terms and Community Guidelines. If you find something abusive or that does not comply with our terms or guidelines please flag it as inappropriate.