Abstract
Haematopoietic stem cells (HSCs) are self-renewing stem cells capable of replenishing all blood lineages. In all vertebrate embryos that have been studied, definitive HSCs are generated initially within the dorsal aorta (DA) of the embryonic vasculature by a series of poorly understood inductive events1,2,3. Previous studies have identified that signalling relayed from adjacent somites coordinates HSC induction, but the nature of this signal has remained elusive4. Here we reveal that somite specification of HSCs occurs via the deployment of a specific endothelial precursor population, which arises within a sub-compartment of the zebrafish somite that we have defined as the endotome. Endothelial cells of the endotome are specified within the nascent somite by the activity of the homeobox gene meox1. Specified endotomal cells consequently migrate and colonize the DA, where they induce HSC formation through the deployment of chemokine signalling activated in these cells during endotome formation. Loss of meox1 activity expands the endotome at the expense of a second somitic cell type, the muscle precursors of the dermomyotomal equivalent in zebrafish, the external cell layer. The resulting increase in endotome-derived cells that migrate to colonize the DA generates a dramatic increase in chemokine-dependent HSC induction. This study reveals the molecular basis for a novel somite lineage restriction mechanism and defines a new paradigm in induction of definitive HSCs.
Relevant articles
Open Access articles citing this article.
Vashe Chandrakanthan

,

Prunella Rorimpandey

…

John E. Pimanda

Nature Cell Biology Open Access 28 July 2022

Brandon Hadland

,

Barbara Varnum-Finney

…

Irwin D. Bernstein

Nature Communications Open Access 24 March 2022

Shoichiro Tani

,

Ung-il Chung

…

Hironori Hojo

Experimental & Molecular Medicine Open Access 13 August 2020
Access options
Subscribe to Journal
Get full journal access for 1 year
$199.00
only $3.90 per issue
All prices are NET prices.
VAT will be added later in the checkout.
Tax calculation will be finalised during checkout.
Buy article
Get time limited or full article access on ReadCube.
$32.00
All prices are NET prices.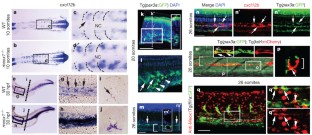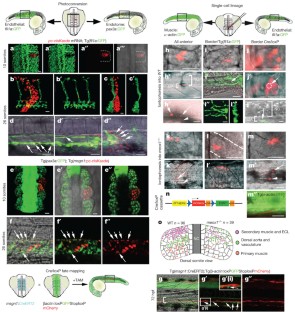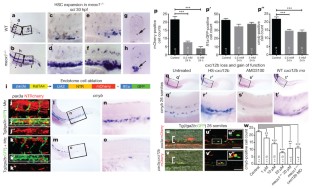 References
Davidson, A. J. & Zon, L. I. The 'definitive' (and 'primitive') guide to zebrafish hematopoiesis. Oncogene 23, 7233–7246 (2004)

Kissa, K. & Herbomel, P. Blood stem cells emerge from aortic endothelium by a novel type of cell transition. Nature 464, 112–115 (2010)

Bertrand, J. Y. et al. Haematopoietic stem cells derive directly from aortic endothelium during development. Nature 464, 108–111 (2010)

Clements, W. K. et al. A somitic Wnt16/Notch pathway specifies haematopoietic stem cells. Nature 474, 220–224 (2011)

Noden, D. M. Embryonic origins and assembly of blood vessels. Am. Rev. Respir. Dis. 140, 1097–1103 (1989)

Pardanaud, L. & Dieterlen-Lievre, F. Does the paraxial mesoderm of the avian embryo have hemangioblastic capacity? Anat. Embryol. (Berl.) 192, 301–308 (1995)

Pardanaud, L. et al. Two distinct endothelial lineages in ontogeny, one of them related to hemopoiesis. Development 122, 1363–1371 (1996)

Wilting, J. et al. Angiogenic potential of the avian somite. Dev. Dyn. 202, 165–171 (1995)

Jaffredo, T., Gautier, R., Eichmann, A. & Dieterlen-Lievre, F. Intraaortic hemopoietic cells are derived from endothelial cells during ontogeny. Development 125, 4575–4583 (1998)

Pouget, C., Gautier, R., Teillet, M. A. & Jaffredo, T. Somite-derived cells replace ventral aortic hemangioblasts and provide aortic smooth muscle cells of the trunk. Development 133, 1013–1022 (2006)

Esner, M. et al. Smooth muscle of the dorsal aorta shares a common clonal origin with skeletal muscle of the myotome. Development 133, 737–749 (2006)

Ben-Yair, R. & Kalcheim, C. Notch and bone morphogenetic protein differentially act on dermomyotome cells to generate endothelium, smooth, and striated muscle. J. Cell Biol. 180, 607–618 (2008)

Childs, S., Chen, J. N., Garrity, D. M. & Fishman, M. C. Patterning of angiogenesis in the zebrafish embryo. Development 129, 973–982 (2002)

Jin, S. W., Beis, D., Mitchell, T., Chen, J. N. & Stainier, D. Y. Cellular and molecular analyses of vascular tube and lumen formation in zebrafish. Development 132, 5199–5209 (2005)

Kohli, V., Schumacher, J. A., Desai, S. P., Rehn, K. & Sumanas, S. Arterial and venous progenitors of the major axial vessels originate at distinct locations. Dev. Cell 25, 196–206 (2013)

Lawson, N. D. & Weinstein, B. M. In vivo imaging of embryonic vascular development using transgenic zebrafish. Dev. Biol. 248, 307–318 (2002)

Williams, C. et al. Hedgehog signaling induces arterial endothelial cell formation by repressing venous cell fate. Dev. Biol. 341, 196–204 (2010)

Zhang, X. Y. & Rodaway, A. R. SCL-GFP transgenic zebrafish: in vivo imaging of blood and endothelial development and identification of the initial site of definitive hematopoiesis. Dev. Biol. 307, 179–194 (2007)

Svetic, V. et al. Sdf1a patterns zebrafish melanophores and links the somite and melanophore pattern defects in choker mutants. Development 134, 1011–1022 (2007)

Hollway, G. E. et al. Whole-somite rotation generates muscle progenitor cell compartments in the developing zebrafish embryo. Dev. Cell 12, 207–219 (2007)

Stellabotte, F., Dobbs-McAuliffe, B., Fernandez, D. A., Feng, X. & Devoto, S. H. Dynamic somite cell rearrangements lead to distinct waves of myotome growth. Development 134, 1253–1257 (2007)

Cha, Y. R. et al. Chemokine signaling directs trunk lymphatic network formation along the preexisting blood vasculature. Dev. Cell 22, 824–836 (2012)

Bussmann, J., Bakkers, J. & Schulte-Merker, S. Early endocardial morphogenesis requires Scl/Tal1. PLoS Genet. 3, e140 (2007)

Yabe, T. & Takada, S. Mesogenin causes embryonic mesoderm progenitors to differentiate during development of zebrafish tail somites. Dev. Biol. 370, 213–222 (2012)

Ding, L. & Morrison, S. J. Haematopoietic stem cells and early lymphoid progenitors occupy distinct bone marrow niches. Nature 495, 231–235 (2013)

Greenbaum, A. et al. CXCL12 in early mesenchymal progenitors is required for haematopoietic stem-cell maintenance. Nature 495, 227–230 (2013)

Zou, Y. R., Kottmann, A. H., Kuroda, M., Taniuchi, I. & Littman, D. R. Function of the chemokine receptor CXCR4 in haematopoiesis and in cerebellar development. Nature 393, 595–599 (1998)

Cerdan, C. & Bhatia, M. Novel roles for Notch, Wnt and Hedgehog in hematopoesis derived from human pluripotent stem cells. Int. J. Dev. Biol. 54, 955–963 (2010)

van Eeden, F. J. et al. Mutations affecting somite formation and patterning in the zebrafish, Danio rerio. Development 123, 153–164 (1996)

Higashijima, S., Okamoto, H., Ueno, N., Hotta, Y. & Eguchi, G. High-frequency generation of transgenic zebrafish which reliably express GFP in whole muscles or the whole body by using promoters of zebrafish origin. Dev. Biol. 192, 289–299 (1997)

Ma, D., Zhang, J., Lin, H. F., Italiano, J. & Handin, R. I. The identification and characterization of zebrafish hematopoietic stem cells. Blood 118, 289–297 (2011)

Lawson, N. D. & Weinstein, B. M. In vivo imaging of embryonic vascular development using transgenic zebrafish. Dev. Biol. 248, 307–318 (2002)

Proulx, K., Lu, A. & Sumanas, S. Cranial vasculature in zebrafish forms by angioblast cluster-derived angiogenesis. Dev. Biol. 348, 34–46 (2010)

Pisharath, H., Rhee, J. M., Swanson, M. A., Leach, S. D. & Parsons, M. J. Targeted ablation of beta cells in the embryonic zebrafish pancreas using E. coli nitroreductase. Mech. Dev. 124, 218–229 (2007)

Seger, C. et al. Analysis of Pax7 expressing myogenic cells in zebrafish muscle development, injury, and models of disease. Dev. Dyn. 240, 2440–2451 (2011)

Li, Q. et al. Chemokine signaling guides axons within the retina in zebrafish. J. Neurosci. 25, 1711–1717 (2005)

Kwan, K. M. et al. The Tol2kit: a multisite gateway-based construction kit for Tol2 transposon transgenesis constructs. Dev. Dyn. 236, 3088–3099 (2007)

Johnson, J.-L. F. A. et al. Scube activity is necessary for Hedgehog signal transduction in vivo. Dev. Biol. 368, 193–202 (2012)

Distel, M., Wullimann, M. F. & Koster, R. W. Optimized Gal4 genetics for permanent gene expression mapping in zebrafish. Proc. Natl Acad. Sci. USA 106, 13365–13370 (2009)

Berger, J. & Currie, P. D. 503unc, a small and muscle-specific zebrafish promoter. Genesis 51, 443–447 (2013)

Villefranc, J. A., Amigo, J. & Lawson, N. D. Gateway compatible vectors for analysis of gene function in the zebrafish. Dev. Dyn. 236, 3077–3087 (2007)

Westerfield, M. The Zebrafish Book. A Guide for the Laboratory Use of Zebrafish (Danio rerio) 4th edn (Univ. of Oregon Press, 2000)

Curado, S., Stainier, D. Y. & Anderson, R. M. Nitroreductase-mediated cell/tissue ablation in zebrafish: a spatially and temporally controlled ablation method with applications in developmental and regeneration studies. Nature Protocols 3, 948–954 (2008)

Shimshek, D. R. et al. Codon-improved Cre recombinase (iCre) expression in the mouse. Genesis 32, 19–26 (2002)

Thisse, C. & Thisse, B. High-resolution in situ hybridization to whole-mount zebrafish embryos. Nature Protocols 3, 59–69 (2008)

Neyt, C. et al. Evolutionary origins of vertebrate appendicular muscle. Nature 408, 82–86 (2000)

Weinberg, E. S. et al. Developmental regulation of zebrafish MyoD in wild-type, no tail and spadetail embryos. Development 122, 271–280 (1996)

Thompson, M. A. et al. The cloche and spadetail genes differentially affect hematopoiesis and vasculogenesis. Dev. Biol. 197, 248–269 (1998)

Liao, E. C. et al. SCL/Tal-1 transcription factor acts downstream of cloche to specify hematopoietic and vascular progenitors in zebrafish. Genes Dev. 12, 621–626 (1998)

Kalev-Zylinska, M. L. et al. Runx1 is required for zebrafish blood and vessel development and expression of a human RUNX1-CBF2T1 transgene advances a model for studies of leukemogenesis. Development 129, 2015–2030 (2002)

Seo, H. C., Saetre, B. O., Havik, B., Ellingsen, S. & Fjose, A. The zebrafish Pax3 and Pax7 homologues are highly conserved, encode multiple isoforms and show dynamic segment-like expression in the developing brain. Mech. Dev. 70, 49–63 (1998)

Karolchik, D. et al. The UCSC Genome Browser database: 2014 update. Nucleic Acids Res. 42, D764–D770 (2014)

Lindeman, L. C., Vogt-Kielland, L. T., Alestrom, P. & Collas, P. Fish'n ChIPs: chromatin immunoprecipitation in the zebrafish embryo. Methods Mol. Biol. 567, 75–86 (2009)

Mathelier, A. et al. JASPAR 2014: an extensively expanded and updated open-access database of transcription factor binding profiles. Nucleic Acids Res. 42, D142–D147 (2014)

Whitesell, T. R. et al. An alpha-smooth muscle actin (acta2/alphasma) zebrafish transgenic line marking vascular mural cells and visceral smooth muscle cells. PLoS ONE 9, e90590 (2014)
Acknowledgements
We thank G. Kardon and B. Hogan for reading and critique of the manuscript. We also thank C.-H. Wang, F. Ellett, V. Nikolova-Krstevski and Fishcore staff for technical assistance. This work was supported by a National Health and Medical Research Council of Australia (NHMRC) grant to P.D.C. and an Australian Research Council grant to P.D.C. and G.E.H.; G.E.H. was supported by a Cancer Institute NSW (CINSW) Career Development Fellowship, R.L.S. by the CINSW and RT Hall Foundation, P.D.N. by an Australian Postgraduate Award, G.J.L. by a NHMRC Senior Research Fellowship and P.D.C. by a NHMRC Principal Research Fellowship. The Australian Regenerative Medicine Institute is supported by funds from the State Government of Victoria and the Australian Federal Government.
Ethics declarations
Competing interests
The authors declare no competing financial interests.
Extended data figures and tables
Supplementary information
About this article
Cite this article
Nguyen, P., Hollway, G., Sonntag, C. et al. Haematopoietic stem cell induction by somite-derived endothelial cells controlled by meox1. Nature 512, 314–318 (2014). https://doi.org/10.1038/nature13678
Received:

Accepted:

Published:

Issue Date:

DOI: https://doi.org/10.1038/nature13678
Comments
By submitting a comment you agree to abide by our Terms and Community Guidelines. If you find something abusive or that does not comply with our terms or guidelines please flag it as inappropriate.