Abstract
Long-term synaptic potentiation (LTP) is thought to be a key process in cortical synaptic network plasticity and memory formation1. Hebbian forms of LTP depend on strong postsynaptic depolarization, which in many models is generated by action potentials that propagate back from the soma into dendrites2,3. However, local dendritic depolarization has been shown to mediate these forms of LTP as well1,4,5. As pyramidal cells in supragranular layers of the somatosensory cortex spike infrequently6,7,8, it is unclear which of the two mechanisms prevails for those cells in vivo. Using whole-cell recordings in the mouse somatosensory cortex in vivo, we demonstrate that rhythmic sensory whisker stimulation efficiently induces synaptic LTP in layer 2/3 (L2/3) pyramidal cells in the absence of somatic spikes. The induction of LTP depended on the occurrence of NMDAR (N-methyl-d-aspartate receptor)-mediated long-lasting depolarizations, which bear similarities to dendritic plateau potentials9,10,11,12,13. In addition, we show that whisker stimuli recruit synaptic networks that originate from the posteromedial complex of the thalamus (POm). Photostimulation of channelrhodopsin-2 expressing POm neurons generated NMDAR-mediated plateau potentials, whereas the inhibition of POm activity during rhythmic whisker stimulation suppressed the generation of those potentials and prevented whisker-evoked LTP. Taken together, our data provide evidence for sensory-driven synaptic LTP in vivo, in the absence of somatic spiking. Instead, LTP is mediated by plateau potentials that are generated through the cooperative activity of lemniscal and paralemniscal synaptic circuitry14,15,16.
Access options
Subscribe to Journal
Get full journal access for 1 year
$199.00
only $3.90 per issue
All prices are NET prices.
VAT will be added later in the checkout.
Tax calculation will be finalised during checkout.
Rent or Buy article
Get time limited or full article access on ReadCube.
from$8.99
All prices are NET prices.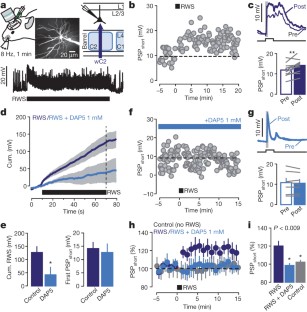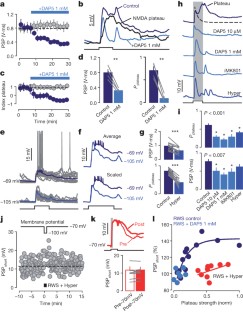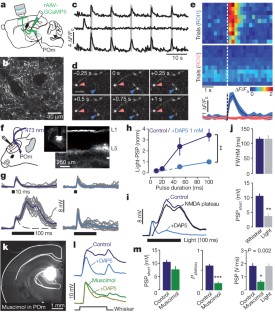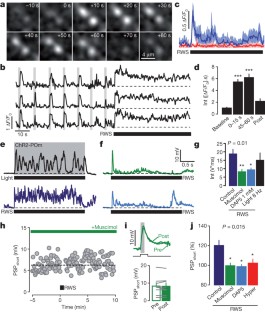 References
1

Bliss, T. V. P. & Collingridge, G. L. A synaptic model of memory: long-term potentiation in the hippocampus. Nature 361, 31–39 (1993)

2

Markram, H., Luebke, J., Frotscher, M. & Sakmann, B. Regulation of synaptic efficacy by coincidence of postsynaptic APs and EPSPs. Science 275, 213–215 (1997)

3

Feldman, D. E. The spike-timing dependence of plasticity. Neuron 75, 556–571 (2012)

4

Golding, N. L., Staff, N. P. & Spruston, N. Dendritic spikes as a mechanism for cooperative long-term potentiation. Nature 418, 326–331 (2002)

5

Lisman, J. & Spruston, N. Postsynaptic depolarization requirements for LTP and LTD: a critique of spike timing-dependent plasticity. Nature Neurosci. 8, 839–841 (2005)

6

Brecht, M., Roth, A. & Sakmann, B. Dynamic receptive fields of reconstructed pyramidal cells in layers 3 and 2 of rat somatosensory barrel cortex. J. Physiol. (Lond.) 553, 243–265 (2003)

7

Poulet, J. F. & Petersen, C. C. Internal brain state regulates membrane potential synchrony in barrel cortex of behaving mice. Nature 454, 881–885 (2008)

8

O'Connor, D. H., Peron, S. P., Huber, D. & Svoboda, K. Neural activity in barrel cortex underlying vibrissa-based object localization in mice. Neuron 67, 1048–1061 (2010)

9

Antic, S. D., Zhou, W. L., Moore, A. R., Short, S. M. & Ikonomu, K. D. The decade of the dendritic NMDA spike. J. Neurosci. Res. 88, 2991–3001 (2010)

10

Lavzin, M., Rapoport, S., Polsky, A., Garion, L. & Schiller, J. Nonlinear dendritic processing determines angular tuning of barrel cortex neurons in vivo. Nature 490, 397–401 (2012)

11

Xu, N. L. et al. Nonlinear dendritic integration of sensory and motor input during an active sensing task. Nature 492, 247–251 (2012)

12

Major, G., Larkum, M. E. & Schiller, J. Active properties of neocortical pyramidal neuron dendrites. Annu. Rev. Neurosci. 36, 1–24 (2013)

13

Palmer, L. M. et al. NMDA spikes enhance action potential generation during sensory input. Nature Neurosci. 17, 383–390 (2014)

14

Bureau, I., von Saint Paul, F. & Svoboda, K. Interdigitated paralemniscal and lemniscal pathways in the mouse barrel cortex. PLoS Biol. 4, e382 (2006)

15

Diamond, M. E., von Heimendahl, M., Knutsen, P. M., Kleinfeld, D. & Ahissar, E. 'Where' and 'what' in the whisker sensorimotor system. Nature Rev. Neurosci. 9, 601–612 (2008)

16

Larkum, M. A cellular mechanism for cortical associations: an organizing principle for the cerebral cortex. Trends Neurosci. 36, 141–151 (2013)

17

Megevand, P. et al. Long-term plasticity in mouse sensorimotor circuits after rhythmic whisker stimulation. J. Neurosci. 29, 5326–5335 (2009)

18

Gambino, F. & Holtmaat, A. Spike-timing-dependent potentiation of sensory surround in the somatosensory cortex is facilitated by deprivation-mediated disinhibition. Neuron 75, 490–502 (2012)

19

Poulet, J. F., Fernandez, L. M., Crochet, S. & Petersen, C. C. Thalamic control of cortical states. Nature Neurosci. 15, 370–372 (2012)

20

Favero, M. & Castro-Alamancos, M. A. Synaptic cooperativity regulates persistent network activity in neocortex. J. Neurosci. 33, 3151–3163 (2013)

21

Armstrong-James, M., Welker, E. & Callahan, C. A. The contribution of NMDA and non-NMDA receptors to fast and slow transmission of sensory information in the rat SI barrel cortex. J. Neurosci. 13, 2149–2160 (1993)

22

Petersen, C. C., Grinvald, A. & Sakmann, B. Spatiotemporal dynamics of sensory responses in layer 2/3 of rat barrel cortex measured in vivo by voltage-sensitive dye imaging combined with whole-cell voltage recordings and neuron reconstructions. J. Neurosci. 23, 1298–1309 (2003)

23

Wilent, W. B. & Contreras, D. Synaptic responses to whisker deflections in rat barrel cortex as a function of cortical layer and stimulus intensity. J. Neurosci. 24, 3985–3998 (2004)

24

Rema, V., Armstrong-James, M. & Ebner, F. F. Experience-dependent plasticity of adult rat S1 cortex requires local NMDA receptor activation. J. Neurosci. 18, 10196–10206 (1998)

25

Grienberger, C., Chen, X. & Konnerth, A. NMDA receptor-dependent multidendrite Ca2+ spikes required for hippocampal burst firing in vivo. Neuron 81, 1274–1281 (2014)

26

Deschênes, M., Veinante, P. & Zhang, Z. W. The organization of corticothalamic projections: reciprocity versus parity. Brain Res. Brain Res. Rev. 28, 286–308 (1998)

27

Petreanu, L., Mao, T., Sternson, S. M. & Svoboda, K. The subcellular organization of neocortical excitatory connections. Nature 457, 1142–1145 (2009)

28

Feldmeyer, D. Excitatory neuronal connectivity in the barrel cortex. Front. Neuroanat. 6, 24 (2012)

29

Diamond, M. E., Armstrong-James, M., Budway, M. J. & Ebner, F. F. Somatic sensory responses in the rostral sector of the posterior group (POm) and in the ventral posterior medial nucleus (VPM) of the rat thalamus: dependence on the barrel field cortex. J. Comp. Neurol. 319, 66–84 (1992)

30

Hardie, J. & Spruston, N. Synaptic depolarization is more effective than back-propagating action potentials during induction of associative long-term potentiation in hippocampal pyramidal neurons. J. Neurosci. 29, 3233–3241 (2009)

31

Kitamura, K., Judkewitz, B., Kano, M., Denk, W. & Hausser, M. Targeted patch-clamp recordings and single-cell electroporation of unlabeled neurons in vivo. Nature Methods 5, 61–67 (2008)

32

Kole, M. H. & Stuart, G. J. Is action potential threshold lowest in the axon? Nature Neurosci. 11, 1253–1255 (2008)

33

Ohno, S. et al. A morphological analysis of thalamocortical axon fibers of rat posterior thalamic nuclei: a single neuron tracing study with viral vectors. Cereb. Cortex 22, 2840–2857 (2012)

34

Zhang, F., Wang, L. P., Boyden, E. S. & Deisseroth, K. Channelrhodopsin-2 and optical control of excitable cells. Nature Methods 3, 785–792 (2006)

35

Akerboom, J. et al. Optimization of a GCaMP calcium indicator for neural activity imaging. J. Neurosci. 32, 13819–13840 (2012)

36

Holtmaat, A. et al. Long-term, high-resolution imaging in the mouse neocortex through a chronic cranial window. Nature protocols 4, 1128–1144 (2009)

37

Chen, T. W. et al. Ultrasensitive fluorescent proteins for imaging neuronal activity. Nature 499, 295–300 (2013)

38

Pologruto, T. A., Sabatini, B. L. & Svoboda, K. ScanImage: Flexible software for operating laser-scanning microscopes. Biomed. Eng. Online 2, 13 (2003)

39

Schindelin, J. et al. Fiji: an open-source platform for biological-image analysis. Nature Methods 9, 676–682 (2012)

40

Kapur, J. N., Sahoo, P. K. & Wong, A. K. C. A new method for gray-level picture thresholding using the entropy of the histogram. Computer Vis. Graph. Image Process. 29, 273–285 (1985)

41

Paxinos, G. & Franklin, K. B. J. The Mouse Brain in Stereotaxic Coordinates. 2nd edn (Academic Press, 2001)
Acknowledgements
We thank E. Ahissar and T. Oram for advice on the muscimol experiments. We appreciate C. Lüscher's comments on our manuscript. We thank L. L. Looger and D. Kim of the GENIE project, and K. Svoboda at the Janelia Farm Research Campus (HHMI) for distributing the GCaMP5G, GCaMP6S and ChR2 vectors, respectively. This work was supported by the Swiss National Science Foundation (grants 31003A_120685, 31003A_135631 and CRSI33_127289 to A.H.; 31003A_153410 to A.C.), the National Centre of Competence in Research (NCCR) SYNAPSY financed by the Swiss National Science Foundation (51AU40_125759), the International Foundation for Research on Paraplegia, and the Hans Wilsdorf Foundation. V.K. was supported by SyMBaD (EU FP7-PEOPLE-ITN Marie Curie, grant 238608).
Ethics declarations
Competing interests
The authors declare no competing financial interests.
Extended data figures and tables
Supplementary information
This file contains Supplementary Notes 1-7, Supplementary Valies and Statistics, Supplementary References and Supplementary Data Figure 1. (PDF 943 kb)
About this article
Cite this article
Gambino, F., Pagès, S., Kehayas, V. et al. Sensory-evoked LTP driven by dendritic plateau potentials in vivo. Nature 515, 116–119 (2014). https://doi.org/10.1038/nature13664
Received:

Accepted:

Published:

Issue Date:
Comments
By submitting a comment you agree to abide by our Terms and Community Guidelines. If you find something abusive or that does not comply with our terms or guidelines please flag it as inappropriate.