Abstract
During plant growth, dividing cells in meristems must coordinate transitions from division to expansion and differentiation, thus generating three distinct developmental zones: the meristem, elongation zone and differentiation zone1. Simultaneously, plants display tropisms, rapid adjustments of their direction of growth to adapt to environmental conditions. It is unclear how stable zonation is maintained during transient adjustments in growth direction. In Arabidopsis roots, many aspects of zonation are controlled by the phytohormone auxin and auxin-induced PLETHORA (PLT) transcription factors, both of which display a graded distribution with a maximum near the root tip2,3,4,5,6,7,8,9,10,11,12. In addition, auxin is also pivotal for tropic responses13,14. Here, using an iterative experimental and computational approach, we show how an interplay between auxin and PLTs controls zonation and gravitropism. We find that the PLT gradient is not a direct, proportionate readout of the auxin gradient. Rather, prolonged high auxin levels generate a narrow PLT transcription domain from which a gradient of PLT protein is subsequently generated through slow growth dilution and cell-to-cell movement. The resulting PLT levels define the location of developmental zones. In addition to slowly promoting PLT transcription, auxin also rapidly influences division, expansion and differentiation rates. We demonstrate how this specific regulatory design in which auxin cooperates with PLTs through different mechanisms and on different timescales enables both the fast tropic environmental responses and stable zonation dynamics necessary for coordinated cell differentiation.
Relevant articles
Open Access articles citing this article.
Ying Wang

,

Na Li

…

Hanzhong Wang

Biotechnology for Biofuels and Bioproducts Open Access 12 September 2022
Access options
Subscribe to Journal
Get full journal access for 1 year
$199.00
only $3.90 per issue
All prices are NET prices.
VAT will be added later in the checkout.
Tax calculation will be finalised during checkout.
Buy article
Get time limited or full article access on ReadCube.
$32.00
All prices are NET prices.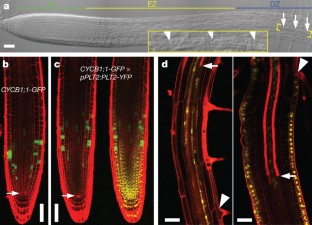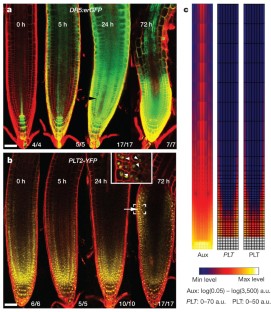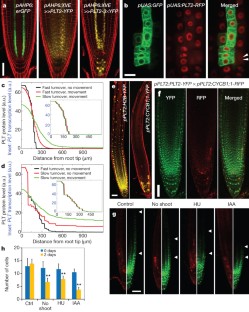 References
Dolan, L. et al. Cellular organisation of the Arabidopsis thaliana root. Development 119, 71–84 (1993)

Beemster, G. T. & Baskin, T. I. Stunted plant 1 mediates effects of cytokinin, but not of auxin, on cell division and expansion in the root of Arabidopsis. Plant Physiol. 124, 1718–1727 (2000)

Sabatini, S. et al. An auxin-dependent distal organizer of pattern and polarity in the Arabidopsis root. Cell 99, 463–472 (1999)

Grieneisen, V. A., Xu, J., Maree, A. F., Hogeweg, P. & Scheres, B. Auxin transport is sufficient to generate a maximum and gradient guiding root growth. Nature 449, 1008–1013 (2007)

Petersson, S. V. et al. An auxin gradient and maximum in the Arabidopsis root apex shown by high-resolution cell-specific analysis of IAA distribution and synthesis. Plant Cell 21, 1659–1668 (2009)

Brunoud, G. et al. A novel sensor to map auxin response and distribution at high spatio-temporal resolution. Nature 482, 103–106 (2012)

Ishida, T. et al. Auxin modulates the transition from the mitotic cycle to the endocycle in Arabidopsis. Development 137, 63–71 (2010)

Aida, M. et al. The PLETHORA genes mediate patterning of the Arabidopsis root stem cell niche. Cell 119, 109–120 (2004)

Galinha, C. et al. PLETHORA proteins as dose-dependent master regulators of Arabidopsis root development. Nature 449, 1053–1057 (2007)

Blilou, I. et al. The PIN auxin efflux facilitator network controls growth and patterning in Arabidopsis roots. Nature 433, 39–44 (2005)

Band, L. R. et al. Systems analysis of auxin transport in the Arabidopsis root apex. Plant Cell 26, 862–875 (2014)

Hofhuis, H. et al. Phyllotaxis and rhizotaxis in Arabidopsis are modified by three PLETHORA transcription factors. Curr. Biol. 23, 956–962 (2013)

Friml, J., Wisniewska, J., Benkova, E., Mendgen, K. & Palme, K. Lateral relocation of auxin efflux regulator PIN3 mediates tropism in Arabidopsis. Nature 415, 806–809 (2002)

Band, L. R. et al. Root gravitropism is regulated by a transient lateral auxin gradient controlled by a tipping-point mechanism. Proc. Natl Acad. Sci. USA 109, 4668–4673 (2012)

Mähönen, A. P. et al. Cytokinin signaling and its inhibitor AHP6 regulate cell fate during vascular development. Science 311, 94–98 (2006)

Lee, M. M. & Schiefelbein, J. WEREWOLF, a MYB-related protein in Arabidopsis, is a position-dependent regulator of epidermal cell patterning. Cell 99, 473–483 (1999)

Friml, J. et al. Efflux-dependent auxin gradients establish the apical–basal axis of Arabidopsis. Nature 426, 147–153 (2003)

Fischer, U. et al. Vectorial information for Arabidopsis planar polarity is mediated by combined AUX1, EIN2, and GNOM activity. Curr. Biol. 16, 2143–2149 (2006)

Wu, S. & Gallagher, K. L. Transcription factors on the move. Curr. Opin. Plant Biol. 15, 645–651 (2012)

Heidstra, R., Welch, D. & Scheres, B. Mosaic analyses using marked activation and deletion clones dissect Arabidopsis SCARECROW action in asymmetric cell division. Genes Dev. 18, 1964–1969 (2004)

Matsuzaki, Y., Ogawa-Ohnishi, M., Mori, A. & Matsubayashi, Y. Secreted peptide signals required for maintenance of root stem cell niche in Arabidopsis. Science 329, 1065–1067 (2010)

Colón-Carmona, A., You, R., Haimovitch-Gal, T. & Doerner, P. Technical advance: spatio-temporal analysis of mitotic activity with a labile cyclin–GUS fusion protein. Plant J. 20, 503–508 (1999)

Culligan, K., Tissier, A. & Britt, A. ATR regulates a G2-phase cell-cycle checkpoint in Arabidopsis thaliana. Plant Cell 16, 1091–1104 (2004)

Yu, S. R. et al. Fgf8 morphogen gradient forms by a source-sink mechanism with freely diffusing molecules. Nature 461, 533–536 (2009)

Wilson, V., Olivera-Martinez, I. & Storey, K. G. Stem cells, signals and vertebrate body axis extension. Development 136, 1591–1604 (2009)

Ibañes, M., Kawakami, Y., Rasskin-Gutman, D. & Izpisua Belmonte, J. C. Cell lineage transport: a mechanism for molecular gradient formation. Mol. Syst. Biol. 2, 57 (2006)

Hayashi, K. et al. Rational design of an auxin antagonist of the SCFTIR1 auxin receptor complex. ACS Chem. Biol. 7, 590–598 (2012)

Rouse, D., Mackay, P., Stirnberg, P., Estelle, M. & Leyser, O. Changes in auxin response from mutations in an AUX/IAA gene. Science 279, 1371–1373 (1998)

Vanstraelen, M. & Benkova, E. Hormonal interactions in the regulation of plant development. Annu. Rev. Cell Dev. Biol. 28, 463–487 (2012)

Pinon, V., Prasad, K., Grigg, S. P., Sanchez-Perez, G. F. & Scheres, B. Local auxin biosynthesis regulation by PLETHORA transcription factors controls phyllotaxis in Arabidopsis. Proc. Natl Acad. Sci. USA 110, 1107–1112 (2013)

Heisler, M. G. et al. Patterns of auxin transport and gene expression during primordium development revealed by live imaging of the Arabidopsis inflorescence meristem. Curr. Biol. 15, 1899–1911 (2005)

Lee, J. Y. et al. Transcriptional and posttranscriptional regulation of transcription factor expression in Arabidopsis roots. Proc. Natl Acad. Sci. USA 103, 6055–6060 (2006)

Cho, H. T. & Cosgrove, D. J. Regulation of root hair initiation and expansin gene expression in Arabidopsis. Plant Cell 14, 3237–3253 (2002)
Acknowledgements
We thank M. Grebe, P. Benfey and K.-i. Hayashi for materials; the Light Microscopy Unit (Institute of Biotechnology), S. El-Showk, A.-M. Bågman, J. van Amerongen and F. Kindt for technical advice or assistance. This work is supported by a Human Frontier Science Program fellowship (A.P.M.), European Research Council Advanced Investigator Fellowship SysArc (B.S.), SPINOZA award (B.S., K.t.T., K.P.), ALW-NWO European Research Area Network Plant Genomics (ERAPG) grant 855.50.017 (S.D.-T.), the Academy of Finland (A.P.M., R.S., O.S., J.S.), Biocentrum Helsinki and University of Helsinki (A.P.M., R.S., O.S.), Integrative Life Science Doctoral Program (R.S.), Marie Curie Intra-European Fellowship (IEF-2008-237643) (S.D.-T.), the Netherlands Organisation for Scientific Research (NWO)-Horizon grant (R.H.), NWO-ALW grant (G.W.), and EMBO Long-term fellowship (A.P.M., K.P.).
Ethics declarations
Competing interests
The authors declare no competing financial interests.
Extended data figures and tables
Supplementary information
About this article
Cite this article
Mähönen, A., Tusscher, K., Siligato, R. et al. PLETHORA gradient formation mechanism separates auxin responses. Nature 515, 125–129 (2014). https://doi.org/10.1038/nature13663
Received:

Accepted:

Published:

Issue Date:

DOI: https://doi.org/10.1038/nature13663
Comments
By submitting a comment you agree to abide by our Terms and Community Guidelines. If you find something abusive or that does not comply with our terms or guidelines please flag it as inappropriate.