Abstract
Water is crucial to plant growth and development. Environmental water deficiency triggers an osmotic stress signalling cascade, which induces short-term cellular responses to reduce water loss and long-term responses to remodel the transcriptional network and physiological and developmental processes1,2,3,4. Several signalling components that have been identified by extensive genetic screens for altered sensitivities to osmotic stress seem to function downstream of the perception of osmotic stress. It is known that hyperosmolality and various other stimuli trigger increases in cytosolic free calcium concentration ([Ca2+]i)5,6. Considering that in bacteria and animals osmosensing Ca2+ channels serve as osmosensors7,8, hyperosmolality-induced [Ca2+]i increases have been widely speculated to be involved in osmosensing in plants1,9. However, the molecular nature of corresponding Ca2+ channels remain unclear6,10,11. Here we describe a hyperosmolality-gated calcium-permeable channel and its function in osmosensing in plants. Using calcium-imaging-based unbiased forward genetic screens we isolated Arabidopsis mutants that exhibit low hyperosmolality-induced [Ca2+]i increases. These mutants were rescreened for their cellular, physiological and developmental responses to osmotic stress, and those with clear combined phenotypes were selected for further physical mapping. One of the mutants, reduced hyperosmolality-induced [Ca2+]i increase 1 (osca1), displays impaired osmotic Ca2+ signalling in guard cells and root cells, and attenuated water transpiration regulation and root growth in response to osmotic stress. OSCA1 is identified as a previously unknown plasma membrane protein and forms hyperosmolality-gated calcium-permeable channels, revealing that OSCA1 may be an osmosensor. OSCA1 represents a channel responsible for [Ca2+]i increases induced by a stimulus in plants, opening up new avenues for studying Ca2+ machineries for other stimuli and providing potential molecular genetic targets for engineering drought-resistant crops.
Relevant articles
Open Access articles citing this article.
Nannan Zhang

,

Huanzhang Lin

…

Zilin Wu

BMC Genomics Open Access 25 May 2023

Xuefei Yang

,

Hakyung Kwon

…

Suk-Ha Lee

Molecular Breeding Open Access 09 May 2023

Srija Chakraborty

,

Rashmi Gangwar

…

Shailesh Kumar

Scientific Reports Open Access 11 April 2023
Access options
Subscribe to this journal
Receive 51 print issues and online access
$199.00 per year
only $3.90 per issue
Rent or buy this article
Get just this article for as long as you need it
$39.95
Prices may be subject to local taxes which are calculated during checkout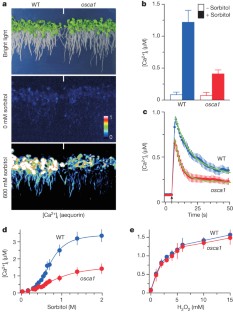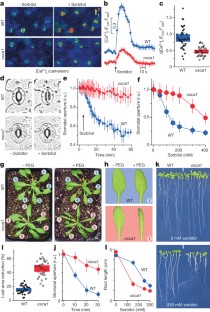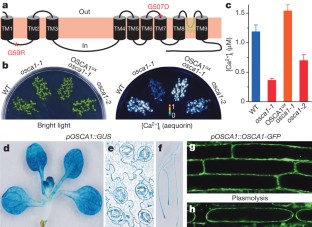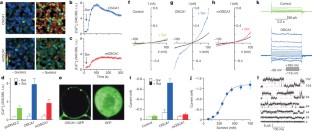 References
Zhu, J. K. Salt and drought stress signal transduction in plants. Annu. Rev. Plant Biol. 53, 247–273 (2002)

Hsiao, T. C. Plant responses to water stress. Annu. Rev. Plant Physiol. Plant Mol. Biol. 24, 519–570 (1973)

Cutler, S. R., Rodriguez, P. L., Finkelstein, R. R. & Abrams, S. R. Abscisic acid: emergence of a core signaling network. Annu. Rev. Plant Biol. 61, 651–679 (2010)

Kim, T. H., Bohmer, M., Hu, H. H., Nishimura, N. & Schroeder, J. I. Guard cell signal transduction network: advances in understanding abscisic acid, CO2, and Ca2+ signaling. Annu. Rev. Plant Biol. 61, 561–591 (2010)

Knight, H., Trewavas, A. J. & Knight, M. R. Calcium signalling in Arabidopsis thaliana responding to drought and salinity. Plant J. 12, 1067–1078 (1997)

Dodd, A. N., Kudla, J. & Sanders, D. The language of calcium signaling. Annu. Rev. Plant Biol. 61, 593–620 (2010)

Kung, C. A possible unifying principle for mechanosensation. Nature 436, 647–654 (2005)

Arnadóttir, J. & Chalfie, M. Eukaryotic mechanosensitive channels. Annu. Rev. Biophys. 39, 111–137 (2010)

Monshausen, G. B. & Gilroy, S. Feeling green: mechanosensing in plants. Trends Cell Biol. 19, 228–235 (2009)

Hedrich, R. Ion channels in plants. Physiol. Rev. 92, 1777–1811 (2012)

Ward, J. M., Maser, P. & Schroeder, J. I. Plant ion channels: gene families, physiology, and functional genomics analyses. Annu. Rev. Physiol. 71, 59–82 (2009)

Choi, J. et al. Identification of a plant receptor for extracellular ATP. Science 343, 290–294 (2014)

Ranf, S. et al. Defense-related calcium signaling mutants uncovered via a quantitative high-throughput screen in Arabidopsis thaliana. Mol. Plant 5, 115–130 (2012)

Pei, Z.-M. et al. Calcium channels activated by hydrogen peroxide mediate abscisic acid signalling in guard cells. Nature 406, 731–734 (2000)

Monshausen, G. B., Messerli, M. A. & Gilroy, S. Imaging of the Yellow Cameleon 3.6 indicator reveals that elevations in cytosolic Ca2+ follow oscillating increases in growth in root hairs of Arabidopsis. Plant Physiol. 147, 1690–1698 (2008)

Allen, G. J. et al. A defined range of guard cell calcium oscillation parameters encodes stomatal movements. Nature 411, 1053–1057 (2001)

Roelfsema, M. R. G. & Hedrich, R. Making sense out of Ca2+ signals: their role in regulating stomatal movements. Plant Cell Environ. 33, 305–321 (2010)

Tanz, S. K. et al. SUBA3: a database for integrating experimentation and prediction to define the SUBcellular location of proteins in Arabidopsis. Nucleic Acids Res. 41, 1185–1191 (2013)

Zhang, Z. J. & Peck, S. C. Simplified enrichment of plasma membrane proteins for proteomic analyses in Arabidopsis thaliana. Proteomics 11, 1780–1788 (2011)

Nühse, T. S., Stensballe, A., Jensen, O. N. & Peck, S. C. Large-scale analysis of in vivo phosphorylated membrane proteins by immobilized metal ion affinity chromatography and mass spectrometry. Mol. Cell. Proteomics 2, 1234–1243 (2003)

Coste, B. et al. Piezo proteins are pore-forming subunits of mechanically activated channels. Nature 483, 176–181 (2012)

Ding, J. P. & Pickard, B. G. Mechanosensitive calcium-selective cation channels by temperature. Plant J. 3, 713–720 (1993)

Demidchik, V., Davenport, R. J. & Tester, M. Nonselective cation channels in plants. Annu. Rev. Plant Biol. 53, 67–107 (2002)

Cosgrove, D. J. & Hedrich, R. Stretch-activated chloride, potassium, and calcium channels coexisting in plasma membranes of guard cells of Vicia faba L. Planta 186, 143–153 (1991)

Liedtke, W. et al. Vanilloid receptor-related osmotically activated channel (VR-OAC), a candidate vertebrate osmoreceptor. Cell 103, 525–535 (2000)

Wu, L. J., Sweet, T. B. & Clapham, D. E. International union of basic and clinical pharmacology. LXXVI. Current progress in the mammalian TRP ion channel family. Pharmacol. Rev. 62, 381–404 (2010)

Nakano, M., Iida, K., Nyunoya, H. & Iida, H. Determination of structural regions important for Ca2+ uptake activity in Arabidopsis MCA1 and MCA2 expressed in yeast. Plant Cell Physiol. 52, 1915–1930 (2011)

Wohlbach, D. J., Quirino, B. F. & Sussman, M. R. Analysis of the Arabidopsis histidine kinase ATHK1 reveals a connection between vegetative osmotic stress sensing and seed maturation. Plant Cell 20, 1101–1117 (2008)

Wadskog, I. et al. The yeast tumor suppressor homologue Sro7p is required for targeting of the sodium pumping ATPase to the cell surface. Mol. Biol. Cell 17, 4988–5003 (2006)

Kiyosue, T., Yamaguchishinozaki, K. & Shinozaki, K. Cloning of cDNAs for genes that are early-responsive to dehydration stress (ERDs) in Arabidopsis thaliana L.: identification of 3 ERDs as HSP cognate genes. Plant Mol. Biol. 25, 791–798 (1994)

Knight, M. R., Campbell, A. K., Smith, S. M. & Trewavas, A. J. Transgenic plant aequorin reports the effects of touch and cold-shock and elicitors on cytoplasmic calcium. Nature 352, 524–526 (1991)

Yamaguchishinozaki, K., Koizumi, M., Urao, S. & Shinozaki, K. Molecular-cloning and characterization of 9 cDNAs for genes that are responsive to desiccation in Arabidopsis thaliana: sequence-analysis of one cDNA clone that encodes a putative transmembrane channel protein. Plant Cell Physiol. 33, 217–224 (1992)

Tang, R. H. et al. Coupling diurnal cytosolic Ca2+ oscillations to the CAS-IP3 pathway in Arabidopsis. Science 315, 1423–1426 (2007)

Knight, H., Trewavas, A. J. & Knight, M. R. Cold calcium signaling in Arabidopsis involves two cellular pools and a change in calcium signature after acclimation. Plant Cell 8, 489–503 (1996)

Koornneeff, M., Dellaert, L. W. M. & Vanderveen, J. H. EMS- and radiation-induced mutation frequencies at individual loci in Arabidopsis thaliana (L.) Heynh. Mutat. Res. 93, 109–123 (1982)

Swanson, S. J., Choi, W. G., Chanoca, A. & Gilroy, S. In vivo imaging of Ca2+, pH, and reactive oxygen species using fluorescent probes in plants. Annu. Rev. Plant Biol. 62, 273–297 (2011)

Han, S. C., Tang, R. H., Anderson, L. K., Woerner, T. E. & Pei, Z.-M. A cell surface receptor mediates extracellular Ca2+ sensing in guard cells. Nature 425, 196–200 (2003)

Pei, Z.-M., Ghassemian, M., Kwak, C. M., McCourt, P. & Schroeder, J. I. Role of farnesyltransferase in ABA regulation of guard cell anion channels and plant water loss. Science 282, 287–290 (1998)

Pei, Z.-M., Kuchitsu, K., Ward, J. M., Schwarz, M. & Schroeder, J. I. Differential abscisic acid regulation of guard cell slow anion channels in Arabidopsis wild-type and abi1 and abi2 mutants. Plant Cell 9, 409–423 (1997)

Verslues, P. E., Agarwal, M., Katiyar-Agarwal, S., Zhu, J. H. & Zhu, J. K. Methods and concepts in quantifying resistance to drought, salt and freezing, abiotic stresses that affect plant water status. Plant J. 45, 523–539 (2006)

Osakabe, Y. et al. Osmotic stress responses and plant growth controlled by potassium transporters in Arabidopsis. Plant Cell 25, 609–624 (2013)

He, Y. et al. Nitric oxide represses the Arabidopsis floral transition. Science 305, 1968–1971 (2004)

Karimi, M., Inze, D. & Depicker, A. GATEWAYTM vectors for Agrobacterium-mediated plant transformation. Trends Plant Sci. 7, 193–195 (2002)

Clough, S. J. & Bent, A. F. Floral dip: a simplified method for Agrobacterium-mediated transformation of Arabidopsis thaliana. Plant J. 16, 735–743 (1998)

Wang, Z.-Y. & Tobin, E. M. Constitutive expression of the CIRCADIAN CLOCK ASSOCIATED 1 (CCA1) gene disrupts circadian rhythms and suppresses its own expression. Cell 93, 1207–1217 (1998)

Jefferson, R. A., Kavanagh, T. A. & Bevan, M. W. GUS fusions: beta-glucuronidase as a sensitive and versatile gene fusion marker in higher plants. EMBO J. 6, 3901–3907 (1987)

Benschop, J. J. et al. Quantitative phosphoproteomics of early elicitor signaling in Arabidopsis. Mol. Cell. Proteomics 6, 1198–1214 (2007)

McKemy, D. D., Neuhausser, W. M. & Julius, D. Identification of a cold receptor reveals a general role for TRP channels in thermosensation. Nature 416, 52–58 (2002)

Caterina, M. J. et al. The capsaicin receptor: a heat-activated ion channel in the pain pathway. Nature 389, 816–824 (1997)

Hashii, M. et al. Bradykinin B-2 receptor-induced and inositol tetrakisphosphate-evoked Ca2+ entry is sensitive to a protein tyrosine phosphorylation inhibitor in ras-transformed NIH/3T3 fibroblasts. Biochem. J. 319, 649–656 (1996)

Hofmann, T. et al. Direct activation of human TRPC6 and TRPC3 channels by diacylglycerol. Nature 397, 259–263 (1999)

Berbey, C. & Allard, B. Electrically silent divalent cation entries in resting and active voltage-controlled muscle fibers. Biophys. J. 96, 2648–2657 (2009)

Valera, S. et al. New class of ligand-gated ion-channel defined by P2X receptor for extracellular ATP. Nature 371, 516–519 (1994)

Peier, A. M. et al. A TRP channel that senses cold stimuli and menthol. Cell 108, 705–715 (2002)

Knight, H. & Knight, M. R. Abiotic stress signalling pathways: specificity and cross-talk. Trends Plant Sci. 6, 262–267 (2001)

McAinsh, M. R. & Pittman, J. K. Shaping the calcium signature. New Phytol. 181, 275–294 (2009)

Yamaguchi-Shinozaki, K. & Shinozaki, K. Transcriptional regulatory networks in cellular responses and tolerance to dehydration and cold stresses. Annu. Rev. Plant Biol. 57, 781–803 (2006)

Page, D. R. & Grossniklaus, L. The art and design of genetic screens: Arabidopsis thaliana. Nature Rev. Genet. 3, 124–136 (2002)

Moller, S., Croning, M. D. R. & Apweiler, R. Evaluation of methods for the prediction of membrane spanning regions. Bioinformatics 17, 646–653 (2001)

Schwacke, R. et al. ARAMEMNON, a novel database for Arabidopsis integral membrane proteins. Plant Physiol. 131, 16–26 (2003)

Nuhse, T. S., Stensballe, A., Jensen, O. N. & Peck, S. C. Phosphoproteomics of the Arabidopsis plasma membrane and a new phosphorylation site database. Plant Cell 16, 2394–2405 (2004)

Sievers, F. et al. Fast, scalable generation of high-quality protein multiple sequence alignments using Clustal Omega. Mol. Syst. Biol. 7, 6 (2011)
Acknowledgements
We thank M. R. Knight for providing an aequorin vector and aequorin expressing Arabidopsis seeds, S. Gilroy for a YC3.6 vector and YC3.6 expressing Arabidopsis seeds, M. R. Knight and S. Gilroy for sharing unpublished data on genetic screening and physical mapping, X. Dong and M. Chen for advice on physical mapping, J. Grandl, G. Chen and Q. Liu for advice concerning electrophysiology, W. G. Zhang and M. H. Zhu for providing HEK293 cells and advice on transfection, Y. Gao and S. Johnson for confocal imaging, and D. R. McClay, T.-p. Sun, J. Grandl and P. N. Benfey for discussions and critical reading of the manuscript. F.Y. and J.Z. were supported in part by grants from Hangzhou Normal University (PanDeng11001008001) and Zhejiang NSF (Z3110433). This work was supported by grants from USDA (CSREES-2005-35304-16196, CSREES-2006-35100-17304) and NSF (MCB-0451072, IOS-0848263) to Z.-M.P.
Ethics declarations
Competing interests
The authors declare no competing financial interests.
Extended data figures and tables
Supplementary information
This file contains Supplementary Text and Supplementary References. (PDF 226 kb)
About this article
Cite this article
Yuan, F., Yang, H., Xue, Y. et al. OSCA1 mediates osmotic-stress-evoked Ca2+ increases vital for osmosensing in Arabidopsis. Nature 514, 367–371 (2014). https://doi.org/10.1038/nature13593
Received:

Accepted:

Published:

Issue Date:

DOI: https://doi.org/10.1038/nature13593
Comments
By submitting a comment you agree to abide by our Terms and Community Guidelines. If you find something abusive or that does not comply with our terms or guidelines please flag it as inappropriate.