Abstract
Malignancy is associated with altered expression of glycans and glycoproteins that contribute to the cellular glycocalyx. We constructed a glycoprotein expression signature, which revealed that metastatic tumours upregulate expression of bulky glycoproteins. A computational model predicted that these glycoproteins would influence transmembrane receptor spatial organization and function. We tested this prediction by investigating whether bulky glycoproteins in the glycocalyx promote a tumour phenotype in human cells by increasing integrin adhesion and signalling. Our data revealed that a bulky glycocalyx facilitates integrin clustering by funnelling active integrins into adhesions and altering integrin state by applying tension to matrix-bound integrins, independent of actomyosin contractility. Expression of large tumour-associated glycoproteins in non-transformed mammary cells promoted focal adhesion assembly and facilitated integrin-dependent growth factor signalling to support cell growth and survival. Clinical studies revealed that large glycoproteins are abundantly expressed on circulating tumour cells from patients with advanced disease. Thus, a bulky glycocalyx is a feature of tumour cells that could foster metastasis by mechanically enhancing cell-surface receptor function.
Access options
Subscribe to Journal
Get full journal access for 1 year
$199.00
only $3.90 per issue
All prices are NET prices.
VAT will be added later in the checkout.
Tax calculation will be finalised during checkout.
Rent or Buy article
Get time limited or full article access on ReadCube.
from$8.99
All prices are NET prices.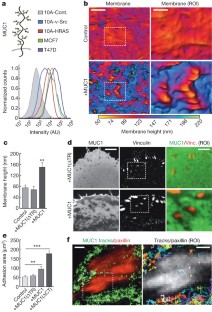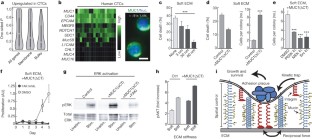 References
1

Lanctot, P. M., Gage, F. H. & Varki, A. P. The glycans of stem cells. Curr. Opin. Chem. Biol. 11, 373–380 (2007)

2

Haltiwanger, R. S. & Lowe, J. B. Role of glycosylation in development. Annu. Rev. Biochem. 73, 491–537 (2004)

3

Varki, A., Kannagi, R. & Toole, B. P. in Essentials Glycobiol. ( Varki, A. et al.) http://www.ncbi.nlm.nih.gov/books/NBK1963/ (Cold Spring Harbor Laboratory Press, 2009)

4

Paszek, M. J., Boettiger, D., Weaver, V. M. & Hammer, D. A. Integrin clustering is driven by mechanical resistance from the glycocalyx and the substrate. PLOS Comput. Biol. 5, e1000604 (2009)

5

Walker, J. L., Fournier, A. K. & Assoian, R. K. Regulation of growth factor signaling and cell cycle progression by cell adhesion and adhesion-dependent changes in cellular tension. Cytokine Growth Factor Rev. 16, 395–405 (2005)

6

Desgrosellier, J. S. & Cheresh, D. A. Integrins in cancer: biological implications and therapeutic opportunities. Nature Rev. Cancer 10, 9–22 (2010)

7

Shibue, T. & Weinberg, R. A. Integrin β1-focal adhesion kinase signaling directs the proliferation of metastatic cancer cells disseminated in the lungs. Proc. Natl Acad. Sci. USA 106, 10290–10295 (2009)

8

Godula, K. et al. Control of the molecular orientation of membrane-anchored biomimetic glycopolymers. J. Am. Chem. Soc. 131, 10263–10268 (2009)

9

Godula, K., Rabuka, D., Nam, K. T. & Bertozzi, C. R. Synthesis and microcontact printing of dual end-functionalized mucin-like glycopolymers for microarray applications. Angew. Chem. Int. Edn Engl. 48, 4973–4976 (2009)

10

Eng, E. T., Smagghe, B. J., Walz, T. & Springer, T. A. Intact αIIbβ3 integrin is extended after activation as measured by solution X-ray scattering and electron microscopy. J. Biol. Chem. 286, 35218–35226 (2011)

11

Paszek, M. J. et al. Scanning angle interference microscopy reveals cell dynamics at the nanoscale. Nature Methods 9, 825–827 (2012)

12

Hattrup, C. L. & Gendler, S. J. Structure and function of the cell surface (tethered) mucins. Annu. Rev. Physiol. 70, 431–457 (2008)

13

Kufe, D. W. Mucins in cancer: function, prognosis and therapy. Nature Rev. Cancer 9, 874–885 (2009)

14

Manley, S. et al. High-density mapping of single-molecule trajectories with photoactivated localization microscopy. Nature Methods 5, 155–157 (2008)

15

Rossier, O. et al. Integrins β1 and β3 exhibit distinct dynamic nanoscale organizations inside focal adhesions. Nature Cell Biol. 14, 1057–1067 (2012)

16

Chen, W., Lou, J., Evans, E. A. & Zhu, C. Observing force-regulated conformational changes and ligand dissociation from a single integrin on cells. J. Cell Biol. 199, 497–512 (2012)

17

Friedland, J. C., Lee, M. H. & Boettiger, D. Mechanically activated integrin switch controls alpha5beta1 function. Science 323, 642–644 (2009)

18

Grashoff, C. et al. Measuring mechanical tension across vinculin reveals regulation of focal adhesion dynamics. Nature 466, 263–266 (2010)

19

Nguyen, D. X., Bos, P. D. & Massagué, J. Metastasis: from dissemination to organ-specific colonization. Nature Rev. Cancer 9, 274–284 (2009)

20

Toole, B. P. Hyaluronan: from extracellular glue to pericellular cue. Nature Rev. Cancer 4, 528–539 (2004)

21

Bono, P., Rubin, K., Higgins, J. M. & Hynes, R. O. Layilin, a novel integral membrane protein, is a hyaluronan receptor. Mol. Biol. Cell 12, 891–900 (2001)

22

Dustin, M. L. Signaling at neuro/immune synapses. J. Clin. Invest. 122, 1149–1155 (2012)

23

Coombs, D., Dembo, M., Wofsy, C. & Goldstein, B. Equilibrium thermodynamics of cell-cell adhesion mediated by multiple ligand-receptor pairs. Biophys. J. 86, 1408–1423 (2004)

24

Salaita, K. et al. Restriction of receptor movement alters cellular response: physical force sensing by EphA2. Science 327, 1380–1385 (2010)

25

Groves, J. T. Bending mechanics and molecular organization in biological membranes. Annu. Rev. Phys. Chem. 58, 697–717 (2007)

26

Lundmark, R. & Carlsson, S. R. Driving membrane curvature in clathrin-dependent and clathrin-independent endocytosis. Semin. Cell Dev. Biol. 21, 363–370 (2010)

27

Comoletti, D. et al. Synaptic arrangement of the neuroligin/β-neurexin complex revealed by X-ray and neutron scattering. Structure 15, 693–705 (2007)

28

Hildebrandt, H., Mühlenhoff, M., Weinhold, B. & Gerardy-Schahn, R. Dissecting polysialic acid and NCAM functions in brain development. J. Neurochem. 103 (Suppl. 1). 56–64 (2007)

29

Levental, K. R. et al. Matrix crosslinking forces tumor progression by enhancing integrin signaling. Cell 139, 891–906 (2009)

30

Paszek, M. J. et al. Tensional homeostasis and the malignant phenotype. Cancer Cell 8, 241–254 (2005)

31

Lakins, J. N., Chin, A. R. & Weaver, V. M. Exploring the link between human embryonic stem cell organization and fate using tension-calibrated extracellular matrix functionalized polyacrylamide gels. Methods Mol. Biol. 916, 317–350 (2012)

32

Bruns, N., Pustelny, K., Bergeron, L. M., Whitehead, T. A. & Clark, D. S. Mechanical nanosensor based on FRET within a thermosome: damage-reporting polymeric materials. Angew. Chem. Int. Ed. 48, 5666–5669 (2009)

33

Friedrichs, J., Helenius, J. & Muller, D. J. Quantifying cellular adhesion to extracellular matrix components by single-cell force spectroscopy. Nature Protocols 5, 1353–1361 (2010)

34

Pankov, R. & Momchilova, A. Fluorescent labeling techniques for investigation of fibronectin fibrillogenesis (labeling fibronectin fibrillogenesis). Methods Mol. Biol. 522, 261–274 (2009)

35

Magbanua, M. J. M. et al. Genomic profiling of isolated circulating tumor cells from metastatic breast cancer patients. Cancer Res. 73, 30–40 (2013)
Acknowledgements
We thank S. Gendler, J. Goedhart and M. McMahon for cDNAs, as indicated in the Methods section. We thank A. Walker for bioinformatics support, L. Hauranieh for assistance in CTC analysis, H. Aaron for assistance with FLIM, J. B. Sibarita and M. Lagardère for support in sptPALM analysis, B. Hoffman in design of the FRET sensor, and T. Wittmann in assistance with pbFRET measurements. Image acquisition was partly performed at the Nikon Imaging Center and Biological Imaging Development Center at UCSF and the Berkeley Molecular Imaging Center. This work was supported by the Kavli Institute and UCSF Program for Biomedical Breakthrough postdoctoral fellowships to M.J.P.; DoD NDSEG Fellowship to M.G.R.; NIH GM59907 to C.R.B.; NIH Pathway to Independence Award K99 EB013446-02 to K.G.; French Ministry of Research, CNRS, ANR grant Nanomotility, INSERM, Fondation ARC pour la Recherche sur le Cancer, France BioImaging ANR-10-INBS-04-01, and Conseil Régional Aquitaine to O.R. and G.G.; NIH AI082292-03A1 to D.A.H.; The Breast Cancer Research Foundation to M.J.M., H.S.R. and J.W.P.; NIH 2R01GM059907-13 to C.R.B. and V.M.W.; and BCRP DOD Era of Hope Scholar Expansion grant BC122990, and NIH NCI grants U54CA163155-01, U54CA143836-01, 1U01 ES019458-01, and CA138818-01A1 to V.M.W.
Ethics declarations
Competing interests
The authors declare no competing financial interests.
Extended data figures and tables
Supplementary information
This file contains Supplementary Notes 1-6, Supplementary Table 1, Supplementary Figures 1-6 and Supplementary References. (PDF 696 kb)
Timelapse video of Muc1-YFP (green) and vinculin-mCherry (red), showing the coupled dynamics of adhesion assembly (Vinc.) and Muc1 patterning (Muc1; scale bar - 1 μm). (AVI 850 kb)
Timelapse video of a single integrin molecule (red) recorded with single particle tracking photo-activation localization microscopy (sptPALM) and Muc1-GFP (green) in mouse embryonic fibroblasts (scale bar - 6 μm). The video illustrates integrin mobility in the Muc1-rich region, integrin crossing the Muc1-adhesion zone boundary, and rapid integrin immobilization in the adhesion zone. (MOV 2070 kb)
About this article
Cite this article
Paszek, M., DuFort, C., Rossier, O. et al. The cancer glycocalyx mechanically primes integrin-mediated growth and survival. Nature 511, 319–325 (2014). https://doi.org/10.1038/nature13535
Received:

Accepted:

Published:

Issue Date:
Comments
By submitting a comment you agree to abide by our Terms and Community Guidelines. If you find something abusive or that does not comply with our terms or guidelines please flag it as inappropriate.