Abstract
The somatic mutations present in the genome of a cell accumulate over the lifetime of a multicellular organism. These mutations can provide insights into the developmental lineage tree1, the number of divisions that each cell has undergone and the mutational processes that have been operative2. Here we describe whole genomes of clonal lines3 derived from multiple tissues of healthy mice. Using somatic base substitutions, we reconstructed the early cell divisions of each animal, demonstrating the contributions of embryonic cells to adult tissues. Differences were observed between tissues in the numbers and types of mutations accumulated by each cell, which likely reflect differences in the number of cell divisions they have undergone and varying contributions of different mutational processes. If somatic mutation rates are similar to those in mice, the results indicate that precise insights into development and mutagenesis of normal human cells will be possible.
Access options
Subscribe to Journal
Get full journal access for 1 year
$199.00
only $3.90 per issue
All prices are NET prices.
VAT will be added later in the checkout.
Tax calculation will be finalised during checkout.
Rent or Buy article
Get time limited or full article access on ReadCube.
from$8.99
All prices are NET prices.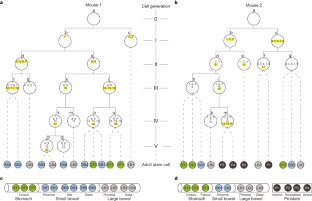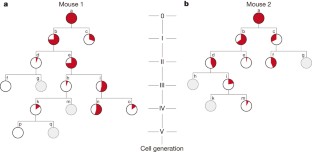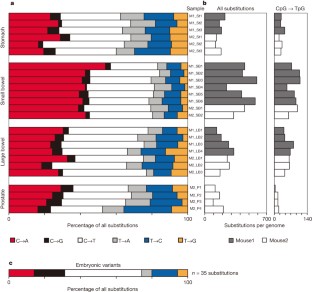 Accession codes
Accessions
European Nucleotide Archive
Data deposits
Sequencing data have been deposited at the European Nucleotide Archive (http://www.ebi.ac.uk/ena/) under accession numbers ERP002057 (Illumina data) and ERP005717 (SOLiD data).
References
1

Shapiro, E., Biezuner, T. & Linnarsson, S. Single-cell sequencing-based technologies will revolutionize whole-organism science. Nature Rev. Genet. 14, 618–630 (2013)

2

Alexandrov, L. B. et al. Signatures of mutational processes in human cancer. Nature 500, 415–421 (2013)

3

Sato, T. & Clevers, H. Growing self-organizing mini-guts from a single intestinal stem cell: mechanism and applications. Science 340, 1190–1194 (2013)

4

De, S. Somatic mosaicism in healthy human tissues. Trends Genet. 27, 217–223 (2011)

5

Carlson, C. A. et al. Decoding cell lineage from acquired mutations using arbitrary deep sequencing. Nature Methods 9, 78–80 (2012)

6

Kennedy, S. R., Loeb, L. A. & Herr, A. J. Somatic mutations in aging, cancer and neurodegeneration. Mech. Ageing Dev. 133, 118–126 (2012)

7

Salipante, S. J. & Horwitz, M. S. Phylogenetic fate mapping. Proc. Natl Acad. Sci. USA 103, 5448–5453 (2006)

8

Salipante, S. J. & Horwitz, M. S. A phylogenetic approach to mapping cell fate. Curr. Top. Dev. Biol. 79, 157–184 (2007)

9

Shibata, D. & Tavare, S. Counting divisions in a human somatic cell tree: how, what and why? Cell Cycle 5, 610–614 (2006)

10

Wasserstrom, A. et al. Reconstruction of cell lineage trees in mice. PLoS ONE 3, e1939 (2008)

11

Zhou, W. et al. Use of somatic mutations to quantify random contributions to mouse development. BMC Genomics 14, 39 (2013)

12

Lasken, R. S. Single-cell sequencing in its prime. Nature Biotechnol. 31, 211–212 (2013)

13

Barker, N. et al. Lgr5+ve stem cells drive self-renewal in the stomach and build long-lived gastric units in vitro. Cell Stem Cell 6, 25–36 (2010)

14

Barker, N. et al. Identification of stem cells in small intestine and colon by marker gene Lgr5. Nature 449, 1003–1007 (2007)

15

Sato, T. et al. Long-term expansion of epithelial organoids from human colon, adenoma, adenocarcinoma, and Barrett's epithelium. Gastroenterology 141, 1762–1772 (2011)

16

Sato, T. et al. Single Lgr5 stem cells build crypt-villus structures in vitro without a mesenchymal niche. Nature 459, 262–265 (2009)

17

Snippert, H. J. et al. Intestinal crypt homeostasis results from neutral competition between symmetrically dividing Lgr5 stem cells. Cell 143, 134–144 (2010)

18

Plusa, B. et al. The first cleavage of the mouse zygote predicts the blastocyst axis. Nature 434, 391–395 (2005)

19

Bruce, A. W. & Zernicka-Goetz, M. Developmental control of the early mammalian embryo: competition among heterogeneous cells that biases cell fate. Curr. Opin. Genet. Dev. 20, 485–491 (2010)

20

Barker, N. et al. Very long-term self-renewal of small intestine, colon, and hair follicles from cycling Lgr5+ve stem cells. Cold Spring Harb. Symp. Quant. Biol. 73, 351–356 (2008)

21

Schepers, A. G., Vries, R., van den Born, M., van de Wetering, M. & Clevers, H. Lgr5 intestinal stem cells have high telomerase activity and randomly segregate their chromosomes. EMBO J. 30, 1104–1109 (2011)

22

Lawrence, M. S. et al. Mutational heterogeneity in cancer and the search for new cancer-associated genes. Nature 499, 214–218 (2013)

23

Schuster-Bockler, B. & Lehner, B. Chromatin organization is a major influence on regional mutation rates in human cancer cells. Nature 488, 504–507 (2012)

24

Alexandrov, L. B., Nik-Zainal, S., Wedge, D. C., Campbell, P. J. & Stratton, M. R. Deciphering signatures of mutational processes operative in human cancer. Cell Rep. 3, 246–259 (2013)

25

van Loon, B., Markkanen, E. & Hubscher, U. Oxygen as a friend and enemy: how to combat the mutational potential of 8-oxo-guanine. DNA Repair (Amst.) 9, 604–616 (2010)

26

Nik-Zainal, S. et al. The life history of 21 breast cancers. Cell 149, 994–1007 (2012)

27

Leushacke, M., Ng, A., Galle, J., Loeffler, M. & Barker, N. Lgr5+ gastric stem cells divide symmetrically to effect epithelial homeostasis in the pylorus. Cell Rep. 5, 349–356 (2013)

28

Nik-Zainal, S. et al. Mutational processes molding the genomes of 21 breast cancers. Cell 149, 979–993 (2012)

29

Felsenstein, J. PHYLIP—Phylogeny Inference Package (Version 3.2). Cladistics 5, 164–166 (1989)

30

Yang, Z. & Rannala, B. Molecular phylogenetics: principles and practice. Nature Rev. Genet. 13, 303–314 (2012)
Acknowledgements
We thank M. Zernicka-Goetz and the Goldman group for discussion of our findings. This work was supported by funding from the Wellcome Trust (grant reference 077012/Z/05/Z), the Kadoorie Charitable Foundation and the Louis-Jeantet Foundation. Individual authors were supported as follows: M.H., Marie Curie IEF fellowship (EU/236954) and ERC grant (232814); R.B. and E.C., Zenith grant of the Netherlands Genomics Initiative (935.12.003); W.K., Centre for Biomedical Genetics, Utrecht; I.M., EMBO Long Term Fellowship (ALTF-1287-2012); S.N.Z., Wellcome Trust Intermediate Clinical Fellowship (WT100183MA) and Wellcome-Beit Prize Fellowship 2013; S.B., Wellcome Trust Research Training Fellowship for Clinicians; and P.C., Wellcome Trust Senior Research Fellowship in Clinical Science.
Ethics declarations
Competing interests
H.C. is an inventor of several patents involving the organoid culture system. The remaining authors declare no competing interests.
Extended data figures and tables
Supplementary information
This file contains a Supplementary Discussion and Supplementary Tables 1-2. (PDF 280 kb)
This file contains Supplementary Tables 3 and 4. (XLS 1537 kb)
About this article
Cite this article
Behjati, S., Huch, M., van Boxtel, R. et al. Genome sequencing of normal cells reveals developmental lineages and mutational processes. Nature 513, 422–425 (2014). https://doi.org/10.1038/nature13448
Received:

Accepted:

Published:

Issue Date:
Comments
By submitting a comment you agree to abide by our Terms and Community Guidelines. If you find something abusive or that does not comply with our terms or guidelines please flag it as inappropriate.