Abstract
Extensive genomic characterization of human cancers presents the problem of inference from genomic abnormalities to cancer phenotypes. To address this problem, we analysed proteomes of colon and rectal tumours characterized previously by The Cancer Genome Atlas (TCGA) and perform integrated proteogenomic analyses. Somatic variants displayed reduced protein abundance compared to germline variants. Messenger RNA transcript abundance did not reliably predict protein abundance differences between tumours. Proteomics identified five proteomic subtypes in the TCGA cohort, two of which overlapped with the TCGA 'microsatellite instability/CpG island methylation phenotype' transcriptomic subtype, but had distinct mutation, methylation and protein expression patterns associated with different clinical outcomes. Although copy number alterations showed strong cis- and trans-effects on mRNA abundance, relatively few of these extend to the protein level. Thus, proteomics data enabled prioritization of candidate driver genes. The chromosome 20q amplicon was associated with the largest global changes at both mRNA and protein levels; proteomics data highlighted potential 20q candidates, including HNF4A (hepatocyte nuclear factor 4, alpha), TOMM34 (translocase of outer mitochondrial membrane 34) and SRC (SRC proto-oncogene, non-receptor tyrosine kinase). Integrated proteogenomic analysis provides functional context to interpret genomic abnormalities and affords a new paradigm for understanding cancer biology.
Relevant articles
Open Access articles citing this article.
Simona Migliozzi

,

Young Taek Oh

…

Antonio Iavarone

Nature Cancer Open Access 02 February 2023

Huimin Cai

,

Yana Pang

…

Longfei Jia

Alzheimer's Research & Therapy Open Access 05 December 2022

Jing Tian

,

Mingzhen Zhu

…

Minglong Fu

BMC Bioinformatics Open Access 11 October 2022
Access options
Subscribe to Journal
Get full journal access for 1 year
$199.00
only $3.90 per issue
All prices are NET prices.
VAT will be added later in the checkout.
Tax calculation will be finalised during checkout.
Buy article
Get time limited or full article access on ReadCube.
$32.00
All prices are NET prices.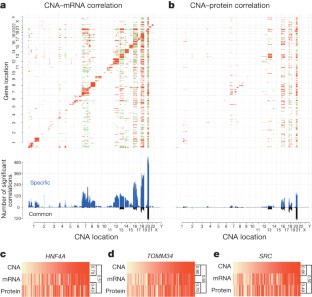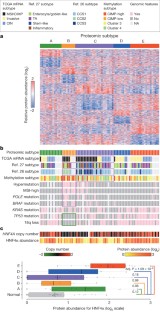 References
The Cancer Genome Atlas Research Network Integrated genomic characterization of endometrial carcinoma. Nature 497, 67–73 (2013)

The Cancer Genome Atlas Research Network Comprehensive genomic characterization defines human glioblastoma genes and core pathways. Nature 455, 1061–1068 (2008)

The Cancer Genome Atlas Research Network Integrated genomic analyses of ovarian carcinoma. Nature 474, 609–615 (2011); erratum. 490, 292 (2012)

The Cancer Genome Atlas Research Network Comprehensive genomic characterization of squamous cell lung cancers. Nature 489, 519–525 (2012); corrigendum. 491, 288 (2012)

The Cancer Genome Atlas Research Network Comprehensive molecular portraits of human breast tumours. Nature 490, 61–70 (2012)

The Cancer Genome Atlas Research Network Comprehensive molecular characterization of human colon and rectal cancer. Nature 487, 330–337 (2012)

Vogelstein, B. et al. Cancer genome landscapes. Science 339, 1546–1558 (2013)

Wang, X. & Zhang, B. customProDB: an R package to generate customized protein databases from RNA-Seq data for proteomics search. Bioinformatics 29, 3235–3237 (2013)

Wang, X. et al. Protein identification using customized protein sequence databases derived from RNA-Seq data. J. Proteome Res. 11, 1009–1017 (2012)

Kim, W. K. et al. Identification and selective degradation of neopeptide-containing truncated mutant proteins in the tumors with high microsatellite instability. Clin. Cancer Res. 19, 3369–3382 (2013)

Liu, H., Sadygov, R. G. & Yates, J. R. 3rd A model for random sampling and estimation of relative protein abundance in shotgun proteomics. Anal. Chem. 76, 4193–4201 (2004)

de Sousa Abreu, R., Penalva, L. O., Marcotte, E. M. & Vogel, C. Global signatures of protein and mRNA expression levels. Mol. Biosyst. 5, 1512–1526 (2009)

Foss, E. J. et al. Genetic variation shapes protein networks mainly through non-transcriptional mechanisms. PLoS Biol. 9, e1001144 (2011)

Ghazalpour, A. et al. Comparative analysis of proteome and transcriptome variation in mouse. PLoS Genet. 7, e1001393 (2011)

Gry, M. et al. Correlations between RNA and protein expression profiles in 23 human cell lines. BMC Genomics 10, 365 (2009)

Foss, E. J. et al. Genetic basis of proteome variation in yeast. Nature Genet. 39, 1369–1375 (2007)

Fu, J. et al. System-wide molecular evidence for phenotypic buffering in Arabidopsis. Nature Genet. 41, 166–167 (2009)

Peng, J. et al. Regularized multivariate regression for identifying master predictors with application to integrative genomics study of breast cancer. Annals Applied Statistics 4, 53–77 (2010)

Garrison, W. D. et al. Hepatocyte nuclear factor 4α is essential for embryonic development of the mouse colon. Gastroenterology 130, 19.e1–19.e (2006)

Chellappa, K., Robertson, G. R. & Sladek, F. M. HNF4α: a new biomarker in colon cancer? Biomark. Med. 6, 297–300 (2012)

Cheung, H. W. et al. Systematic investigation of genetic vulnerabilities across cancer cell lines reveals lineage-specific dependencies in ovarian cancer. Proc. Natl Acad. Sci. USA 108, 12372–12377 (2011)

Shimokawa, T. et al. Identification of TOMM34, which shows elevated expression in the majority of human colon cancers, as a novel drug target. Int. J. Oncol. 29, 381–386 (2006)

Irby, R. B. et al. Activating SRC mutation in a subset of advanced human colon cancers. Nature Genet. 21, 187–190 (1999)

Monti, S., Tamayo, P., Mesirov, J. & Golub, T. R. Consensus clustering: a resampling-based method for class discovery and visualization of gene expression microarray data. Mach. Learn. 52, 91–118 (2003)

Fearon, E. R. Molecular genetics of colorectal cancer. Annu. Rev. Pathol. 6, 479–507 (2011)

De Sousa E Melo, F. et al. Poor-prognosis colon cancer is defined by a molecularly distinct subtype and develops from serrated precursor lesions. Nature Med. 19, 614–618 (2013)

Sadanandam, A. et al. A colorectal cancer classification system that associates cellular phenotype and responses to therapy. Nature Med. 19, 619–625 (2013)

Zhang, B., Kirov, S. & Snoddy, J. WebGestalt: an integrated system for exploring gene sets in various biological contexts. Nucleic Acids Res. 33, W741–W748 (2005)

Chang, H. Y. et al. Robustness, scalability, and integration of a wound-response gene expression signature in predicting breast cancer survival. Proc. Natl Acad. Sci. USA 102, 3738–3743 (2005)

Shi, Z., Wang, J. & Zhang, B. NetGestalt: integrating multidimensional omics data over biological networks. Nature Methods 10, 597–598 (2013)

Polyak, K. & Weinberg, R. A. Transitions between epithelial and mesenchymal states: acquisition of malignant and stem cell traits. Nature Rev. Cancer 9, 265–273 (2009)

Loboda, A. et al. EMT is the dominant program in human colon cancer. BMC Med. Genomics 4, 9 (2011)

Geiger, T., Sabanay, H., Kravchenko-Balasha, N., Geiger, B. & Levitzki, A. Anomalous features of EMT during keratinocyte transformation. PLoS One 3, e1547 (2008)

Kiemer, A. K., Takeuchi, K. & Quinlan, M. P. Identification of genes involved in epithelial-mesenchymal transition and tumor progression. Oncogene 20, 6679–6688 (2001)

Zeisberg, M. & Neilson, E. G. Biomarkers for epithelial-mesenchymal transitions. J. Clin. Invest. 119, 1429–1437 (2009)

Vogel, C. & Marcotte, E. M. Insights into the regulation of protein abundance from proteomic and transcriptomic analyses. Nature Rev. Genet. 13, 227–232 (2012)

Parker, J. S. et al. Supervised risk predictor of breast cancer based on intrinsic subtypes. J. Clin. Oncol. 27, 1160–1167 (2009)

Perou, C. M. et al. Molecular portraits of human breast tumours. Nature 406, 747–752 (2000)

Ding, L. et al. Genome remodelling in a basal-like breast cancer metastasis and xenograft. Nature 464, 999–1005 (2010)

Li, S. et al. Endocrine-therapy-resistant ESR1 variants revealed by genomic characterization of breast-cancer-derived xenografts. Cell Rep. 4, 1116–1130 (2013)

Licklider, L. J., Thoreen, C. C., Peng, J. & Gygi, S. P. Automation of nanoscale microcapillary liquid chromatography-tandem mass spectrometry with a vented column. Anal. Chem. 74, 3076–3083 (2002)

Ma, Z. Q. et al. Supporting tool suite for production proteomics. Bioinformatics 27, 3214–3215 (2011)

Chambers, M. C. et al. A cross-platform toolkit for mass spectrometry and proteomics. Nature Biotechnol. 30, 918–920 (2012)

Dasari, S. et al. Pepitome: evaluating improved spectral library search for identification complementarity and quality assessment. J. Proteome Res. 11, 1686–1695 (2012)

Tabb, D. L., Fernando, C. G. & Chambers, M. C. MyriMatch: highly accurate tandem mass spectral peptide identification by multivariate hypergeometric analysis. J. Proteome Res. 6, 654–661 (2007)

Kim, S. et al. The generating function of CID, ETD, and CID/ETD pairs of tandem mass spectra: applications to database search. Mol. Cell. Proteomics 9, 2840–2852 (2010)

Ma, Z. Q. et al. IDPicker 2.0: Improved protein assembly with high discrimination peptide identification filtering. J. Proteome Res. 8, 3872–3881 (2009)

Zhou, J. Y. et al. Improved LC-MS/MS spectral counting statistics by recovering low-scoring spectra matched to confidently identified peptide sequences. J. Proteome Res. 9, 5698–5704 (2010)

Halvey, P. J., Zhang, B., Coffey, R., Liebler, D. C. & Slebos, R. J. Proteomic consequences of a single gene mutation in a colorectal cancer model. J. Proteome Res. 11, 1184–1195 (2012)

Kislinger, T. et al. Global survey of organ and organelle protein expression in mouse: combined proteomic and transcriptomic profiling. Cell 125, 173–186 (2006)

Zhang, B. et al. Detecting differential and correlated protein expression in label-free shotgun proteomics. J. Proteome Res. 5, 2909–2918 (2006)

Li, M. et al. Comparative shotgun proteomics using spectral count data and quasi-likelihood modeling. J. Proteome Res. 9, 4295–4305 (2010)

Ning, K., Fermin, D. & Nesvizhskii, A. I. Comparative analysis of different label-free mass spectrometry based protein abundance estimates and their correlation with RNA-Seq gene expression data. J. Proteome Res. 11, 2261–2271 (2012)

Zybailov, B., Coleman, M. K., Florens, L. & Washburn, M. P. Correlation of relative abundance ratios derived from peptide ion chromatograms and spectrum counting for quantitative proteomic analysis using stable isotope labeling. Anal. Chem. 77, 6218–6224 (2005)

Old, W. M. et al. Comparison of label-free methods for quantifying human proteins by shotgun proteomics. Mol. Cell. Proteom. 4, 1487–1502 (2005)

Halvey, P. J. et al. Proteogenomic analysis reveals unanticipated adaptations of colorectal tumor cells to deficiencies in DNA mismatch repair. Cancer Res. 74, 387–397 (2014)

Slebos, R. J. et al. Proteomic analysis of oropharyngeal carcinomas reveals novel HPV-associated biological pathways. Int. J. Cancer 132, 568–579 (2013)

Bolstad, B. M., Irizarry, R. A., Astrand, M. & Speed, T. P. A comparison of normalization methods for high density oligonucleotide array data based on variance and bias. Bioinformatics 19, 185–193 (2003)

Liu, Q. et al. Integrative omics analysis reveals the importance and scope of translational repression in microRNA-mediated regulation. Mol. Cell. Proteomics 12, 1900–1911 (2013)

Zybailov, B. et al. Statistical analysis of membrane proteome expression changes in Saccharomyces cerevisiae. J. Proteome Res. 5, 2339–2347 (2006)

Gallien, S. et al. Targeted proteomic quantification on quadrupole-orbitrap mass spectrometer. Mol. Cell. Proteom. 11, 1709–1723 (2012)

MacLean, B. et al. Skyline: an open source document editor for creating and analyzing targeted proteomics experiments. Bioinformatics 26, 966–968 (2010)

Li, B. & Dewey, C. N. RSEM: accurate transcript quantification from RNA-Seq data with or without a reference genome. BMC Bioinformatics 12, 323 (2011)

Trapnell, C. et al. Differential gene and transcript expression analysis of RNA-seq experiments with TopHat and Cufflinks. Nature Protocols 7, 562–578 (2012)

Benjamini, Y. & Hochberg, Y. Controlling the false discovery rate: a practical and powerful approach to multiple testing. J. R. Stat. Soc. B 57, 289–300 (1995)

Schwanhäusser, B. et al. Global quantification of mammalian gene expression control. Nature 473, 337–342 (2011)

Mermel, C. H. et al. GISTIC2.0 facilitates sensitive and confident localization of the targets of focal somatic copy-number alteration in human cancers. Genome Biol. 12, R41 (2011)

Wang, P. Statistical Methods for CGH Array Analysis. (VDM Verlag, 2010)

Darsigny, M. et al. Hepatocyte nuclear factor-4alpha promotes gut neoplasia in mice and protects against the production of reactive oxygen species. Cancer Res. 70, 9423–9433 (2010)

Schwartz, B. et al. Inhibition of colorectal cancer by targeting hepatocyte nuclear factor-4α. Int. J. Cancer 124, 1081–1089 (2009)

Saandi, T. et al. Regulation of the tumor suppressor homeogene Cdx2 by HNF4α in intestinal cancer. Oncogene 32, 3782–3788 (2013)

Chellappa, K. et al. Src tyrosine kinase phosphorylation of nuclear receptor HNF4α correlates with isoform-specific loss of HNF4α in human colon cancer. Proc. Natl Acad. Sci. USA 109, 2302–2307 (2012)

Barretina, J. et al. The Cancer Cell Line Encyclopedia enables predictive modelling of anticancer drug sensitivity. Nature 483, 603–607 (2012)

Reich, M. et al. GenePattern 2.0. Nature Genet. 38, 500–501 (2006)

Verhaak, R. G. et al. Integrated genomic analysis identifies clinically relevant subtypes of glioblastoma characterized by abnormalities in PDGFRA, IDH1, EGFR, and NF1. Cancer Cell 17, 98–110 (2010)

Rousseeuw, P. J. Silhouettes: a graphical aid to the interpretation and validation of cluster analysis. J. Comput. Appl. Math. 20, 53–65 (1987)

Cerami, E. et al. The cBio cancer genomics portal: an open platform for exploring multidimensional cancer genomics data. Cancer Discov. 2, 401–404 (2012)

Tibshirani, R., Hastie, T., Narasimhan, B. & Chu, G. Diagnosis of multiple cancer types by shrunken centroids of gene expression. Proc. Natl Acad. Sci. USA 99, 6567–6572 (2002)

Wang, J., Duncan, D., Shi, Z. & Zhang, B. WEB-based GEne SeT AnaLysis Toolkit (WebGestalt): update 2013. Nucleic Acids Res. 41, W77–W83. W77–83 (2013)

Wang, J. et al. GO-function: deriving biologically relevant functions from statistically significant functions. Brief. Bioinform. 13, 216–227 (2012)

Turner, B. et al. iRefWeb: interactive analysis of consolidated protein interaction data and their supporting evidence. Database (Oxford) 2010, baq023 (2010)
Acknowledgements
This work was supported by National Cancer Institute (NCI) CPTAC awards U24CA159988, U24CA160035, and U24CA160034; by NCI SPORE award P50CA095103 and NCI Cancer Center Support Grant P30CA068485; by National Institutes of Health grant GM088822; and by contract 13XS029 from Leidos Biomedical Research, Inc. Genomics data for this study were generated by The Cancer Genome Atlas pilot project established by the NCI and the National Human Genome Research Institute. Information about TCGA and the investigators and institutions comprising the TCGA research network can be found at http://cancergenome.nih.gov/.
Ethics declarations
Competing interests
The authors declare no competing financial interests.
Additional information
All of the primary mass spectrometry data on TCGA tumour samples are deposited at the CPTAC Data Coordinating Center as raw and mzML files for public access (https://cptac-data-portal.georgetown.edu).
Extended data figures and tables
Supplementary information
About this article
Cite this article
Zhang, B., Wang, J., Wang, X. et al. Proteogenomic characterization of human colon and rectal cancer. Nature 513, 382–387 (2014). https://doi.org/10.1038/nature13438
Received:

Accepted:

Published:

Issue Date:

DOI: https://doi.org/10.1038/nature13438
Comments
By submitting a comment you agree to abide by our Terms and Community Guidelines. If you find something abusive or that does not comply with our terms or guidelines please flag it as inappropriate.