Abstract
Cells maintain healthy mitochondria by degrading damaged mitochondria through mitophagy; defective mitophagy is linked to Parkinson's disease. Here we report that USP30, a deubiquitinase localized to mitochondria, antagonizes mitophagy driven by the ubiquitin ligase parkin (also known as PARK2) and protein kinase PINK1, which are encoded by two genes associated with Parkinson's disease. Parkin ubiquitinates and tags damaged mitochondria for clearance. Overexpression of USP30 removes ubiquitin attached by parkin onto damaged mitochondria and blocks parkin's ability to drive mitophagy, whereas reducing USP30 activity enhances mitochondrial degradation in neurons. Global ubiquitination site profiling identified multiple mitochondrial substrates oppositely regulated by parkin and USP30. Knockdown of USP30 rescues the defective mitophagy caused by pathogenic mutations in parkin and improves mitochondrial integrity in parkin- or PINK1-deficient flies. Knockdown of USP30 in dopaminergic neurons protects flies against paraquat toxicity in vivo, ameliorating defects in dopamine levels, motor function and organismal survival. Thus USP30 inhibition is potentially beneficial for Parkinson's disease by promoting mitochondrial clearance and quality control.
Relevant articles
Open Access articles citing this article.
Su Jin Ham

,

Heesuk Yoo

…

Jongkyeong Chung

Nature Communications Open Access 25 August 2023

Yueh-Ling Pai

,

Yuchieh Jay Lin

…

Guang-Chao Chen

Cell Death & Disease Open Access 22 August 2023

Bin Xiao

,

Joshua Kuruvilla

&

Eng-King Tan

npj Parkinson's Disease Open Access 18 October 2022
Access options
Subscribe to this journal
Receive 51 print issues and online access
$199.00 per year
only $3.90 per issue
Rent or buy this article
Prices vary by article type
from$1.95
to$39.95
Prices may be subject to local taxes which are calculated during checkout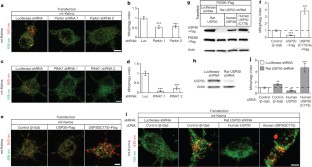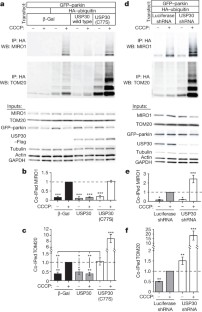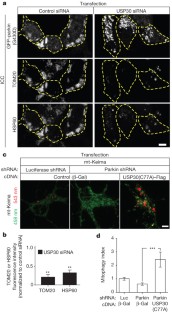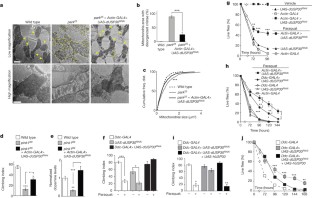 References
Narendra, D. P. & Youle, R. J. Targeting mitochondrial dysfunction: role for PINK1 and Parkin in mitochondrial quality control. Antioxid. Redox Signal. 14, 1929–1938 (2011)

Hauser, D. N. & Hastings, T. G. Mitochondrial dysfunction and oxidative stress in Parkinson's disease and monogenic parkinsonism. Neurobiol. Dis. 51, 35–42 (2013)

Kitada, T. et al. Mutations in the parkin gene cause autosomal recessive juvenile parkinsonism. Nature 392, 605–608 (1998)

Valente, E. M. et al. Hereditary early-onset Parkinson's disease caused by mutations in PINK1. Science 304, 1158–1160 (2004)

Yang, Y. et al. Mitochondrial pathology and muscle and dopaminergic neuron degeneration caused by inactivation of Drosophila Pink1 is rescued by Parkin. Proc. Natl Acad. Sci. USA 103, 10793–10798 (2006)

Clark, I. E. et al. Drosophila pink1 is required for mitochondrial function and interacts genetically with parkin. Nature 441, 1162–1166 (2006)

Park, J. et al. Mitochondrial dysfunction in Drosophila PINK1 mutants is complemented by parkin. Nature 441, 1157–1161 (2006)

Narendra, D. P. et al. PINK1 is selectively stabilized on impaired mitochondria to activate Parkin. PLoS Biol. 8, e1000298 (2010)

Narendra, D., Tanaka, A., Suen, D. F. & Youle, R. J. Parkin is recruited selectively to impaired mitochondria and promotes their autophagy. J. Cell Biol. 183, 795–803 (2008)

Chan, N. C. et al. Broad activation of the ubiquitin-proteasome system by Parkin is critical for mitophagy. Hum. Mol. Genet. 20, 1726–1737 (2011)

Matsuda, N. et al. PINK1 stabilized by mitochondrial depolarization recruits Parkin to damaged mitochondria and activates latent Parkin for mitophagy. J. Cell Biol. 189, 211–221 (2010)

Vives-Bauza, C. et al. PINK1-dependent recruitment of Parkin to mitochondria in mitophagy. Proc. Natl Acad. Sci. USA 107, 378–383 (2010)

Guzman, J. N. et al. Oxidant stress evoked by pacemaking in dopaminergic neurons is attenuated by DJ-1. Nature 468, 696–700 (2010)

Nakamura, N. & Hirose, S. Regulation of mitochondrial morphology by USP30, a deubiquitinating enzyme present in the mitochondrial outer membrane. Mol. Biol. Cell 19, 1903–1911 (2008)

Geisler, S. et al. PINK1/Parkin-mediated mitophagy is dependent on VDAC1 and p62/SQSTM1. Nature Cell Biol. 12, 119–131 (2010)

Narendra, D., Kane, L. A., Hauser, D. N., Fearnley, I. M. & Youle, R. J. p62/SQSTM1 is required for Parkin-induced mitochondrial clustering but not mitophagy; VDAC1 is dispensable for both. Autophagy 6, 1090–1106 (2010)

Lee, J.-Y., Nagano, Y., Taylor, J., Lim, K. & Yao, T.-P. Disease-causing mutations in parkin impair mitochondrial ubiquitination, aggregation, and HDAC6-dependent mitophagy. J. Cell Biol. 189, 671–679 (2010)

Katayama, H., Kogure, T., Mizushima, N., Yoshimori, T. & Miyawaki, A. A sensitive and quantitative technique for detecting autophagic events based on lysosomal delivery. Chem. Biol. 18, 1042–1052 (2011)

Sarraf, S. A. et al. Landscape of the PARKIN-dependent ubiquitylome in response to mitochondrial depolarization. Nature 496, 372–376 (2013)

Yoshii, S. R., Kishi, C., Ishihara, N. & Mizushima, N. Parkin mediates proteasome-dependent protein degradation and rupture of the outer mitochondrial membrane. J. Biol. Chem. 286, 19630–19640 (2011)

Guo, M. Drosophila as a model to study mitochondrial dysfunction in Parkinson's disease. Cold Spring Harb. Perspect. Med. http://dx.doi.org/10.1101/cshperspect.a009944 (2012)

Brand, A. H. & Perrimon, N. Targeted gene expression as a means of altering cell fates and generating dominant phenotypes. Development 118, 401–415 (1993)

Greene, J. C. et al. Mitochondrial pathology and apoptotic muscle degeneration in Drosophila parkin mutants. Proc. Natl Acad. Sci. USA 100, 4078–4083 (2003)

Whitworth, A. J. et al. Increased glutathione S-transferase activity rescues dopaminergic neuron loss in a Drosophila model of Parkinson's disease. Proc. Natl Acad. Sci. USA 102, 8024–8029 (2005)

Wang, C. et al. Drosophila overexpressing parkin R275W mutant exhibits dopaminergic neuron degeneration and mitochondrial abnormalities. J. Neurosci. 27, 8563–8570 (2007)

Sang, T. K. et al. A Drosophila model of mutant human parkin-induced toxicity demonstrates selective loss of dopaminergic neurons and dependence on cellular dopamine. J. Neurosci. 27, 981–992 (2007)

Cha, G. H. et al. Parkin negatively regulates JNK pathway in the dopaminergic neurons of Drosophila. Proc. Natl Acad. Sci. USA 102, 10345–10350 (2005)

Cochemé, H. M. & Murphy, M. P. Complex I is the major site of mitochondrial superoxide production by paraquat. J. Biol. Chem. 283, 1786–1798 (2008)

Tanner, C. M. et al. Rotenone, paraquat, and Parkinson's disease. Environ. Health Perspect. 119, 866–872 (2011)

Seeburg, D. P. & Sheng, M. Activity-induced Polo-like kinase 2 is required for homeostatic plasticity of hippocampal neurons during epileptiform activity. J. Neurosci. 28, 6583–6591 (2008)

Dooley, C. T. et al. Imaging dynamic redox changes in mammalian cells with green fluorescent protein indicators. J. Biol. Chem. 279, 22284–22293 (2004)

Burchell, V. S. et al. The Parkinson's disease-linked proteins Fbxo7 and Parkin interact to mediate mitophagy. Nature Neurosci. 16, 1257–1265 (2013)

Shiba-Fukushima, K. et al. PINK1-mediated phosphorylation of the Parkin ubiquitin-like domain primes mitochondrial translocation of Parkin and regulates mitophagy. Sci. Rep. 2, 1002 (2012)

Xu, G., Paige, J. S. & Jaffrey, S. R. Global analysis of lysine ubiquitination by ubiquitin remnant immunoaffinity profiling. Nature Biotechnol. 28, 868–873 (2010)

Kim, W. et al. Systematic and quantitative assessment of the ubiquitin-modified proteome. Mol. Cell 44, 325–340 (2011)

Rappsilber, J., Ishihama, Y. & Mann, M. Stop and go extraction tips for matrix-assisted laser desorption/ionization, nanoelectrospray, and LC/MS sample pretreatment in proteomics. Anal. Chem. 75, 663–670 (2003)

Beausoleil, S. A., Villen, J., Gerber, S. A., Rush, J. & Gygi, S. P. A probability-based approach for high-throughput protein phosphorylation analysis and site localization. Nature Biotechnol. 24, 1285–1292 (2006)

Bustos, D., Bakalarski, C. E., Yang, Y., Peng, J. & Kirkpatrick, D. S. Characterizing ubiquitination sites by peptide based immunoaffinity enrichment. Mol. Cell. Proteomics 11, 1529–1540 (2012)

Seyfried, N. T. et al. Systematic approach for validating the ubiquitinated proteome. Anal. Chem. 80, 4161–4169 (2008)

Pinheiro, J., Bates, D., DebRoy, S. & Sarkar, D. the R Core Team. nlme: linear and nonlinear mixed effects models. R package version 3. (2011)

Wu, J. S. & Luo, L. A protocol for dissecting Drosophila melanogaster brains for live imaging or immunostaining. Nature Protocols 1, 2110–2115 (2006)
Acknowledgements
We thank J. Corn and C. Cunningham for discussions. The park25 line was a gift of L. Pallanck. PTMscan studies are performed at Genentech under a limited use license from Cell Signaling Technology.
Ethics declarations
Competing interests
All authors are employees of Genentech, Inc.
Extended data figures and tables
Supplementary information
About this article
Cite this article
Bingol, B., Tea, J., Phu, L. et al. The mitochondrial deubiquitinase USP30 opposes parkin-mediated mitophagy. Nature 510, 370–375 (2014). https://doi.org/10.1038/nature13418
Received:

Accepted:

Published:

Issue Date:

DOI: https://doi.org/10.1038/nature13418
Comments
By submitting a comment you agree to abide by our Terms and Community Guidelines. If you find something abusive or that does not comply with our terms or guidelines please flag it as inappropriate.