Abstract
Several features common to a Western lifestyle, including obesity and low levels of physical activity, are known risk factors for gastrointestinal cancers1. There is substantial evidence suggesting that diet markedly affects the composition of the intestinal microbiota2. Moreover, there is now unequivocal evidence linking dysbiosis to cancer development3. However, the mechanisms by which high-fat diet (HFD)-mediated changes in the microbial community affect the severity of tumorigenesis in the gut remain to be determined. Here we demonstrate that an HFD promotes tumour progression in the small intestine of genetically susceptible, K-rasG12Dint, mice independently of obesity. HFD consumption, in conjunction with K-ras mutation, mediated a shift in the composition of the gut microbiota, and this shift was associated with a decrease in Paneth-cell-mediated antimicrobial host defence that compromised dendritic cell recruitment and MHC class II molecule presentation in the gut-associated lymphoid tissues. When butyrate was administered to HFD-fed K-rasG12Dint mice, dendritic cell recruitment in the gut-associated lymphoid tissues was normalized, and tumour progression was attenuated. Importantly, deficiency in MYD88, a signalling adaptor for pattern recognition receptors and Toll-like receptors, blocked tumour progression. The transfer of faecal samples from HFD-fed mice with intestinal tumours to healthy adult K-rasG12Dint mice was sufficient to transmit disease in the absence of an HFD. Furthermore, treatment with antibiotics completely blocked HFD-induced tumour progression, suggesting that distinct shifts in the microbiota have a pivotal role in aggravating disease. Collectively, these data underscore the importance of the reciprocal interaction between host and environmental factors in selecting a microbiota that favours carcinogenesis, and they suggest that tumorigenesis is transmissible among genetically predisposed individuals.
Access options
Subscribe to this journal
Receive 51 print issues and online access
$199.00 per year
only $3.90 per issue
Rent or buy this article
Prices vary by article type
from$1.95
to$39.95
Prices may be subject to local taxes which are calculated during checkout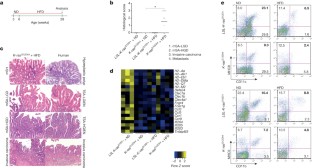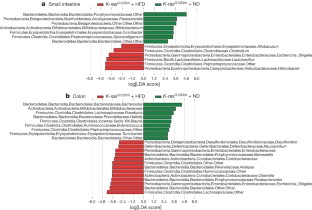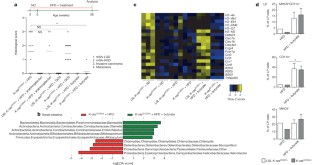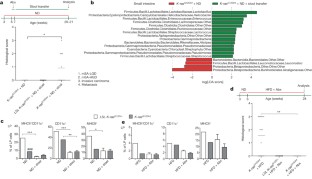 Similar content being viewed by others
Accession codes
Primary accessions
Gene Expression Omnibus
Sequence Read Archive
Data deposits
Microarray data were generated in accordance with the MIAME guidelines and have been deposited in the Gene Expression Omnibus (GEO) database under accession number GSE56257. Sequence data have been deposited in the NCBI Sequence Read Archive (SRA) database under BioProject PRJNA242565 (SRA project accession number, SRP040736; sample accession numbers, SRS584259–SRS584323, SRS584325).
References
Giovannucci, E. & Michaud, D. The role of obesity and related metabolic disturbances in cancers of the colon, prostate, and pancreas. Gastroenterology 132, 2208–2225 (2007)

Wu, G. D. et al. Linking long-term dietary patterns with gut microbial enterotypes. Science 334, 105–108 (2011)

Schwabe, R. F. & Jobin, C. The microbiome and cancer. Nature Rev. Cancer 13, 800–812 (2013)

Turnbaugh, P. J., Backhed, F., Fulton, L. & Gordon, J. I. Diet-induced obesity is linked to marked but reversible alterations in the mouse distal gut microbiome. Cell Host Microbe 3, 213–223 (2008)

Zimmet, P., Alberti, K. G. & Shaw, J. Global and societal implications of the diabetes epidemic. Nature 414, 782–787 (2001)

Ley, R. E., Turnbaugh, P. J., Klein, S. & Gordon, J. I. Microbial ecology: human gut microbes associated with obesity. Nature 444, 1022–1023 (2006)

Turnbaugh, P. J. et al. An obesity-associated gut microbiome with increased capacity for energy harvest. Nature 444, 1027–1031 (2006)

Bennecke, M. et al. Ink4a/Arf and oncogene-induced senescence prevent tumor progression during alternative colorectal tumorigenesis. Cancer Cell 18, 135–146 (2010)

Arkan, M. C. et al. IKK-β links inflammation to obesity-induced insulin resistance. Nature Med. 11, 191–198 (2005)

Khasawneh, J. et al. Inflammation and mitochondrial fatty acid β-oxidation link obesity to early tumor promotion. Proc. Natl Acad. Sci. USA 106, 3354–3359 (2009)

Clevers, H. C. & Bevins, C. L. Paneth cells: maestros of the small intestinal crypts. Annu. Rev. Physiol. 75, 289–311 (2013)

Shan, M. et al. Mucus enhances gut homeostasis and oral tolerance by delivering immunoregulatory signals. Science 342, 447–453 (2013)

Maslowski, K. M. & Mackay, C. R. Diet, gut microbiota and immune responses. Nature Immunol. 12, 5–9 (2011)

Kawai, T. & Akira, S. The role of pattern-recognition receptors in innate immunity: update on Toll-like receptors. Nature Immunol. 11, 373–384 (2010)

Slack, E. et al. Innate and adaptive immunity cooperate flexibly to maintain host–microbiota mutualism. Science 325, 617–620 (2009)

Larsson, E. et al. Analysis of gut microbial regulation of host gene expression along the length of the gut and regulation of gut microbial ecology through MyD88. Gut 61, 1124–1131 (2012)

Ubeda, C. et al. Familial transmission rather than defective innate immunity shapes the distinct intestinal microbiota of TLR-deficient mice. J. Exp. Med. 209, 1445–1456 (2012)

Redgwell, R. J. & Fischer, M. Dietary fiber as a versatile food component: an industrial perspective. Mol. Nutr. Food Res. 49, 521–535 (2005)

Macfarlane, G. T., Steed, H. & Macfarlane, S. Bacterial metabolism and health-related effects of galacto-oligosaccharides and other prebiotics. J. Appl. Microbiol. 104, 305–344 (2008)

Furusawa, Y. et al. Commensal microbe-derived butyrate induces the differentiation of colonic regulatory T cells. Nature 504, 446–450 (2013)

Brestoff, J. R. & Artis, D. Commensal bacteria at the interface of host metabolism and the immune system. Nature Immunol. 14, 676–684 (2013)

Zoetendal, E. G. et al. The human small intestinal microbiota is driven by rapid uptake and conversion of simple carbohydrates. ISME J. 6, 1415–1426 (2012)

Gautier, L., Cope, L., Bolstad, B. M. & Irizarry, R. A. affy—analysis of Affymetrix GeneChip data at the probe level. Bioinformatics 20, 307–315 (2004)

Wettenhall, J. M. & Smyth, G. K. limmaGUI: a graphical user interface for linear modeling of microarray data. Bioinformatics 20, 3705–3706 (2004)

Gentleman, R. C. et al. Bioconductor: open software development for computational biology and bioinformatics. Genome Biol. 5, R80 (2004)

Meyer, S., Nolte, J., Opitz, L., Salinas-Riester, G. & Engel, W. Pluripotent embryonic stem cells and multipotent adult germline stem cells reveal similar transcriptomes including pluripotency-related genes. Mol. Hum. Reprod. 16, 846–855 (2010)

Irizarry, R. A. et al. Exploration, normalization, and summaries of high density oligonucleotide array probe level data. Biostatistics 4, 249–264 (2003)

Smyth, G. K. Linear models and empirical Bayes methods for assessing differential expression in microarray experiments. Stat. Appl. Genet. Mol. Biol. http://dx.doi.org/10.2202/1544-6115.1027 (12 February 2004)

Klipper-Aurbach, Y. et al. Mathematical formulae for the prediction of the residual β cell function during the first two years of disease in children and adolescents with insulin-dependent diabetes mellitus. Med. Hypotheses 45, 486–490 (1995)

Quince, C., Lanzen, A., Davenport, R. J. & Turnbaugh, P. J. Removing noise from pyrosequenced amplicons. BMC Bioinformatics 12, 38 (2011)

Caporaso, J. G. et al. QIIME allows analysis of high-throughput community sequencing data. Nature Methods 7, 335–336 (2010)

Schloss, P. D. et al. Introducing mothur: open-source, platform-independent, community-supported software for describing and comparing microbial communities. Appl. Environ. Microbiol. 75, 7537–7541 (2009)

DeSantis, T. Z. et al. Greengenes, a chimera-checked 16S rRNA gene database and workbench compatible with ARB. Appl. Environ. Microbiol. 72, 5069–5072 (2006)

Caporaso, J. G. et al. PyNAST: a flexible tool for aligning sequences to a template alignment. Bioinformatics 26, 266–267 (2010)

Wang, Q., Garrity, G. M., Tiedje, J. M. & Cole, J. R. Naive Bayesian classifier for rapid assignment of rRNA sequences into the new bacterial taxonomy. Appl. Environ. Microbiol. 73, 5261–5267 (2007)

Segata, N. et al. Metagenomic biomarker discovery and explanation. Genome Biol. 12, R60 (2011)

Hothorn, T., Bretz, F. & Westfall, P. Simultaneous inference in general parametric models. Biom. J. 50, 346–363 (2008)
Acknowledgements
We thank K. Burmeister and J. Khasawneh for technical assistance and H. Wagner for generously providing Myd88−/− mice. We are thankful to K. Offe and the PhD program 'Medical Life Sciences and Technology' for providing a fellowship to J.H. for one year. This work was supported in part by the LOEWE Center for Cell and Gene Therapy Frankfurt (CGT, III L 4-518/17.004) and institutional funds from the Georg-Speyer-Haus, as well as grants from the Deutsche Forschungsgemeinschaft (DFG) (Gr1916/5-1), the Deutsche Krebshilfe (108872) and the ERC (ROSCAN-281967) to F.R.G. Computational infrastructure made available to S.W.P. by the University of Delaware Center for Bioinformatics and Computational Biology Core Facility and the Delaware Biotechnology Institute was supported by grants from the US National Institutes of Health National Institute of General Medical Sciences (8 P20 GM103446-12) and the US National Science Foundation EPSCoR (EPS-081425). This work was supported by grants from the Deutsche Krebshilfe (107977) and the DFG (AR710/2-1) to M.C.A.
Ethics declarations
Competing interests
The authors declare no competing financial interests.
Extended data figures and tables
Supplementary information
About this article
Cite this article
Schulz, M., Atay, Ç., Heringer, J. et al. High-fat-diet-mediated dysbiosis promotes intestinal carcinogenesis independently of obesity. Nature 514, 508–512 (2014). https://doi.org/10.1038/nature13398
Received:

Accepted:

Published:

Issue Date:

DOI: https://doi.org/10.1038/nature13398
Comments
By submitting a comment you agree to abide by our Terms and Community Guidelines. If you find something abusive or that does not comply with our terms or guidelines please flag it as inappropriate.