Abstract
Transcriptional enhancers are crucial regulators of gene expression and animal development1 and the characterization of their genomic organization, spatiotemporal activities and sequence properties is a key goal in modern biology2,3,4,5,6,7,8. Here we characterize the in vivo activity of 7,705 Drosophila melanogaster enhancer candidates covering 13.5% of the non-coding non-repetitive genome throughout embryogenesis. 3,557 (46%) candidates are active, suggesting a high density with 50,000 to 100,000 developmental enhancers genome-wide. The vast majority of enhancers display specific spatial patterns that are highly dynamic during development. Most appear to regulate their neighbouring genes, suggesting that the cis-regulatory genome is organized locally into domains, which are supported by chromosomal domains, insulator binding and genome evolution. However, 12 to 21 per cent of enhancers appear to skip non-expressed neighbours and regulate a more distal gene. Finally, we computationally identify cis-regulatory motifs that are predictive and required for enhancer activity, as we validate experimentally. This work provides global insights into the organization of an animal regulatory genome and the make-up of enhancer sequences and confirms and generalizes principles from previous studies1,9. All enhancer patterns are annotated manually with a controlled vocabulary and all results are available through a web interface (http://enhancers.starklab.org), including the raw images of all microscopy slides for manual inspection at arbitrary zoom levels.
Relevant articles
Open Access articles citing this article.
Timothy L. H. Wong

,

Clifford B. Talbot

&

Gero Miesenböck

Nature Communications Open Access 13 May 2023

Katarína Grešová

,

Vlastimil Martinek

…

Panagiotis Alexiou

BMC Genomic Data Open Access 01 May 2023

Te-Yao Hsu

,

Hsin-Hsin Cheng

…

Sung-Chou Li

Scientific Reports Open Access 25 March 2023
Access options
Subscribe to this journal
Receive 51 print issues and online access
$199.00 per year
only $3.90 per issue
Rent or buy this article
Get just this article for as long as you need it
$39.95
Prices may be subject to local taxes which are calculated during checkout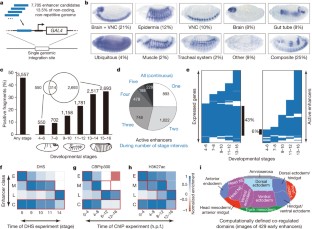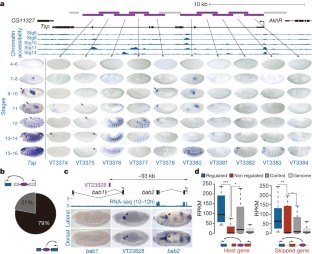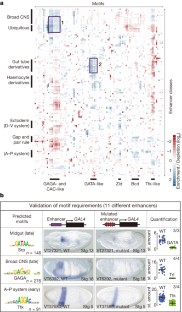 References
Levine, M. Transcriptional enhancers in animal development and evolution. Curr. Biol. 20, R754–R763 (2010)

The modENCODE Consortium. Identification of functional elements and regulatory circuits by Drosophila modENCODE. Science 489, 57–74 (2010)

ENCODE Project Consortium. An integrated encyclopedia of DNA elements in the human genome. Nature 489, 57–74 (2012)

Pennacchio, L. A. et al. In vivo enhancer analysis of human conserved non-coding sequences. Nature 444, 499–502 (2006)

Jenett, A. et al. A GAL4-driver line resource for Drosophila neurobiology. Cell Rep. 2, 991–1001 (2012)

Manning, L. et al. A resource for manipulating gene expression and analyzing cis-regulatory modules in the Drosophila CNS. Cell Rep. 2, 1002–1013 (2012)

Jory, A. et al. A survey of 6,300 genomic fragments for cis-regulatory activity in the imaginal discs of Drosophila melanogaster. Cell Rep. 2, 1014–1024 (2012)

Zinzen, R. P., Girardot, C., Gagneur, J., Braun, M. & Furlong, E. E. M. Combinatorial binding predicts spatio-temporal cis-regulatory activity. Nature 462, 65–70 (2009)

Yáñez-Cuna, J. O., Kvon, E. Z. & Stark, A. Deciphering the transcriptional cis-regulatory code. Trends Genet. 29, 11–22 (2013)

Visel, A. et al. ChIP-seq accurately predicts tissue-specific activity of enhancers. Nature 457, 854–858 (2009)

Shen, Y. et al. A map of the cis-regulatory sequences in the mouse genome. Nature 448, 116–120 (2012)

Zeitlinger, J. & Stark, A. Developmental gene regulation in the era of genomics. Dev. Biol. 339, 230–239 (2010)

Rubin, G. M. & Lewis, E. B. A brief history of Drosophila's contributions to genome research. Science 287, 2216–2218 (2000)

Tomancak, P. et al. Systematic determination of patterns of gene expression during Drosophila embryogenesis. Genome Biol. 3, RESEARCH0088 (2002)

Gallo, S. M. et al. REDfly v3.0: toward a comprehensive database of transcriptional regulatory elements in Drosophila. Nucleic Acids Res. 39, D118–D123 (2011)

Pfeiffer, B. D. et al. Tools for neuroanatomy and neurogenetics in Drosophila. Proc. Natl Acad. Sci. USA 105, 9715–9720 (2008)

Campos-Ortega, J. A. & Hartenstein, V. The Embryonic Development of Drosophila melanogaster (Springer, 1997)

Graveley, B. R. et al. The developmental transcriptome of Drosophila melanogaster. Nature 471, 473–479 (2011)

Bonn, S. et al. Tissue-specific analysis of chromatin state identifies temporal signatures of enhancer activity during embryonic development. Nature Genet. 44, 148–156 (2012)

Thomas, S. et al. Dynamic reprogramming of chromatin accessibility during Drosophila embryo development. Genome Biol. 12, R43 (2011)

Sexton, T. et al. Three-dimensional folding and functional organization principles of the Drosophila genome. Cell 148, 458–472 (2012)

Nègre, N. et al. A comprehensive map of insulator elements for the Drosophila genome. PLoS Genet. 6, e1000814 (2010)

Drosophila 12 Genomes Consortium Evolution of genes and genomes on the Drosophila phylogeny. Nature 450, 203–218 (2007)

Hong, J.-W., Hendrix, D. A. & Levine, M. S. Shadow enhancers as a source of evolutionary novelty. Science 321, 1314 (2008)

Calhoun, V. C., Stathopoulos, A. & Levine, M. Promoter-proximal tethering elements regulate enhancer-promoter specificity in the Drosophila Antennapedia complex. Proc. Natl Acad. Sci. USA 99, 9243–9247 (2002)

Jack, J., Dorsett, D., Delotto, Y. & Liu, S. Expression of the cut locus in the Drosophila wing margin is required for cell type specification and is regulated by a distant enhancer. Development 113, 735–747 (1991)

Maeda, R. K. & Karch, F. Gene expression in time and space: additive vs hierarchical organization of cis-regulatory regions. Curr. Opin. Genet. Dev. 21, 187–193 (2011)

Marinić, M., Aktas, T., Ruf, S. & Spitz, F. An integrated holo-enhancer unit defines tissue and gene specificity of the Fgf8 regulatory landscape. Dev. Cell 24, 530–542 (2013)

Yáñez-Cuna, J. O., Dinh, H. Q., Kvon, E. Z., Shlyueva, D. & Stark, A. Uncovering cis-regulatory sequence requirements for context-specific transcription factor binding. Genome Res. 22, 2018–2030 (2012)

Liang, H.-L. et al. The zinc-finger protein Zelda is a key activator of the early zygotic genome in Drosophila. Nature 456, 400–403 (2008)

Pfeiffer, B. D. et al. Refinement of tools for targeted gene expression in Drosophila. Genetics 186, 735–755 (2010)

Weiszmann, R., Hammonds, A. S. & Celniker, S. E. Determination of gene expression patterns using high-throughput RNA in situ hybridization to whole-mount Drosophila embryos. Nature Protocols 4, 605–618 (2009)

Lécuyer, E., Parthasarathy, N. & Krause, H. M. Fluorescent in situ hybridization protocols in Drosophila embryos and tissues. Methods Mol. Biol. 420, 289–302 (2008)

Kvon, E. Z., Stampfel, G., Yáñez-Cuna, J. O., Dickson, B. J. & Stark, A. HOT regions function as patterned developmental enhancers and have a distinct cis-regulatory signature. Genes Dev. 26, 908–913 (2012)

Fisher, W. W. et al. DNA regions bound at low occupancy by transcription factors do not drive patterned reporter gene expression in Drosophila. Proc. Natl Acad. Sci. USA 109, 21330–21335 (2012)

Frise, E., Hammonds, A. S. & Celniker, S. E. Systematic image-driven analysis of the spatial Drosophila embryonic expression landscape. Mol. Syst. Biol. 6, 345 (2010)

Stark, A. et al. Discovery of functional elements in 12 Drosophila genomes using evolutionary signatures. Nature 450, 219–232 (2007)

St Pierre, S. E., Ponting, L., Stefancsik, R. & McQuilton, P. The FlyBase Consortium. FlyBase 102–advanced approaches to interrogating FlyBase. Nucleic Acids Res. 42, D780–D788 (2014)

Quinlan, A. R. & Hall, I. M. BEDTools: a flexible suite of utilities for comparing genomic features. Bioinformatics 26, 841–842 (2010)

Small, S., Blair, A. & Levine, M. Regulation of even-skipped stripe 2 in the Drosophila embryo. EMBO J. 11, 4047–4057 (1992)

Visel, A., Minovitsky, S., Dubchak, I. & Pennacchio, L. A. VISTA Enhancer Browser–a database of tissue-specific human enhancers. Nucleic Acids Res. 35, D88–D92 (2007)

Hartenstein, V. Atlas of Drosophila development (1993)

Erives, A. & Levine, M. Coordinate enhancers share common organizational features in the Drosophila genome. Proc. Natl Acad. Sci. USA 101, 3851–3856 (2004)

Perry, M. W., Boettiger, A. N. & Levine, M. Multiple enhancers ensure precision of gap gene-expression patterns in the Drosophila embryo. Proc. Natl Acad. Sci. USA 108, 13570–13575 (2011)

Gajewski, K. et al. Pannier is a transcriptional target and partner of Tinman during Drosophila cardiogenesis. Dev. Biol. 233, 425–436 (2001)

Harrison, M. M., Li, X.-Y., Kaplan, T., Botchan, M. R. & Eisen, M. B. Zelda binding in the early Drosophila melanogaster embryo marks regions subsequently activated at the maternal-to-zygotic transition. PLoS Genet. 7, e1002266 (2011)

Nien, C.-Y. et al. Temporal coordination of gene networks by Zelda in the early Drosophila embryo. PLoS Genet. 7, e1002339 (2011)

Nambu, J. R., Lewis, J. O., Wharton, K. A. & Crews, S. T. The Drosophila single-minded gene encodes a helix-loop-helix protein that acts as a master regulator of CNS midline development. Cell 67, 1157–1167 (1991)

Ochoa-Espinosa, A. et al. The role of binding site cluster strength in Bicoid-dependent patterning in Drosophila. Proc. Natl Acad. Sci. USA 102, 4960–4965 (2005)

Baylies, M. K. & Bate, M. twist: a myogenic switch in Drosophila. Science 272, 1481–1484 (1996)

Nguyen, H. T., Bodmer, R., Abmayr, S. M., McDermott, J. C. & Spoerel, N. A. D-mef2: a Drosophila mesoderm-specific MADS box-containing gene with a biphasic expression profile during embryogenesis. Proc. Natl Acad. Sci. USA 91, 7520–7524 (1994)
Acknowledgements
We thank members of the Dickson laboratory VT project for cloning the candidate regions and generating transgenic flies and the VDRC (http://stockcenter.vdrc.at) for their maintenance and distribution. We are grateful to the IMP/IMBA Scientific Services, in particular BioOptics, Genomics, and IT for help and to C. H. Lampert (IST Austria) for advice. We thank M. Levine (UC Berkeley) and V. Hartenstein (UCLA) for their permission to reproduce figures. The Stark group is supported by a European Research Council (ERC) Starting Grant from the European Community's Seventh Framework Programme (FP7/2007-2013)/ERC grant agreement no. 242922 awarded to A.S. and by the Austrian Science Fund (FWF, F4303-B09). Generation of transgenic lines was supported in part by an ERC Advanced Investigator Grant to B.J.D. Basic research at the IMP is supported by Boehringer Ingelheim GmbH.
Ethics declarations
Competing interests
The authors declare no competing financial interests.
Extended data figures and tables
Supplementary information
This file contains Supplementary Notes 1-6, legends for Supplementary Tables 1-6 (see separate zipped file) and Supplementary References. (PDF 243 kb)
This zipped file contains Supplementary Tables 1-6 (see Supplementary Information file for legends). (ZIP 344 kb)
About this article
Cite this article
Kvon, E., Kazmar, T., Stampfel, G. et al. Genome-scale functional characterization of Drosophila developmental enhancers in vivo. Nature 512, 91–95 (2014). https://doi.org/10.1038/nature13395
Received:

Accepted:

Published:

Issue Date:

DOI: https://doi.org/10.1038/nature13395
Comments
By submitting a comment you agree to abide by our Terms and Community Guidelines. If you find something abusive or that does not comply with our terms or guidelines please flag it as inappropriate.