Abstract
Ancient and diverse antibiotic resistance genes (ARGs) have previously been identified from soil1,2,3, including genes identical to those in human pathogens4. Despite the apparent overlap between soil and clinical resistomes4,5,6, factors influencing ARG composition in soil and their movement between genomes and habitats remain largely unknown3. General metagenome functions often correlate with the underlying structure of bacterial communities7,8,9,10,11,12. However, ARGs are proposed to be highly mobile4,5,13, prompting speculation that resistomes may not correlate with phylogenetic signatures or ecological divisions13,14. To investigate these relationships, we performed functional metagenomic selections for resistance to 18 antibiotics from 18 agricultural and grassland soils. The 2,895 ARGs we discovered were mostly new, and represent all major resistance mechanisms15. We demonstrate that distinct soil types harbour distinct resistomes, and that the addition of nitrogen fertilizer strongly influenced soil ARG content. Resistome composition also correlated with microbial phylogenetic and taxonomic structure, both across and within soil types. Consistent with this strong correlation, mobility elements (genes responsible for horizontal gene transfer between bacteria such as transposases and integrases) syntenic with ARGs were rare in soil by comparison with sequenced pathogens, suggesting that ARGs may not transfer between soil bacteria as readily as is observed between human pathogens. Together, our results indicate that bacterial community composition is the primary determinant of soil ARG content, challenging previous hypotheses that horizontal gene transfer effectively decouples resistomes from phylogeny13,14.
Relevant articles
Open Access articles citing this article.
Suryang Kwak

,

Nathan Crook

…

Gautam Dantas

Biotechnology for Biofuels and Bioproducts Open Access 08 October 2022

Tianlei Qiu

,

Linhe Huo

…

Xuming Wang

Environmental Microbiome Open Access 11 August 2022

Jiawen Wang

,

Rui Pan

…

Jinren Ni

Microbiome Open Access 28 July 2022
Access options
Subscribe to Journal
Get full journal access for 1 year
$199.00
only $3.90 per issue
All prices are NET prices.
VAT will be added later in the checkout.
Tax calculation will be finalised during checkout.
Buy article
Get time limited or full article access on ReadCube.
$32.00
All prices are NET prices.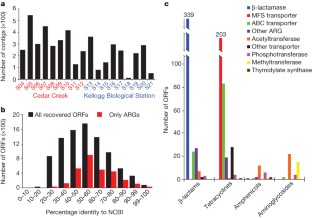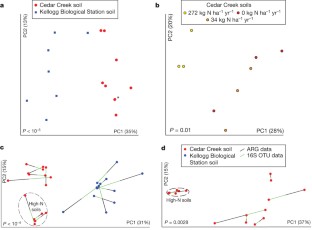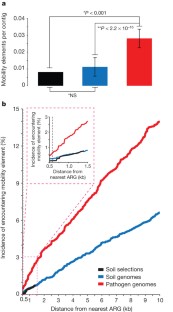 References
D'Costa, V. M. et al. Antibiotic resistance is ancient. Nature 477, 457–461 (2011)

Allen, H. K., Moe, L. A., Rodbumrer, J., Gaarder, A. & Handelsman, J. Functional metagenomics reveals diverse beta-lactamases in a remote Alaskan soil. ISME J. 3, 243–251 (2009)

Allen, H. K. et al. Call of the wild: antibiotic resistance genes in natural environments. Nature Rev. Microbiol. 8, 251–259 (2010)

Forsberg, K. J. et al. The shared antibiotic resistome of soil bacteria and human pathogens. Science 337, 1107–1111 (2012)

Wright, G. D. Antibiotic resistance in the environment: a link to the clinic? Curr. Opin. Microbiol. 13, 589–594 (2010)

Benveniste, R. & Davies, J. Aminoglycoside antibiotic-inactivating enzymes in actinomycetes similar to those present in clinical isolates of antibiotic-resistant bacteria. Proc. Natl Acad. Sci. USA 70, 2276–2280 (1973)

Langille, M. G. et al. Predictive functional profiling of microbial communities using 16S rRNA marker gene sequences. Nature Biotechnol. 31, 814–821 (2013)

Fierer, N. et al. Comparative metagenomic, phylogenetic and physiological analyses of soil microbial communities across nitrogen gradients. ISME J. 6, 1007–1017 (2012)

Fierer, N. et al. Cross-biome metagenomic analyses of soil microbial communities and their functional attributes. Proc. Natl Acad. Sci. USA 109, 21390–21395 (2012)

Fierer, N. et al. Reconstructing the microbial diversity and function of pre-agricultural tallgrass prairie soils in the United States. Science 342, 621–624 (2013)

Muegge, B. D. et al. Diet drives convergence in gut microbiome functions across mammalian phylogeny and within humans. Science 332, 970–974 (2011)

Zaneveld, J. R., Lozupone, C., Gordon, J. I. & Knight, R. Ribosomal RNA diversity predicts genome diversity in gut bacteria and their relatives. Nucleic Acids Res. 38, 3869–3879 (2010)

Smillie, C. S. et al. Ecology drives a global network of gene exchange connecting the human microbiome. Nature 480, 241–244 (2011)

Stokes, H. W. & Gillings, M. R. Gene flow, mobile genetic elements and the recruitment of antibiotic resistance genes into Gram-negative pathogens. FEMS Microbiol. Rev. 35, 790–819 (2011)

Walsh, C. Molecular mechanisms that confer antibacterial drug resistance. Nature 406, 775–781 (2000)

Pehrsson, E. C., Forsberg, K. J., Gibson, M. K., Ahmadi, S. & Dantas, G. Novel resistance functions uncovered using functional metagenomic investigations of resistance reservoirs. Front. Microbiol. 4, 145 (2013)

Delmont, T. O. et al. Structure, fluctuation and magnitude of a natural grassland soil metagenome. ISME J. 6, 1677–1687 (2012)

Jacoby, G. A. & Munoz-Price, L. S. The new beta-lactamases. N. Engl. J. Med. 352, 380–391 (2005)

Nalbantoglu, O. U., Way, S. F., Hinrichs, S. H. & Sayood, K. RAIphy: phylogenetic classification of metagenomics samples using iterative refinement of relative abundance index profiles. BMC Bioinform. 12, 41 (2011)

Ramirez, K. S., Lauber, C. L., Knight, R., Bradford, M. A. & Fierer, N. Consistent effects of nitrogen fertilization on soil bacterial communities in contrasting systems. Ecology 91, 3463–3470; discussion 3503–3414. (2010)

Ventura, M. et al. Genomics of Actinobacteria: tracing the evolutionary history of an ancient phylum. Microbiol. Mol. Biol. Rev. 71, 495–548 (2007)

Aminov, R. I. & Mackie, R. I. Evolution and ecology of antibiotic resistance genes. FEMS Microbiol. Lett. 271, 147–161 (2007)

Davies, J. & Davies, D. Origins and evolution of antibiotic resistance. Microbiol. Mol. Biol. Rev. 74, 417–433 (2010)

Medeiros, A. A. Evolution and dissemination of beta-lactamases accelerated by generations of beta-lactam antibiotics. Clin. Inf. Diseases 24, (Suppl. 1)19–45 (1997)

Dantas, G., Sommer, M. O., Oluwasegun, R. D. & Church, G. M. Bacteria subsisting on antibiotics. Science 320, 100–103 (2008)

Boucher, H. W. et al. Bad bugs, no drugs: no ESKAPE!. Clin. Inf. Diseases 48, 1–12 (2009)

Knapp, C. W., Dolfing, J., Ehlert, P. A. & Graham, D. W. Evidence of increasing antibiotic resistance gene abundances in archived soils since 1940. Environ. Sci. Technol. 44, 580–587 (2010)

Lutz, R. & Bujard, H. Independent and tight regulation of transcriptional units in Escherichia coli via the LacR/O, the TetR/O and AraC/I1–I2 regulatory elements. Nucleic Acids Res. 25, 1203–1210 (1997)

Zerbino, D. R. & Birney, E. Velvet: algorithms for de novo short read assembly using de Bruijn graphs. Genome Res. 18, 821–829 (2008)

de la Bastide, M. & McCombie, W. R. Assembling Genomic DNA sequences with PHRAP 2008/04/23 edn, Vol. 11 (John Wiley, 2007)

Moore, A. M. et al. Pediatric fecal microbiota harbor diverse and novel antibiotic resistance genes. PLoS ONE 8, e78822 (2013)

Tatusov, R. L., Galperin, M. Y., Natale, D. A. & Koonin, E. V. The COG database: a tool for genome-scale analysis of protein functions and evolution. Nucleic Acids Res. 28, 33–36 (2000)

Zhu, W., Lomsadze, A. & Borodovsky, M. Ab initio gene identification in metagenomic sequences. Nucleic Acids Res. 38, e132 (2010)

Finn, R. D., Clements, J. & Eddy, S. R. HMMER web server: interactive sequence similarity searching. Nucleic Acids Res. 39, W29–37 (2011)

Haft, D. H. et al. TIGRFAMs: a protein family resource for the functional identification of proteins. Nucleic Acids Res. 29, 41–43 (2001)

Bateman, A. et al. The Pfam protein families database. Nucleic Acids Res. 28, 263–266 (2000)

McArthur, A. G. et al. The comprehensive antibiotic resistance database. Antimicrob. Agents Chemother. 57, 3348–3357 (2013)

Li, W. & Godzik, A. Cd-hit: a fast program for clustering and comparing large sets of protein or nucleotide sequences. Bioinformatics 22, 1658–1659 (2006)

Caporaso, J. G. et al. QIIME allows analysis of high-throughput community sequencing data. Nature Methods 7, 335–336 (2010)

Lozupone, C., Hamady, M. & Knight, R. UniFrac–an online tool for comparing microbial community diversity in a phylogenetic context. BMC Bioinform. 7, 371 (2006)

Lozupone, C., Lladser, M. E., Knights, D., Stombaugh, J. & Knight, R. UniFrac: an effective distance metric for microbial community comparison. ISME J. 5, 169–172 (2011)

Clarke, K. R. & Gorley, R. N. PRIMER v6: User Manual/Tutorial 6th edn, Ch. 13 (PRIMER-E, 2006)
Acknowledgements
We thank M. Pesesky for access to and assistance with the data set used to benchmark RAIphy's performance, B. Wang for suggested improvements to Illumina library preparation, the Genome Technology Access Center at Washington University in St Louis for generating Illumina sequence data, M. Sherman for discussions on modelling pathogen HGT potential, and members of the Dantas laboratory for discussions on the results and analyses presented here. This work was supported by awards to G.D. through the Children's Discovery Institute (MD-II-2011-117), the International Center for Advanced Renewable Energy and Sustainability at Washington University, the National Academies Keck Futures Initiatives (Synthetic Biology, SB2), and the NIH Director's New Innovator Award (DP2-DK-098089). The content is solely the responsibility of the authors and does not necessarily represent the official views of the National Institutes of Health. M.K.G. is supported by a Mr and Mrs Spencer T. Olin Fellowship for Women in Graduate Study at Washington University. K.J.F. received support from the NIGMS Cell and Molecular Biology Training Grant (GM 007067) and from the NHGRI Genome Analysis Training Program (T32 HG000045). K.J.F. and M.K.G. are NSF graduate research fellows (award number DGE-1143954).
Ethics declarations
Competing interests
The authors declare no competing financial interests.
Extended data figures and tables
Supplementary information
This file contains Supplementary Tables 1-9. (PDF 225 kb)
This file contains all recovered contigs, their ORFs, annotations, and information regarding the samples from which each contig was derived. (XLSX 364 kb)
This file outlines all 433 human pathogen genomes and 153 non-pathogenic soil genomes used in comparisons of resistance gene mobility in these different environments. (XLSX 33 kb)
About this article
Cite this article
Forsberg, K., Patel, S., Gibson, M. et al. Bacterial phylogeny structures soil resistomes across habitats. Nature 509, 612–616 (2014). https://doi.org/10.1038/nature13377
Received:

Accepted:

Published:

Issue Date:

DOI: https://doi.org/10.1038/nature13377
Comments
By submitting a comment you agree to abide by our Terms and Community Guidelines. If you find something abusive or that does not comply with our terms or guidelines please flag it as inappropriate.