Abstract
Bone-resorbing osteoclasts significantly contribute to osteoporosis and bone metastases of cancer1,2,3. MicroRNAs play important roles in physiology and disease4,5, and present tremendous therapeutic potential6. Nonetheless, how microRNAs regulate skeletal biology is underexplored. Here we identify miR-34a as a novel and critical suppressor of osteoclastogenesis, bone resorption and the bone metastatic niche. miR-34a is downregulated during osteoclast differentiation. Osteoclastic miR-34a-overexpressing transgenic mice exhibit lower bone resorption and higher bone mass. Conversely, miR-34a knockout and heterozygous mice exhibit elevated bone resorption and reduced bone mass. Consequently, ovariectomy-induced osteoporosis, as well as bone metastasis of breast and skin cancers, are diminished in osteoclastic miR-34a transgenic mice, and can be effectively attenuated by miR-34a nanoparticle treatment. Mechanistically, we identify transforming growth factor-β-induced factor 2 (Tgif2) as an essential direct miR-34a target that is pro-osteoclastogenic. Tgif2 deletion reduces bone resorption and abolishes miR-34a regulation. Together, using mouse genetic, pharmacological and disease models, we reveal miR-34a as a key osteoclast suppressor and a potential therapeutic strategy to confer skeletal protection and ameliorate bone metastasis of cancers.
Relevant articles
Open Access articles citing this article.
Renle Du

,

Chen Wang

…

Wenzhi Shen

BMC Cancer Open Access 16 January 2023

Gaoyang Chen

,

Canling Long

…

Songlin Peng

Bone Research Open Access 31 March 2022

Li Zhang

,

Hao Niu

…

Zuo-Lin Xiang

BMC Cancer Open Access 15 February 2021
Access options
Subscribe to this journal
Receive 51 print issues and online access
$199.00 per year
only $3.90 per issue
Rent or buy this article
Get just this article for as long as you need it
$39.95
Prices may be subject to local taxes which are calculated during checkout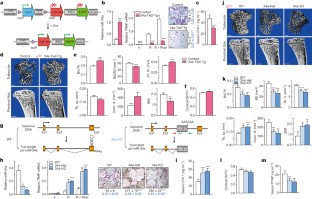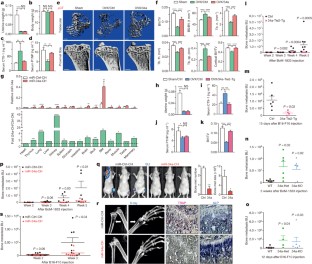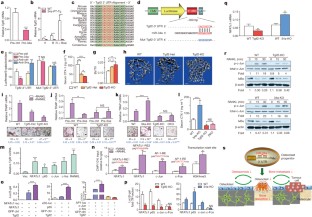 References
Coleman, R. E. Bone cancer in 2011: prevention and treatment of bone metastases. Nature Rev. Clin. Oncol. 9, 76–78 (2012)

Ell, B. & Kang, Y. SnapShot: bone metastasis. Cell 151, 690 (2012)

Novack, D. V. & Teitelbaum, S. L. The osteoclast: friend or foe? Annu. Rev. Pathol. 3, 457–484 (2008)

Chivukula, R. R. & Mendell, J. T. Circular reasoning: microRNAs and cell-cycle control. Trends Biochem. Sci. 33, 474–481 (2008)

Ventura, A. & Jacks, T. MicroRNAs and cancer: short RNAs go a long way. Cell 136, 586–591 (2009)

Kasinski, A. L. & Slack, F. J. Epigenetics and genetics. MicroRNAs en route to the clinic: progress in validating and targeting microRNAs for cancer therapy. Nature Rev. Cancer 11, 849–864 (2011)

Wan, Y., Chong, L. W. & Evans, R. M. PPAR-γ regulates osteoclastogenesis in mice. Nature Med. 13, 1496–1503 (2007)

Wei, W. et al. PGC1β mediates PPARγ activation of osteoclastogenesis and rosiglitazone-induced bone loss. Cell Metab. 11, 503–516 (2010)

Choi, Y. J. et al. miR-34 miRNAs provide a barrier for somatic cell reprogramming. Nature Cell Biol. 13, 1353–1360 (2011)

Concepcion, C. P. et al. Intact p53-dependent responses in miR-34-deficient mice. PLoS Genet. 8, e1002797 (2012)

Bae, Y. et al. miRNA-34c regulates Notch signaling during bone development. Hum. Mol. Genet. 21, 2991–3000 (2012)

Wei, J. et al. miR-34s inhibit osteoblast proliferation and differentiation in the mouse by targeting SATB2. J. Cell Biol. 197, 509–521 (2012)

Ell, B. et al. Tumor-induced osteoclast miRNA changes as regulators and biomarkers of osteolytic bone metastasis. Cancer Cell 24, 542–556 (2013)

Yamakuchi, M., Ferlito, M. & Lowenstein, C. J. miR-34a repression of SIRT1 regulates apoptosis. Proc. Natl Acad. Sci. USA 105, 13421–13426 (2008)

Lefort, K. et al. A miR-34a-SIRT6 axis in the squamous cell differentiation network. EMBO J. 32, 2248–2263 (2013)

Boon, R. A. et al. MicroRNA-34a regulates cardiac ageing and function. Nature 495, 107–110 (2013)

Lodygin, D. et al. Inactivation of miR-34a by aberrant CpG methylation in multiple types of cancer. Cell Cycle 7, 2591–2600 (2008)

Hermeking, H. p53 enters the microRNA world. Cancer Cell 12, 414–418 (2007)

Liu, C. et al. The microRNA miR-34a inhibits prostate cancer stem cells and metastasis by directly repressing CD44. Nature Med. 17, 211–215 (2011)

Fukuda, T. et al. Generation of a mouse with conditionally activated signaling through the BMP receptor, ALK2. Genesis 44, 159–167 (2006)

Wei, W. et al. Osteoclast progenitors reside in the peroxisome proliferator-activated receptor gamma-expressing bone marrow cell population. Mol. Cell. Biol. 31, 4692–4705 (2011)

Clausen, B. E., Burkhardt, C., Reith, W., Renkawitz, R. & Forster, I. Conditional gene targeting in macrophages and granulocytes using LysMcre mice. Transgenic Res. 8, 265–277 (1999)

Nakamura, T. et al. Estrogen prevents bone loss via estrogen receptor alpha and induction of Fas ligand in osteoclasts. Cell 130, 811–823 (2007)

Maes, C. et al. Osteoblast precursors, but not mature osteoblasts, move into developing and fractured bones along with invading blood vessels. Dev. Cell 19, 329–344 (2010)

Powers, S. E. et al. Tgif1 and Tgif2 regulate Nodal signaling and are required for gastrulation. Development 137, 249–259 (2010)

Lu, C. et al. Regulation of tumor angiogenesis by EZH2. Cancer Cell 18, 185–197 (2010)

Wei, W. et al. Biphasic and dosage-dependent regulation of osteoclastogenesis by β-catenin. Mol. Cell. Biol. 31, 4706–4719 (2011)

Lu, X. et al. ADAMTS1 and MMP1 proteolytically engage EGF-like ligands in an osteolytic signaling cascade for bone metastasis. Genes Dev. 23, 1882–1894 (2009)

Kang, Y. et al. A multigenic program mediating breast cancer metastasis to bone. Cancer Cell 3, 537–549 (2003)

Uluckan, O. et al. APT102, a novel adpase, cooperates with aspirin to disrupt bone metastasis in mice. J. Cell. Biochem. 104, 1311–1323 (2008)

Chang, T. C. et al. Widespread microRNA repression by Myc contributes to tumorigenesis. Nature Genet. 40, 43–50 (2008)
Acknowledgements
We thank University of Texas Southwestern transgenic core and small animal imaging core for their assistance in our studies; P. Dechow, J. Feng and C. Qin for assistance with micro-computed tomography, histomorphometry and X-ray analysis; A. Ventura for miR-34abc triple knockout mice; D. Wotton for Tgif2-KO mice; H. Kronenberg for Osx-CreER mice; Y. Mishina for CAG-Z-EGFP vector. Y. Wan is a Virginia Murchison Linthicum Scholar in Medical Research. This work was in part supported by CPRIT (RP130145, Y.W.; R1008, J.M.), DOD (BC122877, Y.W.), National Institutes of Health (R01 DK089113, Y.W.; R01 CA120185 and P01 CA134292, J.M.; U54 CA151668 and UH2 TR000943, A.S.; R01 CA139067, L.H.), The Welch Foundation (I-1751, Y.W.) and a University of Texas Southwestern Endowed Scholar Startup Fund (Y.W.). The University of Texas Southwestern Small Animal Imaging Resource is supported in part by the Harold C. Simmons Cancer Center through an NCI Cancer Center Support Grant (1P30 CA142543) and The Department of Radiology. The VisualSonics Vevo 770 was purchased with National Institutes of Health American Recovery and Reinvestment Act stimulus funds 1S10RR02564801.
Ethics declarations
Competing interests
The authors declare no competing financial interests.
Extended data figures and tables
About this article
Cite this article
Krzeszinski, J., Wei, W., Huynh, H. et al. RETRACTED ARTICLE: miR-34a blocks osteoporosis and bone metastasis by inhibiting osteoclastogenesis and Tgif2. Nature 512, 431–435 (2014). https://doi.org/10.1038/nature13375
Received:

Accepted:

Published:

Issue Date:

DOI: https://doi.org/10.1038/nature13375
Comments
By submitting a comment you agree to abide by our Terms and Community Guidelines. If you find something abusive or that does not comply with our terms or guidelines please flag it as inappropriate.