Analysis of the draft genome of a comb jelly and of gene-transcription profiles from ten other ctenophores hints at an independent evolutionary origin for the nervous systems of these organisms. See Article p.109
Relevant articles
Open Access articles citing this article.
Evolution: Education and Outreach Open Access 14 October 2014
Access options
Subscribe to Journal
Get full journal access for 1 year
$199.00
only $3.90 per issue
All prices are NET prices.
VAT will be added later in the checkout.
Tax calculation will be finalised during checkout.
Buy article
Get time limited or full article access on ReadCube.
$32.00
All prices are NET prices.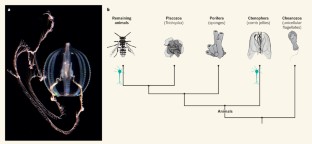 References
Moroz, L. L. et al. Nature 510, 109–114 (2014).

Dunn, C. W. et al. Nature 452, 745–749 (2008).

Ryan, J. F. et al. Science 342, 1242592 (2013).

Maxwell, E. K., Ryan, J. F., Schnitzler, C. E., Browne, W. E. & Baxevanis, A. D. BMC Genom. 13, 714 (2012).

Ryan, J. F. et al. EvoDevo 1, 9 (2010).

Jager, M. et al. J. Exp. Zool. B 316B, 171–187 (2011).

Maxmen, A. Nautilus No. 9; http://nautil.us/issue/9/time/evolution-youre-drunk (2014).

Dohrmann, M. & Wörheide, G. Integr. Comp. Biol. 53, 503–511 (2013).
About this article
Cite this article
Hejnol, A. Excitation over jelly nerves. Nature 510, 38–39 (2014). https://doi.org/10.1038/nature13340
Published:

Issue Date:

DOI: https://doi.org/10.1038/nature13340
Further reading
Evolution: Education and Outreach (2014)