Abstract
Deregulation of lysine methylation signalling has emerged as a common aetiological factor in cancer pathogenesis, with inhibitors of several histone lysine methyltransferases (KMTs) being developed as chemotherapeutics1. The largely cytoplasmic KMT SMYD3 (SET and MYND domain containing protein 3) is overexpressed in numerous human tumours2,3,4. However, the molecular mechanism by which SMYD3 regulates cancer pathways and its relationship to tumorigenesis in vivo are largely unknown. Here we show that methylation of MAP3K2 by SMYD3 increases MAP kinase signalling and promotes the formation of Ras-driven carcinomas. Using mouse models for pancreatic ductal adenocarcinoma and lung adenocarcinoma, we found that abrogating SMYD3 catalytic activity inhibits tumour development in response to oncogenic Ras. We used protein array technology to identify the MAP3K2 kinase as a target of SMYD3. In cancer cell lines, SMYD3-mediated methylation of MAP3K2 at lysine 260 potentiates activation of the Ras/Raf/MEK/ERK signalling module and SMYD3 depletion synergizes with a MEK inhibitor to block Ras-driven tumorigenesis. Finally, the PP2A phosphatase complex, a key negative regulator of the MAP kinase pathway, binds to MAP3K2 and this interaction is blocked by methylation. Together, our results elucidate a new role for lysine methylation in integrating cytoplasmic kinase-signalling cascades and establish a pivotal role for SMYD3 in the regulation of oncogenic Ras signalling.
Relevant articles
Open Access articles citing this article.
Jamal B. Williams

,

Qing Cao

…

Zhen Yan

Nature Communications Open Access 06 January 2023

Yang Yang

,

Rongfang Qiu

…

Jiansong Ji

BMC Biology Open Access 27 December 2022

Bo Yu

,

Jun Su

…

Jianming Tang

Nature Communications Open Access 21 April 2022
Access options
Subscribe to Journal
Get full journal access for 1 year
$199.00
only $3.90 per issue
All prices are NET prices.
VAT will be added later in the checkout.
Tax calculation will be finalised during checkout.
Buy article
Get time limited or full article access on ReadCube.
$32.00
All prices are NET prices.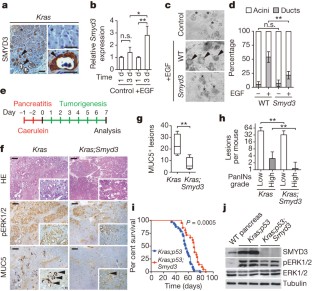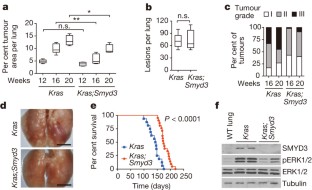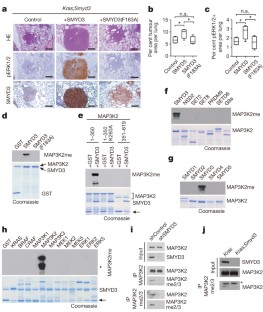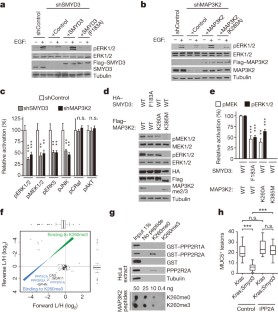 References
Helin, K. & Dhanak, D. Chromatin proteins and modifications as drug targets. Nature 502, 480–488 (2013)

Watanabe, T. et al. Differential gene expression signatures between colorectal cancers with and without KRAS mutations: crosstalk between the KRAS pathway and other signalling pathways. Eur. J. Cancer 47, 1946–1954 (2011)

Gaedcke, J. et al. Mutated KRAS results in overexpression of DUSP4, a MAP-kinase phosphatase, and SMYD3, a histone methyltransferase, in rectal carcinomas. Genes Chromosom. Cancer 49, 1024–1034 (2010)

Hamamoto, R. et al. SMYD3 encodes a histone methyltransferase involved in the proliferation of cancer cells. Nature Cell Biol. 6, 731–740 (2004)

Pylayeva-Gupta, Y., Grabocka, E. & Bar-Sagi, D. RAS oncogenes: weaving a tumorigenic web. Nature Rev. Cancer 11, 761–774 (2011)

Van Aller, G. S. et al. Smyd3 regulates cancer cell phenotypes and catalyzes histone H4 lysine 5 methylation. Epigenetics 7, 340–343 (2012)

Jackson, E. L. et al. Analysis of lung tumor initiation and progression using conditional expression of oncogenic K-ras. Genes Dev. 15, 3243–3248 (2001)

Hingorani, S. R. et al. Preinvasive and invasive ductal pancreatic cancer and its early detection in the mouse. Cancer Cell 4, 437–450 (2003)

Zhu, L., Shi, G., Schmidt, C. M., Hruban, R. H. & Konieczny, S. F. Acinar cells contribute to the molecular heterogeneity of pancreatic intraepithelial neoplasia. Am. J. Pathol. 171, 263–273 (2007)

Guerra, C. et al. Chronic pancreatitis is essential for induction of pancreatic ductal adenocarcinoma by K-Ras oncogenes in adult mice. Cancer Cell 11, 291–302 (2007)

Means, A. L. et al. Pancreatic epithelial plasticity mediated by acinar cell transdifferentiation and generation of nestin-positive intermediates. Development 132, 3767–3776 (2005)

Morris, J. P. t., Cano, D. A., Sekine, S., Wang, S. C. & Hebrok, M. β-catenin blocks Kras-dependent reprogramming of acini into pancreatic cancer precursor lesions in mice. J. Clin. Invest. 120, 508–520 (2010)

Bardeesy, N. et al. Both p16Ink4a and the p19Arf-p53 pathway constrain progression of pancreatic adenocarcinoma in the mouse. Proc. Natl Acad. Sci. USA 103, 5947–5952 (2006)

Feldser, D. M. et al. Stage-specific sensitivity to p53 restoration during lung cancer progression. Nature 468, 572–575 (2010)

Junttila, M. R. et al. Selective activation of p53-mediated tumour suppression in high-grade tumours. Nature 468, 567–571 (2010)

Johnson, L. et al. Somatic activation of the K-ras oncogene causes early onset lung cancer in mice. Nature 410, 1111–1116 (2001)

Levy, D. et al. A proteomic approach for the identification of novel lysine methyltransferase substrates. Epigenetics Chromatin 4, 19 (2011)

Maruyama, T. et al. CHIP-dependent termination of MEKK2 regulates temporal ERK activation required for proper hyperosmotic response. EMBO J. 29, 2501–2514 (2010)

Sun, W. et al. MEK kinase 2 and the adaptor protein Lad regulate extracellular signal-regulated kinase 5 activation by epidermal growth factor via Src. Mol. Cell. Biol. 23, 2298–2308 (2003)

Fanger, G. R., Johnson, N. L. & Johnson, G. L. MEK kinases are regulated by EGF and selectively interact with Rac/Cdc42. EMBO J. 16, 4961–4972 (1997)

Choi, M. C. et al. A direct HDAC4-MAP kinase crosstalk activates muscle atrophy program. Mol. Cell 47, 122–132 (2012)

Matitau, A. E., Gabor, T. V., Gill, R. M. & Scheid, M. P. MEKK2 kinase association with 14-3-3 protein regulates activation of c-Jun N-terminal kinase. J. Biol. Chem. 288, 28293–28302 (2013)

Enomoto, A. et al. Negative regulation of MEKK1/2 signaling by serine-threonine kinase 38 (STK38). Oncogene 27, 1930–1938 (2008)

Brunet, A., Pages, G. & Pouyssegur, J. Constitutively active mutants of MAP kinase kinase (MEK1) induce growth factor-relaxation and oncogenicity when expressed in fibroblasts. Oncogene 9, 3379–3387 (1994)

Raman, M., Chen, W. & Cobb, M. H. Differential regulation and properties of MAPKs. Oncogene 26, 3100–3112 (2007)

Eichhorn, P. J., Creyghton, M. P. & Bernards, R. Protein phosphatase 2A regulatory subunits and cancer. Biochim. Biophys. Acta 1795, 1–15 (2009)

Li, Y. M. & Casida, J. E. Cantharidin-binding protein: identification as protein phosphatase 2A. Proc. Natl Acad. Sci. USA 89, 11867–11870 (1992)

Jonkers, J. et al. Synergistic tumor suppressor activity of BRCA2 and p53 in a conditional mouse model for breast cancer. Nature Genet. 29, 418–425 (2001)

Kawaguchi, Y. et al. The role of the transcriptional regulator Ptf1a in converting intestinal to pancreatic progenitors. Nature Genet. 32, 128–134 (2002)

Hruban, R. H. et al. Pathology of genetically engineered mouse models of pancreatic exocrine cancer: consensus report and recommendations. Cancer Res. 66, 95–106 (2006)

DuPage, M., Dooley, A. L. & Jacks, T. Conditional mouse lung cancer models using adenoviral or lentiviral delivery of Cre recombinase. Nature Protocols 4, 1064–1072 (2009)

Winslow, M. M. et al. Suppression of lung adenocarcinoma progression by Nkx2-1. Nature 473, 101–104 (2011)

Tiscornia, G., Singer, O. & Verma, I. M. Production and purification of lentiviral vectors. Nature Protocols 1, 241–245 (2006)

Heid, I. et al. Early requirement of Rac1 in a mouse model of pancreatic cancer. Gastroenterology 141, 719–730 (2011)

Mazur, P. K. et al. Notch2 is required for progression of pancreatic intraepithelial neoplasia and development of pancreatic ductal adenocarcinoma. Proc. Natl Acad. Sci. USA 107, 13438–13443 (2010)

Khatri, P. et al. A common rejection module (CRM) for acute rejection across multiple organs identifies novel therapeutics for organ transplantation. J. Exp. Med. 210, 2205–2221 (2013)

Storey, J. D. A direct approach to false discovery rates. J. R. Stat. Soc. Series B 64, 479–498 (2002)

Dyer, P. N. et al. Reconstitution of nucleosome core particles from recombinant histones and DNA. Methods Enzymol. 375, 23–44 (2003)

Brown, M. A., Sims, R. J., III, Gottlieb, P. D. & Tucker, P. W. Identification and characterization of Smyd2: a split SET/MYND domain-containing histone H3 lysine 36-specific methyltransferase that interacts with the Sin3 histone deacetylase complex. Mol. Cancer 5, 26 (2006)

Green, E. M., Mas, G., Young, N. L., Garcia, B. A. & Gozani, O. Methylation of H4 lysines 5, 8 and 12 by yeast Set5 calibrates chromatin stress responses. Nature Struct. Mol. Biol. 19, 361–363 (2012)

Grey, C. et al. Mouse PRDM9 DNA-binding specificity determines sites of histone H3 lysine 4 trimethylation for initiation of meiotic recombination. PLoS Biol. 9, e1001176 (2011)

Kuo, A. J. et al. NSD2 links dimethylation of histone H3 at lysine 36 to oncogenic programming. Mol. Cell 44, 609–620 (2011)

Levy, D. et al. Lysine methylation of the NF-κB subunit RelA by SETD6 couples activity of the histone methyltransferase GLP at chromatin to tonic repression of NF-κB signaling. Nature Immunol. 12, 29–36 (2011)

Moore, K. E. et al. A general molecular affinity strategy for global detection and proteomic analysis of lysine methylation. Mol. Cell 50, 444–456 (2013)

Saddic, L. A. et al. Methylation of the retinoblastoma tumor suppressor by SMYD2. J. Biol. Chem. 285, 37733–37740 (2010)

Shi, X. et al. Modulation of p53 function by SET8-mediated methylation at lysine 382. Mol. Cell 27, 636–646 (2007)

Strahl, B. D. et al. Set2 is a nucleosomal histone H3-selective methyltransferase that mediates transcriptional repression. Mol. Cell. Biol. 22, 1298–1306 (2002)

Tachibana, M., Sugimoto, K., Fukushima, T. & Shinkai, Y. Set domain-containing protein, G9a, is a novel lysine-preferring mammalian histone methyltransferase with hyperactivity and specific selectivity to lysines 9 and 27 of histone H3. J. Biol. Chem. 276, 25309–25317 (2001)
Acknowledgements
We thank members of the Gozani and Sage laboratories for critical reading of the manuscript, A. Smits for help with mass spectrometry data visualization and P.J. Utz and the Floren Family Trust for providing ProtoArrays. This work was supported in part by grants from the NIH to O.G. and J.S. (RO1 CA172560) and an NIH Innovator grant (DP2 OD007447) from the Office of the Director for B.A.G.; M.V. was supported by a grant from NWO-VIDI, P.K.M. was supported by the Tobacco-Related Disease Research Program, a Dean's Fellowship from Stanford University, and the Child Health Research Institute and Lucile Packard Foundation for Children's Health at Stanford. N.R. was supported by a grant from the Fondation pour la Recherche Médicale. J.S. is the Harriet and Mary Zelencik Scientist in Children's Cancer and Blood Diseases.
Ethics declarations
Competing interests
O.G. is a co-founder of EpiCypher, Inc. O.B., G.S.V., M.H., D.D., P.J.T. and R.G.K. are employees of GSK.
Extended data figures and tables
About this article
Cite this article
Mazur, P., Reynoird, N., Khatri, P. et al. SMYD3 links lysine methylation of MAP3K2 to Ras-driven cancer. Nature 510, 283–287 (2014). https://doi.org/10.1038/nature13320
Received:

Accepted:

Published:

Issue Date:

DOI: https://doi.org/10.1038/nature13320
Comments
By submitting a comment you agree to abide by our Terms and Community Guidelines. If you find something abusive or that does not comply with our terms or guidelines please flag it as inappropriate.