Abstract
Proteomes are characterized by large protein-abundance differences, cell-type- and time-dependent expression patterns and post-translational modifications, all of which carry biological information that is not accessible by genomics or transcriptomics. Here we present a mass-spectrometry-based draft of the human proteome and a public, high-performance, in-memory database for real-time analysis of terabytes of big data, called ProteomicsDB. The information assembled from human tissues, cell lines and body fluids enabled estimation of the size of the protein-coding genome, and identified organ-specific proteins and a large number of translated lincRNAs (long intergenic non-coding RNAs). Analysis of messenger RNA and protein-expression profiles of human tissues revealed conserved control of protein abundance, and integration of drug-sensitivity data enabled the identification of proteins predicting resistance or sensitivity. The proteome profiles also hold considerable promise for analysing the composition and stoichiometry of protein complexes. ProteomicsDB thus enables navigation of proteomes, provides biological insight and fosters the development of proteomic technology.
Relevant articles
Open Access articles citing this article.
Junyu Chen

,

Jin Wang

…

Paul W. Ackermann

Cellular and Molecular Life Sciences Open Access 21 April 2023

Pavel Sinitcyn

,

Alicia L. Richards

…

Joshua J. Coon

Nature Biotechnology Open Access 23 March 2023

Ruisong Wang

,

Ziyi Qin

…

Tieliu Shi

Hereditas Open Access 13 March 2023
Access options
Subscribe to this journal
Receive 51 print issues and online access
$199.00 per year
only $3.90 per issue
Rent or buy this article
Prices vary by article type
from$1.95
to$39.95
Prices may be subject to local taxes which are calculated during checkout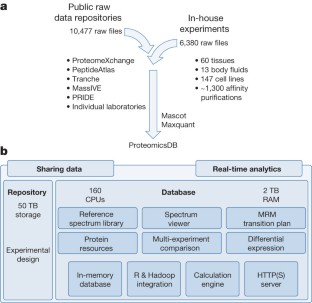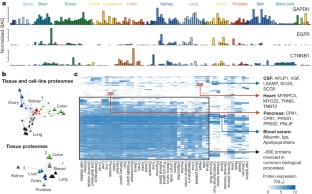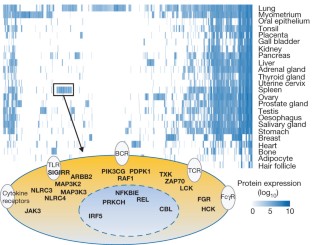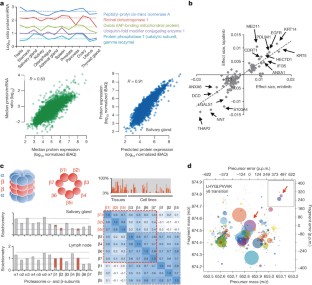 References
UniProt. C. Update on activities at the Universal Protein Resource (UniProt) in 2013. Nucleic Acids Res. 41, D43–D47 (2013)

Paik, Y. K. et al. The Chromosome-Centric Human Proteome Project for cataloging proteins encoded in the genome. Nature Biotechnol. 30, 221–223 (2012)

Uhlen, M. et al. Towards a knowledge-based Human Protein Atlas. Nature Biotechnol. 28, 1248–1250 (2010)

Vizcaíno, J. A. et al. ProteomeXchange provides globally coordinated proteomics data submission and dissemination. Nature Biotechnol. 32, 223–226 (2014)

Farrah, T. et al. State of the human proteome in 2013 as viewed through PeptideAtlas: comparing the kidney, urine, and plasma proteomes for the biology- and disease-driven Human Proteome Project. J. Proteome Res. 13, 60–75 (2014)

Wang, M. et al. PaxDb, a database of protein abundance averages across all three domains of life. Mol. Cell. Proteomics 11, 492–500 (2012)

Cox, J. & Mann, M. MaxQuant enables high peptide identification rates, individualized p.p.b.-range mass accuracies and proteome-wide protein quantification. Nature Biotechnol. 26, 1367–1372 (2008)

Perkins, D. N., Pappin, D. J., Creasy, D. M. & Cottrell, J. S. Probability-based protein identification by searching sequence databases using mass spectrometry data. Electrophoresis 20, 3551–3567 (1999)

Gupta, N., Bandeira, N., Keich, U. & Pevzner, P. A. Target-decoy approach and false discovery rate: when things may go wrong. J. Am. Soc. Mass Spectrom. 22, 1111–1120 (2011)

Higdon, R. et al. IPM: An integrated protein model for false discovery rate estimation and identification in high-throughput proteomics. J. Proteomics 75, 116–121 (2011)

Beausoleil, S. A., Villen, J., Gerber, S. A., Rush, J. & Gygi, S. P. A probability-based approach for high-throughput protein phosphorylation analysis and site localization. Nature Biotechnol. 24, 1285–1292 (2006)

Reiter, L. et al. Protein identification false discovery rates for very large proteomics data sets generated by tandem mass spectrometry. Mol. Cell. Proteomics 8,. 2405–2417 (2009)

Nagaraj, N. et al. Deep proteome and transcriptome mapping of a human cancer cell line. Mol. Syst. Biol. 7, 548 (2011)

Tran, J. C. et al. Mapping intact protein isoforms in discovery mode using top-down proteomics. Nature 480, 254–258 (2011)

Lane, L. et al. Metrics for the Human Proteome Project 2013–2014 and strategies for finding missing proteins. J. Proteome Res. 13, 15–20 (2014)

Cabili, M. N. et al. Integrative annotation of human large intergenic noncoding RNAs reveals global properties and specific subclasses. Genes Dev. 25, 1915–1927 (2011)

Djebali, S. et al. Landscape of transcription in human cells. Nature 489, 101–108 (2012)

Bánfai, B. et al. Long noncoding RNAs are rarely translated in two human cell lines. Genome Res. 22, 1646–1657 (2012)

Guttman, M., Russell, P., Ingolia, N. T., Weissman, J. S. & Lander, E. S. Ribosome profiling provides evidence that large noncoding RNAs do not encode proteins. Cell 154, 240–251 (2013)

Ingolia, N. T., Lareau, L. F. & Weissman, J. S. Ribosome profiling of mouse embryonic stem cells reveals the complexity and dynamics of mammalian proteomes. Cell 147, 789–802 (2011)

Flintoft, L. Non-coding RNA: Ribosomes, but no translation, for lincRNAs. Nature Rev. Genet. 14, 520 (2013)

Geiger, T., Wehner, A., Schaab, C., Cox, J. & Mann, M. Comparative proteomic analysis of eleven common cell lines reveals ubiquitous but varying expression of most proteins. Mol. Cell. Proteomics 11, M111.014050 (2012)

Mertins, P. et al. Integrated proteomic analysis of post-translational modifications by serial enrichment. Nature Methods 10, 634–637 (2013)

Moghaddas Gholami, A. et al. Global proteome analysis of the NCI-60 cell line panel. Cell Rep. 4, 609–620 (2013)

Shiromizu, T. et al. Identification of missing proteins in the neXtProt database and unregistered phosphopeptides in the PhosphoSitePlus database as part of the Chromosome-centric Human Proteome Project. J. Proteome Res. 12, 2414–2421 (2013)

Schirle, M., Heurtier, M. A. & Kuster, B. Profiling core proteomes of human cell lines by one-dimensional PAGE and liquid chromatography-tandem mass spectrometry. Mol. Cell. Proteomics 2, 1297–1305 (2003)

Fagerberg, L. et al. Analysis of the human tissue-specific expression by genome-wide integration of transcriptomics and antibody-based proteomics. Mol. Cell. Proteomics 13, 397–406 (2014)

Hughes, G. M., Teeling, E. C. & Higgins, D. G. Loss of olfactory receptor function in hominin evolution. PLoS ONE 9, e84714 (2014)

Ahrné, E., Molzahn, L., Glatter, T. & Schmidt, A. Critical assessment of proteome-wide label-free absolute abundance estimation strategies. Proteomics 13, 2567–2578 (2013)

Beck, M. et al. The quantitative proteome of a human cell line. Mol. Syst. Biol. 7, 549 (2011)

Schwanhäusser, B. et al. Global quantification of mammalian gene expression control. Nature 473, 337–342 (2011)

Geiger, T. et al. Initial quantitative proteomic map of 28 mouse tissues using the SILAC mouse. Mol. Cell. Proteomics 12, 1709–1722 (2013)

Low, T. Y. et al. Quantitative and qualitative proteome characteristics extracted from in-depth integrated genomics and proteomics analysis. Cell Rep. 5, 1469–1478 (2013)

Barretina, J. et al. The Cancer Cell Line Encyclopedia enables predictive modelling of anticancer drug sensitivity. Nature 483, 603–607 (2012)

Koumangoye, R. B. et al. Reduced annexin A6 expression promotes the degradation of activated epidermal growth factor receptor and sensitizes invasive breast cancer cells to EGFR-targeted tyrosine kinase inhibitors. Mol. Cancer 12, 167 (2013)

Klingelhöfer, J. et al. Epidermal growth factor receptor ligands as new extracellular targets for the metastasis-promoting S100A4 protein. FEBS J. 276, 5936–5948 (2009)

Argenzio, E. et al. Proteomic snapshot of the EGF-induced ubiquitin network. Mol. Syst. Biol. 7, 462 (2011)

Havugimana, P. C. et al. A census of human soluble protein complexes. Cell 150, 1068–1081 (2012)

Ori, A. et al. Cell type-specific nuclear pores: a case in point for context-dependent stoichiometry of molecular machines. Mol. Syst. Biol. 9, 648 (2013)

Hisamatsu, H. et al. Newly identified pair of proteasomal subunits regulated reciprocally by interferon gamma. J. Exp. Med. 183, 1807–1816 (1996)

Nandi, D., Jiang, H. & Monaco, J. J. Identification of MECL-1 (LMP-10) as the third IFN-gamma-inducible proteasome subunit. J. Immunol. 156, 2361–2364 (1996)

Mallick, P. et al. Computational prediction of proteotypic peptides for quantitative proteomics. Nature Biotechnol. 25, 125–131 (2007)

Domon, B. Considerations on selected reaction monitoring experiments: implications for the selectivity and accuracy of measurements. Proteomics Clin. Appl. 6, 609–614 (2012)

Gallien, S. et al. Targeted proteomic quantification on quadrupole-orbitrap mass spectrometer. Mol. Cell. Proteomics 11, 1709–1723 10.1074/mcp.O112.019802. (2012)

Marx, H. et al. A large synthetic peptide and phosphopeptide reference library for mass spectrometry-based proteomics. Nature Biotechnol. 31, 557–564 (2013)

Johannsson, H. J. et al. Retinoic acid receptor alpha is associated with tamoxifen resistance in breast cancer. Nature Commun. 4, 2175 (2013)
Acknowledgements
The authors wish to thank all originators of the mass-spectrometry-data used in this study for making their data available. We are grateful to P. Mallick, J. Cottrell and M. Schirle for conceptual discussions, to F. Pachl, S. Heinzlmeir, S. Klaeger, S. Maier, D. Helm, B. Ferreia, M. Frejno, H. Koch, M. Mundt, J. Zecha, D. Zolg, E. Gillmeier, B. Ruprecht, K. Kramer, G. Medard and X. Ku of TUM for the annotation of experiments, and to Y. Morad, A. Niadzelka, E. Kny, H. Cossmann, D. Schikora of SAP and V. Wichnalek, A. Klaus, M. Kroetz-Fahning, T. Schmidt of TUM for technical assistance.
Ethics declarations
Competing interests
The authors declare no competing financial interests.
Extended data figures and tables
Supplementary information
About this article
Cite this article
Wilhelm, M., Schlegl, J., Hahne, H. et al. Mass-spectrometry-based draft of the human proteome. Nature 509, 582–587 (2014). https://doi.org/10.1038/nature13319
Received:

Accepted:

Published:

Issue Date:

DOI: https://doi.org/10.1038/nature13319
Comments
By submitting a comment you agree to abide by our Terms and Community Guidelines. If you find something abusive or that does not comply with our terms or guidelines please flag it as inappropriate.