Abstract
A unique property of many adult stem cells is their ability to exist in a non-cycling, quiescent state1. Although quiescence serves an essential role in preserving stem cell function until the stem cell is needed in tissue homeostasis or repair, defects in quiescence can lead to an impairment in tissue function2. The extent to which stem cells can regulate quiescence is unknown. Here we show that the stem cell quiescent state is composed of two distinct functional phases, G0 and an 'alert' phase we term GAlert. Stem cells actively and reversibly transition between these phases in response to injury-induced systemic signals. Using genetic mouse models specific to muscle stem cells (or satellite cells), we show that mTORC1 activity is necessary and sufficient for the transition of satellite cells from G0 into GAlert and that signalling through the HGF receptor cMet is also necessary. We also identify G0-to-GAlert transitions in several populations of quiescent stem cells. Quiescent stem cells that transition into GAlert possess enhanced tissue regenerative function. We propose that the transition of quiescent stem cells into GAlert functions as an 'alerting' mechanism, an adaptive response that positions stem cells to respond rapidly under conditions of injury and stress, priming them for cell cycle entry.
Relevant articles
Open Access articles citing this article.
Jacopo Morroni

,

Anna Benedetti

…

Biliana Lozanoska-Ochser

Stem Cell Research & Therapy Open Access 12 September 2023

Silke D. Werle

,

Nensi Ikonomi

…

Hans A. Kestler

npj Systems Biology and Applications Open Access 03 June 2023

Azamat Akhmetkaliyev

,

Noura Alibrahim

…

Eugene Tulchinsky

Molecular Cancer Open Access 31 May 2023
Access options
Subscribe to this journal
Receive 51 print issues and online access
$199.00 per year
only $3.90 per issue
Rent or buy this article
Prices vary by article type
from$1.95
to$39.95
Prices may be subject to local taxes which are calculated during checkout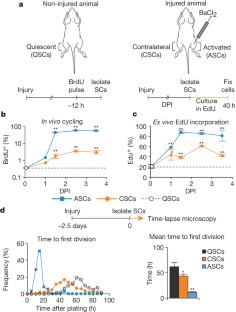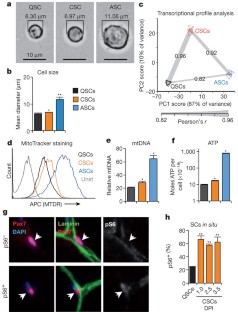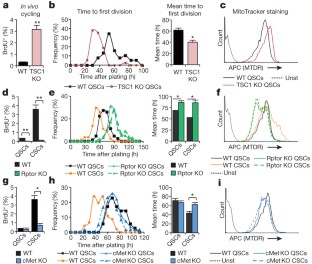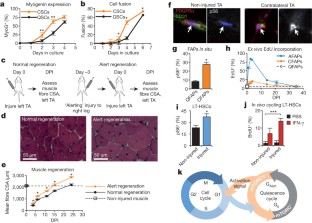 References
Cheung, T. H. & Rando, T. A. Molecular regulation of stem cell quiescence. Nature Rev. Mol. Cell Biol. 14, 329–340 (2013)

Rossi, L. et al. Less is more: unveiling the functional core of hematopoietic stem cells through knockout mice. Cell Stem Cell 11, 302–317 (2012)

Li, L. & Clevers, H. Coexistence of quiescent and active adult stem cells in mammals. Science 327, 542–545 (2010)

Wilson, A. et al. Hematopoietic stem cells reversibly switch from dormancy to self-renewal during homeostasis and repair. Cell 135, 1118–1129 (2008)

Chakkalakal, J. V., Jones, K. M., Basson, M. A. & Brack, A. S. The aged niche disrupts muscle stem cell quiescence. Nature 490, 355–360 (2012)

Cheung, T. H. et al. Maintenance of muscle stem-cell quiescence by microRNA-489. Nature 482, 524–528 (2012)

Nishijo, K. et al. Biomarker system for studying muscle, stem cells, and cancer in vivo. FASEB J. 23, 2681–2690 (2009)

Seale, P. et al. Pax7 is required for the specification of myogenic satellite cells. Cell 102, 777–786 (2000)

Laplante, M. & Sabatini, D. M. mTOR signaling in growth control and disease. Cell 149, 274–293 (2012)

Kwiatkowski, D. J. et al. A mouse model of TSC1 reveals sex-dependent lethality from liver hemangiomas, and up-regulation of p70S6 kinase activity in Tsc1 null cells. Hum. Mol. Genet. 11, 525–534 (2002)

Sengupta, S., Peterson, T. R., Laplante, M., Oh, S. & Sabatini, D. M. mTORC1 controls fasting-induced ketogenesis and its modulation by ageing. Nature 468, 1100–1104 (2010)

Miyazawa, K. Hepatocyte growth factor activator (HGFA): a serine protease that links tissue injury to activation of hepatocyte growth factor. FEBS J. 277, 2208–2214 (2010)

Nakamura, T. & Mizuno, S. The discovery of hepatocyte growth factor (HGF) and its significance for cell biology, life sciences and clinical medicine. Proc. Jpn. Acad., Ser. B, Phys. Biol. Sci. 86, 588–610 (2010)

Trusolino, L., Bertotti, A. & Comoglio, P. M. MET signalling: principles and functions in development, organ regeneration and cancer. Nature Rev. Mol. Cell Biol. 11, 834–848 (2010)

Yamada, M. et al. High concentrations of HGF inhibit skeletal muscle satellite cell proliferation in vitro by inducing expression of myostatin: a possible mechanism for reestablishing satellite cell quiescence in vivo. Am. J. Physiol. Cell Physiol. 298, C465–C476 (2010)

Tatsumi, R., Anderson, J. E., Nevoret, C. J., Halevy, O. & Allen, R. E. HGF/SF is present in normal adult skeletal muscle and is capable of activating satellite cells. Dev. Biol. 194, 114–128 (1998)

Huh, C. G. et al. Hepatocyte growth factor/c-met signaling pathway is required for efficient liver regeneration and repair. Proc. Natl Acad. Sci. USA 101, 4477–4482 (2004)

Brack, A. S. & Rando, T. A. Tissue-specific stem cells: lessons from the skeletal muscle satellite cell. Cell Stem Cell 10, 504–514 (2012)

Chargé, S. B. & Rudnicki, M. A. Cellular and molecular regulation of muscle regeneration. Physiol. Rev. 84, 209–238 (2004)

Joe, A. W. et al. Muscle injury activates resident fibro/adipogenic progenitors that facilitate myogenesis. Nature Cell Biol. 12, 153–163 (2010)

Uezumi, A., Fukada, S., Yamamoto, N., Takeda, S. & Tsuchida, K. Mesenchymal progenitors distinct from satellite cells contribute to ectopic fat cell formation in skeletal muscle. Nature Cell Biol. 12, 143–152 (2010)

Baldridge, M. T., King, K. Y., Boles, N. C., Weksberg, D. C. & Goodell, M. A. Quiescent haematopoietic stem cells are activated by IFN-γ in response to chronic infection. Nature 465, 793–797 (2010)

Chen, C. et al. TSC–mTOR maintains quiescence and function of hematopoietic stem cells by repressing mitochondrial biogenesis and reactive oxygen species. J. Exp. Med. 205, 2397–2408 (2008)

Gan, B. et al. mTORC1-dependent and -independent regulation of stem cell renewal, differentiation, and mobilization. Proc. Natl Acad. Sci. USA 105, 19384–19389 (2008)

Pardee, A. B. G1 events and regulation of cell proliferation. Science 246, 603–608 (1989)

Soprano, K. J. WI-38 cell long-term quiescence model system: a valuable tool to study molecular events that regulate growth. J. Cell. Biochem. 54, 405–414 (1994)

Liu, L. et al. Chromatin modifications as determinants of muscle stem cell quiescence and chronological aging. Cell Rep. 4, 189–204 (2013)

Johnson, W. E., Li, C. & Rabinovic, A. Adjusting batch effects in microarray expression data using empirical Bayes methods. Biostatistics 8, 118–127 (2007)

Mieczkowski, J., Tyburczy, M. E., Dabrowski, M. & Pokarowski, P. Probe set filtering increases correlation between Affymetrix GeneChip and qRT–PCR expression measurements. BMC Bioinformatics 11, 104 (2010)

Miller, J. A. et al. Strategies for aggregating gene expression data: the collapseRows R function. BMC Bioinformatics 12, 322 (2011)

Breitling, R., Armengaud, P., Amtmann, A. & Herzyk, P. Rank products: a simple, yet powerful, new method to detect differentially regulated genes in replicated microarray experiments. FEBS Lett. 573, 83–92 (2004)

Hong, F. et al. RankProd: a bioconductor package for detecting differentially expressed genes in meta-analysis. Bioinformatics 22, 2825–2827 (2006)

Kanehisa, M., Goto, S., Sato, Y., Furumichi, M. & Tanabe, M. KEGG for integration and interpretation of large-scale molecular data sets. Nucleic Acids Res. 40, D109–D114 (2012)

Fontanillo, C., Nogales-Cadenas, R., Pascual-Montano, A. & De las Rivas, J. Functional analysis beyond enrichment: non-redundant reciprocal linkage of genes and biological terms. PLoS ONE 6, e24289 (2011)

Valentini, G. Clusterv: a tool for assessing the reliability of clusters discovered in DNA microarray data. Bioinformatics 22, 369–370 (2006)
Acknowledgements
We would like to thank members of the Rando laboratory for discussions critical to the preparation of this manuscript, especially T. Cheung and S. Biressi. We thank L. Rott for providing assistance with FACS. This work was supported by The Glenn Foundation for Medical Research, by a grant from the Department of Veterans Affairs to T.A.R., and grants from the National Institutes of Health to J.T.R. (K99 AG041764), K.Y.K (K08 HL098898), M.A.G. (R01 DK092883) and to T.A.R. (P01 AG036695, R01 AG23806 and R01 AR062185).
Ethics declarations
Competing interests
The authors declare no competing financial interests.
Extended data figures and tables
Supplementary information
This file contains the microarray data for WT QSCs, WT CSCs 2.5 DPI, WT CSCs 28 DPI, WT ASCs 2.5 DPI, TSC1 KO QSCs, Rptr KO QSCs, Rptr KO CSCs 2.5 DPI, cMet KO QSCs, cMet KO CSCs 2.5 DPI. Details on microarray data processing and filtering are described in the Supplemental Methods section. (XLSX 18229 kb)
About this article
Cite this article
Rodgers, J., King, K., Brett, J. et al. mTORC1 controls the adaptive transition of quiescent stem cells from G0 to GAlert. Nature 510, 393–396 (2014). https://doi.org/10.1038/nature13255
Received:

Accepted:

Published:

Issue Date:

DOI: https://doi.org/10.1038/nature13255
Comments
By submitting a comment you agree to abide by our Terms and Community Guidelines. If you find something abusive or that does not comply with our terms or guidelines please flag it as inappropriate.