Abstract
One promise of synthetic biology is the creation of genetic circuitry that enables the execution of logical programming in living cells. Such 'wet programming' is positioned to transform a wide and diverse swathe of biotechnology ranging from therapeutics and diagnostics to water treatment strategies. Although progress in the development of a library of genetic modules continues apace1,2,3,4, a major challenge for their integration into larger circuits is the generation of sufficiently fast and precise communication between modules5,6. An attractive approach is to integrate engineered circuits with host processes that facilitate robust cellular signalling7. In this context, recent studies have demonstrated that bacterial protein degradation can trigger a precise response to stress by overloading a limited supply of intracellular proteases8,9,10. Here we use protease competition to engineer rapid and tunable coupling of genetic circuits across multiple spatial and temporal scales. We characterize coupling delay times that are more than an order of magnitude faster than standard transcription-factor-based coupling methods (less than 1 min compared with ∼20–40 min) and demonstrate tunability through manipulation of the linker between the protein and its degradation tag. We use this mechanism as a platform to couple genetic clocks at the intracellular and colony level, then synchronize the multi-colony dynamics to reduce variability in both clocks. We show how the coupled clock network can be used to encode independent environmental inputs into a single time series output, thus enabling frequency multiplexing (information transmitted on a common channel by distinct frequencies) in a genetic circuit context. Our results establish a general framework for the rapid and tunable coupling of genetic circuits through the use of native 'queueing' processes such as competitive protein degradation.
Access options
Subscribe to Journal
Get full journal access for 1 year
$199.00
only $3.90 per issue
All prices are NET prices.
VAT will be added later in the checkout.
Rent or Buy article
Get time limited or full article access on ReadCube.
from$8.99
All prices are NET prices.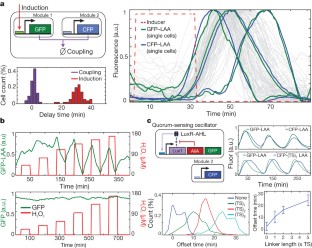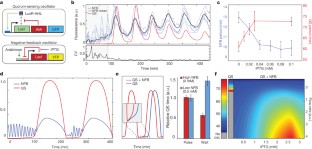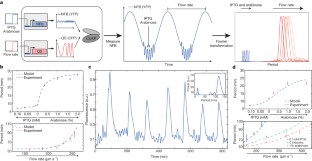 References
1

Gardner, T. S., Cantor, C. R. & Collins, J. J. Construction of a genetic toggle switch from Escherichia coli. Nature 403, 339–342

2

Siuti, P., Yazbek, J. & Lu, T. K. Synthetic circuits integrating logic and memory in living cells. Nature Biotechnol. 31, 448–452 (2013)

3

Tigges, M., Marquez-Lago, T., Stelling, J. & Fussenegger, M. A tunable synthetic mammalian oscillator. Nature 457, 309–312 (2009)

4

Xie, Z., Wroblewska, L., Prochazka, L., Weiss, R. & Benenson, Y. Multi-input RNAi-based logic circuit for identification of specific cancer cells. Science 333, 1307–1311 (2011)

5

Moon, T. S., Tamsir, A., Stanton, B. C. & Voigt, C. A. Genetic programs constructed from layered logic gates in single cells. Nature 491, 249–253 (2012)

6

Del Vecchio, D., Ninfa, A. J. & Sontag, E. D. Modular cell biology: retroactivity and insulation. Mol. Syst. Biol. 4, 161 (2008)

7

Nandagopal, N. & Elowitz, M. B. Synthetic biology: integrated gene circuits. Science 333, 1244–1248 (2011)

8

Fredriksson, Å. et al. Decline in ribosomal fidelity contributes to the accumulation and stabilization of the master stress response regulator σs upon carbon starvation. Genes Dev. 21, 862–874 (2007)

9

Merrikh, H., Ferrazzoli, A. E., Bougdour, A., Olivier-Mason, A. & Lovett, S. T. A DNA damage response in Escherichia coli involving the alternative sigma factor, RpoS. Proc. Natl Acad. Sci. USA 106, 611–616 (2009)

10

Cookson, N. A. et al. Queueing up for enzymatic processing: correlated signaling through coupled degradation. Mol. Syst. Biol. 7, 561 (2011)

11

Keiler, K. C., Waller, P. & Sauer, R. Role of a peptide tagging system in degradation of proteins synthesized from damaged messenger RNA. Science 271, 990–993 (1996)

12

Goldbeter, A. & Koshland, D. E. An amplified sensitivity arising from covalent modification in biological systems. Proc. Natl Acad. Sci. USA 78, 6840–6844 (1981)

13

Rosenfeld, N. & Alon, U. Response delays and the structure of transcription networks. J. Mol. Biol. 329, 645–654 (2003)

14

Hooshangi, S., Thiberge, S. & Weiss, R. Ultrasensitivity and noise propagation in a synthetic transcriptional cascade. Proc. Natl Acad. Sci. USA 102, 3581–3586 (2005)

15

Mika, F. & Hengge, R. A two-component phosphotransfer network involving ArcB, ArcA, and RssB coordinates synthesis and proteolysis of σs (RpoS) in E. coli. Genes Dev. 19, 2770–2781 (2005)

16

Pruteanu, M. & Hengge-Aronis, R. The cellular level of the recognition factor rssb is rate-limiting for σs proteolysis: implications for rssb regulation and signal transduction in σs turnover in Escherichia coli. Mol. Microbiol. 45, 1701–1713 (2002)

17

Danino, T., Mondragón-Palomino, O., Tsimring, L. & Hasty, J. A synchronized quorum of genetic clocks. Nature 463, 326–330 (2010)

18

Unger, M. A., Chou, H.-P., Thorsen, T., Scherer, A. & Quake, S. R. Monolithic micorfabricated valves and pumps by multilayer soft lithography. Science, 288, 113–116 (2000)

19

Stricker, J. et al. A fast, robust and tunable synthetic gene oscillator. Nature 456, 516–519 (2008)

20

Press, W. H. in Numerical Recipes: The Art of Scientific Computing 3rd edn (Cambridge Univ. Press, 2007)

21

Prindle, A. et al. A sensing array of radically coupled genetic 'biopixels'. Nature 481, 39–44 (2012)

22

Grünberg, R. & Serrano, L. Strategies for protein synthetic biology. Nucleic Acids Res. 38, 2663–2675 (2010)

23

McGinness, K. E., Baker, T. A. & Sauer, R. T. Engineering controllable protein degradation. Mol. Cell 22, 701–707 (2006)

24

Griffith, K. L. & Grossman, A. D. Inducible protein degradation in Bacillus subtilis using heterologous peptide tags and adaptor proteins to target substrates to the protease ClpXP. Mol. Microbiol. 70, 1012–1025 (2008)

25

Burger, A., Walczak, A. M. & Wolynes, P. G. Abduction and asylum in the lives of transcription factors. Proc. Natl Acad. Sci. USA 107, 4016–4021 (2010)

26

Mukherji, S. et al. MicroRNAs can generate thresholds in target gene expression. Nature Genet. 43, 854–859 (2011)

27

Buchler, N. E. & Louis, M. Molecular titration and ultrasensitivity in regulatory networks. J. Mol. Biol. 384, 1106–1119 (2008)

28

Strogatz, S. Nonlinear Dynamics and Chaos: with Applications to Physics, Biology, Chemistry and Engineering (Perseus Books, 2001)

29

Ferry, M. S., Razinkov, I. & Hasty, J. Microfluidics for synthetic biology from design to execution. Methods Enzymol. 497, 295–372

30

Andersen, J. B. et al. New unstable variants of green fluorescent protein for studies of transient gene expression in bacteria. Appl. Environ. Microbiol. 64, 2240–2246 (1998)
Acknowledgements
This work was supported by the National Science Foundation (MCB-1121748) and by the San Diego Center for Systems Biology (NIH Grant P50 GM085764) and the US Department of Defense National Defense Science and Engineering Graduate Fellowship (A.P.). We would like to thank T. Danino, M. Jin, C. Rivera, O. Din and J. De Friel for critical reading of the manuscript.
Ethics declarations
Competing interests
The authors declare no competing financial interests.
Extended data figures and tables
Supplementary information
About this article
Cite this article
Prindle, A., Selimkhanov, J., Li, H. et al. Rapid and tunable post-translational coupling of genetic circuits. Nature 508, 387–391 (2014). https://doi.org/10.1038/nature13238
Received:

Accepted:

Published:

Issue Date:
Comments
By submitting a comment you agree to abide by our Terms and Community Guidelines. If you find something abusive or that does not comply with our terms or guidelines please flag it as inappropriate.