Abstract
Despite the introduction of antiproliferative drug-eluting stents, coronary heart disease remains the leading cause of death in the United States1. In-stent restenosis and bypass graft failure are characterized by excessive smooth muscle cell (SMC) proliferation2,3 and concomitant myointima formation with luminal obliteration. Here we show that during the development of myointimal hyperplasia in human arteries, SMCs show hyperpolarization of their mitochondrial membrane potential (ΔΨm) and acquire a temporary state with a high proliferative rate and resistance to apoptosis. Pyruvate dehydrogenase kinase isoform 2 (PDK2) was identified as a key regulatory protein, and its activation proved necessary for relevant myointima formation. Pharmacologic PDK2 blockade with dichloroacetate or lentiviral PDK2 knockdown prevented ΔΨm hyperpolarization, facilitated apoptosis and reduced myointima formation in injured human mammary and coronary arteries, rat aortas, rabbit iliac arteries and swine (pig) coronary arteries. In contrast to several commonly used antiproliferative drugs, dichloroacetate did not prevent vessel re-endothelialization. Targeting myointimal ΔΨm and alleviating apoptosis resistance is a novel strategy for the prevention of proliferative vascular diseases.
Relevant articles
Open Access articles citing this article.
Xinxin Zhang

,

Xiangyu Xu

…

Xiaomei Guo

Journal of Translational Medicine Open Access 19 September 2021

Byong-Keol Min

,

Chang Joo Oh

…

In-Kyu Lee

Experimental & Molecular Medicine Open Access 30 September 2019

Sabato Sorrentino

,

Claudio Iaconetti

…

Ciro Indolfi

Scientific Reports Open Access 15 January 2018
Access options
Subscribe to Journal
Get full journal access for 1 year
$199.00
only $3.90 per issue
All prices are NET prices.
VAT will be added later in the checkout.
Tax calculation will be finalised during checkout.
Buy article
Get time limited or full article access on ReadCube.
$32.00
All prices are NET prices.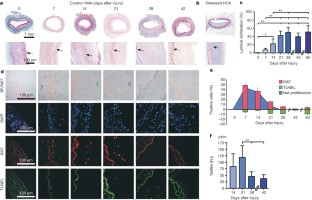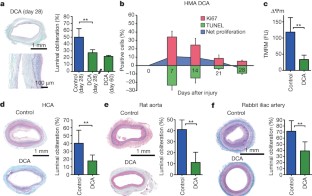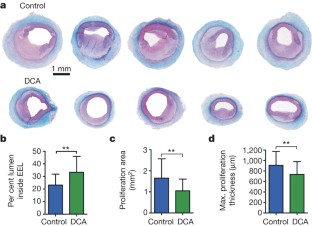 References
Lloyd-Jones, D. et al. Heart disease and stroke statistics—2009 update: a report from the American Heart Association Statistics Committee and Stroke Statistics Subcommittee. Circulation 119, 480–486 (2009)

Dzau, V. J., Braun-Dullaeus, R. C. & Sedding, D. G. Vascular proliferation and atherosclerosis: new perspectives and therapeutic strategies. Nature Med. 8, 1249–1256 (2002)

Novak, K. Cardiovascular disease increasing in developing countries. Nature Med. 4, 989–990 (1998)

Green, D. R. & Reed, J. C. Mitochondria and apoptosis. Science 281, 1309–1312 (1998)

Hengartner, M. O. The biochemistry of apoptosis. Nature 407, 770–776 (2000)

Zamzami, N. & Kroemer, G. The mitochondrion in apoptosis: how Pandora's box opens. Nature Rev. Mol. Cell Biol. 2, 67–71 (2001)

Halestrap, A. P. What is the mitochondrial permeability transition pore? J. Mol. Cell. Cardiol. 46, 821–831 (2009)

Bonnet, S. et al. A mitochondria–K+ channel axis is suppressed in cancer and its normalization promotes apoptosis and inhibits cancer growth. Cancer Cell 11, 37–51 (2007)

Bernardi, P. Modulation of the mitochondrial cyclosporin A-sensitive permeability transition pore by the proton electrochemical gradient. Evidence that the pore can be opened by membrane depolarization. J. Biol. Chem. 267, 8834–8839 (1992)

Roche, T. E. & Hiromasa, Y. Pyruvate dehydrogenase kinase regulatory mechanisms and inhibition in treating diabetes, heart ischemia, and cancer. Cell. Mol. Life Sci. 64, 830–849 (2007)

Azoulay-Zohar, H., Israelson, A., Abu-Hamad, S. & Shoshan-Barmatz, V. In self-defence: hexokinase promotes voltage-dependent anion channel closure and prevents mitochondria-mediated apoptotic cell death. Biochem. J. 377, 347–355 (2004)

Pastorino, J. G., Shulga, N. & Hoek, J. B. Mitochondrial binding of hexokinase II inhibits Bax-induced cytochrome c release and apoptosis. J. Biol. Chem. 277, 7610–7618 (2002)

Clarke, M. C. et al. Apoptosis of vascular smooth muscle cells induces features of plaque vulnerability in atherosclerosis. Nature Med. 12, 1075–1080 (2006)

Bernal-Mizrachi, C. et al. Vascular respiratory uncoupling increases blood pressure and atherosclerosis. Nature 435, 502–506 (2005)

Mitra, A. K., Del Core, M. G. & Agrawal, D. K. Cells, cytokines and cellular immunity in the pathogenesis of fibroproliferative vasculopathies. Can. J. Physiol. Pharmacol. 83, 701–715 (2005)

Newby, A. C. & Zaltsman, A. B. Molecular mechanisms in intimal hyperplasia. J. Pathol. 190, 300–309 (2000)
Acknowledgements
We thank C. Pahrmann for performing all cell cultures and for her technical assistance. We thank J. Thoms for performing immunoblots, H. Wiebold for assistance in organ chamber experiments, J. Lyons and her team for her assistance with the swine study, and S. Ehret, A. Deng and M. Resch for their technical assistance. We thank the UKE Imaging Facility (UMIF, B. Zobiak) and the UKE Animal Facility. Ethicon (Norderstedt, Germany) provided surgical suture materials. We also thank A. Treszl and G. Schoen for their statistical analyses. This study was funded by the German Research Foundation (Deutsche Forschungsgemeinschaft (DFG), SCHR992/3-1 and SCHR992/4-1 to S.S.), the International Society for Heart and Lung Transplantation (ISHLT, to S.S.), the Förderverein des Universitären Herzzentrums Hamburg (to S.S.), the Hermann and Lilly Schilling Foundation (to C.K.), the MINECO (SAF2013-41177-R, to J.P.B.) and the NIH (NIH 1R01HL105299, to P.S.T.).
Ethics declarations
Competing interests
The authors declare no competing financial interests.
Extended data figures and tables
Supplementary information
hMA underwent balloon injury using a 2-Fr. Fogarty catheter. A median laparotomy was performed in RNU rats, the infra-renal aorta was prepared, clamped, and a short segment was excised. The denuded hMA was implanted as an interposition graft using two end-to-end anastomoses. (AVI 10342 kb)
Human ECs were grown to confluency in the presence or absence of DCA (5mM). A 338µm scratch was made using a pipette tip and cell migration into the scratch was recorded every 5 min over a period of 10h. We did not observe differences in migratory capacity or speed between untreated and DCA-treated ECs. (AVI 3846 kb)
About this article
Cite this article
Deuse, T., Hua, X., Wang, D. et al. Dichloroacetate prevents restenosis in preclinical animal models of vessel injury. Nature 509, 641–644 (2014). https://doi.org/10.1038/nature13232
Received:

Accepted:

Published:

Issue Date:

DOI: https://doi.org/10.1038/nature13232
Comments
By submitting a comment you agree to abide by our Terms and Community Guidelines. If you find something abusive or that does not comply with our terms or guidelines please flag it as inappropriate.