Abstract
Frictional processes entail the rupture1,2 of the ensemble of discrete contacts defining a frictional interface3,4. There are a variety of views on how best to describe the onset of dry frictional motion. These range from modelling friction with a single degree of freedom, a 'friction coefficient'3,5, to theoretical treatments using dynamic fracture5,6,7,8 to account for spatial and temporal dynamics along the interface. We investigated the onset of dry frictional motion by performing simultaneous high-speed measurements of the real contact area and the strain fields in the region surrounding propagating rupture tips within the dry (nominally flat) rough interfaces formed by brittle polymer blocks. Here we show that the transition from 'static' to 'dynamic' friction is quantitatively described by classical singular solutions for the motion of a rapid shear crack5,9,10,11,12,13. We find that these singular solutions, originally derived to describe brittle fracture, are in excellent agreement with the experiments for slow propagation, whereas some significant discrepancies arise as the rupture velocity approaches the Rayleigh wave speed. In addition, the energy dissipated in the fracture of the contacts remains nearly constant throughout the entire range in which the rupture velocity is less than the Rayleigh wave speed, whereas the size of the dissipative zone undergoes a Lorentz-like contraction as the rupture velocity approaches the Rayleigh wave speed. This coupling between friction and fracture is critical to our fundamental understanding of frictional motion and related processes, such as earthquake dynamics.
Access options
Subscribe to Journal
Get full journal access for 1 year
$199.00
only $3.90 per issue
All prices are NET prices.
VAT will be added later in the checkout.
Rent or Buy article
Get time limited or full article access on ReadCube.
from$8.99
All prices are NET prices.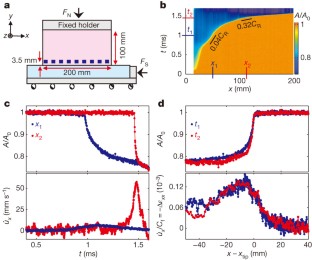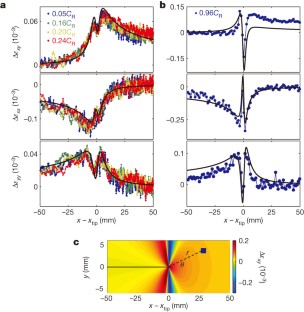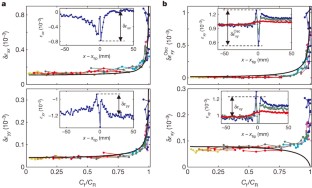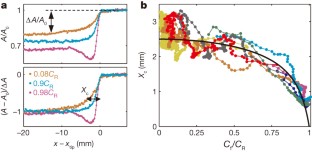 References
1

Rubinstein, S. M., Cohen, G. & Fineberg, J. Detachment fronts and the onset of dynamic friction. Nature 430, 1005–1009 (2004)

2

Ben-David, O., Rubinstein, S. M. & Fineberg, J. Slip-stick and the evolution of frictional strength. Nature 463, 76–79 (2010)

3

Bowden, F. P. & Tabor, D. The Friction and Lubrication of Solids 2nd edn (Oxford Univ. Press, 2001)

4

Dieterich, J. H. & Kilgore, B. D. Imaging surface contacts: power law contact distributions and contact stresses in quartz, calcite, glass and acrylic plastic. Tectonophysics 256, 219–239 (1996)

5

Scholz, C. H. The Mechanics of Earthquakes and Faulting 2nd edn (Cambridge Univ. Press, 2002)

6

Brener, E. A. & Marchenko, V. I. Frictional shear cracks. JETP Lett. 76, 211–214 (2002)

7

Ben-Zion, Y. Collective behavior of earthquakes and faults: continuum-discrete transitions, progressive evolutionary changes, and different dynamic regimes. Rev. Geophys. 46, RG4006 (2008)

8

Johnson, K. L. Adhesion and friction between a smooth elastic spherical asperity and a plane surface. Proc. R. Soc. Lond. A 453, 163–179 (1997)

9

Fineberg, J. & Marder, M. Instability in dynamic fracture. Phys. Rep. 313, 1–108 (1999)

10

Freund, L. B. Dynamic Fracture Mechanics (Cambridge, 1990)

11

Palmer, A. C. & Rice, J. R. The growth of slip surfaces in the progressive failure of over-consolidated clay. Proc. R. Soc. Lond. A 332, 527–548 (1973)

12

Rice, J. R. in Physics of the Earth's Interior (eds Dziewonski, A. M. & Boschi, E. ) 555–649 (Italian Physical Society and North-Holland, 1980)

13

Ida, Y. Cohesive force across tip of a longitudinal-shear crack and Griffiths specific surface energy. J. Geophys. Res. 77, 3796–3805 (1972)

14

Borcherdt, R. D., Johnston, M. J. S., Glassmoyer, G. & Dietel, C. Recordings of the 2004 Parkfield earthquake on the General Earthquake Observation System array: implications for earthquake precursors, fault rupture, and coseismic strain changes. Bull. Seismol. Soc. Am. 96, S73–S89 (2006)

15

Dunham, E. M. & Archuleta, R. J. Evidence for a supershear transient during the 2002 Denali fault earthquake. Bull. Seismol. Soc. Am. 94, S256–S268 (2004)

16

Okubo, P. G. & Dieterich, J. H. Effects of physical fault properties on frictional instabilities produced on simulated faults. J. Geophys. Res. 89, 5817–5827 (1984)

17

Ohnaka, M. The Physics of Rock Failure and Earthquakes (Cambridge Univ. Press, 2013)

18

Lykotrafitis, G., Rosakis, A. J. & Ravichandran, G. Self-healing pulse-like shear ruptures in the laboratory. Science 313, 1765–1768 (2006)

19

Ben-David, O., Cohen, G. & Fineberg, J. The dynamics of the onset of frictional slip. Science 330, 211–214 (2010)

20

Trømborg, J., Scheibert, J., Amundsen, D. S., Thogersen, K. & Malthe-Sorenssen, A. Transition from static to kinetic friction: insights from a 2D model. Phys. Rev. Lett. 107, 074301 (2011)

21

Kammer, D. S., Yastrebov, V. A., Spijker, P. & Molinari, J. F. On the propagation of slip fronts at frictional interfaces. Tribol. Lett. 48, 27–32 (2012)

22

Poliakov, A. N. B., Dmowska, R. & Rice, J. R. Dynamic shear rupture interactions with fault bends and off-axis secondary faulting. J. Geophys. Res. 107 (B11). 2295 (2002)

23

Nielsen, S., Taddeucci, J. & Vinciguerra, S. Experimental observation of stick-slip instability fronts. Geophys. J. Int. 180, 697–702 (2010)

24

Latour, S. et al. Ultrafast ultrasonic imaging of dynamic sliding friction in soft solids: the slow slip and the super-shear regimes. Europhys. Lett. 96, 59003 (2011)

25

Yamaguchi, T. et al. Gutenberg-Richter's law in sliding friction of gels. J. Geophys. Res. 116, B12306 (2011)

26

Beroza, G. C. & Ide, S. Slow earthquakes and nonvolcanic tremor. Annu. Rev. Earth Planet. Sci. 39, 271–296 (2011)

27

Bar Sinai, Y., Brener, E. A. & Bouchbinder, E. Slow rupture of frictional interfaces. Geophys. Res. Lett. 39, L03308 (2012)

28

Kaproth, B. M. & Marone, C. Slow earthquakes, preseismic velocity changes, and the origin of slow frictional stick-slip. Science 341, 1229–1232 (2013)

29

Passelègue, F. X., Schubnel, A., Nielsen, S., Bhat, H. S. & Madariaga, R. From sub-Rayleigh to supershear ruptures during stick-slip experiments on crustal rocks. Science 340, 1208–1211 (2013)

30

Ben-David, O. & Fineberg, J. Static friction coefficient is not a material constant. Phys. Rev. Lett. 106, 254301 (2011)

31

Read, B. E. & Duncan, J. C. Measurement of dynamic properties of polymeric glasses for different modes of deformation. Polym. Test. 2, 135–150 (1981)

32

Rubinstein, S. M., Shay, M., Cohen, G. & Fineberg, J. Crack-like processes governing the onset of frictional slip. Int. J. Fract. 140, 201–212 (2006)

33

Rubinstein, S. M., Cohen, G. & Fineberg, J. Visualizing stick-slip: experimental observations of processes governing the nucleation of frictional sliding. J. Phys. D 42, 214016 (2009)

34

Gabriel, A. A., Ampuero, J. P., Dalguer, L. A. & Mai, P. M. Source properties of dynamic rupture pulses with off-fault plasticity. J. Geophys. Res. 118, 4117–4126 (2013)

35

Sharon, E., Gross, S. P. & Fineberg, J. Energy dissipation in dynamic fracture. Phys. Rev. Lett. 76, 2117–2120 (1996)
Acknowledgements
This work was supported by the James S. McDonnell Fund, the European Research Council (grant no. 267256) and the Israel Science Foundation (grant 76/11). We thank E. Bouchbinder and G. Cohen for comments. We especially thank M. Adda-Bedia for insights that helped us understand the data's relation to LEFM.
Ethics declarations
Competing interests
The authors declare no competing financial interests.
Extended data figures and tables
About this article
Cite this article
Svetlizky, I., Fineberg, J. Classical shear cracks drive the onset of dry frictional motion. Nature 509, 205–208 (2014). https://doi.org/10.1038/nature13202
Received:

Accepted:

Published:

Issue Date:
Comments
By submitting a comment you agree to abide by our Terms and Community Guidelines. If you find something abusive or that does not comply with our terms or guidelines please flag it as inappropriate.