Abstract
The skin has a dual function as a barrier and a sensory interface between the body and the environment. To protect against invading pathogens, the skin harbours specialized immune cells, including dermal dendritic cells (DDCs) and interleukin (IL)-17-producing γδ T (γδT17) cells, the aberrant activation of which by IL-23 can provoke psoriasis-like inflammation1,2,3,4. The skin is also innervated by a meshwork of peripheral nerves consisting of relatively sparse autonomic and abundant sensory fibres. Interactions between the autonomic nervous system and immune cells in lymphoid organs are known to contribute to systemic immunity, but how peripheral nerves regulate cutaneous immune responses remains unclear5,6. We exposed the skin of mice to imiquimod, which induces IL-23-dependent psoriasis-like inflammation7,8. Here we show that a subset of sensory neurons expressing the ion channels TRPV1 and Nav1.8 is essential to drive this inflammatory response. Imaging of intact skin revealed that a large fraction of DDCs, the principal source of IL-23, is in close contact with these nociceptors. Upon selective pharmacological or genetic ablation of nociceptors9,10,11, DDCs failed to produce IL-23 in imiquimod-exposed skin. Consequently, the local production of IL-23-dependent inflammatory cytokines by dermal γδT17 cells and the subsequent recruitment of inflammatory cells to the skin were markedly reduced. Intradermal injection of IL-23 bypassed the requirement for nociceptor communication with DDCs and restored the inflammatory response12. These findings indicate that TRPV1+Nav1.8+ nociceptors, by interacting with DDCs, regulate the IL-23/IL-17 pathway and control cutaneous immune responses.
Relevant articles
Open Access articles citing this article.
Xiaojie Cai

,

Maoying Han

…

Honglin Wang

Nature Communications Open Access 10 April 2023

Francesco Bellinato

,

Paolo Gisondi

…

Giampiero Girolomoni

Dermatology and Therapy Open Access 29 March 2023

Qixiang Zhao

,

Jiadong Yu

…

Jiong Li

Signal Transduction and Targeted Therapy Open Access 30 January 2023
Access options
Subscribe to this journal
Receive 51 print issues and online access
$199.00 per year
only $3.90 per issue
Rent or buy this article
Get just this article for as long as you need it
$39.95
Prices may be subject to local taxes which are calculated during checkout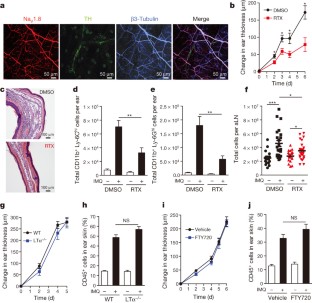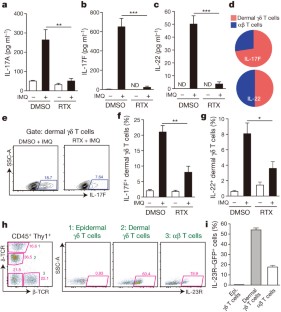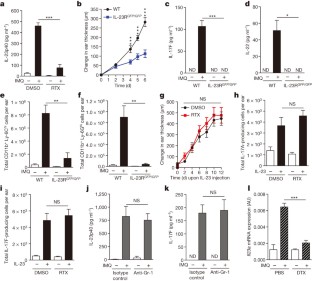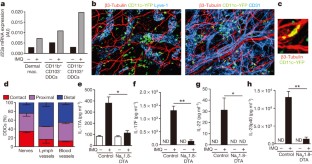 References
Nestle, F. O., Di Meglio, P., Qin, J. Z. & Nickoloff, B. J. Skin immune sentinels in health and disease. Nature Rev. Immunol. 9, 679–691 (2009)

Perera, G. K., Di Meglio, P. & Nestle, F. O. Psoriasis. Annu. Rev. Pathol. 7, 385–422 (2012)

Cai, Y. et al. Pivotal role of dermal IL-17-producing γδ T cells in skin inflammation. Immunity 35, 596–610 (2011)

Gray, E. E., Suzuki, K. & Cyster, J. G. Cutting edge: identification of a motile IL-17-producing γδ T cell population in the dermis. J. Immunol. 186, 6091–6095 (2011)

Rosas-Ballina, M. et al. Acetylcholine-synthesizing T cells relay neural signals in a vagus nerve circuit. Science 334, 98–101 (2011)

Chiu, I. M., von Hehn, C. A. & Woolf, C. J. Neurogenic inflammation and the peripheral nervous system in host defense and immunopathology. Nature Neurosci. 15, 1063–1067 (2012)

van der Fits, L. et al. Imiquimod-induced psoriasis-like skin inflammation in mice is mediated via the IL-23/IL-17 axis. J. Immunol. 182, 5836–5845 (2009)

Flutter, B. & Nestle, F. O. TLRs to cytokines: mechanistic insights from the imiquimod mouse model of psoriasis. Eur. J. Immunol. 43, 3138–3146 (2013)

Abrahamsen, B. et al. The cell and molecular basis of mechanical, cold, and inflammatory pain. Science 321, 702–705 (2008)

Lumpkin, E. A. & Caterina, M. J. Mechanisms of sensory transduction in the skin. Nature 445, 858–865 (2007)

Sándor, K., Helyes, Z., Elekes, K. & Szolcsanyi, J. Involvement of capsaicin-sensitive afferents and the transient receptor potential vanilloid 1 receptor in xylene-induced nocifensive behaviour and inflammation in the mouse. Neurosci. Lett. 451, 204–207 (2009)

Zheng, Y. et al. Interleukin-22, a TH17 cytokine, mediates IL-23-induced dermal inflammation and acanthosis. Nature 445, 648–651 (2007)

Lowes, M. A., Russell, C. B., Martin, D. A., Towne, J. E. & Krueger, J. G. The IL-23/T17 pathogenic axis in psoriasis is amplified by keratinocyte responses. Trends Immunol. 34, 174–181 (2013)

Rapp, S. R., Feldman, S. R., Exum, M. L., Fleischer, A. B., Jr & Reboussin, D. M. Psoriasis causes as much disability as other major medical diseases. J. Am. Acad. Dermatol. 41, 401–407 (1999)

Farber, E. M., Lanigan, S. W. & Boer, J. The role of cutaneous sensory nerves in the maintenance of psoriasis. Int. J. Dermatol. 29, 418–420 (1990)

Ostrowski, S. M., Belkadi, A., Loyd, C. M., Diaconu, D. & Ward, N. L. Cutaneous denervation of psoriasiform mouse skin improves acanthosis and inflammation in a sensory neuropeptide-dependent manner. J. Invest. Dermatol. 131, 1530–1538 (2011)

Grebe, K. M. et al. Sympathetic nervous system control of anti-influenza CD8+ T cell responses. Proc. Natl Acad. Sci. USA 106, 5300–5305 (2009)

Swirski, F. K. et al. Identification of splenic reservoir monocytes and their deployment to inflammatory sites. Science 325, 612–616 (2009)

Weninger, W. et al. Specialized contributions by α(1,3)-fucosyltransferase-IV and FucT-VII during leukocyte rolling in dermal microvessels. Immunity 12, 665–676 (2000)

Iannacone, M. et al. Subcapsular sinus macrophages prevent CNS invasion on peripheral infection with a neurotropic virus. Nature 465, 1079–1083 (2010)

Matloubian, M. et al. Lymphocyte egress from thymus and peripheral lymphoid organs is dependent on S1P receptor 1. Nature 427, 355–360 (2004)

Gray, E. E. et al. Deficiency in IL-17-committed Vγ4+ γδ T cells in a spontaneous Sox13-mutant CD45.1+ congenic mouse substrain provides protection from dermatitis. Nature Immunol. 14, 584–592 (2013)

Pantelyushin, S. et al. Rorγt+ innate lymphocytes and γδ T cells initiate psoriasiform plaque formation in mice. J. Clin. Invest. 122, 2252–2256 (2012)

Guo, L., Junttila, I. S. & Paul, W. E. Cytokine-induced cytokine production by conventional and innate lymphoid cells. Trends Immunol. 33, 598–606 (2012)

Awasthi, A. et al. Cutting edge: IL-23 receptor GFP reporter mice reveal distinct populations of IL-17-producing cells. J. Immunol. 182, 5904–5908 (2009)

Muller, G. et al. IL-12 as mediator and adjuvant for the induction of contact sensitivity in vivo. J. Immunol. 155, 4661–4668 (1995)

Zigmond, E. et al. Ly6Chi monocytes in the inflamed colon give rise to proinflammatory effector cells and migratory antigen-presenting cells. Immunity 37, 1076–1090 (2012)

Guilliams, M. et al. From skin dendritic cells to a simplified classification of human and mouse dendritic cell subsets. Eur. J. Immunol. 40, 2089–2094 (2010)

Wohn, C. et al. Langerinneg conventional dendritic cells produce IL-23 to drive psoriatic plaque formation in mice. Proc. Natl Acad. Sci. USA 110, 10723–10728 (2013)

Chiu, I. M. et al. Bacteria activate sensory neurons that modulate pain and inflammation. Nature (2013)

Lindquist, R. L. et al. Visualizing dendritic cell networks in vivo. Nature Immunol. 5, 1243–1250 (2004)

De Togni, P. et al. Abnormal development of peripheral lymphoid organs in mice deficient in lymphotoxin. Science 264, 703–707 (1994)

Jung, S. et al. In vivo depletion of CD11c+ dendritic cells abrogates priming of CD8+ T cells by exogenous cell-associated antigens. Immunity 17, 211–220 (2002)

Garcia, A. D., Doan, N. B., Imura, T., Bush, T. G. & Sofroniew, M. V. GFAP-expressing progenitors are the principal source of constitutive neurogenesis in adult mouse forebrain. Nature Neurosci. 7, 1233–1241 (2004)

Boes, M. et al. T-cell engagement of dendritic cells rapidly rearranges MHC class II transport. Nature 418, 983–988 (2002)

Saito, M. et al. Diphtheria toxin receptor-mediated conditional and targeted cell ablation in transgenic mice. Nature Biotechnol. 19, 746–750 (2001)
Acknowledgements
We thank G. Cheng, M. Flynn and S. Omid for technical support; M. Perdue, L. Jones and E. Nigro for secretarial assistance; E. Gray for providing detailed protocols for flow cytometry of skin samples; J. Harris for discussion and providing detailed RNA isolation protocols of skin samples; R. T. Roderick for histopathology analysis; T. Liu and J. Ru-Rong for providing the RTX denervation protocol; M. Ghebremichael for statistical advice; F. Winau and J. L. Rodriguez-Fernandez for critical reading of the manuscript and members of the von Andrian laboratory for discussion and advice. This work was supported by National Institutes of Health (NIH) grants AI069259, AI078897, AI095261 and AI111595 (to U.H.v.A.), NIH 5F31AR063546-02 (to J.O.-M.) and the Human Frontiers Science Program, Charles A. King Trust and National Psoriasis Foundation (to L.R.-B.).
Ethics declarations
Competing interests
The authors declare no competing financial interests.
Extended data figures and tables
Supplementary information
This file contains Supplementary Text and References. (PDF 125 kb)
NaV1.8-Cre-TdTomato mice in which nociceptors express fluorescent TdTomato protein (red) were reconstituted with CD11c-YFP bone marrow to visualize interactions of DDC (green) with cutaneous nerves in intact ears of anesthetized mice. Videos are displayed as maximum intensity projections of time-lapse recordings of 3D image stacks generated on a multi-photon intravital microscope (Prairie Technologies) using a 20X water immersion objective (Nikon). Scale bar = 40 µm. Playback is accelerated 300x over real-time. (MOV 20834 kb)
Glial fibrillary acidic protein (GFAP)-Cre-TdTomato mice in which Schwann cells express the fluorescent TdTomato protein (red) were reconstituted with MHC-II-GFP bone marrow to visualize MHC-IIbright dermal dendritic cell interactions (green) with cutaneous nerves in intact ears of anesthetized mice. Videos are displayed as maximum intensity projections of time-lapse recordings of 3D image stacks generated on a multi-photon intravital microscope (Prairie Technologies) using a 20X water immersion objective (Nikon). Scale bar = 10 µm. Playback is accelerated 300x over real-time. (MOV 2345 kb)
About this article
Cite this article
Riol-Blanco, L., Ordovas-Montanes, J., Perro, M. et al. Nociceptive sensory neurons drive interleukin-23-mediated psoriasiform skin inflammation. Nature 510, 157–161 (2014). https://doi.org/10.1038/nature13199
Received:

Accepted:

Published:

Issue Date:

DOI: https://doi.org/10.1038/nature13199
Comments
By submitting a comment you agree to abide by our Terms and Community Guidelines. If you find something abusive or that does not comply with our terms or guidelines please flag it as inappropriate.