Abstract
The evolution of serially arranged, jointed endoskeletal supports internal to the gills—the visceral branchial arches—represents one of the key events in early jawed vertebrate (gnathostome) history, because it provided the morphological basis for the subsequent evolution of jaws1,2,3,4,5. However, until now little was known about visceral arches in early gnathostomes6,7,8,9,10,11,12,13,14,15,16,17, and theories about gill arch evolution were driven by information gleaned mostly from both modern cartilaginous (chondrichthyan) and bony (osteichthyan) fishes. New fossil discoveries can profoundly affect our understanding of evolutionary history, by revealing hitherto unseen combinations of primitive and derived characters18,19. Here we describe a 325 million year (Myr)-old Palaeozoic shark-like fossil that represents, to our knowledge, the earliest identified chondrichthyan in which the complete gill skeleton is three-dimensionally preserved in its natural position. Its visceral arch arrangement is remarkably osteichthyan-like, suggesting that this may represent the common ancestral condition for crown gnathostomes. Our findings thus reinterpret the polarity of some arch features of the crown jawed vertebrates and invert the classic hypothesis, in which modern sharks retain the ancestral condition3,20. This study underscores the importance of early chondrichthyans in resolving the evolutionary history of jawed vertebrates.
Relevant articles
Open Access articles citing this article.
Linda Frey

,

Michael I. Coates

…

Christian Klug

Communications Biology Open Access 17 November 2020

Richard P. Dearden

,

Christopher Stockey

&

Martin D. Brazeau

Nature Communications Open Access 03 May 2019
Access options
Subscribe to Journal
Get full journal access for 1 year
$199.00
only $3.90 per issue
All prices are NET prices.
VAT will be added later in the checkout.
Tax calculation will be finalised during checkout.
Buy article
Get time limited or full article access on ReadCube.
$32.00
All prices are NET prices.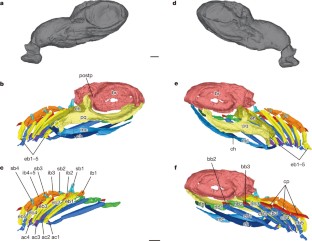 References
Gegenbaur, C. Elements of Comparative Anatomy (Macmillan, 1878)

Janvier, P. Early Vertebrates (Oxford Univ. Press, 1996)

Mallatt, J. Ventilation and the origin of jawed vertebrates: a new mouth. Zool. J. Linn. Soc. 117,. 329–404 (1996)

Kuratani, S. Evolution of the vertebrate jaw from developmental perspective. Evol. Dev. 14,. 76–92 (2012)

De. Beer, G. R. The Development of the Vertebrate Skull (Clarendon, 1937)

Nelson, G. J. in Nobel Symposium 4, Current Problems of Lower Vertebrate Phylogeny (ed. Ørvig, T. ) 129–143 (Almqvist & Wiksell, 1968)

Nelson, G. J. Gill arches and the phylogeny of fishes, with notes on the classification of vertebrates. Bull. Am. Mus. Nat. Hist. 141,. 477–552 (1969)

Nielsen, E. Studies on Triassic fishes from East Greenland. I. Glaucolepis and Boreosomus Vol. 1 (C. A. Reitzel, 1942)

Gardiner, B. G. The relationships of the palaeoniscid fishes, a review based on new specimens of Mimia and Moythomasia from the Upper Devonian of Western Australia. Bull. Br. Mus. Nat. Hist. Geol. 37,. 173–428 (1984)

Miles, R. S. In Interrelationships of Fishes (eds Greenwood, P. H., Miles, R. S. & Patterson, C. ) 63–103 (Academic, 1973)

Heidtke, U. H. J. &. Krätschmer, K. Gladbachus adentatus nov. gen. et sp., a primitive shark from the Upper Givetian Upper Middle Devonian of Bergisch Gladbach - Paffrath Basin Rhenish Slate Mountains [in German]. Mainzer Geowissenschaftliche Mitteilungen 30,. 105–122 (2001)

Jarvik, E. Basic Structure and Evolution of Vertebrates Vol. 1 (Academic, 1980)

Grogan, E. D. &. Lund, R. Debeerius ellefseni (fam. nov., gen. nov., spec. nov.), an autodiastylic chondrichthyan from the Mississippian Bear Gulch Limestone of Montana (USA), the relationships of the Chondrichthyes, and comments on gnathostome evolution. J. Morphol. 243,. 219–245 (2000)

Coates, M. I. &. Sequeira, S. E. K. A new stethacanthid chondrichthyan from the Lower Carboniferous of Bearsden, Scotland. J. Vertebr. Paleontol. 21,. 438–459 (2001)

Zangerl, R. &. Williams, M. E. New evidence of the nature of the jaw suspension in Palaeozoic anacanthus sharks. Palaeontology 18,. 333–341 (1975)

Watson, D. M. S. The acanthodian fishes. Philos. T. Roy. Soc. B 228,. 49–146 (1937)

Dick, J. R. On the Carboniferous shark Tristychius arcuatus Agassiz from Scotland. T. Roy. Soc. Edin. 70,. 63–108 (1978)

Patterson, C. Significance of fossils in determining evolutionary relationships. Annu. Rev. Ecol. Syst. 12,. 195–223 (1981)

Zhu, M. et al. A Silurian placoderm with osteichthyan-like marginal jaw bones. Nature 502,. 188–193 (2013)

Carvalho, M. Bockmann, F. A. & de Carvalho, M. R. Homology of the fifth epibranchial and accessory elements of the ceratobranchials among gnathostomes: insights from the development of Ostariophysans. PLoS ONE 8,. e62389 (2013)

Friedman, M. &. Brazeau, M. D. A reappraisal of the origin and basal radiation of the Osteichthyes. J. Vertebr. Paleontol. 30,. 36–56 (2010)

Shirai, S. Squalean Phylogeny: A New Framework of "Squaloid" Sharks and Related Taxa (Hokkaido Univ. Press, 1992)

Pradel, A. Tafforeau, P., Maisey, J. G. & Janvier, P. A new Paleozoic Symmoriiformes (Chondrichthyes) from the Late Carboniferous of Kansas (USA) and cladistic analysis of early chondrichthyans. PLoS ONE 6,. e24938 (2011)

Mapes, R. H. Carboniferous and Permain Bactritoidia (Cephalopoda) in North America (Univ. of Kansas Paleontological Institute, 1979)

Mallatt, J. Shark pharyngeal muscle and early vertebrate evolution. Acta Zool. 78,. 279–294 (1997)

Holmgren, N. Studies on the head in fishes. Part III. The phylogeny of elasmobranch fishes. Acta Zool. 23,. 129–261 (1942)

Lane, J. A. &. Maisey, J. G. The visceral skeleton and jaw suspension in the durophagous hybodontid shark Tribodus limae from the Lower Cretaceous of Brazil. J. Vertebr. Paleontol. 86,. 886–905 (2012)

Davis, S. P. Finarelli, J. A. & Coates, M. I. Acanthodes and shark-like conditions in the last common ancestor of modern gnathostomes. Nature 486,. 247–250 (2012)

Maisey, J. G. What is an 'elasmobranch'? The impact of palaeontology in understanding elasmobranch phylogeny and evolution. J. Fish Biol. 80,. 918–951 (2012)

Pradel, A. Didier, D. A., Casane, D., Tafforeau, P. & Maisey, J. G. Holocephalan embryo provides new information on the evolution of the glossopharyngeal nerve, metotic fissure and parachordal plate in gnathostomes. PLoS ONE 8,. e66988 (2013)
Acknowledgements
We thank staff at the ID19 beamline at the ESRF for assistance, and F. Ippolito (AMNH) for photographs of the specimens. The main work was supported by the H. R. & E. Axelrod Research Chair in paleoichthyology at the AMNH.
Ethics declarations
Competing interests
The authors declare no competing financial interests.
Additional information
Data have been deposited in ZooBank under the following LSIDs: urn:lsid:zoobank.org:pub:D80955F3-7C21-457C-BA68-9C70F466E913 (article); urn:lsid:zoobank.org:act:F7EDD4EB-6700-4583-8569-9BAC89B3A945 (genus); and urn:lsid:zoobank.org:act:6ACCB5D2-E0D7-4BFD-85D6-9C8250515614 (species).
Extended data figures and tables
Supplementary information
This file contains Supplementary Text 1-6, and additional references. (PDF 174 kb)
Three-dimensional virtual reconstruction made from propagation phase-contrast X-ray synchrotron microtomography images by means of MIMICS (Materialise, Inc.). Color coding: grey, concretion; yellow, epi-; blue, cerato-; green, hypo-; orange, infrapharyngo-; turquoise, suprapharyngo-; purple, accessory elements; red, basi-; peachy pink, braincase. The colors of the mandibular elements are lightened and those of the hyoid are darkened. (MP4 10935 kb)
About this article
Cite this article
Pradel, A., Maisey, J., Tafforeau, P. et al. A Palaeozoic shark with osteichthyan-like branchial arches. Nature 509, 608–611 (2014). https://doi.org/10.1038/nature13195
Received:

Accepted:

Published:

Issue Date:

DOI: https://doi.org/10.1038/nature13195
This article is cited by
Linda Frey
Michael I. Coates
Christian Klug

Communications Biology (2020)

Richard P. Dearden
Christopher Stockey
Martin D. Brazeau

Nature Communications (2019)

Michael I. Coates
Robert W. Gess
Kristen Tietjen

Nature (2017)
Comments
By submitting a comment you agree to abide by our Terms and Community Guidelines. If you find something abusive or that does not comply with our terms or guidelines please flag it as inappropriate.