Abstract
Accumulating evidence points to cortical oscillations as a mechanism for mediating interactions among functionally specialized neurons in distributed brain circuits1,2,3,4,5,6. A brain function that may use such interactions is declarative memory—that is, memory that can be consciously recalled, such as episodes and facts. Declarative memory is enabled by circuits in the entorhinal cortex that interface the hippocampus with the neocortex7,8. During encoding and retrieval of declarative memories, entorhinal and hippocampal circuits are thought to interact via theta and gamma oscillations4,6,8, which in awake rodents predominate frequency spectra in both regions9,10,11,12. In favour of this idea, theta–gamma coupling has been observed between entorhinal cortex and hippocampus under steady-state conditions in well-trained rats12; however, the relationship between interregional coupling and memory formation remains poorly understood. Here we show, by multisite recording at successive stages of associative learning, that the coherence of firing patterns in directly connected entorhinal–hippocampus circuits evolves as rats learn to use an odour cue to guide navigational behaviour, and that such coherence is invariably linked to the development of ensemble representations for unique trial outcomes in each area. Entorhinal–hippocampal coupling was observed specifically in the 20–40-hertz frequency band and specifically between the distal part of hippocampal area CA1 and the lateral part of entorhinal cortex, the subfields that receive the predominant olfactory input to the hippocampal region13. Collectively, the results identify 20–40-hertz oscillations as a mechanism for synchronizing evolving representations in dispersed neural circuits during encoding and retrieval of olfactory–spatial associative memory.
Relevant articles
Open Access articles citing this article.
Wenhan Luo

,

Di Yun

…

Ji-Song Guan

Nature Communications Open Access 24 March 2022

Xiaxia Xu

,

Lingzhen Song

…

Ileana L. Hanganu-Opatz

Nature Communications Open Access 23 November 2021

Morteza Salimi

,

Farhad Tabasi

…

Mohammad Reza Raoufy

The Journal of Physiological Sciences Open Access 30 June 2021
Access options
Subscribe to Journal
Get full journal access for 1 year
$199.00
only $3.90 per issue
All prices are NET prices.
VAT will be added later in the checkout.
Tax calculation will be finalised during checkout.
Buy article
Get time limited or full article access on ReadCube.
$32.00
All prices are NET prices.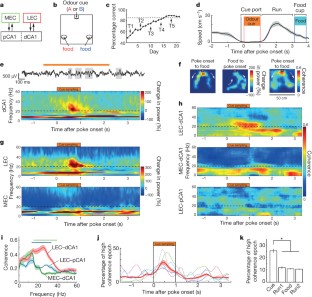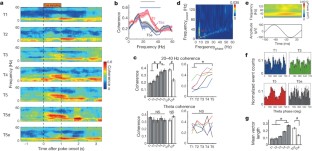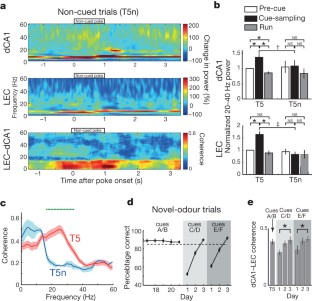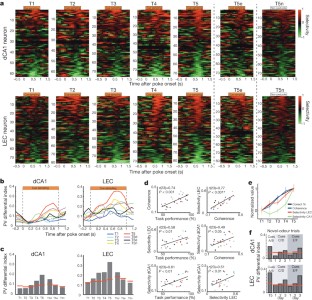 References
Freeman, W. J. Spatial properties of an EEG event in the olfactory bulb and cortex. Electroencephalogr. Clin. Neurophysiol. 44, 586–605 (1978)

Gray, C. M., Konig, P., Engel, A. K. & Singer, W. Oscillatory responses in cat visual cortex exhibit inter-columnar synchronization which reflects global stimulus properties. Nature 338, 334–337 (1989)

Singer, W. Synchronization of cortical activity and its putative role in information processing and learning. Annu. Rev. Physiol. 55, 349–374 (1993)

Buzsaki, G. Rhythms of the Brain (Oxford University Press, 2006)

Fries, P. Neuronal gamma-band synchronization as a fundamental process in cortical computation. Annu. Rev. Neurosci. 32, 209–224 (2009)

Colgin, L. L. Mechanisms and functions of theta rhythms. Annu. Rev. Neurosci. 36, 295–312 (2013)

Squire, L. R. Memory and the hippocampus: a synthesis from findings with rats, monkeys, and humans. Psychol. Rev. 99, 195–231 (1992)

Buzsáki, G. & Moser, E. I. Memory, navigation and theta rhythm in the hippocampal-entorhinal system. Nature Neurosci. 16, 130–138 (2013)

Buzsáki, G., Leung, L. W. & Vanderwolf, C. H. Cellular bases of hippocampal EEG in the behaving rat. Brain Res. 287, 139–171 (1983)

Bragin, A. et al. Gamma (40–100 Hz) oscillation in the hippocampus of the behaving rat. J. Neurosci. 15, 47–60 (1995)

Chrobak, J. J. & Buzsaki, G. Gamma oscillations in the entorhinal cortex of the freely behaving rat. J. Neurosci. 18, 388–398 (1998)

Colgin, L. L. et al. Frequency of gamma oscillations routes flow of information in the hippocampus. Nature 462, 353–357 (2009)

Witter, M. P. & Amaral, D. G. in The Rat Nervous System (ed. Paxinos, G. ) 635–704 (Elsevier Academic, 2004)

Day, M., Langston, R. & Morris, R. G. Glutamate-receptor-mediated encoding and retrieval of paired-associate learning. Nature 424, 205–209 (2003)

Martin, C., Beshel, J. & Kay, L. M. An olfacto-hippocampal network is dynamically involved in odor-discrimination learning. J. Neurophysiol. 98, 2196–2205 (2007)

Montgomery, S. M. & Buzsaki, G. Gamma oscillations dynamically couple hippocampal CA3 and CA1 regions during memory task performance. Proc. Natl Acad. Sci. USA 104, 14495–14500 (2007)

Tort, A. B., Komorowski, R. W., Manns, J. R., Kopell, N. J. & Eichenbaum, H. Theta-gamma coupling increases during the learning of item-context associations. Proc. Natl Acad. Sci. USA 106, 20942–20947 (2009)

Eichenbaum, H., Kuperstein, M., Fagan, A. & Nagode, J. Cue-sampling and goal-approach correlates of hippocampal unit activity in rats performing an odor-discrimination task. J. Neurosci. 7, 716–732 (1987)

Ahmed, O. J. & Mehta, M. R. Running speed alters the frequency of hippocampal gamma oscillations. J. Neurosci. 32, 7373–7383 (2012)

Fries, P., Reynolds, J. H., Rorie, A. E. & Desimone, R. Modulation of oscillatory neuronal synchronization by selective visual attention. Science 291, 1560–1563 (2001)

Buschman, T. J. & Miller, E. K. Top-down versus bottom-up control of attention in the prefrontal and posterior parietal cortices. Science 315, 1860–1862 (2007)

Berke, J. D., Hetrick, V., Breck, J. & Greene, R. W. Transient 23–30 Hz oscillations in mouse hippocampus during exploration of novel environments. Hippocampus 18, 519–529 (2008)

Bi, G. Q. & Poo, M. M. Synaptic modifications in cultured hippocampal neurons: dependence on spike timing, synaptic strength, and postsynaptic cell type. J. Neurosci. 18, 10464–10472 (1998)

McNaughton, B. L., Douglas, R. M. & Goddard, G. V. Synaptic enhancement in fascia dentata: cooperativity among coactive afferents. Brain Res. 157, 277–293 (1978)

Engel, A. K. & Fries, P. Beta-band oscillations — signalling the status quo? Curr. Opin. Neurobiol. 20, 156–165 (2010)

Ravel, N. et al. Olfactory learning modifies the expression of odour-induced oscillatory responses in the gamma (60–90 Hz) and beta (15–40 Hz) bands in the rat olfactory bulb. Eur. J. Neurosci. 17, 350–358 (2003)

Howe, M. W., Atallah, H. E., McCool, A., Gibson, D. J. & Graybiel, A. M. Habit learning is associated with major shifts in frequencies of oscillatory activity and synchronized spike firing in striatum. Proc. Natl Acad. Sci. USA 108, 16801–16806 (2011)

Kopell, N., Ermentrout, G. B., Whittington, M. A. & Traub, R. D. Gamma rhythms and beta rhythms have different synchronization properties. Proc. Natl Acad. Sci. USA 97, 1867–1872 (2000)

Henriksen, E. J. et al. Spatial representation along the proximodistal axis of CA1. Neuron 68, 127–137 (2010)

Steward, O. Topographic organization of the projections from the entorhinal area to the hippocampal formation of the rat. J. Comp. Neurol. 167, 285–314 (1976)

Mitra, P. P. & Pesaran, B. Analysis of dynamic brain imaging data. Biophys. J. 76, 691–708 (1999)

Kepecs, A., Uchida, N. & Mainen, Z. F. Rapid and precise control of sniffing during olfactory discrimination in rats. J. Neurophysiol. 98, 205–213 (2007)

Sargolini, F. et al. Conjunctive representation of position, direction, and velocity in entorhinal cortex. Science 312, 758–762 (2006)

Solstad, T., Boccara, C. N., Kropff, E., Moser, M. B. & Moser, E. I. Representation of geometric borders in the entorhinal cortex. Science 322, 1865–1868 (2008)

Hafting, T., Fyhn, M., Molden, S., Moser, M. B. & Moser, E. I. Microstructure of a spatial map in the entorhinal cortex. Nature 436, 801–806 (2005)

Fyhn, M., Molden, S., Witter, M. P., Moser, E. I. & Moser, M. B. Spatial representation in the entorhinal cortex. Science 305, 1258–1264 (2004)

Macmillan, N. A. & Creelman, C. D. Detection Theory: A User's Guide (Cambridge Univ. Press, 1991)

Jezek, K., Henriksen, E. J., Treves, A., Moser, E. I. & Moser, M. B. Theta-paced flickering between place-cell maps in the hippocampus. Nature 478, 246–249 (2011)

Naya, Y. & Suzuki, W. A. Integrating what and when across the primate medial temporal lobe. Science 333, 773–776 (2011)

Skaggs, W. E., McNaughton, B. L., Gothard, K. M. & Markus, E. J. in Advances in Neural Processing Systems Vol. 5 (eds Hanson, S. J., Cowan, J. D. & Giles, C. L. ) 1030–1037 (Morgan Kaufmann, San Mateo, 1993)

Skaggs, W. E., McNaughton, B. L., Wilson, M. A. & Barnes, C. A. Theta phase precession in hippocampal neuronal populations and the compression of temporal sequences. Hippocampus 6, 149–172 (1996)

Langston, R. F. et al. Development of the spatial representation system in the rat. Science 328, 1576–1580 (2010)

Fyhn, M., Hafting, T., Treves, A., Moser, M. B. & Moser, E. I. Hippocampal remapping and grid realignment in entorhinal cortex. Nature 446, 190–194 (2007)

Igarashi, K. M. et al. Parallel mitral and tufted cell pathways route distinct odor information to different targets in the olfactory cortex. J. Neurosci. 32, 7970–7985 (2012)

Fanselow, M. S. & Dong, H. W. Are the dorsal and ventral hippocampus functionally distinct structures? Neuron 65, 7–19 (2010)
Acknowledgements
We thank A. M. Amundsgård, K. Haugen, K. Jenssen, E. Kråkvik, R. Skjerpeng and H. Waade for technical assistance, and M. Witter and members of the Moser laboratory for discussions. This work was supported by two Advanced Investigator grants from the European Research Council ('CIRCUIT', Grant Agreement no. 232608; 'ENSEMBLE', Grant Agreement no. 268598), the Kavli Foundation, the Centre of Excellence scheme of the Research Council of Norway (Centre for the Biology of Memory and Centre for Neural Computation), the Mishima Kaiun Memorial Foundation, and the Japan Society for the Promotion of Science.
Ethics declarations
Competing interests
The authors declare no competing financial interests.
Extended data figures and tables
Supplementary information
On each trial, the rat sampled odours in a cue port for 1 s and then, depending on odour identity, ran to either of two cups for food reward. In this video, the rat was trained above criteria of 85% (time point T5) and performed the task with odours A and B. Tone signals were delivered 1.0 s after initiation of cue sampling, after which food reward was made available in the associated food cup. If the rat withdrew its nose from the cue port before the tone signal, no food reward was delivered in any of the cups. (MOV 9124 kb)
About this article
Cite this article
Igarashi, K., Lu, L., Colgin, L. et al. Coordination of entorhinal–hippocampal ensemble activity during associative learning. Nature 510, 143–147 (2014). https://doi.org/10.1038/nature13162
Received:

Accepted:

Published:

Issue Date:

DOI: https://doi.org/10.1038/nature13162
Comments
By submitting a comment you agree to abide by our Terms and Community Guidelines. If you find something abusive or that does not comply with our terms or guidelines please flag it as inappropriate.