Abstract
Lipopolysaccharide from Gram-negative bacteria is sensed in the host cell cytoplasm by a non-canonical inflammasome pathway that ultimately results in caspase-11 activation and cell death1,2,3. In mouse macrophages, activation of this pathway requires the production of type-I interferons4,5, indicating that interferon-induced genes have a critical role in initiating this pathway. Here we report that a cluster of small interferon-inducible GTPases, the so-called guanylate-binding proteins, is required for the full activity of the non-canonical caspase-11 inflammasome during infections with vacuolar Gram-negative bacteria. We show that guanylate-binding proteins are recruited to intracellular bacterial pathogens and are necessary to induce the lysis of the pathogen-containing vacuole. Lysis of the vacuole releases bacteria into the cytosol, thus allowing the detection of their lipopolysaccharide by a yet unknown lipopolysaccharide sensor. Moreover, recognition of the lysed vacuole by the danger sensor galectin-8 initiates the uptake of bacteria into autophagosomes, which results in a reduction of caspase-11 activation. These results indicate that host-mediated lysis of pathogen-containing vacuoles is an essential immune function and is necessary for efficient recognition of pathogens by inflammasome complexes in the cytosol.
Relevant articles
Open Access articles citing this article.
Yuan Zhang

,

Yinping Liao

…

Ya Liu

BMC Immunology Open Access 17 September 2022

Shouya Feng

,

Daniel Enosi Tuipulotu

…

Si Ming Man

Nature Communications Open Access 29 July 2022

David E. Place

,

R. K. Subbarao Malireddi

…

Thirumala-Devi Kanneganti

Nature Communications Open Access 21 January 2021
Access options
Subscribe to Journal
Get full journal access for 1 year
$199.00
only $3.90 per issue
All prices are NET prices.
VAT will be added later in the checkout.
Tax calculation will be finalised during checkout.
Buy article
Get time limited or full article access on ReadCube.
$32.00
All prices are NET prices.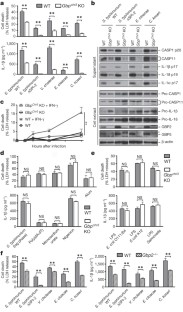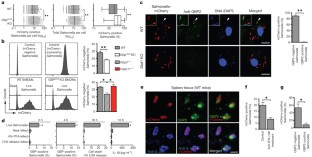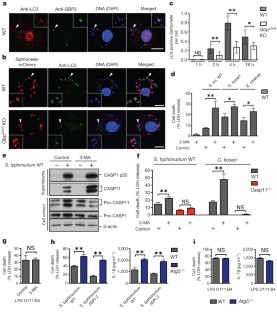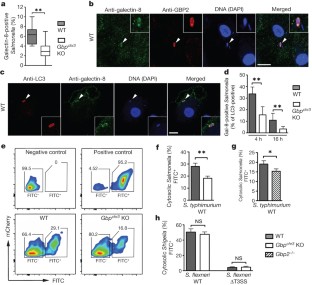 References
Kayagaki, N. et al. Non-canonical inflammasome activation targets caspase-11. Nature 479, 117–121 (2011)

Kayagaki, N. et al. Noncanonical inflammasome activation by intracellular LPS independent of TLR4. Science 341, 1246–1249 (2013)

Hagar, J. A., Powell, D. A., Aachoui, Y., Ernst, R. K. & Miao, E. A. Cytoplasmic LPS activates caspase-11: implications in TLR4-independent endotoxic shock. Science 341, 1250–1253 (2013)

Broz, P. et al. Caspase-11 increases susceptibility to Salmonella infection in the absence of caspase-1. Nature 490, 288–291 (2012)

Rathinam, V. A. et al. TRIF licenses caspase-11-dependent NLRP3 inflammasome activation by Gram-negative bacteria. Cell 150, 606–619 (2012)

Case, C. L. et al. Caspase-11 stimulates rapid flagellin-independent pyroptosis in response to Legionella pneumophila. Proc. Natl Acad. Sci. USA 110, 1851–1856 (2013)

Casson, C. N. et al. Caspase-11 activation in response to bacterial secretion systems that access the host cytosol. PLoS Pathog. 9, e1003400 (2013)

MacMicking, J. D. Interferon-inducible effector mechanisms in cell-autonomous immunity. Nature Rev. Immunol. 12, 367–382 (2012)

Shenoy, A. R. et al. GBP5 promotes NLRP3 inflammasome assembly and immunity in mammals. Science 336, 481–485 (2012)

Kim, B. H. et al. A family of IFN-gamma-inducible 65-kD GTPases protects against bacterial infection. Science 332, 717–721 (2011)

Yamamoto, M. et al. A cluster of interferon-gamma-inducible p65 GTPases plays a critical role in host defense against Toxoplasma gondii. Immunity 37, 302–313 (2012)

Broz, P. et al. Redundant roles for inflammasome receptors NLRP3 and NLRC4 in host defense against Salmonella. J. Exp. Med. 207, 1745–1755 (2010)

Aachoui, Y. et al. Caspase-11 protects against bacteria that escape the vacuole. Science 339, 975–978 (2013)

Degrandi, D. et al. Murine guanylate binding protein 2 (mGBP2) controls Toxoplasma gondii replication. Proc. Natl Acad. Sci. USA 110, 294–299 (2013)

VanCott, J. L. et al. Regulation of host immune responses by modification of Salmonella virulence genes. Nature Med. 4, 1247–1252 (1998)

Burton, N. A. et al. Disparate impact of oxidative host defenses determines the fate of Salmonella during systemic infection in mice. Cell Host Microbe 15, 72–83 (2014)

Thurston, T. L., Wandel, M. P., von Muhlinen, N., Foeglein, A. & Randow, F. Galectin 8 targets damaged vesicles for autophagy to defend cells against bacterial invasion. Nature 482, 414–418 (2012)

Deretic, V., Saitoh, T. & Akira, S. Autophagy in infection, inflammation and immunity. Nature Rev. Immunol. 13, 722–737 (2013)

Paetzold, S., Lourido, S., Raupach, B. & Zychlinsky, A. Shigella flexneri phagosomal escape is independent of invasion. Infect. Immun. 75, 4826–4830 (2007)

Hunn, J. P. et al. Regulatory interactions between IRG resistance GTPases in the cellular response to Toxoplasma gondii. EMBO J. 27, 2495–2509 (2008)

Traver, M. K. et al. Immunity-related GTPase M (IRGM) proteins influence the localization of guanylate-binding protein 2 (GBP2) by modulating macroautophagy. J. Biol. Chem. 286, 30471–30480 (2011)

Haldar, A. K. et al. IRG and GBP host resistance factors target aberrant, "non-self" vacuoles characterized by the missing of "self" IRGM proteins. PLoS Pathog. 9, e1003414 (2013)

Coers, J. Self and non-self discrimination of intracellular membranes by the innate immune system. PLoS Pathog. 9, e1003538 (2013)

Mariathasan, S. et al. Differential activation of the inflammasome by caspase-1 adaptors ASC and Ipaf. Nature 430, 213–218 (2004)

Zhao, Z. et al. Autophagosome-independent essential function for the autophagy protein Atg5 in cellular immunity to intracellular pathogens. Cell Host Microbe 4, 458–469 (2008)

Lima-Junior, D. S. et al. Inflammasome-derived IL-1β production induces nitric oxide-mediated resistance to Leishmania. Nature Med. 19, 909–915 (2013)
Acknowledgements
We thank N. Mizushima and S. Virgin for Atg5-deficient BMDMs, K. Pfeffer for Gbp2-deficient BMDMs, J. Frey for B. thailandensis, the Biozentrum Proteomics and Imaging Core Facilities for technical assistance, K. Anderson, T. Soukup, R. Schwingendorf, J. C. Cox, V. M. Dixit for reagents and N. Personnic for discussions. This work was supported by an SNSF Professorship PP00P3_139120/1, University of Basel project grant ID2153162 to P.B. and a Marie Heim-Voegtlin Fellowship 145516 to D.K.B.
Ethics declarations
Competing interests
The authors declare no competing financial interests.
Extended data figures and tables
Supplementary information
This file contains the sequences of siRNA pools used in this study. (PDF 95 kb)
About this article
Cite this article
Meunier, E., Dick, M., Dreier, R. et al. Caspase-11 activation requires lysis of pathogen-containing vacuoles by IFN-induced GTPases. Nature 509, 366–370 (2014). https://doi.org/10.1038/nature13157
Received:

Accepted:

Published:

Issue Date:

DOI: https://doi.org/10.1038/nature13157
Comments
By submitting a comment you agree to abide by our Terms and Community Guidelines. If you find something abusive or that does not comply with our terms or guidelines please flag it as inappropriate.