Abstract
Autophagy, the process by which proteins and organelles are sequestered in double-membrane structures called autophagosomes and delivered to lysosomes for degradation, is critical in diseases such as cancer and neurodegeneration1,2. Much of our understanding of this process has emerged from analysis of bulk cytoplasmic autophagy, but our understanding of how specific cargo, including organelles, proteins or intracellular pathogens, are targeted for selective autophagy is limited3. Here we use quantitative proteomics to identify a cohort of novel and known autophagosome-enriched proteins in human cells, including cargo receptors. Like known cargo receptors, nuclear receptor coactivator 4 (NCOA4) was highly enriched in autophagosomes, and associated with ATG8 proteins that recruit cargo–receptor complexes into autophagosomes. Unbiased identification of NCOA4-associated proteins revealed ferritin heavy and light chains, components of an iron-filled cage structure that protects cells from reactive iron species4 but is degraded via autophagy to release iron5,6 through an unknown mechanism. We found that delivery of ferritin to lysosomes required NCOA4, and an inability of NCOA4-deficient cells to degrade ferritin led to decreased bioavailable intracellular iron. This work identifies NCOA4 as a selective cargo receptor for autophagic turnover of ferritin (ferritinophagy), which is critical for iron homeostasis, and provides a resource for further dissection of autophagosomal cargo–receptor connectivity.
Access options
Subscribe to this journal
Receive 51 print issues and online access
$199.00 per year
only $3.90 per issue
Rent or buy this article
Prices vary by article type
from$1.95
to$39.95
Prices may be subject to local taxes which are calculated during checkout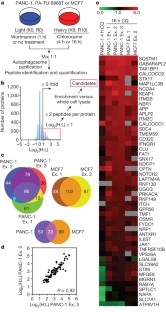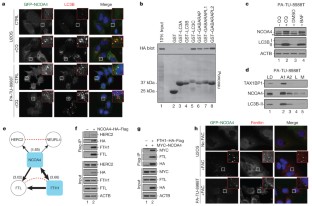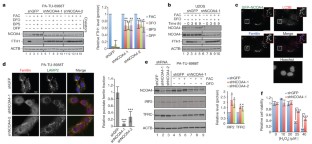 Similar content being viewed by others
Accession codes
Data deposits
Processed proteomics data are available in Supplementary Information; raw data files have been deposited at Peptide Atlas under accession number PASS00440.
References
Yang, Z. & Klionsky, D. J. Eaten alive: a history of macroautophagy. Nature Cell Biol. 12, 814–822 (2010)

Kroemer, G., Marino, G. & Levine, B. Autophagy and the integrated stress response. Mol. Cell 40, 280–293 (2010)

Kirkin, V., McEwan, D. G., Novak, I. & Dikic, I. A role for ubiquitin in selective autophagy. Mol. Cell 34, 259–269 (2009)

Pantopoulos, K., Porwal, S. K., Tartakoff, A. & Devireddy, L. Mechanisms of mammalian iron homeostasis. Biochemistry 51, 5705–5724 (2012)

Asano, T. et al. Distinct mechanisms of ferritin delivery to lysosomes in iron-depleted and iron-replete cells. Mol. Cell. Biol. 31, 2040–2052 (2011)

Kidane, T. Z., Sauble, E. & Linder, M. C. Release of iron from ferritin requires lysosomal activity. Am. J. Physiol. Cell Physiol. 291, C445–C455 (2006)

Yang, S. et al. Pancreatic cancers require autophagy for tumor growth. Genes Dev. 25, 717–729 (2011)

Sandilands, E. et al. Autophagic targeting of Src promotes cancer cell survival following reduced FAK signalling. Nature Cell Biol. 14, 51–60 (2012)

Kimmelman, A. C. The dynamic nature of autophagy in cancer. Genes Dev. 25, 1999–2010 (2011)

White, E. Deconvoluting the context-dependent role for autophagy in cancer. Nature Rev. Cancer 12, 401–410 (2012)

Øverbye, A., Fengsrud, M. & Seglen, P. O. Proteomic analysis of membrane-associated proteins from rat liver autophagosomes. Autophagy 3, 300–322 (2007)

Gao, W. et al. Biochemical isolation and characterization of the tubulovesicular LC3-positive autophagosomal compartment. J. Biol. Chem. 285, 1371–1383 (2010)

Dengjel, J. et al. Identification of autophagosome-associated proteins and regulators by quantitative proteomic analysis and genetic screens. Mol. Cell. Proteomics 11, M111.014035 (2012)

Marzella, L., Ahlberg, J. & Glaumann, H. Isolation of autophagic vacuoles from rat liver: morphological and biochemical characterization. J. Cell Biol. 93, 144–154 (1982)

Koga, H., Kaushik, S. & Cuervo, A. M. Altered lipid content inhibits autophagic vesicular fusion. FASEB J. 24, 3052–3065 (2010)

Huttlin, E. L. et al. A tissue-specific atlas of mouse protein phosphorylation and expression. Cell 143, 1174–1189 (2010)

Shevchenko, A., Tomas, H., Havlis, J., Olsen, J. V. & Mann, M. In-gel digestion for mass spectrometric characterization of proteins and proteomes. Nature Protocols 1, 2856–2860 (2007)

Behrends, C., Sowa, M. E., Gygi, S. P. & Harper, J. W. Network organization of the human autophagy system. Nature 466, 68–76 (2010)

Yeh, S. & Chang, C. Cloning and characterization of a specific coactivator, ARA70, for the androgen receptor in human prostate cells. Proc. Natl Acad. Sci. USA 93, 5517–5521 (1996)

Gao, T., Brantley, K., Bolu, E. & McPhaul, M. J. RFG (ARA70, ELE1) interacts with the human androgen receptor in a ligand-dependent fashion, but functions only weakly as a coactivator in cotransfection assays. Mol. Endocrinol. 13, 1645–1656 (1999)

von Muhlinen, N. et al. LC3C, bound selectively by a noncanonical LIR motif in NDP52, is required for antibacterial autophagy. Mol. Cell 48, 329–342 (2012)

Sowa, M. E., Bennett, E. J., Gygi, S. P. & Harper, J. W. Defining the human deubiquitinating enzyme interaction landscape. Cell 138, 389–403 (2009)

Martínez-Noël, G. et al. Identification and proteomic analysis of distinct UBE3A/E6AP protein complexes. Mol. Cell. Biol. 32, 3095–3106 (2012)

Trump, B. F., Valigorsky, J. M., Arstila, A. U., Mergner, W. J. & Kinney, T. D. The relationship of intracellular pathways of iron metabolism to cellular iron overload and the iron storage diseases. Cell sap and cytocavitary network pathways in relation to lysosomal storage and turnover of iron macromolecules. Am. J. Pathol. 72, 295–336 (1973)

De Domenico, I. et al. Ferroportin-mediated mobilization of ferritin iron precedes ferritin degradation by the proteasome. EMBO J. 25, 5396–5404 (2006)

Kurz, T., Gustafsson, B. & Brunk, U. T. Intralysosomal iron chelation protects against oxidative stress-induced cellular damage. FEBS J. 273, 3106–3117 (2006)

Nilsson, R. et al. Discovery of genes essential for heme biosynthesis through large-scale gene expression analysis. Cell Metab. 10, 119–130 (2009)

Griffiths, R. E. et al. The ins and outs of human reticulocyte maturation: autophagy and the endosome/exosome pathway. Autophagy 8, 1150–1151 (2012)

Lopes, C. T. et al. Cytoscape Web: an interactive web-based network browser. Bioinformatics 26, 2347–2348 (2010)

Schneider, C. A., Rasband, W. S. & Eliceiri, K. W. NIH Image to ImageJ: 25 years of image analysis. Nature Methods 9, 671–675 (2012)
Acknowledgements
We thank R. Everley and E. Huttlin for assistance with LC–MS/MS, A. Cuervo for assistance with autophagosome purification protocol development, Y. Liu for technical support with cell culture, A. White, J. Lydeard and S. Hayes for interaction proteomics support, M. Haigis for access to nitrogen cavitation equipment, and the Nikon Imaging and Electron Microscopy Centers (Harvard Medical School) for imaging support. We thank Millennium Pharmaceuticals for the GABARAPL2 antibody. We acknowledge support from National Institutes of Health grants GM070565 and GM095567 to J.W.H., and National Cancer Institute grant R01CA157490, American Cancer Society Research Scholar grant RSG-13-298-01-TBG and the Lustgarten Foundation to A.C.K. J.D.M. was supported by an American Board of Radiology Holman Research Pathway Post-doctoral Fellowship and an American Society of Radiation Oncology Junior Faculty Career Research Training Award (JF2013-2). J.W.H. is a consultant for Millennium: The Takeda Oncology Company and Biogen Idec. A.C.K. is a consultant for Forma Therapeutics.
Ethics declarations
Competing interests
The authors declare no competing financial interests.
Extended data figures and tables
Supplementary information
About this article
Cite this article
Mancias, J., Wang, X., Gygi, S. et al. Quantitative proteomics identifies NCOA4 as the cargo receptor mediating ferritinophagy. Nature 509, 105–109 (2014). https://doi.org/10.1038/nature13148
Received:

Accepted:

Published:

Issue Date:

DOI: https://doi.org/10.1038/nature13148
Comments
By submitting a comment you agree to abide by our Terms and Community Guidelines. If you find something abusive or that does not comply with our terms or guidelines please flag it as inappropriate.