Abstract
Blood vessel growth in the skeletal system and osteogenesis seem to be coupled, suggesting the existence of molecular crosstalk between endothelial and osteoblastic cells1,2. Understanding the nature of the mechanisms linking angiogenesis and bone formation should be of great relevance for improved fracture healing or prevention of bone mass loss. Here we show that vascular growth in bone involves a specialized, tissue-specific form of angiogenesis. Notch signalling promotes endothelial cell proliferation and vessel growth in postnatal long bone, which is the opposite of the well-established function of Notch and its ligand Dll4 in the endothelium of other organs and tumours3,4. Endothelial-cell-specific and inducible genetic disruption of Notch signalling in mice not only impaired bone vessel morphology and growth, but also led to reduced osteogenesis, shortening of long bones, chondrocyte defects, loss of trabeculae and decreased bone mass. On the basis of a series of genetic experiments, we conclude that skeletal defects in these mutants involved defective angiocrine release of Noggin from endothelial cells, which is positively regulated by Notch. Administration of recombinant Noggin, a secreted antagonist of bone morphogenetic proteins, restored bone growth and mineralization, chondrocyte maturation, the formation of trabeculae and osteoprogenitor numbers in endothelial-cell-specific Notch pathway mutants. These findings establish a molecular framework coupling angiogenesis, angiocrine signals and osteogenesis, which may prove significant for the development of future therapeutic applications.
Relevant articles
Open Access articles citing this article.
Yinhui Hang

,

Yanfang Liu

…

Haitao Zhu

Journal of Nanobiotechnology Open Access 21 March 2023

Andrea Grosso

,

Alexander Lunger

…

Nunzia Di Maggio

npj Regenerative Medicine Open Access 13 March 2023

Gang Zheng

,

Hai-Wei Ma

…

Xiang-Yang Wang

Journal of Nanobiotechnology Open Access 31 October 2022
Access options
Subscribe to this journal
Receive 51 print issues and online access
$199.00 per year
only $3.90 per issue
Rent or buy this article
Get just this article for as long as you need it
$39.95
Prices may be subject to local taxes which are calculated during checkout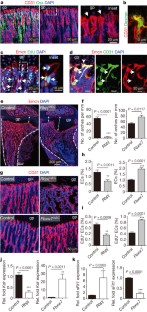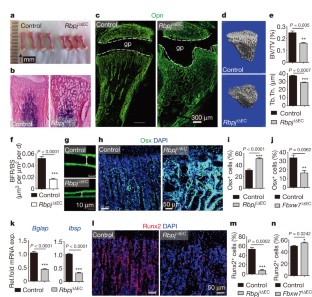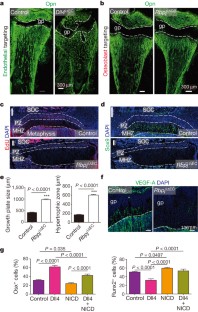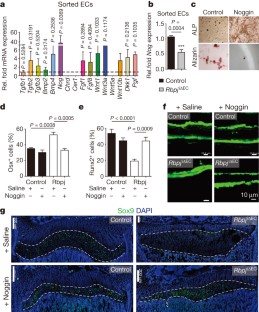 References
Eshkar-Oren, I. et al. The forming limb skeleton serves as a signaling center for limb vasculature patterning via regulation of Vegf. Development 136, 1263–1272 (2009)

Maes, C. et al. Osteoblast precursors, but not mature osteoblasts, move into developing and fractured bones along with invading blood vessels. Dev. Cell 19, 329–344 (2010)

Benedito, R. et al. The notch ligands Dll4 and Jagged1 have opposing effects on angiogenesis. Cell 137, 1124–1135 (2009)

Noguera-Troise, I. et al. Blockade of Dll4 inhibits tumour growth by promoting non-productive angiogenesis. Nature 444, 1032–1037 (2006)

Skawina, A., Litwin, J. A., Gorczyca, J. & Miodonski, A. J. The vascular system of human fetal long bones: a scanning electron microscope study of corrosion casts. J. Anat. 185, 369–376 (1994)

Trueta, J. & Morgan, J. D. The vascular contribution to osteogenesis. I. Studies by the injection method. J. Bone Joint Surg. Br. 42-B, 97–109 (1960)

Kuhn, A. et al. Expression of endomucin, a novel endothelial sialomucin, in normal and diseased human skin. J. Invest. Dermatol. 119, 1388–1393 (2002)

Kusumbe, A. P., Ramasamy, S. K. & Adams, R. H. Coupling of angiogenesis and osteogenesis by a specific vessel subtype in bone. Nature http://dx.doi.org/10.1038/nature13145 (this issue)

Siekmann, A. F. & Lawson, N. D. Notch signalling limits angiogenic cell behaviour in developing zebrafish arteries. Nature 445, 781–784 (2007)

Hoeck, J. D. et al. Fbw7 controls neural stem cell differentiation and progenitor apoptosis via Notch and c-Jun. Nature Neurosci. 13, 1365–1372 (2010)

Izumi, N. et al. Fbxw7 controls angiogenesis by regulating endothelial Notch activity. PLoS ONE 7, e41116 (2012)

Nakashima, K. et al. The novel zinc finger-containing transcription factor osterix is required for osteoblast differentiation and bone formation. Cell 108, 17–29 (2002)

Hozumi, K. et al. Delta-like 1 is necessary for the generation of marginal zone B cells but not T cells in vivo. Nature Immunol. 5, 638–644 (2004)

Koch, U. et al. Delta-like 4 is the essential, nonredundant ligand for Notch1 during thymic T cell lineage commitment. J. Exp. Med. 205, 2515–2523 (2008)

Brooker, R., Hozumi, K. & Lewis, J. Notch ligands with contrasting functions: Jagged1 and Delta1 in the mouse inner ear. Development 133, 1277–1286 (2006)

Olave, I., Reinberg, D. & Vales, L. D. The mammalian transcriptional repressor RBP (CBF1) targets TFIID and TFIIA to prevent activated transcription. Genes Dev. 12, 1621–1637 (1998)

Gerber, H. P. et al. VEGF couples hypertrophic cartilage remodeling, ossification and angiogenesis during endochondral bone formation. Nature Med. 5, 623–628 (1999)

Engin, F. et al. Dimorphic effects of Notch signaling in bone homeostasis. Nature Med. 14, 299–305 (2008)

Hilton, M. J. et al. Notch signaling maintains bone marrow mesenchymal progenitors by suppressing osteoblast differentiation. Nature Med. 14, 306–314 (2008)

Potente, M., Gerhardt, H. & Carmeliet, P. Basic and therapeutic aspects of angiogenesis. Cell 146, 873–887 (2011)

Wu, X. B. et al. Impaired osteoblastic differentiation, reduced bone formation, and severe osteoporosis in noggin-overexpressing mice. J. Clin. Invest. 112, 924–934 (2003)

Canalis, E., Brunet, L. J., Parker, K. & Zanotti, S. Conditional inactivation of noggin in the postnatal skeleton causes osteopenia. Endocrinology 153, 1616–1626 (2012)

Tylzanowski, P., Mebis, L. & Luyten, F. P. The Noggin null mouse phenotype is strain dependent and haploinsufficiency leads to skeletal defects. Dev. Dyn. 235, 1599–1607 (2006)

Wang, Y. et al. Ephrin-B2 controls VEGF-induced angiogenesis and lymphangiogenesis. Nature 465, 483–486 (2010)

Han, H. et al. Inducible gene knockout of transcription factor recombination signal binding protein-J reveals its essential role in T versus B lineage decision. Int. Immunol. 14, 637–645 (2002)

Murtaugh, L. C., Stanger, B. Z., Kwan, K. M. & Melton, D. A. Notch signaling controls multiple steps of pancreatic differentiation. Proc. Natl Acad. Sci. USA 100, 14920–14925 (2003)

Soleimani, M. & Nadri, S. A protocol for isolation and culture of mesenchymal stem cells from mouse bone marrow. Nature Protocols 4, 102–106 (2009)

Zhu, H. et al. A protocol for isolation and culture of mesenchymal stem cells from mouse compact bone. Nature Protocols 5, 550–560 (2010)

Suzuki, H. et al. Histological evidence of the altered distribution of osteocytes and bone matrix synthesis in klotho-deficient mice. Arch. Histol. Cytol. 68, 371–381 (2005)
Acknowledgements
We thank A. Duarte, F. Radtke and T. Honjo for floxed Dll4 and Rbpj mutant mice, A. Borgscheiper for technical assistance, M. Stehling for endothelial cell sorting, D. Zeuschner for electron microscopy. Funding was provided by the Max Planck Society, the University of Münster, the DFG cluster of excellence 'Cells in Motion', and the European Research Council (AdG 339409 AngioBone).
Ethics declarations
Competing interests
The authors declare no competing financial interests.
Extended data figures and tables
About this article
Cite this article
Ramasamy, S., Kusumbe, A., Wang, L. et al. Endothelial Notch activity promotes angiogenesis and osteogenesis in bone. Nature 507, 376–380 (2014). https://doi.org/10.1038/nature13146
Received:

Accepted:

Published:

Issue Date:

DOI: https://doi.org/10.1038/nature13146
Comments
By submitting a comment you agree to abide by our Terms and Community Guidelines. If you find something abusive or that does not comply with our terms or guidelines please flag it as inappropriate.