Abstract
Genome-wide association studies (GWAS) have reproducibly associated variants within introns of FTO with increased risk for obesity and type 2 diabetes (T2D)1,2,3. Although the molecular mechanisms linking these noncoding variants with obesity are not immediately obvious, subsequent studies in mice demonstrated that FTO expression levels influence body mass and composition phenotypes4,5,6. However, no direct connection between the obesity-associated variants and FTO expression or function has been made7,8,9. Here we show that the obesity-associated noncoding sequences within FTO are functionally connected, at megabase distances, with the homeobox gene IRX3. The obesity-associated FTO region directly interacts with the promoters of IRX3 as well as FTO in the human, mouse and zebrafish genomes. Furthermore, long-range enhancers within this region recapitulate aspects of IRX3 expression, suggesting that the obesity-associated interval belongs to the regulatory landscape of IRX3. Consistent with this, obesity-associated single nucleotide polymorphisms are associated with expression of IRX3, but not FTO, in human brains. A direct link between IRX3 expression and regulation of body mass and composition is demonstrated by a reduction in body weight of 25 to 30% in Irx3-deficient mice, primarily through the loss of fat mass and increase in basal metabolic rate with browning of white adipose tissue. Finally, hypothalamic expression of a dominant-negative form of Irx3 reproduces the metabolic phenotypes of Irx3-deficient mice. Our data suggest that IRX3 is a functional long-range target of obesity-associated variants within FTO and represents a novel determinant of body mass and composition.
Access options
Subscribe to Journal
Get full journal access for 1 year
$199.00
only $3.90 per issue
All prices are NET prices.
VAT will be added later in the checkout.
Rent or Buy article
Get time limited or full article access on ReadCube.
from$8.99
All prices are NET prices.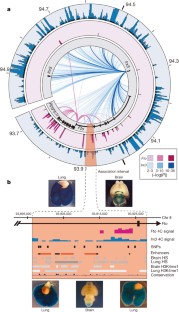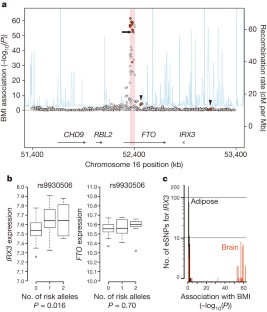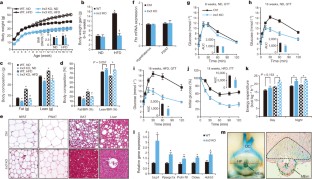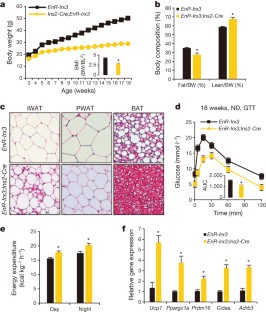 References
1

Dina, C. et al. Variation in FTO contributes to childhood obesity and severe adult obesity. Nature Genet. 39, 724–726 (2007)

2

Frayling, T. M. et al. A common variant in the FTO gene is associated with body mass index and predisposes to childhood and adult obesity. Science 316, 889–894 (2007)

3

Scuteri, A. et al. Genome-wide association scan shows genetic variants in the FTO gene are associated with obesity-related traits. PLoS Genet. 3, e115 (2007)

4

Church, C. et al. Overexpression of Fto leads to increased food intake and results in obesity. Nature Genet. 42, 1086–1092 (2010)

5

Fischer, J. et al. Inactivation of the Fto gene protects from obesity. Nature 458, 894–898 (2009)

6

Gao, X. et al. The fat mass and obesity associated gene FTO functions in the brain to regulate postnatal growth in mice. PLoS ONE 5, e14005 (2010)

7

Grunnet, L. G. et al. Regulation and function of FTO mRNA expression in human skeletal muscle and subcutaneous adipose tissue. Diabetes 58, 2402–2408 (2009)

8

Klöting, N. et al. Inverse relationship between obesity and FTO gene expression in visceral adipose tissue in humans. Diabetologia 51, 641–647 (2008)

9

Wåhlén, K., Sjolin, E. & Hoffstedt, J. The common rs9939609 gene variant of the fat mass- and obesity-associated gene FTO is related to fat cell lipolysis. J. Lipid Res. 49, 607–611 (2008)

10

McMurray, F. et al. Adult onset global loss of the fto gene alters body composition and metabolism in the mouse. PLoS Genet. 9, e1003166 (2013)

11

Jin, F. et al. A high-resolution map of the three-dimensional chromatin interactions in human cells. Nature 503, 290–294 (2013)

12

Houweling, A. C. et al. Gene and cluster-specific expression of the Iroquois family members during mouse development. Mech. Dev. 107, 169–174 (2001)

13

van Tuyl, M. et al. Iroquois genes influence proximo-distal morphogenesis during rat lung development. Am. J. Physiol. Lung Cell. Mol. Physiol. 290, L777–L789 (2006)

14

Gerken, T. et al. The obesity-associated FTO gene encodes a 2-oxoglutarate-dependent nucleic acid demethylase. Science 318, 1469–1472 (2007)

15

Qi, L. et al. Fat mass-and obesity-associated (FTO) gene variant is associated with obesity: longitudinal analyses in two cohort studies and functional test. Diabetes 57, 3145–3151 (2008)

16

Stratigopoulos, G. et al. Regulation of Fto/Ftm gene expression in mice and humans. Am. J. Physiol. Regul. Integr. Comp. Physiol. 294, R1185–R1196 (2008)

17

Ragvin, A. et al. Long-range gene regulation links genomic type 2 diabetes and obesity risk regions to HHEX, SOX4, and IRX3. Proc. Natl Acad. Sci. USA 107, 775–780 (2010)

18

Visel, A. et al. VISTA Enhancer Browser—a database of tissue-specific human enhancers. Nucleic Acids Res. 35 (Database issue). D88–D92 (2007)

19

Bosse, A. et al. Identification of the vertebrate Iroquois homeobox gene family with overlapping expression during early development of the nervous system. Mech. Dev. 69, 169–181 (1997)

20

Dixon, J. R. et al. Topological domains in mammalian genomes identified by analysis of chromatin interactions. Nature 485, 376–380 (2012)

21

Gamazon, E. R. et al. Enrichment of cis-regulatory gene expression SNPs and methylation quantitative trait loci among bipolar disorder susceptibility variants. Mol. Psychiatry 18, 340–346 (2012)

22

Speliotes, E. K. et al. Association analyses of 249,796 individuals reveal 18 new loci associated with body mass index. Nature Genet. 42, 937–948 (2010)

23

Kong, D. et al. GABAergic RIP-Cre neurons in the arcuate nucleus selectively regulate energy expenditure. Cell 151, 645–657 (2012)

24

Shi, Y. C. et al. Arcuate NPY controls sympathetic output and BAT function via a relay of tyrosine hydroxylase neurons in the PVN. Cell Metab. 17, 236–248 (2013)

25

Mori, H. et al. Critical role for hypothalamic mTOR activity in energy balance. Cell Metab. 9, 362–374 (2009)

26

Dankel, S. N. et al. Switch from stress response to homeobox transcription factors in adipose tissue after profound fat loss. PLoS ONE 5, e11033 (2010)

27

Hagège, H. et al. Quantitative analysis of chromosome conformation capture assays (3C-qPCR). Nature Protocols 2, 1722–1733 (2007)

28

Rozen, S. & Skaletsky, H. Primer3 on the WWW for general users and for biologist programmers. Meth. Mol. Biol. 132, 365–386 (2000)

29

Dekker, J. et al. Capturing chromosome conformation. Science 295, 1306–1311 (2002)

30

Noordermeer, D. et al. The dynamic architecture of Hox gene clusters. Science 334, 222–225 (2011)

31

Splinter, E. et al. Determining long-range chromatin interactions for selected genomic sites using 4C-seq technology: from fixation to computation. Methods 58, 221–230 (2012)

32

Stadhouders, R. et al. Multiplexed chromosome conformation capture sequencing for rapid genome-scale high-resolution detection of long-range chromatin interactions. Nature Protocols 8, 509–524 (2013)

33

Denholtz, M. et al. Long-range chromatin contacts in embryonic stem cells reveal a role for pluripotency factors and polycomb proteins in genome organization. Cell Stem Cell 13, 602–616 (2013)

34

Lieberman-Aiden, E. et al. Comprehensive mapping of long-range interactions reveals folding principles of the human genome. Science 326, 289–293 (2009)

35

Kent, W. J. et al. The human genome browser at UCSC. Genome Res. 12, 996–1006 (2002)

36

Krzywinski, M. et al. Circos: an information aesthetic for comparative genomics. Genome Res. 19, 1639–1645 (2009)

37

ENCODE. A user's guide to the encyclopedia of DNA elements (ENCODE). PLoS Biol. 9, e1001046 (2011)

38

Zhou, X. & Wang, T. Using the Wash U Epigenome Browser to examine genome-wide sequencing data. Curr. Protoc. Bioinformatics 40, 10.10.1–10.10.14 (2012)

39

Li, G. et al. Extensive promoter-centered chromatin interactions provide a topological basis for transcription regulation. Cell 148, 84–98 (2012)

40

Siepel, A. et al. Evolutionarily conserved elements in vertebrate, insect, worm, and yeast genomes. Genome Res. 15, 1034–50 (2005)

41

Smemo, S. et al. Regulatory variation in a TBX5 enhancer leads to isolated congenital heart disease. Hum. Mol. Genet. 21, 3255–3263 (2012)

42

Wilkinson, D. G. & Nieto, M. A. Detection of messenger RNA by in situ hybridization to tissue sections and whole mounts. Methods Enzymol. 225, 361–373 (1993)

43

Elbein, S. C. et al. Genetic risk factors for type 2 diabetes: a trans-regulatory genetic architecture? Am. J. Hum. Genet. 91, 466–477 (2012)

44

Zhang, S. S. et al. Iroquois homeobox gene 3 establishes fast conduction in the cardiac His-Purkinje network. Proc. Natl Acad. Sci. USA 108, 13576–13581 (2011)

45

Srinivas, S. et al. Cre reporter strains produced by targeted insertion of EYFP and ECFP into the ROSA26 locus. BMC Dev. Biol. 1, 4 (2001)

46

Li, Z. J. et al. Kif7 regulates Gli2 through Sufu-dependent and -independent functions during skin development and tumorigenesis. Development 139, 4152–4161 (2012)

47

Eppig, J. T. et al. The Mouse Genome Database (MGD): comprehensive resource for genetics and genomics of the laboratory mouse. Nucleic Acids Res. 40 (Database issue). D881–D886 (2012)

48

Smith, C. L. & Eppig, J. T. The mammalian phenotype ontology: enabling robust annotation and comparative analysis. Biol. Med. 1 (3), 390–399 (2009)

49

Smith, R. N. et al. InterMine: a flexible data warehouse system for the integration and analysis of heterogeneous biological data. Bioinformatics 28, 3163–3165 (2012)

50

Dimitrieva, S. & Bucher, P. UCNEbase–a database of ultraconserved non-coding elements and genomic regulatory blocks Nucleic Acids Res. 41 (Database issue). D101–D109 (2013)
Acknowledgements
The authors thank F. Gage, C. Marchetto, B. Ren and F. Jin for their generosity in sharing reagents and data. This work was funded by grants from the National Institutes of Health (DK093972, HL119967, HL114010 and DK020595) to M.A.N. and (MH101820, MH090937 and DK20595) to N.J.C. J.L.G.-S. was funded by grants from the Spanish Ministerio de Economía y Competitividad (BFU2010-14839, CSD2007-00008) and the Andalusian Government (CVI-3488). C.-C.H. was supported by a grant from the Canadian Institute of Health Research. K.-H.K. is supported by a fellowship from the Heart and Stroke Foundation of Canada. S.S. is supported by an NIH postdoctoral training grant (T32HL007381)
Ethics declarations
Competing interests
The authors declare no competing financial interests.
Extended data figures and tables
Supplementary information
About this article
Cite this article
Smemo, S., Tena, J., Kim, K. et al. Obesity-associated variants within FTO form long-range functional connections with IRX3. Nature 507, 371–375 (2014). https://doi.org/10.1038/nature13138
Received:

Accepted:

Published:

Issue Date:
Comments
By submitting a comment you agree to abide by our Terms and Community Guidelines. If you find something abusive or that does not comply with our terms or guidelines please flag it as inappropriate.