Abstract
Cancer cells induce a set of adaptive response pathways to survive in the face of stressors due to inadequate vascularization1. One such adaptive pathway is the unfolded protein (UPR) or endoplasmic reticulum (ER) stress response mediated in part by the ER-localized transmembrane sensor IRE1 (ref. 2) and its substrate XBP1 (ref. 3). Previous studies report UPR activation in various human tumours4,5,6, but the role of XBP1 in cancer progression in mammary epithelial cells is largely unknown. Triple-negative breast cancer (TNBC)—a form of breast cancer in which tumour cells do not express the genes for oestrogen receptor, progesterone receptor and HER2 (also called ERBB2 or NEU)—is a highly aggressive malignancy with limited treatment options7,8. Here we report that XBP1 is activated in TNBC and has a pivotal role in the tumorigenicity and progression of this human breast cancer subtype. In breast cancer cell line models, depletion of XBP1 inhibited tumour growth and tumour relapse and reduced the CD44highCD24low population. Hypoxia-inducing factor 1α (HIF1α) is known to be hyperactivated in TNBCs9,10. Genome-wide mapping of the XBP1 transcriptional regulatory network revealed that XBP1 drives TNBC tumorigenicity by assembling a transcriptional complex with HIF1α that regulates the expression of HIF1α targets via the recruitment of RNA polymerase II. Analysis of independent cohorts of patients with TNBC revealed a specific XBP1 gene expression signature that was highly correlated with HIF1α and hypoxia-driven signatures and that strongly associated with poor prognosis. Our findings reveal a key function for the XBP1 branch of the UPR in TNBC and indicate that targeting this pathway may offer alternative treatment strategies for this aggressive subtype of breast cancer.
Relevant articles
Open Access articles citing this article.
Michael J. P. Crowley

,

Bhavneet Bhinder

…

Vivek Mittal

Nature Communications Open Access 09 January 2023

Di Xu

,

Zhen Liu

…

Jin-Hai Tang

Cell Communication and Signaling Open Access 07 November 2022

Peng Liu

,

Fuqiang Zu

…

Xiaodong Tan

Cellular & Molecular Biology Letters Open Access 08 October 2022
Access options
Subscribe to Journal
Get full journal access for 1 year
$199.00
only $3.90 per issue
All prices are NET prices.
VAT will be added later in the checkout.
Tax calculation will be finalised during checkout.
Buy article
Get time limited or full article access on ReadCube.
$32.00
All prices are NET prices.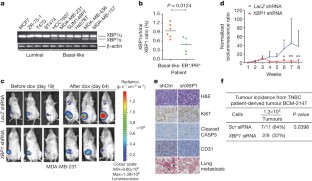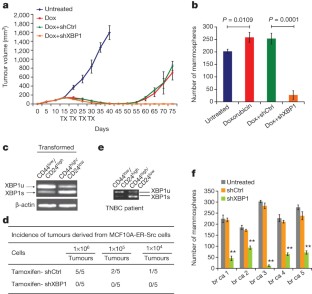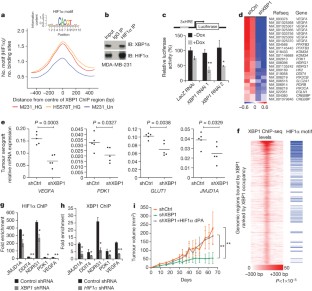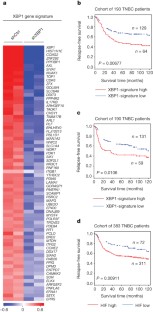 References
Hanahan, D. & Weinberg, R. A. Hallmarks of cancer: the next generation. Cell 144, 646–674 (2011)

Walter, P. & Ron, D. The unfolded protein response: from stress pathway to homeostatic regulation. Science 334, 1081–1086 (2011)

Yoshida, H., Matsui, T., Yamamoto, A., Okada, T. & Mori, K. XBP1 mRNA is induced by ATF6 and spliced by IRE1 in response to ER stress to produce a highly active transcription factor. Cell 107, 881–891 (2001)

Carrasco, D. R. et al. The differentiation and stress response factor XBP-1 drives multiple myeloma pathogenesis. Cancer Cell 11, 349–360 (2007)

De Raedt, T. et al. Exploiting cancer cell vulnerabilities to develop a combination therapy for ras-driven tumors. Cancer Cell 20, 400–413 (2011)

Mahoney, D. J. et al. Virus-tumor interactome screen reveals ER stress response can reprogram resistant cancers for oncolytic virus-triggered caspase-2 cell death. Cancer Cell 20, 443–456 (2011)

Carey, L., Winer, E., Viale, G., Cameron, D. & Gianni, L. Triple-negative breast cancer: disease entity or title of convenience? Nature Rev. Clin. Oncol. 7, 683–692 (2010)

Foulkes, W. D., Smith, I. E. & Reis-Filho, J. S. Triple-negative breast cancer. N. Engl. J. Med. 363, 1938–1948 (2010)

Montagner, M. et al. SHARP1 suppresses breast cancer metastasis by promoting degradation of hypoxia-inducible factors. Nature 487, 380–384 (2012)

The Cancer Genome Atlas Network Comprehensive molecular portraits of human breast tumours. Nature 490, 61–70 (2012)

Idowu, M. O. et al. CD44+/CD24−/low cancer stem/progenitor cells are more abundant in triple-negative invasive breast carcinoma phenotype and are associated with poor outcome. Hum. Pathol. 43, 364–373 (2012)

Lin, Y., Zhong, Y., Guan, H., Zhang, X. & Sun, Q. CD44+/CD24− phenotype contributes to malignant relapse following surgical resection and chemotherapy in patients with invasive ductal carcinoma. J. Exp. Clin. Cancer Res. 31, 59 (2012)

Creighton, C. J. et al. Residual breast cancers after conventional therapy display mesenchymal as well as tumor-initiating features. Proc. Natl Acad. Sci. USA 106, 13820–13825 (2009)

Iliopoulos, D., Hirsch, H. A. & Struhl, K. An epigenetic switch involving NF-κB, Lin28, Let-7 MicroRNA, and IL6 links inflammation to cell transformation. Cell 139, 693–706 (2009)

Iliopoulos, D., Hirsch, H. A., Wang, G. & Struhl, K. Inducible formation of breast cancer stem cells and their dynamic equilibrium with non-stem cancer cells via IL6 secretion. Proc. Natl Acad. Sci. USA 108, 1397–1402 (2011)

Schwab, L. P. et al. Hypoxia inducible factor-1α promotes primary tumor growth and tumor-initiating cell activity in breast cancer. Breast Cancer Res. 14, R6 (2012)

Conley, S. J. et al. Antiangiogenic agents increase breast cancer stem cells via the generation of tumor hypoxia. Proc. Natl Acad. Sci. USA 109, 2784–2789 (2012)

Yang, M. H. et al. Direct regulation of TWIST by HIF-1α promotes metastasis. Nature Cell Biol. 10, 295–305 (2008)

Wouters, B. G. & Koritzinsky, M. Hypoxia signalling through mTOR and the unfolded protein response in cancer. Nature Rev. Cancer 8, 851–864 (2008)

Spiotto, M. T. et al. Imaging the unfolded protein response in primary tumors reveals microenvironments with metabolic variations that predict tumor growth. Cancer Res. 70, 78–88 (2011)

Rody, A. et al. A clinically relevant gene signature in triple negative and basal-like breast cancer. Breast Cancer Res. 13, R97 (2011)

Barnard, G. A. A New Test for 2×2 Tables. Nature 156, 177 (1945)

Barnard, G. A. Significance Tests for 2×2 Tables. Biometrika 34, 123–138 (1947)

Neve, R. M. et al. A collection of breast cancer cell lines for the study of functionally distinct cancer subtypes. Cancer Cell 10, 515–527 (2006)

Chen, X. et al. Integration of external signaling pathways with the core transcriptional network in embryonic stem cells. Cell 133, 1106–1117 (2008)

Li, Q., Brown, J. B., Huang, H. & Bickel, P. J. Measuring reproducibility of high-throughput experiments. Ann. Appl. Stat. 5, 1752–1779 (2011)

Shipitsin, M. et al. Molecular definition of breast tumor heterogeneity. Cancer Cell 11, 259–273 (2007)

Tang, Q. et al. A comprehensive view of nuclear receptor cancer cistromes. Cancer Res. 71, 6940–6947 (2011)

Marotta, L. L. et al. The JAK2/STAT3 signaling pathway is required for growth of CD44+CD24− stem cell-like breast cancer cells in human tumors. J. Clin. Invest. 121, 2723–2735 (2011)

Wang, Y. et al. Gene-expression profiles to predict distant metastasis of lymph-node-negative primary breast cancer. Lancet 365, 671–679 (2005)
Acknowledgements
We thank W. G. Kaelin, A.-H. Lee, F. Martinon, M. N. Wein and X. Li for critical review of the manuscript. We are grateful to A. L. Richardson, H. Xu and J. Wang for advice and discussions. We thank L. A. Paskett, X. Liu, R. Kim and Y. Liu for technical support. This work was supported by the National Institutes of Health (CA112663 and AI32412 to L.H.G.; R01HG004069 to X.S.L.; K99CA175290 to Y.C.), the Leukemia and Lymphoma Society (to X.C.) and the National Natural Science Foundation of China (NSFC31329003 to X.S.L.).
Ethics declarations
Competing interests
L.H.G. holds equity in and is on the corporate board of directors of Bristol-Myers Squibb.
Extended data figures and tables
Supplementary information
This file contains a Supplementary Table listing genes of the XBP1 gene signature. (XLS 33 kb)
This file contains a Supplementary Table listing the clinical information of TNBC patient cohorts. (XLS 280 kb)
This file contains a Supplementary Table listing the ChIP primer sequences used in this study. (XLS 23 kb)
About this article
Cite this article
Chen, X., Iliopoulos, D., Zhang, Q. et al. XBP1 promotes triple-negative breast cancer by controlling the HIF1α pathway. Nature 508, 103–107 (2014). https://doi.org/10.1038/nature13119
Received:

Accepted:

Published:

Issue Date:

DOI: https://doi.org/10.1038/nature13119
Comments
By submitting a comment you agree to abide by our Terms and Community Guidelines. If you find something abusive or that does not comply with our terms or guidelines please flag it as inappropriate.