Abstract
Intermittent intense ultraviolet (UV) exposure represents an important aetiological factor in the development of malignant melanoma1. The ability of UV radiation to cause tumour-initiating DNA mutations in melanocytes is now firmly established2, but how the microenvironmental effects of UV radiation3,4 influence melanoma pathogenesis is not fully understood. Here we report that repetitive UV exposure of primary cutaneous melanomas in a genetically engineered mouse model5 promotes metastatic progression, independent of its tumour-initiating effects. UV irradiation enhanced the expansion of tumour cells along abluminal blood vessel surfaces and increased the number of lung metastases. This effect depended on the recruitment and activation of neutrophils, initiated by the release of high mobility group box 1 (HMGB1) from UV-damaged epidermal keratinocytes and driven by Toll-like receptor 4 (TLR4). The UV-induced neutrophilic inflammatory response stimulated angiogenesis and promoted the ability of melanoma cells to migrate towards endothelial cells and use selective motility cues on their surfaces. Our results not only reveal how UV irradiation of epidermal keratinocytes is sensed by the innate immune system, but also show that the resulting inflammatory response catalyses reciprocal melanoma–endothelial cell interactions leading to perivascular invasion, a phenomenon originally described as angiotropism in human melanomas by histopathologists6. Angiotropism represents a hitherto underappreciated mechanism of metastasis7 that also increases the likelihood of intravasation and haematogenous dissemination. Consistent with our findings, ulcerated primary human melanomas with abundant neutrophils and reactive angiogenesis frequently show angiotropism and a high risk for metastases. Our work indicates that targeting the inflammation-induced phenotypic plasticity of melanoma cells and their association with endothelial cells represent rational strategies to specifically interfere with metastatic progression.
Relevant articles
Open Access articles citing this article.
Yue Chen

,

Haoyue Hu

…

Jun He

Experimental Hematology & Oncology Open Access 16 November 2022

Khatereh Khorsandi

,

Reza Hosseinzadeh

…

Heidi Abrahamse

Inflammation and Regeneration Open Access 04 October 2022

Kaori Oka

,

Shusuke Fujioka

…

Kyoko Miura

Communications Biology Open Access 30 March 2022
Access options
Subscribe to Journal
Get full journal access for 1 year
$199.00
only $3.90 per issue
All prices are NET prices.
VAT will be added later in the checkout.
Tax calculation will be finalised during checkout.
Buy article
Get time limited or full article access on ReadCube.
$32.00
All prices are NET prices.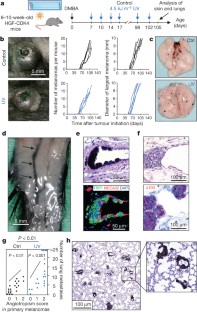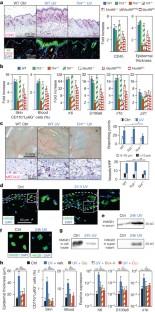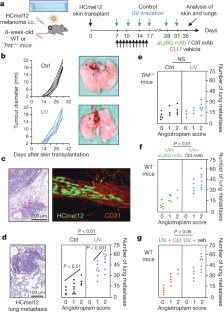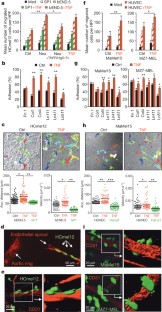 References
Chang, Y. M. et al. Sun exposure and melanoma risk at different latitudes: a pooled analysis of 5700 cases and 7216 controls. Int. J. Epidemiol. 38, 814–830 (2009)

Hodis, E. et al. A landscape of driver mutations in melanoma. Cell 150, 251–263 (2012)

Haass, N. K. & Herlyn, M. Normal human melanocyte homeostasis as a paradigm for understanding melanoma. J. Investig. Dermatol. Symp. Proc. 10, 153–163 (2005)

Zaidi, M. R. et al. Interferon-γ links ultraviolet radiation to melanomagenesis in mice. Nature 469, 548–553 (2011)

Gaffal, E. et al. Neonatal UVB exposure accelerates melanoma growth and enhances distant metastases in Hgf-Cdk4R24C C57BL/6 mice. Int. J. Cancer 129, 285–294 (2011)

Barnhill, R. L. & Lugassy, C. Angiotropic malignant melanoma and extravascular migratory metastasis: description of 36 cases with emphasis on a new mechanism of tumour spread. Pathology 36, 485–490 (2004)

Valastyan, S. & Weinberg, R. A. Tumor metastasis: molecular insights and evolving paradigms. Cell 147, 275–292 (2011)

Tronnier, M., Smolle, J. & Wolff, H. H. Ultraviolet irradiation induces acute changes in melanocytic nevi. J. Invest. Dermatol. 104, 475–478 (1995)

Bernard, J. J. et al. Ultraviolet radiation damages self noncoding RNA and is detected by TLR3. Nature Med. 18, 1286–1290 (2012)

Lange, S. S., Mitchell, D. L. & Vasquez, K. M. High mobility group protein B1 enhances DNA repair and chromatin modification after DNA damage. Proc. Natl Acad. Sci. USA 105, 10320–10325 (2008)

Yang, H. et al. A critical cysteine is required for HMGB1 binding to Toll-like receptor 4 and activation of macrophage cytokine release. Proc. Natl Acad. Sci. USA 107, 11942–11947 (2010)

Venereau, E. et al. Mutually exclusive redox forms of HMGB1 promote cell recruitment or proinflammatory cytokine release. J. Exp. Med. 209, 1519–1528 (2012)

Kirschmann, D. A., Seftor, E. A., Hardy, K. M., Seftor, R. E. & Hendrix, M. J. Molecular pathways: vasculogenic mimicry in tumor cells: diagnostic and therapeutic implications. Clin. Cancer Res. 18, 2726–2732 (2012)

Lugassy, C. et al. Pilot study on "pericytic mimicry" and potential embryonic/stem cell properties of angiotropic melanoma cells interacting with the abluminal vascular surface. Cancer Microenviron. 6, 19–29 (2013)

Schwitalla, S. et al. Intestinal tumorigenesis initiated by dedifferentiation and acquisition of stem-cell-like properties. Cell 152, 25–38 (2013)

Landsberg, J. et al. Melanomas resist T-cell therapy through inflammation-induced reversible dedifferentiation. Nature 490, 412–416 (2012)

Nagy, N. et al. Endothelial cells promote migration and proliferation of enteric neural crest cells via β1 integrin signaling. Dev. Biol. 330, 263–272 (2009)

Gupta, P. B. et al. The melanocyte differentiation program predisposes to metastasis after neoplastic transformation. Nature Genet. 37, 1047–1054 (2005)

Lugassy, C., Peault, B., Wadehra, M., Kleinman, H. K. & Barnhill, R. L. Could pericytic mimicry represent another type of melanoma cell plasticity with embryonic properties? Pigment Cell Melanoma Res. 26, 746–754 (2013)

Jensen, T. O. et al. Intratumoral neutrophils and plasmacytoid dendritic cells indicate poor prognosis and are associated with pSTAT3 expression in AJCC stage I/II melanoma. Cancer 118, 2476–2485 (2012)

Schmidt, H. et al. Pretreatment levels of peripheral neutrophils and leukocytes as independent predictors of overall survival in patients with American Joint Committee on Cancer Stage IV Melanoma: results of the EORTC 18951 Biochemotherapy Trial. J. Clin. Oncol. 25, 1562–1569 (2007)

Jablonska, J., Leschner, S., Westphal, K., Lienenklaus, S. & Weiss, S. Neutrophils responsive to endogenous IFN-β regulate tumor angiogenesis and growth in a mouse tumor model. J. Clin. Invest. 120, 1151–1164 (2010)

Eggermont, A. M. et al. Ulceration and stage are predictive of interferon efficacy in melanoma: results of the phase III adjuvant trials EORTC 18952 and EORTC 18991. Eur. J. Cancer 48, 218–225 (2012)

Mittal, D. et al. TLR4-mediated skin carcinogenesis is dependent on immune and radioresistant cells. EMBO J. 29, 2242–2252 (2010)

West, X. Z. et al. Oxidative stress induces angiogenesis by activating TLR2 with novel endogenous ligands. Nature 467, 972–976 (2010)

Kim, S. et al. Carcinoma-produced factors activate myeloid cells through TLR2 to stimulate metastasis. Nature 457, 102–106 (2009)

Hiratsuka, S. et al. Primary tumours modulate innate immune signalling to create pre-metastatic vascular hyperpermeability foci. Nature Commun. 4, 1853 (2013)

Huh, S. J., Liang, S., Sharma, A., Dong, C. & Robertson, G. P. Transiently entrapped circulating tumor cells interact with neutrophils to facilitate lung metastasis development. Cancer Res. 70, 6071–6082 (2010)

Cools-Lartigue, J. et al. Neutrophil extracellular traps sequester circulating tumor cells and promote metastasis. J. Clin. Invest. 123, 3446–3458 (2013)

Guo, Z. S., Liu, Z., Bartlett, D. L., Tang, D. & Lotze, M. T. Life after death: targeting high mobility group box 1 in emergent cancer therapies. Am. J. Cancer Res. 3, 1–20 (2013)

Kohlmeyer, J. et al. Complete regression of advanced primary and metastatic mouse melanomas following combination chemoimmunotherapy. Cancer Res. 69, 6265 (2009)

Vintersten, K. et al. Mouse in red: red fluorescent protein expression in mouse ES cells, embryos, and adult animals. Genesis 40, 241–246 (2004)

Gais, P. et al. Cutting edge: divergent cell-specific functions of MyD88 for inflammatory responses and organ injury in septic peritonitis. J. Immunol. 188, 5833–5837 (2012)

Tarutani, M. et al. Tissue-specific knockout of the mouse Pig-a gene reveals important roles for GPI-anchored proteins in skin development. Proc. Natl Acad. Sci. USA 94, 7400–7405 (1997)

Mollica, L. et al. Glycyrrhizin binds to high-mobility group box 1 protein and inhibits its cytokine activities. Chem. Biol. 14, 431–441 (2007)

Schiraldi, M. et al. HMGB1 promotes recruitment of inflammatory cells to damaged tissues by forming a complex with CXCL12 and signaling via CXCR4. J. Exp. Med. 209, 551–563 (2012)

Barnhill, R., Dy, K. & Lugassy, C. Angiotropism in cutaneous melanoma: a prognostic factor strongly predicting risk for metastasis. J. Invest. Dermatol. 119, 705–706 (2002)

Bloch, W. et al. The angiogenesis inhibitor endostatin impairs blood vessel maturation during wound healing. FASEB J. 14, 2373–2376 (2000)

Gaffal, E. et al. Cannabinoid 1 receptors in keratinocytes modulate proinflammatory chemokine secretion and attenuate contact allergic inflammation. J. Immunol. 190, 4929–4936 (2013)

Pflicke, H. & Sixt, M. Preformed portals facilitate dendritic cell entry into afferent lymphatic vessels. J. Exp. Med. 206, 2925–2935 (2009)

Kastenmüller, W., Torabi-Parizi, P., Subramanian, N., Lammermann, T. & Germain, R. N. A spatially-organized multicellular innate immune response in lymph nodes limits systemic pathogen spread. Cell 150, 1235–1248 (2012)

Nicosia, R. F. The aortic ring model of angiogenesis: a quarter century of search and discovery. J. Cell. Mol. Med. 13, 4113–4136 (2009)

Baker, M. et al. Use of the mouse aortic ring assay to study angiogenesis. Nature Protocols 7, 89–104 (2011)

Gentleman, R. C. et al. Bioconductor: open software development for computational biology and bioinformatics. Genome Biol. 5, R80 (2004)

Dunning, M. J., Smith, M. L., Ritchie, M. E. & Tavare, S. beadarray: R classes and methods for Illumina bead-based data. Bioinformatics 23, 2183–2184 (2007)

Falcon, S. & Gentleman, R. Using GOstats to test gene lists for GO term association. Bioinformatics 23, 257–258 (2007)

Huber, W., von Heydebreck A, Sültmann, H., Poustka, A. & Vingron, M. Variance stabilization applied to microarray data calibration and to the quantification of differential expression. Bioinformatics 18,, (suppl. 1)S96–S104 (2002)

Gautier, L., Cope, L., Bolstad, B. M. & Irizarry, R. A. affy–analysis of Affymetrix GeneChip data at the probe level. Bioinformatics 20, 307–315 (2004)

Kholmanskikh, O. et al. Interleukins 1α and 1β secreted by some melanoma cell lines strongly reduce expression of MITF-M and melanocyte differentiation antigens. Int. J. Cancer 127, 1625–1636 (2010)

Supek, F., Bosnjak, M., Skunca, N. & Smuc, T. REVIGO summarizes and visualizes long lists of gene ontology terms. PLoS ONE 6, e21800 (2011)

Lin, W. M. et al. Modeling genomic diversity and tumor dependency in malignant melanoma. Cancer Res. 68, 664–673 (2008)
Acknowledgements
We would like to thank the following individuals for their support: G. Merlino, M. Barbacid, A. Nagy, M. Gertsenstein and J. Takeda for generously providing genetically engineered mice; S. Bald, A. Sporleder, C. Lemke, T. Artz and P. Aymans for managing the mouse colony and performing tumour analyses. This research was funded in part by the following grants: Deutsche Krebshilfe P9 in the Melanoma Research Network and DFG A12 in the SFB832 as well as A22 in the SFB704 to T.T., BONFOR to J.L., J.K. and C.H.-H., DFG SFB832 core support and HO 4281/2-1 to M.H., DFG A7 in the SFB832 and A2 in the SFB829 to M.K., DFG A8 in the SFB704 to W. Ko., DFG A1 in the SFB704 to I.F., DFG SFB829 Z2 to W.B., NRW junior research group to D.W., Jürgen Manchot Stiftung to H.W. and AIRC to M.E.B. Additionally, the DFG supports I.F., W.Ka., W.Ko., M.H. and T.T. as members of the Excellence Cluster ImmunoSensation.
Ethics declarations
Competing interests
The authors declare no competing financial interests.
Extended data figures and tables
Supplementary information
About this article
Cite this article
Bald, T., Quast, T., Landsberg, J. et al. Ultraviolet-radiation-induced inflammation promotes angiotropism and metastasis in melanoma. Nature 507, 109–113 (2014). https://doi.org/10.1038/nature13111
Received:

Accepted:

Published:

Issue Date:

DOI: https://doi.org/10.1038/nature13111
Comments
By submitting a comment you agree to abide by our Terms and Community Guidelines. If you find something abusive or that does not comply with our terms or guidelines please flag it as inappropriate.