Abstract
Epithelial folding mediated by apical constriction converts flat epithelial sheets into multilayered, complex tissue structures and is used throughout development in most animals1. Little is known, however, about how forces produced near the apical surface of the tissue are transmitted within individual cells to generate the global changes in cell shape that characterize tissue deformation. Here we apply particle tracking velocimetry in gastrulating Drosophila embryos to measure the movement of cytoplasm and plasma membrane during ventral furrow formation2,3. We find that cytoplasmic redistribution during the lengthening phase of ventral furrow formation can be precisely described by viscous flows that quantitatively match the predictions of hydrodynamics. Cell membranes move with the ambient cytoplasm, with little resistance to, or driving force on, the flow. Strikingly, apical constriction produces similar flow patterns in mutant embryos that fail to form cells before gastrulation ('acellular' embryos), such that the global redistribution of cytoplasm mirrors the summed redistribution occurring in individual cells of wild-type embryos. Our results indicate that during the lengthening phase of ventral furrow formation, hydrodynamic behaviour of the cytoplasm provides the predominant mechanism transmitting apically generated forces deep into the tissue and that cell individualization is dispensable.
Relevant articles
Open Access articles citing this article.
Guillermo Martínez-Ara

,

Núria Taberner

…

Miki Ebisuya

Nature Communications Open Access 14 September 2022

Julien Fierling

,

Alphy John

…

Matteo Rauzi

Nature Communications Open Access 10 June 2022

Japinder Nijjer

,

Changhao Li

…

Jing Yan

Nature Communications Open Access 17 November 2021
Access options
Subscribe to this journal
Receive 51 print issues and online access
$199.00 per year
only $3.90 per issue
Rent or buy this article
Prices vary by article type
from$1.95
to$39.95
Prices may be subject to local taxes which are calculated during checkout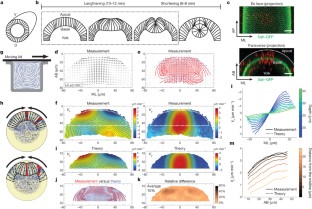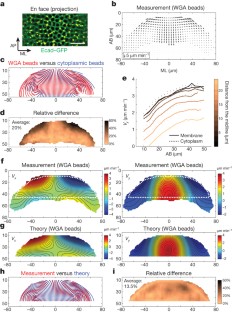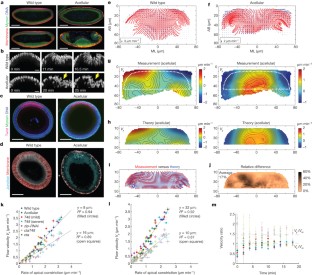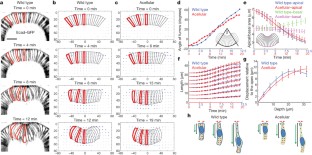 References
Sawyer, J. M. et al. Apical constriction: a cell shape change that can drive morphogenesis. Dev. Biol. 341, 5–19 (2010)

Leptin, M. & Grunewald, B. Cell shape changes during gastrulation in Drosophila. Development 110, 73–84 (1990)

Sweeton, D., Parks, S., Costa, M. & Wieschaus, E. Gastrulation in Drosophila: the formation of the ventral furrow and posterior midgut invaginations. Development 112, 775–789 (1991)

Martin, A. C., Kaschube, M. & Wieschaus, E. F. Pulsed contractions of an actin-myosin network drive apical constriction. Nature 457, 495–499 (2009)

Odell, G. M., Oster, G., Alberch, P. & Burnside, B. The mechanical basis of morphogenesis. I. Epithelial folding and invagination. Dev. Biol. 85, 446–462 (1981)

Brodland, G. W., Viens, D. & Veldhuis, J. H. A new cell-based FE model for the mechanics of embryonic epithelia. Comput. Methods Biomech. Biomed. Eng. 10, 121–128 (2007)

Conte, V., Munoz, J. J., Baum, B. & Miodownik, M. Robust mechanisms of ventral furrow invagination require the combination of cellular shape changes. Phys. Biol. 6, 016010 (2009)

Brodland, G. W. & Clausi, D. A. Embryonic tissue morphogenesis modeled by FEM. J. Biomech. Eng. 116, 146–155 (1994)

Pouille, P. A. & Farge, E. Hydrodynamic simulation of multicellular embryo invagination. Phys. Biol. 5, 015005 (2008)

Conte, V. et al. A biomechanical analysis of ventral furrow formation in the Drosophila melanogaster embryo. PLoS ONE 7, e34473 (2012)

Kaplan, D. R. & Hagemann, W. The relationship of cell and organism in vascular plants. Bioscience 41, 693–703 (1991)

Davidson, L. A. Embryo mechanics: balancing force production with elastic resistance during morphogenesis. Curr. Top. Dev. Biol. 95, 215–241 (2011)

Mason, T. G., Ganesan, K., van Zanten, J. H., Wirtz, D. & Kuo, S. C. Particle tracking microrheology of complex fluids. Phys. Rev. Lett. 79, 3282–3285 (1997)

Wirtz, D. Particle-tracking microrheology of living cells: principles and applications. Annu Rev Biophys 38, 301–326 (2009)

Lecuit, T. & Wieschaus, E. Polarized insertion of new membrane from a cytoplasmic reservoir during cleavage of the Drosophila embryo. J. Cell Biol. 150, 849–860 (2000)

Lecuit, T., Samanta, R. & Wieschaus, E. slam encodes a developmental regulator of polarized membrane growth during cleavage of the Drosophila embryo. Dev. Cell 2, 425–436 (2002)

Leptin, M. twist and snail as positive and negative regulators during Drosophila mesoderm development. Genes Dev. 5, 1568–1576 (1991)

Goldstein, R. E., Tuval, I. & van de Meent, J. W. Microfluidics of cytoplasmic streaming and its implications for intracellular transport. Proc. Natl Acad. Sci. USA 105, 3663–3667 (2008)

Niwayama, R., Shinohara, K. & Kimura, A. Hydrodynamic property of the cytoplasm is sufficient to mediate cytoplasmic streaming in the Caenorhabditis elegans embryo. Proc. Natl Acad. Sci. USA 108, 11900–11905 (2011)

Glotzer, J. B., Saffrich, R., Glotzer, M. & Ephrussi, A. Cytoplasmic flows localize injected oskar RNA in Drosophila oocytes. Curr. Biol. 7, 326–337 (1997)

Brodu, V. & Casanova, J. The RhoGAP crossveinless-c links trachealess and EGFR signaling to cell shape remodeling in Drosophila tracheal invagination. Genes Dev. 20, 1817–1828 (2006)

Hardin, J. & Keller, R. The behaviour and function of bottle cells during gastrulation of Xenopus laevis. Development 103, 211–230 (1988)

Sadler, T. W. Embryology of neural tube development. Am. J. Med. Genet. C. Semin. Med. Genet. 135C, 2–8 (2005)

Royou, A., Sullivan, W. & Karess, R. Cortical recruitment of nonmuscle myosin II in early syncytial Drosophila embryos: its role in nuclear axial expansion and its regulation by Cdc2 activity. J. Cell Biol. 158, 127–137 (2002)

Oda, H. & Tsukita, S. Real-time imaging of cell-cell adherens junctions reveals that Drosophila mesoderm invagination begins with two phases of apical constriction of cells. J. Cell Sci. 114, 493–501 (2001)

Clarkson, M. & Saint, R. A. His2AvDGFP fusion gene complements a lethal His2AvD mutant allele and provides an in vivo marker for Drosophila chromosome behavior. DNA Cell Biol. 18, 457–462 (1999)

Bellen, H. J. et al. The BDGP gene disruption project: single transposon insertions associated with 40% of Drosophila genes. Genetics 167, 761–781 (2004)

Welte, M. A., Gross, S. P., Postner, M., Block, S. M. & Wieschaus, E. F. Developmental regulation of vesicle transport in Drosophila embryos: forces and kinetics. Cell 92, 547–557 (1998)

Merrill, P. T., Sweeton, D. & Wieschaus, E. Requirements for autosomal gene activity during precellular stages of Drosophila melanogaster. Development 104, 495–509 (1988)

Kolsch, V., Seher, T., Fernandez-Ballester, G. J., Serrano, L. & Leptin, M. Control of Drosophila gastrulation by apical localization of adherens junctions and RhoGEF2. Science 315, 384–386 (2007)

Parks, S. & Wieschaus, E. The Drosophila gastrulation gene concertina encodes a G alpha-like protein. Cell 64, 447–458 (1991)

Denk, W., Strickler, J. H. & Webb, W. W. Two-photon laser scanning fluorescence microscopy. Science 248, 73–76 (1990)

Pologruto, T. A., Sabatini, B. L. & Svoboda, K. ScanImage: flexible software for operating laser scanning microscopes. Biomed. Eng. Online 2, 13 (2003)

Savin, T. & Doyle, P. S. Static and dynamic errors in particle tracking microrheology. Biophys. J. 88, 623–638 (2005)

Happel, J. R. & Brenner, H. Low Reynolds Number Hydrodynamics: With Special Applications to Particulate Media (Prentice-Hall, 1965)

Pozrikidis, C. Interfacial dynamics for Stokes flow. J. Comput. Phys. 169, 250–301 (2001)

Peifer, M., Sweeton, D., Casey, M. & Wieschaus, E. wingless signal and Zeste-white 3 kinase trigger opposing changes in the intracellular distribution of Armadillo. Development 120, 369–380 (1994)
Acknowledgements
We thank S. Thiberge (Imaging core facility) for two-photon microscopy. We thank N. Wingreen, C. Brangwynne, C. Brody, H. Stone, S. Little, S. Di Talia, Y.-C. Wang and Y. Yan for their suggestions on the manuscript. We thank all members of the Wieschaus and Schupbach laboratories for discussions. This work was supported by the National Institutes of Health (National Institute of Child Health and Human Development grant 5R37HD15587) to E.F.W. and by the Howard Hughes Medical Institute. B.H. was supported by the New Jersey Commission on Cancer Research Fellowship. The Imaging core facility was supported by National Institutes of Health Grant P50 GM 071508.
Ethics declarations
Competing interests
The authors declare no competing financial interests.
Extended data figures and tables
Supplementary information
About this article
Cite this article
He, B., Doubrovinski, K., Polyakov, O. et al. Apical constriction drives tissue-scale hydrodynamic flow to mediate cell elongation. Nature 508, 392–396 (2014). https://doi.org/10.1038/nature13070
Received:

Accepted:

Published:

Issue Date:

DOI: https://doi.org/10.1038/nature13070
Comments
By submitting a comment you agree to abide by our Terms and Community Guidelines. If you find something abusive or that does not comply with our terms or guidelines please flag it as inappropriate.