Abstract
In plants, post-transcriptional gene silencing (PTGS) is mediated by DICER-LIKE 1 (DCL1)-dependent microRNAs (miRNAs), which also trigger 21-nucleotide secondary short interfering RNAs (siRNAs) via RNA-DEPENDENT RNA POLYMERASE 6 (RDR6), DCL4 and ARGONAUTE 1 (AGO1)1,2,3, whereas transcriptional gene silencing (TGS) of transposons is mediated by 24-nucleotide heterochromatic (het)siRNAs, RDR2, DCL3 and AGO4 (ref. 4). Transposons can also give rise to abundant 21-nucleotide 'epigenetically activated' small interfering RNAs (easiRNAs) in DECREASED DNA METHYLATION 1 (ddm1) and DNA METHYLTRANSFERASE 1 (met1) mutants, as well as in the vegetative nucleus of pollen grains5 and in dedifferentiated plant cell cultures6. Here we show that easiRNAs in Arabidopsis thaliana resemble secondary siRNAs, in that thousands of transposon transcripts are specifically targeted by more than 50 miRNAs for cleavage and processing by RDR6. Loss of RDR6, DCL4 or DCL1 in a ddm1 background results in loss of 21-nucleotide easiRNAs and severe infertility, but 24-nucleotide hetsiRNAs are partially restored, supporting an antagonistic relationship between PTGS and TGS. Thus miRNA-directed easiRNA biogenesis is a latent mechanism that specifically targets transposon transcripts, but only when they are epigenetically reactivated during reprogramming of the germ line. This ancient recognition mechanism may have been retained both by transposons to evade long-term heterochromatic silencing and by their hosts for genome defence.
Access options
Subscribe to Journal
Get full journal access for 1 year
$199.00
only $3.90 per issue
All prices are NET prices.
VAT will be added later in the checkout.
Tax calculation will be finalised during checkout.
Rent or Buy article
Get time limited or full article access on ReadCube.
from$8.99
All prices are NET prices.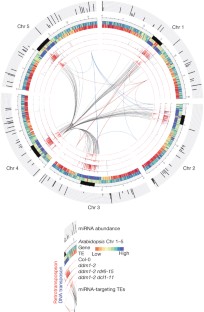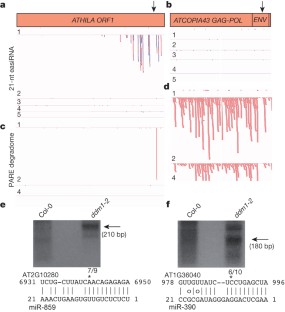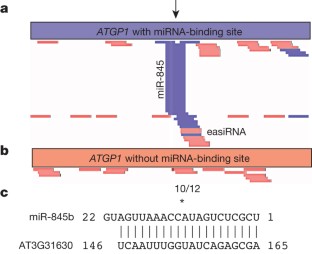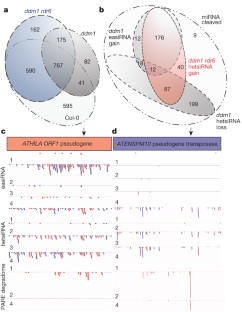 References
1

Allen, E., Xie, Z., Gustafson, A. M. & Carrington, J. C. microRNA-directed phasing during trans-acting siRNA biogenesis in plants. Cell 121, 207–221 (2005)

2

Ronemus, M., Vaughn, M. W. & Martienssen, R. A. MicroRNA-targeted and small interfering RNA-mediated mRNA degradation is regulated by Argonaute, Dicer, and RNA-dependent RNA polymerase in Arabidopsis. Plant Cell 18, 1559–1574 (2006)

3

Cuperus, J. T. et al. Unique functionality of 22-nt miRNAs in triggering RDR6-dependent siRNA biogenesis from target transcripts in Arabidopsis. Nature Struct. Mol. Biol. 17, 997–1003 (2010)

4

Law, J. A. & Jacobsen, S. E. Establishing, maintaining and modifying DNA methylation patterns in plants and animals. Nature Rev. Genet. 11, 204–220 (2010)

5

Slotkin, R. K. et al. Epigenetic reprogramming and small RNA silencing of transposable elements in pollen. Cell 136, 461–472 (2009)

6

Tanurdzic, M. et al. Epigenomic consequences of immortalized plant cell suspension culture. PLoS Biol. 6, e302 (2008)

7

McCue, A. D., Nuthikattu, S., Reeder, S. H. & Slotkin, R. K. Gene expression and stress response mediated by the epigenetic regulation of a transposable element small RNA. PLoS Genet. 8, e1002474 (2012)

8

Nuthikattu, S. et al. The initiation of epigenetic silencing of active transposable elements is triggered by RDR6 and 21–22 nucleotide small interfering RNAs. Plant Physiol. 162, 116–131 (2013)

9

Mirouze, M. et al. Selective epigenetic control of retrotransposition in Arabidopsis. Nature 461, 427–430 (2009)

10

Miura, A. et al. Mobilization of transposons by a mutation abolishing full DNA methylation in Arabidopsis. Nature 411, 212–214 (2001)

11

German, M. A., Luo, S., Schroth, G., Meyers, B. C. & Green, P. J. Construction of Parallel Analysis of RNA Ends (PARE) libraries for the study of cleaved miRNA targets and the RNA degradome. Nature Protocols 4, 356–362 (2009)

12

Hsieh, T. F. et al. Genome-wide demethylation of Arabidopsis endosperm. Science 324, 1451–1454 (2009)

13

Gehring, M. et al. DEMETER DNA glycosylase establishes MEDEA polycomb gene self-imprinting by allele-specific demethylation. Cell 124, 495–506 (2006)

14

Schwab, R., Speth, C., Laubinger, S. & Voinnet, O. Enhanced microRNA accumulation through stemloop-adjacent introns. EMBO Rep. 14, 615–621 (2013)

15

Jeong, D. H. et al. Massive analysis of rice small RNAs: mechanistic implications of regulated microRNAs and variants for differential target RNA cleavage. Plant Cell 23, 4185–4207 (2011)

16

Axtell, M. J. & Bartel, D. P. Antiquity of microRNAs and their targets in land plants. Plant Cell 17, 1658–1673 (2005)

17

Chen, H. M. et al. 22-Nucleotide RNAs trigger secondary siRNA biogenesis in plants. Proc. Natl Acad. Sci. USA 107, 15269–15274 (2010)

18

Marí-Ordóñez, A. et al. Reconstructing de novo silencing of an active plant retrotransposon. Nature Genet. 45, 1029–1039 (2013)

19

Wu, L. et al. DNA methylation mediated by a microRNA pathway. Mol. Cell 38, 465–475 (2010)

20

Jauvion, V., Rivard, M., Bouteiller, N., Elmayan, T. & Vaucheret, H. RDR2 partially antagonizes the production of RDR6-dependent siRNA in sense transgene-mediated PTGS. PLoS ONE 7, e29785 (2012)

21

Slotkin, R. K., Freeling, M. & Lisch, D. Heritable transposon silencing initiated by a naturally occurring transposon inverted duplication. Nature Genet. 37, 641–644 (2005)

22

Stroud, H., Greenberg, M. V. C., Feng, S., Bernatavichute, Y. V. & Jacobsen, S. E. Comprehensive analysis of silencing mutants reveals complex regulation of the Arabidopsis methylome. Cell 152, 352–364 (2013)

23

Jeddeloh, J. A., Stokes, T. L. & Richards, E. J. Maintenance of genomic methylation requires a SWI2/SNF2-like protein. Nature Genet. 22, 94–97 (1999)

24

Teixeira, F. K. et al. A role for RNAi in the selective correction of DNA methylation defects. Science 323, 1600–1604 (2009)

25

Poethig, R. S. Small RNAs and developmental timing in plants. Curr. Opin. Genet. Dev. 19, 374–378 (2009)

26

Poethig, R. S. Phase change and the regulation of shoot morphogenesis in plants. Science 250, 923–930 (1990)

27

Calarco, J. P. et al. Reprogramming of DNA methylation in pollen guides epigenetic inheritance via small RNA. Cell 151, 194–205 (2012)

28

Mosher, R. A. et al. Uniparental expression of PolIV-dependent siRNAs in developing endosperm of Arabidopsis. Nature 460, 283–286 (2009)

29

Bagijn, M. P. et al. Function, targets, and evolution of Caenorhabditis elegans piRNAs. Science 337, 574–578 (2012)

30

Shirayama, M. et al. piRNAs initiate an epigenetic memory of nonself RNA in the C. elegans germline. Cell 150, 65–77 (2012)

31

Regulski, M. et al. The maize methylome influences mRNA splice sites and reveals widespread paramutation-like switches guided by small RNA. Genome Res. 23, 1651–1662 (2013)

32

Krueger, F. & Andrews, S. R. Bismark: a flexible aligner and methylation caller for Bisulfite-Seq applications. Bioinformatics 27, 1571–1572 (2011)

33

Zhai, J. et al. MicroRNAs as master regulators of the plant NB-LRR defense gene family via the production of phased, trans-acting siRNAs. Genes Dev. 25, 2540–2553 (2011)
Acknowledgements
We thank V. Colot, O. Voinnet and A. Sarazin for sharing unpublished data and for discussions, J. Simorowski for plant genetics and J. Kendall for computational advice. We thank R.K. Slotkin for sharing data before publication. K.M.C. and M.R. were supported, in part, by a research collaboration with DuPont Pioneer. F.V.E. was supported by a fellowship from the Belgian American Educational Foundation. J.Z. was supported by a University of Delaware Graduate fellowship. Research in the Martienssen laboratory is supported by a grant from the National Institutes of Health (RO1GM067014 to R.A.M.) and by the Howard Hughes Medical Institute and Gordon and Betty Moore Foundation (GBMF3033). The authors acknowledge that this work was performed with assistance from the Cold Spring Harbor Laboratory Shared Resources, which are funded, in part, by the Cancer Center Support Grant (5PP30CA045508).
Ethics declarations
Competing interests
The authors declare no competing financial interests.
Extended data figures and tables
Supplementary information
About this article
Cite this article
Creasey, K., Zhai, J., Borges, F. et al. miRNAs trigger widespread epigenetically activated siRNAs from transposons in Arabidopsis. Nature 508, 411–415 (2014). https://doi.org/10.1038/nature13069
Received:

Accepted:

Published:

Issue Date:
Comments
By submitting a comment you agree to abide by our Terms and Community Guidelines. If you find something abusive or that does not comply with our terms or guidelines please flag it as inappropriate.