Abstract
Many aspects of cellular physiology remain unstudied in somatic stem cells, for example, there are almost no data on protein synthesis in any somatic stem cell. Here we set out to compare protein synthesis in haematopoietic stem cells (HSCs) and restricted haematopoietic progenitors. We found that the amount of protein synthesized per hour in HSCs in vivo was lower than in most other haematopoietic cells, even if we controlled for differences in cell cycle status or forced HSCs to undergo self-renewing divisions. Reduced ribosome function in Rpl24Bst/+ mice further reduced protein synthesis in HSCs and impaired HSC function. Pten deletion increased protein synthesis in HSCs but also reduced HSC function. Rpl24Bst/+ cell-autonomously rescued the effects of Pten deletion in HSCs; blocking the increase in protein synthesis, restoring HSC function, and delaying leukaemogenesis. Pten deficiency thus depletes HSCs and promotes leukaemia partly by increasing protein synthesis. Either increased or decreased protein synthesis impairs HSC function.
Access options
Subscribe to Journal
Get full journal access for 1 year
$199.00
only $3.90 per issue
All prices are NET prices.
VAT will be added later in the checkout.
Tax calculation will be finalised during checkout.
Rent or Buy article
Get time limited or full article access on ReadCube.
from$8.99
All prices are NET prices.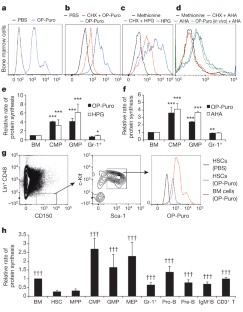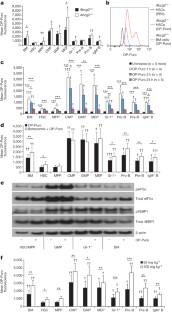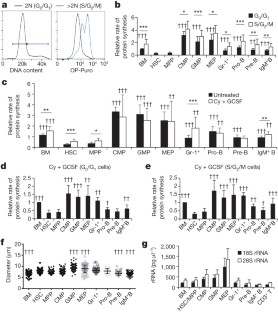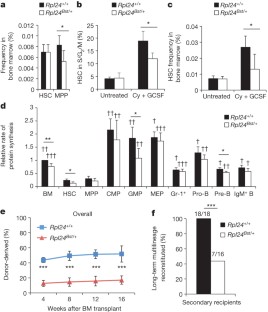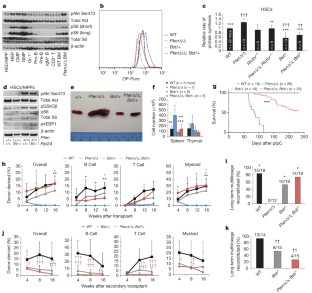 References
1

Narla, A. & Ebert, B. L. Ribosomopathies: human disorders of ribosome dysfunction. Blood 115, 3196–3205 (2010)

2

Sakamoto, K. M., Shimamura, A. & Davies, S. M. Congenital disorders of ribosome biogenesis and bone marrow failure. Biol. Blood Marrow Transplant. 16, S12–S17 (2010)

3

Hsieh, A. C. et al. Genetic dissection of the oncogenic mTOR pathway reveals druggable addiction to translational control via 4EBP-eIF4E. Cancer Cell 17, 249–261 (2010)

4

Barna, M. et al. Suppression of Myc oncogenic activity by ribosomal protein haploinsufficiency. Nature 456, 971–975 (2008)

5

Hsieh, A. C. et al. The translational landscape of mTOR signalling steers cancer initiation and metastasis. Nature 485, 55–61 (2012)

6

Ruggero, D. & Pandolfi, P. P. Does the ribosome translate cancer? Nature Rev. Cancer 3, 179–192 (2003)

7

Jaako, P. et al. Mice with ribosomal protein S19 deficiency develop bone marrow failure and symptoms like patients with Diamond–Blackfan anemia. Blood 118, 6087–6096 (2011)

8

Wong, C. C., Traynor, D., Basse, N., Kay, R. R. & Warren, A. J. Defective ribosome assembly in Shwachman–Diamond syndrome. Blood 118, 4305–4312 (2011)

9

Danilova, N., Sakamoto, K. M. & Lin, S. Ribosomal protein S19 deficiency in zebrafish leads to developmental abnormalities and defective erythropoiesis through activation of p53 protein family. Blood 112, 5228–5237 (2008)

10

Sen, S. et al. The ribosome-related protein, SBDS, is critical for normal erythropoiesis. Blood 118, 6407–6417 (2011)

11

Payne, E. M. et al. L–Leucine improves the anemia and developmental defects associated with Diamond-Blackfan anemia and del(5q) MDS by activating the mTOR pathway. Blood 120, 2214–2224 (2012)

12

Beatty, K. E. et al. Fluorescence visualization of newly synthesized proteins in mammalian cells. Angew. Chem. Int. Edn Engl. 45, 7364–7367 (2006)

13

Nathans, D. Puromycin inhibition of protein synthesis: incorporation of puromycin into peptide chains. Proc. Natl Acad. Sci. USA 51, 585–592 (1964)

14

Schmidt, E. K., Clavarino, G., Ceppi, M. & Pierre, P. SUnSET, a nonradioactive method to monitor protein synthesis. Nature Methods 6, 275–277 (2009)

15

Starck, S. R., Green, H. M., Alberola-Ila, J. & Roberts, R. W. A general approach to detect protein expression in vivo using fluorescent puromycin conjugates. Chem. Biol. 11, 999–1008 (2004)

16

Joseph, N. M. & Morrison, S. J. Toward and understanding of the physiological function of mammalian stem cells. Dev. Cell 173–183 (2005)

17

Liu, J., Xu, Y., Stoleru, D. & Salic, A. Imaging protein synthesis in cells and tissues with an alkyne analog of puromycin. Proc. Natl Acad. Sci. USA 109, 413–418 (2012)

18

Kiel, M. J. et al. SLAM family receptors distinguish hematopoietic stem and progenitor cells and reveal endothelial niches for stem cells. Cell 121, 1109–1121 (2005)

19

Oguro, H., Ding, L. & Morrison, S. J. SLAM family markers resolve functionally distinct subpopulations of hematopoietic stem cells and multipotent progenitors. Cell Stem Cell 13, 102–116 (2013)

20

Zhou, S. et al. Bcrp1 gene expression is required for normal numbers of side population stem cells in mice, and confers relative protection to mitoxantrone in hematopoietic cells in vivo . Proc. Natl Acad. Sci. USA 99, 12339–12344 (2002)

21

Ciechanover, A., Finley, D. & Varshavsky, A. Ubiquitin dependence of selective protein degradation demonstrated in the mammalian cell cycle mutant ts85. Cell 37, 57–66 (1984)

22

Luker, G. D., Pica, C. M., Song, J., Luker, K. E. & Piwnica-Worms, D. Imaging 26S proteasome activity and inhibition in living mice. Nature Med. 9, 969–973 (2003)

23

Gingras, A. C., Raught, B. & Sonenberg, N. Regulation of translation initiation by FRAP/mTOR. Genes Dev. 15, 807–826 (2001)

24

Wek, R. C., Jiang, H. Y. & Anthony, T. G. Coping with stress: eIF2 kinases and translational control. Biochem. Soc. Trans. 34, 7–11 (2006)

25

Morrison, S. J., Wright, D. & Weissman, I. L. Cyclophosphamide/granulocyte colony-stimulating factor induces hematopoietic stem cells to proliferate prior to mobilization. Proc. Natl Acad. Sci. USA 94, 1908–1913 (1997)

26

Oliver, E. R., Saunders, T. L., Tarle, S. A. & Glaser, T. Ribosomal protein L24 defect in belly spot and tail (Bst), a mouse Minute . Development 131, 3907–3920 (2004)

27

Fumagalli, S. & Thomas, G. The role of p53 in ribosomopathies. Semin. Hematol. 48, 97–105 (2011)

28

Barkić, M. et al. The p53 tumor suppressor causes congenital malformations in Rpl24-deficient mice and promotes their survival. Mol. Cell. Biol. 29, 2489–2504 (2009)

29

Lee, J. Y. et al. mTOR activation induces tumor suppressors that inhibit leukemogenesis and deplete hematopoietic stem cells after Pten deletion. Cell Stem Cell 7, 593–605 (2010)

30

Magee, J. A. et al. Temporal changes in PTEN and mTORC2 regulation of hematopoietic stem cell self-renewal and leukemia suppression. Cell Stem Cell 11, 415–428 (2012)

31

Yilmaz, O. H. et al. Pten dependence distinguishes haematopoietic stem cells from leukaemia-initiating cells. Nature 441, 475–482 (2006)

32

Kalaitzidis, D. et al. mTOR Complex 1 plays critical roles in hematopoiesis and pten-loss-evoked leukemogenesis. Cell Stem Cell 11, 429–439 (2012)

33

Zhang, J. et al. PTEN maintains haematopoietic stem cells and acts in lineage choice and leukaemia prevention. Nature 441, 518–522 (2006)

34

Zinzalla, V., Stracka, D., Oppliger, W. & Hall, M. N. Activation of mTORC2 by association with the ribosome. Cell 144, 757–768 (2011)

35

Guo, W. et al. Multi-genetic events collaboratively contribute to Pten-null leukaemia stem-cell formation. Nature 453, 529–533 (2008)

36

Ruggero, D. Translational control in cancer etiology. Cold Spring Harb. Perspect. Biol. 5, a012336 (2013)

37

Dahlberg, A., Delaney, C. & Bernstein, I. D. Ex vivo expansion of human hematopoietic stem and progenitor cells. Blood 117, 6083–6090 (2011)

38

Huang, J., Nguyen-McCarty, M., Hexner, E. O., Danet-Desnoyers, G. & Klein, P. S. Maintenance of hematopoietic stem cells through regulation of Wnt and mTOR pathways. Nature Med. 18, 1778–1785 (2012)

39

Vilchez, D. et al. Increased proteasome activity in human embryonic stem cells is regulated by PSMD11. Nature 489, 304–308 (2012)

40

Vilchez, D. et al. RPN-6 determines C. elegans longevity under proteotoxic stress conditions. Nature 489, 263–268 (2012)

41

Signer, R. A. & Morrison, S. J. Mechanisms that regulate stem cell aging and life span. Cell Stem Cell 12, 152–165 (2013)

42

Groszer, M. et al. PTEN negatively regulates neural stem cell self-renewal by modulating G0-G1 cell cycle entry. Proc. Natl Acad. Sci. USA 103, 111–116 (2006)

43

Kühn, R., Schwenk, F., Aguet, M. & Rajewsky, K. Inducible gene targeting in mice. Science 269, 1427–1429 (1995)

44

Jonker, J. W. et al. The breast cancer resistance protein protects against a major chlorophyll-derived dietary phototoxin and protoporphyria. Proc. Natl Acad. Sci. USA 99, 15649–15654 (2002)

45

Jacks, T. et al. Tumor spectrum analysis in p53-mutant mice. Curr. Biol. 4, 1–7 (1994)

46

Akashi, K., Traver, D., Miyamoto, T. & Weissman, I. L. A clonogenic common myeloid progenitor that gives rise to all myeloid lineages. Nature 404, 193–197 (2000)

47

Hardy, R. R., Carmack, C. E., Shinton, S. A., Kemp, J. D. & Hayakawa, K. Resolution and characterization of pro-B and pre-pro-B cell stages in normal mouse bone marrow. J. Exp. Med. 173, 1213–1225 (1991)
Acknowledgements
S.J.M. is a Howard Hughes Medical Institute Investigator, the Mary McDermott Cook Chair in Pediatric Genetics, and the director of the Hamon Laboratory for Stem Cells and Cancer. This work was supported by the Cancer Prevention and Research Institute of Texas and the National Institute on Aging (R37 AG024945). R.A.J.S. was supported by fellowships from the Leukemia & Lymphoma Society (5541-11) and the Canadian Institutes of Health Research (MFE-106993). J.A.M. was supported by the UT Southwestern K12 Pediatrics Training Grant (K12-HD068369). We thank A. Pineda, K. Cowan, E. Daniel, M. Acar, H. Oguro, J. Peyer, K. Rajagopalan, M. Agathocleous and E. Piskounova for technical support and advice; N. Loof and the Moody Foundation Flow Cytometry Facility, L. Hynan and J. Reisch for advice regarding statistics; J. Shelton for histology; and R. Coolon, S. Manning, M. Gross and K. Correll for mouse colony management.
Ethics declarations
Competing interests
The authors declare no competing financial interests.
Extended data figures and tables
About this article
Cite this article
Signer, R., Magee, J., Salic, A. et al. Haematopoietic stem cells require a highly regulated protein synthesis rate. Nature 509, 49–54 (2014). https://doi.org/10.1038/nature13035
Received:

Accepted:

Published:

Issue Date:
Comments
By submitting a comment you agree to abide by our Terms and Community Guidelines. If you find something abusive or that does not comply with our terms or guidelines please flag it as inappropriate.