Abstract
Characterization of how the microenvironment, or niche, regulates stem cell activity is central to understanding stem cell biology and to developing strategies for the therapeutic manipulation of stem cells1. Low oxygen tension (hypoxia) is commonly thought to be a shared niche characteristic in maintaining quiescence in multiple stem cell types2,3,4. However, support for the existence of a hypoxic niche has largely come from indirect evidence such as proteomic analysis5, expression of hypoxia inducible factor-1α (Hif-1α) and related genes6, and staining with surrogate hypoxic markers (for example, pimonidazole)6,7,8. Here we perform direct in vivo measurements of local oxygen tension () in the bone marrow of live mice. Using two-photon phosphorescence lifetime microscopy, we determined the absolute of the bone marrow to be quite low (<32 mm Hg) despite very high vascular density. We further uncovered heterogeneities in local , with the lowest (∼9.9 mm Hg, or 1.3%) found in deeper peri-sinusoidal regions. The endosteal region, by contrast, is less hypoxic as it is perfused with small arteries that are often positive for the marker nestin. These values change markedly after radiation and chemotherapy, pointing to the role of stress in altering the stem cell metabolic microenvironment.
Access options
Subscribe to Journal
Get full journal access for 1 year
$199.00
only $3.90 per issue
All prices are NET prices.
VAT will be added later in the checkout.
Rent or Buy article
Get time limited or full article access on ReadCube.
from$8.99
All prices are NET prices.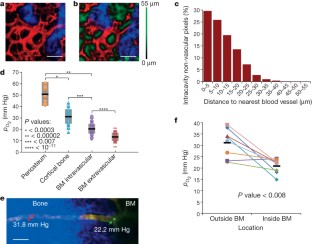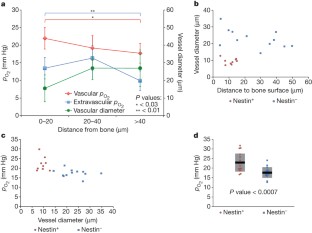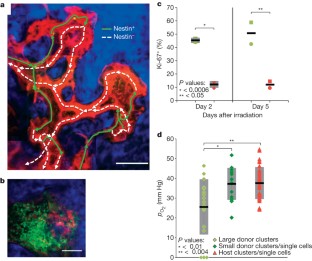 References
1

Lymperi, S., Ferraro, F. & Scadden, D. T. The HSC niche concept has turned 31. Ann. NY Acad. Sci. 1192, 12–18 (2010)

2

Suda, T., Takubo, K. & Semenza, G. L. Metabolic regulation of hematopoietic stem cells in the hypoxic niche. Cell Stem Cell 9, 298–310 (2011)

3

Mohyeldin, A., Garzón-Muvdi, T. & Quiñones-Hinojosa, A. Oxygen in stem cell biology: a critical component of the stem cell niche. Cell Stem Cell 7, 150–161 (2010)

4

Lee, K. E. & Simon, M. C. From stem cells to cancer stem cells: HIF takes the stage. Curr. Opin. Cell Biol. 24, 232–235 (2012)

5

Unwin, R. D. Quantitative proteomics reveals posttranslational control as a regulatory factor in primary hematopoietic stem cells. Blood 107, 4687–4694 (2006)

6

Takubo, K., Goda, N., Yamada, W., Iriuchishima, H. & Ikeda, E. Regulation of the HIF-1α level is essential for hematopoietic stem cells. Cell Stem Cell 7, 391–402 (2010)

7

Ceradini, D. J. et al. Progenitor cell trafficking is regulated by hypoxic gradients through HIF-1 induction of SDF-1. Nature Med. 10, 858–864 (2004)

8

Parmar, K., Mauch, P., Vergilio, J.-A., Sackstein, R. & Down, J. D. Distribution of hematopoietic stem cells in the bone marrow according to regional hypoxia. Proc. Natl Acad. Sci. USA 104, 5431–5436 (2007)

9

Méndez-Ferrer, S. et al. Mesenchymal and haematopoietic stem cells form a unique bone marrow niche. Nature 466, 829–834 (2010)

10

Kiel, M. J. et al. SLAM family receptors distinguish hematopoietic stem and progenitor cells and reveal endothelial niches for stem cells. Cell 121, 1109–1121 (2005)

11

Calvi, L. M. et al. Osteoblastic cells regulate the haematopoietic stem cell niche. Nature 425, 841–846 (2003)

12

Wang, L. D. L. & Wagers, A. J. A. Dynamic niches in the origination and differentiation of haematopoietic stem cells. Nature Rev. Mol. Cell Biol. 12, 643–655 (2011)

13

Lichtman, M. A. M. The ultrastructure of the hemopoietic environment of the marrow: a review. Exp. Hematol. 9, 391–410 (1981)

14

Lo Celso, C. et al. Live-animal tracking of individual haematopoietic stem/progenitor cells in their niche. Nature 457, 92–96 (2009)

15

Nombela-Arrieta, C. et al. Quantitative imaging of haematopoietic stem and progenitor cell localization and hypoxic status in the bone marrow microenvironment. Nature Cell Biol. 15, 533–543 (2013)

16

Kunisaki, Y. et al. Arteriolar niches maintain haematopoietic stem cell quiescence. Nature 502, 637–643 (2013)

17

Chow, D. C., Wenning, L. A., Miller, W. M. & Papoutsakis, E. T. Modeling pO2 distributions in the bone marrow hematopoietic compartment. I. Krogh's model. Biophys. J. 81, 675–684 (2001)

18

Chow, D. C., Wenning, L. A., Miller, W. M. & Papoutsakis, E. T. Modeling pO2 distributions in the bone marrow hematopoietic compartment. II. Modified Kroghian models. Biophys. J. 81, 685–696 (2001)

19

Veilleux, I., Spencer, J. A., Biss, D. P., Cote, D. & Lin, C. P. In vivo cell tracking with video rate multimodality laser scanning microscopy. IEEE J. Sel. Topics Quantum Electron. 14, 10–18 (2008)

20

Lebedev, A. Y., Troxler, T. & Vinogradov, S. A. Design of metalloporphyrin-based dendritic nanoprobes for two-photon microscopy of oxygen. J. Porphyr. Phthalocyanines 12, 1261–1269 (2008)

21

Finikova, O. S. et al. Oxygen microscopy by two-photon-excited phosphorescence. ChemPhysChem 9, 1673–1679 (2008)

22

Vanderkooi, J. M. J., Maniara, G. G., Green, T. J. T. & Wilson, D. F. D. An optical method for measurement of dioxygen concentration based upon quenching of phosphorescence. J. Biol. Chem. 262, 5476–5482 (1987)

23

Lebedev, A. Y. et al. Dendritic phosphorescent probes for oxygen imaging in biological systems. ACS Appl. Mater. Interfaces 1, 1292–1304 (2009)

24

Sakadžić, S. et al. Two-photon high-resolution measurement of partial pressure of oxygen in cerebral vasculature and tissue. Nature Methods 7, 755–759 (2010)

25

Lecoq, J. et al. Simultaneous two-photon imaging of oxygen and blood flow in deep cerebral vessels. Nature Med. 17, 893–898 (2011)

26

Kazmi, S. M. S. et al. Three-dimensional mapping of oxygen tension in cortical arterioles before and after occlusion. Biomed. Opt. Express 4, 1061–1073 (2013)

27

Dewhirst, M. W. M. et al. Quantification of longitudinal tissue pO2 gradients in window chamber tumours: impact on tumour hypoxia. Br. J. Cancer 79, 1717–1722 (1999)

28

Mazo, I. B. et al. Total body irradiation causes profound changes in endothelial traffic molecules for hematopoietic progenitor cell recruitment to bone marrow. Blood 99, 4182–4191 (2002)

29

Sipkins, D. A. et al. In vivo imaging of specialized bone marrow endothelial microdomains for tumour engraftment. Nature 435, 969–973 (2005)

30

Sinks, L. E. et al. Two-photon microscopy of oxygen: polymersomes as probe carrier vehicles. J. Phys. Chem. B 114, 14373–14382 (2010)

31

Mignone, J. L., Kukekov, V., Chiang, A. S., Steindler, D. & Enikolopov, G. Neural stem and progenitor cells in nestin-GFP transgenic mice. J. Comp. Neurol. 469, 311–324 (2004)

32

Esipova, T. V. et al. Two new 'protected' oxyphors for biological oximetry: properties and application in tumor imaging. Anal. Chem. 83, 8756–8765 (2011)
Acknowledgements
We thank S. Sakadzic for helpful discussion on setting up the 2PLM experiment. This work was supported by the US National Institutes of Health grant HL097748, EB017274 (to C.P.L.), HL097794, HL096372 and EB014703 (to D.T.S.).
Ethics declarations
Competing interests
The authors declare no competing financial interests.
Extended data figures and tables
Supplementary information
About this article
Cite this article
Spencer, J., Ferraro, F., Roussakis, E. et al. Direct measurement of local oxygen concentration in the bone marrow of live animals. Nature 508, 269–273 (2014). https://doi.org/10.1038/nature13034
Received:

Accepted:

Published:

Issue Date:
Comments
By submitting a comment you agree to abide by our Terms and Community Guidelines. If you find something abusive or that does not comply with our terms or guidelines please flag it as inappropriate.