Abstract
Translating the behavioural output of the nervous system into movement involves interaction between brain and spinal cord. The brainstem provides an essential bridge between the two structures, but circuit-level organization and function of this intermediary system remain poorly understood. Here we use intersectional virus tracing and genetic strategies in mice to reveal a selective synaptic connectivity matrix between brainstem substructures and functionally distinct spinal motor neurons that regulate limb movement. The brainstem nucleus medullary reticular formation ventral part (MdV) stands out as specifically targeting subpopulations of forelimb-innervating motor neurons. Its glutamatergic premotor neurons receive synaptic input from key upper motor centres and are recruited during motor tasks. Selective neuronal ablation or silencing experiments reveal that MdV is critically important specifically for skilled motor behaviour, including accelerating rotarod and single-food-pellet reaching tasks. Our results indicate that distinct premotor brainstem nuclei access spinal subcircuits to mediate task-specific aspects of motor programs.
Relevant articles
Open Access articles citing this article.
Najet Serradj

,

Francesca Marino

…

Edmund Hollis

Nature Communications Open Access 11 May 2023

Zheng-Dong Zhao

,

Li Zhang

…

Wei L. Shen

Neuroscience Bulletin Open Access 27 January 2023

Xiu-Xiu Liu

,

Xing-Hui Chen

…

Ying-Mei Lu

Signal Transduction and Targeted Therapy Open Access 01 June 2022
Access options
Subscribe to this journal
Receive 51 print issues and online access
$199.00 per year
only $3.90 per issue
Rent or buy this article
Prices vary by article type
from$1.95
to$39.95
Prices may be subject to local taxes which are calculated during checkout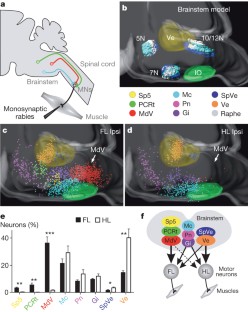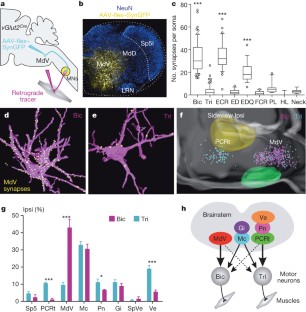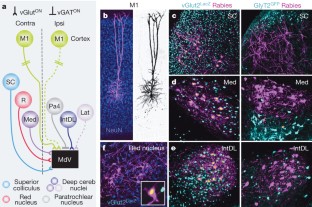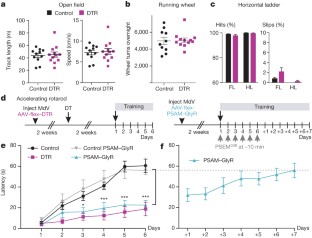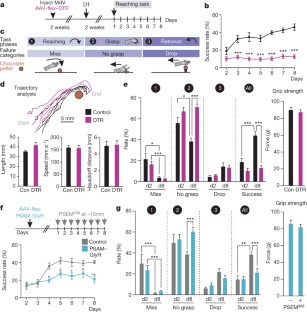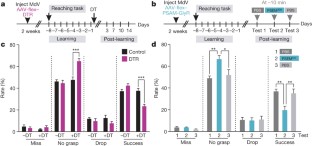 References
Shik, M. L. & Orlovsky, G. N. Neurophysiology of locomotor automatism. Physiol. Rev. 56, 465–501 (1976)

Orlovsky, G. N., Deliagina, T. G. & Grillner, S. Neuronal Control of Locomotion: From Mollusc to Man (Oxford Univ. Press, 1999)

Grillner, S. Biological pattern generation: the cellular and computational logic of networks in motion. Neuron 52, 751–766 (2006)

Jordan, L. M., Liu, J., Hedlund, P. B., Akay, T. & Pearson, K. G. Descending command systems for the initiation of locomotion in mammals. Brain Res. Rev. 57, 183–191 (2008)

Kuypers, H. G. J. M. in Handbook of Physiology: The Nervous System. Anatomy of the Descending Pathways 597–666 (American Physiological Society, 1981)

Lemon, R. N. Descending pathways in motor control. Annu. Rev. Neurosci. 31, 195–218 (2008)

Rathelot, J. A. & Strick, P. L. Subdivisions of primary motor cortex based on cortico-motoneuronal cells. Proc. Natl Acad. Sci. USA 106, 918–923 (2009)

Alstermark, B. & Isa, T. Circuits for skilled reaching and grasping. Annu. Rev. Neurosci. 35, 559–578 (2012)

Iwaniuk, A. N. & Whishaw, I. Q. On the origin of skilled forelimb movements. Trends Neurosci. 23, 372–376 (2000)

Mori, S., Sakamoto, T., Ohta, Y., Takakusaki, K. & Matsuyama, K. Site-specific postural and locomotor changes evoked in awake, freely moving intact cats by stimulating the brainstem. Brain Res. 505, 66–74 (1989)

Noga, B. R., Kriellaars, D. J., Brownstone, R. M. & Jordan, L. M. Mechanism for activation of locomotor centers in the spinal cord by stimulation of the mesencephalic locomotor region. J. Neurophysiol. 90, 1464–1478 (2003)

Skinner, R. D. & Garcia-Rill, E. The mesencephalic locomotor region (MLR) in the rat. Brain Res. 323, 385–389 (1984)

Garcia-Rill, E. & Skinner, R. D. The mesencephalic locomotor region. I. Activation of a medullary projection site. Brain Res. 411, 1–12 (1987)

Drew, T., Prentice, S. & Schepens, B. Cortical and brainstem control of locomotion. Prog. Brain Res. 143, 251–261 (2004)

Holmqvist, B. & Lundberg, A. Differential supraspinal control of synaptic actions evoked by volleys in the flexion reflex afferents in alpha motoneurones. Acta Physiol. Scand. Suppl. 186, 1–15 (1961)

Grillner, S. & Hongo, T. Vestibulospinal effects on motoneurones and interneurones in the lumbosacral cord. Prog. Brain Res. 37, 243–262 (1972)

Jankowska, E., Hammar, I., Slawinska, U., Maleszak, K. & Edgley, S. A. Neuronal basis of crossed actions from the reticular formation on feline hindlimb motoneurons. J. Neurosci. 23, 1867–1878 (2003)

Jankowska, E. & Edgley, S. A. How can corticospinal tract neurons contribute to ipsilateral movements? A question with implications for recovery of motor functions. Neuroscientist 12, 67–79 (2006)

Wickersham, I. R. et al. Monosynaptic restriction of transsynaptic tracing from single, genetically targeted neurons. Neuron 53, 639–647 (2007)

Wickersham, I. R., Sullivan, H. A. & Seung, H. S. Production of glycoprotein-deleted rabies viruses for monosynaptic tracing and high-level gene expression in neurons. Nature Protocols 5, 595–606 (2010)

Ugolini, G. Advances in viral transneuronal tracing. J. Neurosci. Methods 194, 2–20 (2010)

Stepien, A. E., Tripodi, M. & Arber, S. Monosynaptic rabies virus reveals premotor network organization and synaptic specificity of cholinergic partition cells. Neuron 68, 456–472 (2010)

Tripodi, M., Stepien, A. E. & Arber, S. Motor antagonism exposed by spatial segregation and timing of neurogenesis. Nature 479, 61–66 (2011)

Paxinos, G. & Franklin, K. B. The Mouse Brain in Stereotaxic Coordinates 4th edn (Elsevier, 2012)

Vong, L. et al. Leptin action on GABAergic neurons prevents obesity and reduces inhibitory tone to POMC neurons. Neuron 71, 142–154 (2011)

Pecho-Vrieseling, E., Sigrist, M., Yoshida, Y., Jessell, T. M. & Arber, S. Specificity of sensory-motor connections encoded by Sema3e–Plxnd1 recognition. Nature 459, 842–846 (2009)

McKenna, J. E., Prusky, G. T. & Whishaw, I. Q. Cervical motoneuron topography reflects the proximodistal organization of muscles and movements of the rat forelimb: a retrograde carbocyanine dye analysis. J. Comp. Neurol. 419, 286–296 (2000)

Greene, E. C. Anatomy of the Rat (Hafner, 1935)

Wall, N. R., Wickersham, I. R., Cetin, A., De La Parra, M. & Callaway, E. M. Monosynaptic circuit tracing in vivo through Cre-dependent targeting and complementation of modified rabies virus. Proc. Natl Acad. Sci. USA 107, 21848–21853 (2010)

Gorski, J. A. et al. Cortical excitatory neurons and glia, but not GABAergic neurons, are produced in the Emx1-expressing lineage. J. Neurosci. 22, 6309–6314 (2002)

Buitrago, M. M., Schulz, J. B., Dichgans, J. & Luft, A. R. Short and long-term motor skill learning in an accelerated rotarod training paradigm. Neurobiol. Learn. Mem. 81, 211–216 (2004)

Yang, G., Pan, F. & Gan, W. B. Stably maintained dendritic spines are associated with lifelong memories. Nature 462, 920–924 (2009)

Costa, R. M., Cohen, D. & Nicolelis, M. A. Differential corticostriatal plasticity during fast and slow motor skill learning in mice. Curr. Biol. 14, 1124–1134 (2004)

Bretzner, F. & Brownstone, R. M. Lhx3-Chx10 reticulospinal neurons in locomotor circuits. J. Neurosci. 33, 14681–14692 (2013)

Buch, T. et al. A Cre-inducible diphtheria toxin receptor mediates cell lineage ablation after toxin administration. Nature Methods 2, 419–426 (2005)

Ruediger, S. et al. Learning-related feedforward inhibitory connectivity growth required for memory precision. Nature 473, 514–518 (2011)

Atasoy, D., Betley, J. N., Su, H. H. & Sternson, S. M. Deconstruction of a neural circuit for hunger. Nature 488, 172–177 (2012)

Magnus, C. J. et al. Chemical and genetic engineering of selective ion channel-ligand interactions. Science 333, 1292–1296 (2011)

Xu, T. et al. Rapid formation and selective stabilization of synapses for enduring motor memories. Nature 462, 915–919 (2009)

Whishaw, I. Q. & Pellis, S. M. The structure of skilled forelimb reaching in the rat: a proximally driven movement with a single distal rotatory component. Behav. Brain Res. 41, 49–59 (1990)

Blanco, J. E., Anderson, K. D. & Steward, O. Recovery of forepaw gripping ability and reorganization of cortical motor control following cervical spinal cord injuries in mice. Exp. Neurol. 203, 333–348 (2007)

Bui, T. V. et al. Circuits for grasping: spinal dI3 interneurons mediate cutaneous control of motor behavior. Neuron 78, 191–204 (2013)

Kiehn, O. Development and functional organization of spinal locomotor circuits. Curr. Opin. Neurobiol. 21, 100–109 (2011)

Goulding, M. Circuits controlling vertebrate locomotion: moving in a new direction. Nature Rev. Neurosci. 10, 507–518 (2009)

Yakovenko, S., Krouchev, N. & Drew, T. Sequential activation of motor cortical neurons contributes to intralimb coordination during reaching in the cat by modulating muscle synergies. J. Neurophysiol. 105, 388–409 (2011)

Hyland, B. I. & Jordan, V. M. Muscle activity during forelimb reaching movements in rats. Behav. Brain Res. 85, 175–186 (1997)

Roh, J., Cheung, V. C. & Bizzi, E. Modules in the brain stem and spinal cord underlying motor behaviors. J. Neurophysiol. 106, 1363–1378 (2011)

Zeilhofer, H. U. et al. Glycinergic neurons expressing enhanced green fluorescent protein in bacterial artificial chromosome transgenic mice. J. Comp. Neurol. 482, 123–141 (2005)

Harris, J. A., Oh, S. W. & Zeng, H. Adeno-associated viral vectors for anterograde axonal tracing with fluorescent proteins in nontransgenic and Cre driver mice. Curr. Protoc. Neurosci. 59, 1.20.1–1.20.18 (2012)
Acknowledgements
We are grateful to M. Mielich, B. Rapp, D. Salvador and M. Sigrist for expert technical help, L. Gelman, A. Ponti, N. Ehrenfeuchter, M. Kirschmann and R. Thierry for help and advice with image acquisition and analysis, and to P. Caroni for discussions and comments on the manuscript. We thank F. Donato, Y. Zuo, A. Takeoka, P. Tovote and P. Botta for advice on design of behavioral experiments, and S. Sternson for providing PSEM308 and advice for neuronal silencing experiments. M.S.E. was supported by a long-term fellowship of the Human Frontier Science Program, and all authors by a European Research Council Advanced Grant, the Swiss National Science Foundation, the Kanton Basel-Stadt and the Novartis Research Foundation.
Ethics declarations
Competing interests
The authors declare no competing financial interests.
Extended data figures and tables
Supplementary information
About this article
Cite this article
Esposito, M., Capelli, P. & Arber, S. Brainstem nucleus MdV mediates skilled forelimb motor tasks. Nature 508, 351–356 (2014). https://doi.org/10.1038/nature13023
Received:

Accepted:

Published:

Issue Date:

DOI: https://doi.org/10.1038/nature13023
Comments
By submitting a comment you agree to abide by our Terms and Community Guidelines. If you find something abusive or that does not comply with our terms or guidelines please flag it as inappropriate.