Abstract
How specific features in the environment are represented within the brain is an important unanswered question in neuroscience. A subset of retinal neurons, called direction-selective ganglion cells (DSGCs), are specialized for detecting motion along specific axes of the visual field1. Despite extensive study of the retinal circuitry that endows DSGCs with their unique tuning properties2,3, their downstream circuitry in the brain and thus their contribution to visual processing has remained unclear. In mice, several different types of DSGCs connect to the dorsal lateral geniculate nucleus (dLGN)4,5,6, the visual thalamic structure that harbours cortical relay neurons. Whether direction-selective information computed at the level of the retina is routed to cortical circuits and integrated with other visual channels, however, is unknown. Here we show that there is a di-synaptic circuit linking DSGCs with the superficial layers of the primary visual cortex (V1) by using viral trans-synaptic circuit mapping7,8 and functional imaging of visually driven calcium signals in thalamocortical axons. This circuit pools information from several types of DSGCs, converges in a specialized subdivision of the dLGN, and delivers direction-tuned and orientation-tuned signals to superficial V1. Notably, this circuit is anatomically segregated from the retino-geniculo-cortical pathway carrying non-direction-tuned visual information to deeper layers of V1, such as layer 4. Thus, the mouse harbours several functionally specialized, parallel retino-geniculo-cortical pathways, one of which originates with retinal DSGCs and delivers direction- and orientation-tuned information specifically to the superficial layers of the primary visual cortex. These data provide evidence that direction and orientation selectivity of some V1 neurons may be influenced by the activation of DSGCs.
Relevant articles
Open Access articles citing this article.
Dandan Wang

,

Lili Tang

…

Shaohua Hu

Translational Psychiatry Open Access 08 June 2023

Carlos Alberto Ortiz-Cruz

,

Emiliano Jimenez Marquez

…

Yazmín Ramiro-Cortés

Scientific Reports Open Access 23 December 2022

Kirstin B. VanderWall

,

Bin Lu

…

Jason S. Meyer

Scientific Reports Open Access 15 October 2020
Access options
Subscribe to this journal
Receive 51 print issues and online access
$199.00 per year
only $3.90 per issue
Rent or buy this article
Prices vary by article type
from$1.95
to$39.95
Prices may be subject to local taxes which are calculated during checkout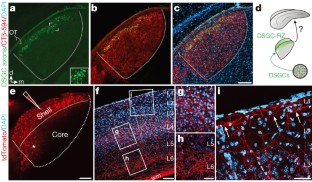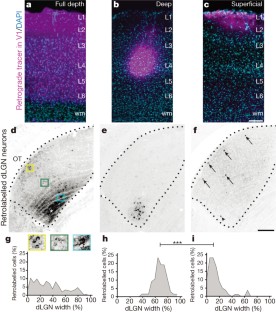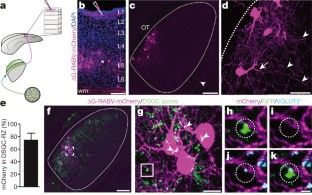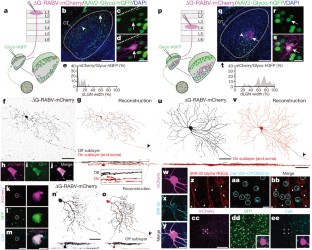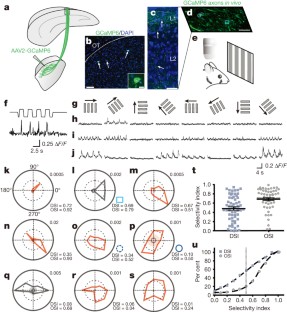 References
Barlow, H. B. & Hill, R. Selective sensitivity to direction of movement in ganglion cells of the rabbit retina. Science 139, 412–414 (1963)

Briggman, K. L., Helmstaedter, M. & Denk, W. Wiring specificity in the direction-selectivity circuit of the retina. Nature 471, 183–188 (2011)

Wei, W. & Feller, M. B. Organization and development of direction-selective circuits in the retina. Trends Neurosci. 34, 638–645 (2011)

Kim, I. J., Zhang, Y., Yamagata, M., Meister, M. & Sanes, J. R. Molecular identification of a retinal cell type that responds to upward motion. Nature 452, 478–482 (2008)

Huberman, A. D. et al. Genetic identification of an On-Off direction-selective retinal ganglion cell subtype reveals a layer-specific subcortical map of posterior motion. Neuron 62, 327–334 (2009)

Rivlin-Etzion, M. et al. Transgenic mice reveal unexpected diversity of on-off direction-selective retinal ganglion cell subtypes and brain structures involved in motion processing. J. Neurosci. 31, 8760–8769 (2011)

Wickersham, I. R. et al. Monosynaptic restriction of transsynaptic tracing from single, genetically targeted neurons. Neuron 53, 639–647 (2007b)

Osakada, F. et al. New rabies virus variants for monitoring and manipulating activity and gene expression in defined neural circuits. Neuron 71, 617–631 (2011)

Chalupa, L. M. & Werner, J. S. The Visual Neurosciences (MIT Press, 2003)

Krahe, T. E., El-Danaf, R. N., Dilger, E. K., Henderson, S. C. & Guido, W. Morphologically distinct classes of relay cells exhibit regional preferences in the dorsal lateral geniculate nucleus of the mouse. J. Neurosci. 31, 17437–17448 (2011)

Grubb, M. S. & Thompson, I. D. Biochemical and anatomical subdivision of the dorsal lateral geniculate nucleus in normal mice and in mice lacking the β2 subunit of the nicotinic acetylcholine receptor. Vision Res. 44, 3365–3376 (2004)

Morin, L. P. & Blanchard, J. H. Forebrain connections of the hamster intergeniculate leaflet: comparison with those of ventral lateral geniculate nucleus and retina. Vis. Neurosci. 16, 1037–1054 (1999)

Rafols, J. A. & Valverde, F. The structure of the dorsal lateral geniculate nucleus of the mouse. A Golgi and electron microscopic study. J. Comp. Neurol. 150, 303–331 (1973)

Land, P. W., Kyonka, E. & Shamalla-Hannah, L. Vesicular glutamate transporters in the lateral geniculate nucleus: expression of VGLUT2 by retinal terminals. Brain Res. 996, 251–254 (2004)

Kay, J. N. et al. Retinal ganglion cells with distinct directional preferences differ in molecular identity, structure, and central projections. J. Neurosci. 31, 7753–7762 (2011)

Dhande, O. S. et al. Genetic dissection of retinal inputs to brainstem nuclei controlling image stabilization. J. Neurosci. 33, 17797–17813 (2013)

Chen, C. & Regehr, W. G. Developmental remodeling of the retinogeniculate synapse. Neuron 28, 955–966 (2000)

Huberman, A. D. et al. Architecture and activity-mediated refinement of axonal projections from a mosaic of genetically identified retinal ganglion cells. Neuron 59, 425–438 (2008)

Völgyi, B., Abrams, J., Paul, D. L. & Bloomfield, S. A. Morphology and tracer coupling patterns of alpha ganglion cells in the mouse retina. J. Comp. Neurol. 492, 66–77 (2005)

Chen, T. W. et al. Ultrasensitive fluorescent proteins for imaging neuronal activity. Nature 499, 295–300 (2013)

Rivlin-Etzion, M., Wei, W. & Feller, M. B. Visual stimulation reverses the directional preference of direction-selective retinal ganglion cells. Neuron 76, 518–525 (2012)

Li, Y. T., Ibrahim, L. A., Liu, B. H., Zhang, L. I. & Tao, H. W. Linear transformation of thalamocortical input by intracortical excitation. Nature Neurosci. 16, 1324–1330 (2013)

Lien, A. D. & Scanziani, M. Tuned thalamic excitation is amplified by visual cortical circuits. Nature Neurosci. 16, 1315–1323 (2013)

Marshel, J. H., Kaye, A. P., Nauhaus, I. & Callaway, E. M. Anterior-posterior direction opponency in the superficial mouse lateral geniculate nucleus. Neuron 76, 713–720 (2012)

Piscopo, D. M., El-Danaf, R. N., Huberman, A. D. & Niell, C. M. Diverse visual features encoded in mouse lateral geniculate nucleus. J. Neurosci. 33, 4642–4656 (2013)

Livingstone, M. S. Mechanisms of direction selectivity in macaque V1. Neuron 20, 509–526 (1998)

Atallah, B. V., Bruns, W., Carandini, M. & Scanziani, M. Parvalbumin-expressing interneurons linearly transform cortical responses to visual stimuli. Neuron 73, 159–170 (2012)

Lee, S. H. et al. Activation of specific interneurons improves feature selectivity and visual perception. Nature 488, 379–383 (2012)

Katz, L. C., Burkhalter, A. & Dreyer, W. J. Fluorescent latex microspheres as a retrograde neuronal marker for in vivo and in vitro studies of visual cortex. Nature 310, 498–500 (1984)

Hioki, H. et al. Efficient gene transduction of neurons by lentivirus with enhanced neuron-specific promoters. Gene Ther. 14, 872–882 (2007)

Osakada, F. & Callaway, E. M. Design and generation of recombinant rabies virus vectors. Nature Protocols 8, 1583–1601 (2013)

Murphy, G. J. & Rieke, F. Network variability limits stimulus-evoked spike timing precision in retinal ganglion cells. Neuron 52, 511–524 (2006)

Beier, K. T. et al. Transsynaptic tracing with vesicular stomatitis virus reveals novel retinal circuitry. J. Neurosci. 33, 35–51 (2013)

Zack, G. W., Rogers, W. E. & Latt, S. A. Automatic measurement of sister chromatid exchange frequency. J. Histochem. Cytochem. 25, 741–753 (1977)

Pologruto, T. A., Sabatini, B. L. & Svoboda, K. ScanImage: flexible software for operating laser scanning microscopes. Biomed. Eng. Online 2, 13 (2003)

Tian, L. et al. Imaging neural activity in worms, flies and mice with improved GCaMP indicators. Nature Methods 6, 875–881 (2009)

Brainard, D. H. The psychophysics toolbox. Spat. Vis. 10, 433–436 (1997)

Pelli, D. G. The VideoToolbox software for visual psychophysics: transforming numbers into movies. Spat. Vis. 10, 437–442 (1997)

Bokil, H., Andrews, P., Kulkarni, J. E., Mehta, S. & Mitra, P. P. Chronux: a platform for analyzing neural signals. J. Neurosci. Methods 192, 146–151 (2010)
Acknowledgements
We thank the Kleinfeld laboratory for helpful advice, F. Rieke and M. Turner for example DSGC recording, and the Salk Viral Vector and Biophotonics staff. This work was supported by Vision Core P30 EY019005, the Knights Templar Eye Foundation (O.S.D.), Japan Society for the Promotion of Science (F.O.), Kanae Foundation (F.O.), Uehara Memorial Foundation (F.O.), Naito Foundation (F.O.), NINDS Circuits Training Grant (R.N.E.), Gatsby Charitable Trusts (E.M.C. and A.G.), NIH EY022577 and MH063912 (E.M.C.), Whitehall Foundation (A.D.H.), Ziegler Foundation for the Blind (A.D.H.), Pew Charitable Trusts (A.D.H.), The McKnight Foundation (A.D.H.), and NIH R01EY022157 (A.D.H.).
Ethics declarations
Competing interests
The authors declare no competing financial interests.
Extended data figures and tables
About this article
Cite this article
Cruz-Martín, A., El-Danaf, R., Osakada, F. et al. A dedicated circuit links direction-selective retinal ganglion cells to the primary visual cortex. Nature 507, 358–361 (2014). https://doi.org/10.1038/nature12989
Received:

Accepted:

Published:

Issue Date:

DOI: https://doi.org/10.1038/nature12989
Comments
By submitting a comment you agree to abide by our Terms and Community Guidelines. If you find something abusive or that does not comply with our terms or guidelines please flag it as inappropriate.