Abstract
B lymphocytes have critical roles as positive and negative regulators of immunity. Their inhibitory function has been associated primarily with interleukin 10 (IL-10) because B-cell-derived IL-10 can protect against autoimmune disease and increase susceptibility to pathogens1,2. Here we identify IL-35-producing B cells as key players in the negative regulation of immunity. Mice in which only B cells did not express IL-35 lost their ability to recover from the T-cell-mediated demyelinating autoimmune disease experimental autoimmune encephalomyelitis (EAE). In contrast, these mice displayed a markedly improved resistance to infection with the intracellular bacterial pathogen Salmonella enterica serovar Typhimurium as shown by their superior containment of the bacterial growth and their prolonged survival after primary infection, and upon secondary challenge, compared to control mice. The increased immunity found in mice lacking IL-35 production by B cells was associated with a higher activation of macrophages and inflammatory T cells, as well as an increased function of B cells as antigen-presenting cells (APCs). During Salmonella infection, IL-35- and IL-10-producing B cells corresponded to two largely distinct sets of surface-IgM+CD138hiTACI+CXCR4+CD1dintTim1int plasma cells expressing the transcription factor Blimp1 (also known as Prdm1). During EAE, CD138+ plasma cells were also the main source of B-cell-derived IL-35 and IL-10. Collectively, our data show the importance of IL-35-producing B cells in regulation of immunity and highlight IL-35 production by B cells as a potential therapeutic target for autoimmune and infectious diseases. This study reveals the central role of activated B cells, particularly plasma cells, and their production of cytokines in the regulation of immune responses in health and disease.
This is a preview of subscription content
Access options
Subscribe to Journal
Get full journal access for 1 year
$199.00
only $3.90 per issue
All prices are NET prices.
VAT will be added later in the checkout.
Tax calculation will be finalised during checkout.
Buy article
Get time limited or full article access on ReadCube.
$32.00
All prices are NET prices.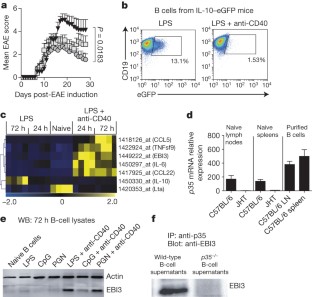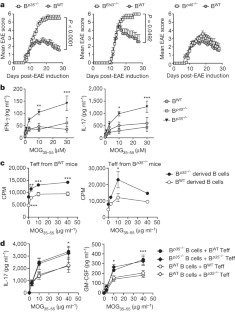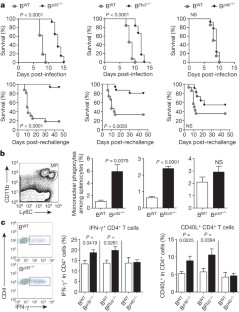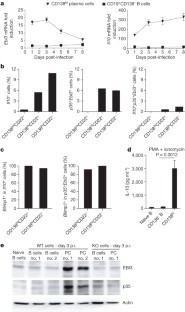 References
Fillatreau, S., Gray, D. & Anderton, S. M. Not always the bad guys: B cells as regulators of autoimmune pathology. Nature Rev. Immunol. 8, 391–397 (2008)

Fillatreau, S. Novel regulatory functions for Toll-like receptor-activated B cells during intracellular bacterial infection. Immunol. Rev. 240, 52–71 (2011)

Fillatreau, S., Sweenie, C. H., McGeachy, M. J., Gray, D. & Anderton, S. M. B cells regulate autoimmunity by provision of IL-10. Nature Immunol. 3, 944–950 (2002)

Mauri, C., Gray, D., Mushtaq, N. & Londei, M. Prevention of arthritis by interleukin 10-producing B cells. J. Exp. Med. 197, 489–501 (2003)

Mizoguchi, A., Mizoguchi, E., Takedatsu, H., Blumberg, R. S. & Bhan, A. K. Chronic intestinal inflammatory condition generates IL-10-producing regulatory B cell subset characterized by CD1d upregulation. Immunity 16, 219–230 (2002)

Neves, P. et al. Signaling via the MyD88 adaptor protein in B cells suppresses protective immunity during Salmonella typhimurium infection. Immunity 33, 777–790 (2010)

Duddy, M. et al. Distinct effector cytokine profiles of memory and naive human B cell subsets and implication in multiple sclerosis. J. Immunol. 178, 6092–6099 (2007)

Jagannathan, M. et al. Toll-like receptors regulate B cell cytokine production in patients with diabetes. Diabetologia 53, 1461–1471 (2010)

Benedetti, L. et al. Relapses after treatment with rituximab in a patient with multiple sclerosis and anti myelin-associated glycoprotein polyneuropathy. Arch. Neurol. 64, 1531–1533 (2007)

Goetz, M., Atreya, R., Ghalibafian, M., Galle, P. R. & Neurath, M. F. Exacerbation of ulcerative colitis after rituximab salvage therapy. Inflamm. Bowel Dis. 13, 1365–1368 (2007)

El Fassi, D., Nielsen, C. H., Kjeldsen, J., Clemmensen, O. & Hegedus, L. Ulcerative colitis following B lymphocyte depletion with rituximab in a patient with Graves' disease. Gut 57, 714–715 (2008)

Dass, S., Vital, E. M. & Emery, P. Development of psoriasis after B cell depletion with rituximab. Arthritis Rheum. 56, 2715–2718 (2007)

Wilson, M. S. et al. Helminth-induced CD19+CD23hi B cells modulate experimental allergic and autoimmune inflammation. Eur. J. Immunol. 40, 1682–1696 (2010)

Su, Y., Zhang, A. H., Noben-Trauth, N. & Scott, D. W. B-cell gene therapy for tolerance induction: host but not donor B-cell derived IL-10 is necessary for tolerance. Front. Microbiology 2, http://dx.doi.org/10.3389/fmicb.2011.00154 (2011)

Lampropoulou, V. et al. TLR-activated B cells suppress T cell-mediated autoimmunity. J. Immunol. 180, 4763–4773 (2008)

Devergne, O., Birkenbach, M. & Kieff, E. Epstein-Barr virus-induced gene 3 and the p35 subunit of interleukin 12 form a novel heterodimeric hematopoietin. Proc. Natl Acad. Sci. USA 94, 12041–12046 (1997)

Collison, L. W. et al. The inhibitory cytokine IL-35 contributes to regulatory T-cell function. Nature 450, 566–569 (2007)

Niedbala, W. et al. IL-35 is a novel cytokine with therapeutic effects against collagen-induced arthritis through the expansion of regulatory T cells and suppression of Th17 cells. Eur. J. Immunol. 37, 3021–3029 (2007)

Villarino, A. et al. The IL-27R (WSX-1) is required to suppress T cell hyperactivity during infection. Immunity 19, 645–655 (2003)

Brentano, F. et al. Abundant expression of the interleukin (IL)23 subunit p19, but low levels of bioactive IL23 in the rheumatoid synovium: differential expression and Toll-like receptor-(TLR) dependent regulation of the IL23 subunits, p19 and p40, in rheumatoid arthritis. Ann. Rheum. Dis. 68, 143–150 (2009)

Kuchroo, V. K. et al. Cytokines and adhesion molecules contribute to the ability of myelin proteolipid protein-specific T cell clones to mediate experimental allergic encephalomyelitis. J. Immunol. 151, 4371–4382 (1993)

Park, H. et al. A distinct lineage of CD4 T cells regulates tissue inflammation by producing interleukin 17. Nature Immunol. 6, 1133–1141 (2005)

Bettini, M., Castellaw, A. H., Lennon, G. P., Burton, A. R. & Vignali, D. A. Prevention of autoimmune diabetes by ectopic pancreatic β-cell expression of interleukin-35. Diabetes 61, 1519–1526 (2012)

McGeachy, M. J., Stephens, L. A. & Anderton, S. M. Natural recovery and protection from autoimmune encephalomyelitis: contribution of CD4+CD25+ regulatory cells within the central nervous system. J. Immunol. 175, 3025–3032 (2005)

Weber, M. S. et al. B-cell activation influences T-cell polarization and outcome of anti-CD20 B-cell depletion in central nervous system autoimmunity. Ann. Neurol. 68, 369–383 (2010)

Mittrücker, H. W. & Kaufmann, S. H. Immune response to infection with Salmonella typhimurium in mice. J. Leukoc. Biol. 67, 457–463 (2000)

Barr, T. A. et al. B cell depletion therapy ameliorates autoimmune disease through ablation of IL-6-producing B cells. J. Exp. Med. 209, 1001–1010 (2012)

Chan, Y. H. et al. Absence of the transcriptional repressor Blimp-1 in hematopoietic lineages reveals its role in dendritic cell homeostatic development and function. J. Immunol. 183, 7039–7046 (2009)

Biesen, R. et al. Sialic acid-binding Ig-like lectin 1 expression in inflammatory and resident monocytes is a potential biomarker for monitoring disease activity and success of therapy in systemic lupus erythematosus. Arthritis Rheum. 58, 1136–1145 (2008)

Saeed, A. I. et al. TM4: a free, open-source system for microarray data management and analysis. Biotechniques 34, 374–378 (2003)

Hoehlig, K. et al. Activation of CD4+ Foxp3+ regulatory T cells proceeds normally in the absence of B cells during EAE. Eur. J. Immunol. 42, 1164–1173 (2012)
Acknowledgements
We thank H. Schliemann, H. Ruebsamen, M. Spadaro and D. Jenne for assistance and support. We thank M. Loehning for providing IL-12 p40-deficient mice, and S. Akira for providing TLR2- and TLR4-deficient mice. We thank O. Neyrolles for help with some of the in vivo experiments. We thank E. Schott for help with the AST/ALT measurements. S.F. is supported by grants from the Deutsche Forschungsgemeinschaft (SFB-650, TRR-36, TRR-130, FI-1238/02), Hertie Stiftung, and an advanced grant from the Merieux Institute. C.D and T.D. are supported by the Deutsche Forschungsgemeinschaft (SFB-650, Do491/7-2, 8-2). P.B. and L.J. are supported by INRA. A.B.-O. is supported by a CIHR/MSSC New Emerging Team grant in Clinical Autoimmunity. Work in S.M.A.'s laboratory was supported by grants from the UK Medical Research Council and the Wellcome Trust. E.M. is supported by the Clinical Competence Network for Multiple Sclerosis and SFB-TR128.
Ethics declarations
Competing interests
The authors declare no competing financial interests.
Extended data figures and tables
About this article
Cite this article
Shen, P., Roch, T., Lampropoulou, V. et al. IL-35-producing B cells are critical regulators of immunity during autoimmune and infectious diseases. Nature 507, 366–370 (2014). https://doi.org/10.1038/nature12979
Received:

Accepted:

Published:

Issue Date:

DOI: https://doi.org/10.1038/nature12979
Comments
By submitting a comment you agree to abide by our Terms and Community Guidelines. If you find something abusive or that does not comply with our terms or guidelines please flag it as inappropriate.