Abstract
A core promoter is a stretch of DNA surrounding the transcription start site (TSS) that integrates regulatory inputs1 and recruits general transcription factors to initiate transcription2. The nature and causative relationship of the DNA sequence and chromatin signals that govern the selection of most TSSs by RNA polymerase II remain unresolved. Maternal to zygotic transition represents the most marked change of the transcriptome repertoire in the vertebrate life cycle3,4,5,6. Early embryonic development in zebrafish is characterized by a series of transcriptionally silent cell cycles regulated by inherited maternal gene products: zygotic genome activation commences at the tenth cell cycle, marking the mid-blastula transition7. This transition provides a unique opportunity to study the rules of TSS selection and the hierarchy of events linking transcription initiation with key chromatin modifications. We analysed TSS usage during zebrafish early embryonic development at high resolution using cap analysis of gene expression8, and determined the positions of H3K4me3-marked promoter-associated nucleosomes9. Here we show that the transition from the maternal to zygotic transcriptome is characterized by a switch between two fundamentally different modes of defining transcription initiation, which drive the dynamic change of TSS usage and promoter shape. A maternal-specific TSS selection, which requires an A/T-rich (W-box) motif, is replaced with a zygotic TSS selection grammar characterized by broader patterns of dinucleotide enrichments, precisely aligned with the first downstream (+1) nucleosome. The developmental dynamics of the H3K4me3-marked nucleosomes reveal their DNA-sequence-associated positioning at promoters before zygotic transcription and subsequent transcription-independent adjustment to the final position downstream of the zygotic TSS. The two TSS-defining grammars coexist, often physically overlapping, in core promoters of constitutively expressed genes to enable their expression in the two regulatory environments. The dissection of overlapping core promoter determinants represents a framework for future studies of promoter structure and function across different regulatory contexts.
Relevant articles
Open Access articles citing this article.
Chirag Nepal

&

Jesper B. Andersen

Nature Communications Open Access 11 May 2023

Damir Baranasic

,

Matthias Hörtenhuber

…

Ferenc Müller

Nature Genetics Open Access 04 July 2022

Meijiang Gao

,

Marina Veil

…

Daria Onichtchouk

Nature Communications Open Access 10 February 2022
Access options
Subscribe to this journal
Receive 51 print issues and online access
$199.00 per year
only $3.90 per issue
Rent or buy this article
Prices vary by article type
from$1.95
to$39.95
Prices may be subject to local taxes which are calculated during checkout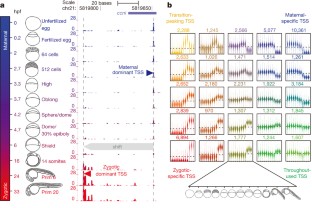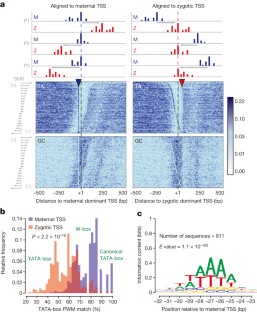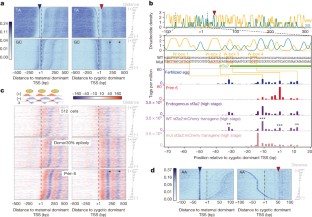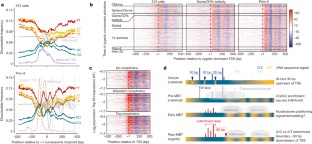 References
D'Alessio, J. A., Wright, K. J. & Tjian, R. Shifting players and paradigms in cell-specific transcription. Mol. Cell 36, 924–931 (2009)

Kadonaga, J. T. Perspectives on the RNA polymerase II core promoter. Wiley Interdiscip. Rev. Dev. Biol. 1, 40–51 (2012)

Mathavan, S. et al. Transcriptome analysis of zebrafish embryogenesis using microarrays. PLoS Genet. 1, e29 (2005)

Tadros, W. & Lipshitz, H. D. The maternal-to-zygotic transition: a play in two acts. Development 136, 3033–3042 (2009)

Vastenhouw, N. L. et al. Chromatin signature of embryonic pluripotency is established during genome activation. Nature 464, 922–926 (2010)

Lindeman, L. C. et al. Prepatterning of developmental gene expression by modified histones before zygotic genome activation. Dev. Cell 21, 993–1004 (2011)

Kane, D. A. & Kimmel, C. B. The zebrafish midblastula transition. Development 119, 447–456 (1993)

Shiraki, T. et al. Cap analysis gene expression for high-throughput analysis of transcriptional starting point and identification of promoter usage. Proc. Natl Acad. Sci. USA 100, 15776–15781 (2003)

Barski, A. et al. High-resolution profiling of histone methylations in the human genome. Cell 129, 823–837 (2007)

Carninci, P. et al. Genome-wide analysis of mammalian promoter architecture and evolution. Nature Genet. 38, 626–635 (2006)

Lenhard, B., Sandelin, A. & Carninci, P. Metazoan promoters: emerging characteristics and insights into transcriptional regulation. Nature Rev. Genet. 13, 233–245 (2012)

Venters, B. J. & Pugh, B. F. Genomic organization of human transcription initiation complexes. Nature 502, 53–58 (2013)

Nepal, C. et al. Dynamic regulation of the transcription initiation landscape at single nucleotide resolution during vertebrate embryogenesis. Genome Res. 23, 1938–1950 (2013)

Giraldez, A. J. et al. Zebrafish miR-430 promotes deadenylation and clearance of maternal mRNAs. Science 312, 75–79 (2006)

Ponjavic, J. et al. Transcriptional and structural impact of TATA-initiation site spacing in mammalian core promoters. Genome Biol. 7, R78 (2006)

Segal, E. et al. A genomic code for nucleosome positioning. Nature 442, 772–778 (2006)

Ioshikhes, I., Hosid, S. & Pugh, B. F. Variety of genomic DNA patterns for nucleosome positioning. Genome Res. 21, 1863–1871 (2011)

Segal, E. & Widom, J. What controls nucleosome positions? Trends Genet. 25, 335–343 (2009)

Rhee, H. S. & Pugh, B. F. Genome-wide structure and organization of eukaryotic pre-initiation complexes. Nature 483, 295–301 (2012)

Rach, E. A. et al. Transcription initiation patterns indicate divergent strategies for gene regulation at the chromatin level. PLoS Genet. 7, e1001274 (2011)

Cairns, B. R. The logic of chromatin architecture and remodelling at promoters. Nature 461, 193–198 (2009)

Deaton, A. M. & Bird, A. CpG islands and the regulation of transcription. Genes Dev. 25, 1010–1022 (2011)

Thomson, J. P. et al. CpG islands influence chromatin structure via the CpG-binding protein Cfp1. Nature 464, 1082–1086 (2010)

Fenouil, R. et al. CpG islands and GC content dictate nucleosome depletion in a transcription-independent manner at mammalian promoters. Genome Res. 22, 2399–2408 (2012)

Nozaki, T. et al. Tight associations between transcription promoter type and epigenetic variation in histone positioning and modification. BMC Genomics 12, 416 (2011)

Bártfai, R. et al. TBP2, a vertebrate-specific member of the TBP family, is required in embryonic development of zebrafish. Curr. Biol. 14, 593–598 (2004)

Akhtar, W. & Veenstra, G. TBP2 is a substitute for TBP in Xenopus oocyte transcription. BMC Biol. 7, 45 (2009)

Lauberth, S. M. et al. H3K4me3 interactions with TAF3 regulate preinitiation complex assembly and selective gene activation. Cell 152, 1021–1036 (2013)

Zaugg, J. B. & Luscombe, N. M. A genomic model of condition-specific nucleosome behavior explains transcriptional activity in yeast. Genome Res. 22, 84–94 (2012)

Davis, W., Jr & Schultz, R. M. Developmental change in TATA-box utilization during preimplantation mouse development. Dev. Biol. 218, 275–283 (2000)

Langmead, B., Trapnell, C., Pop, M. & Salzberg, S. L. Ultrafast and memory-efficient alignment of short DNA sequences to the human genome. Genome Biol. 10, R25 (2009)

Kodzius, R. et al. CAGE: cap analysis of gene expression. Nature Methods 3, 211–222 (2006)

Balwierz, P. J. et al. Methods for analyzing deep sequencing expression data: constructing the human and mouse promoterome with deepCAGE data. Genome Biol. 10, R79 (2009)

The R Development Core Team. R: A Language and Environment for Statistical Computing 1–3079 (R Foundation for Statistical Computing, 2013)

Gentleman, R. C. et al. Bioconductor: open software development for computational biology and bioinformatics. Genome Biol. 5, R80 (2004)

Törönen, P., Kolehmainen, M., Wong, G. & Castren, E. Analysis of gene expression data using self-organizing maps. FEBS Lett. 451, 142–146 (1999)

Portales-Casamar, E. et al. JASPAR 2010: the greatly expanded open-access database of transcription factor binding profiles. Nucleic Acids Res. 38, D105–D110 (2010)

Bailey, T. L. & Elkan, C. Fitting a mixture model by expectation maximization to discover motifs in biopolymers. Proc. Sec. Int. Conf. Intell. Syst. Mol. Biol. 2, 28–36 (1994)

Abe, G., Suster, M. L. & Kawakami, K. in The Zebrafish: Genetics, Genomics and Informatics (eds Detrich, H. W., Westerfield, M. & Zon, L. I. ) Vol. 104, 23–49 (Academic, 2011)

Gehrig, J. et al. Automated high-throughput mapping of promoter-enhancer interactions in zebrafish embryos. Nature Methods 6, 911–916 (2009)

Higashijima, S., Okamoto, H., Ueno, N., Hotta, Y. & Eguchi, G. High-frequency generation of transgenic zebrafish which reliably express GFP in whole muscles or the whole body by using promoters of zebrafish origin. Dev. Biol. 192, 289–299 (1997)

Ferg, M. Large Scale- and Functional Analysis for the Requirement of TBP-Function in Early Zebrafish Development. PhD thesis, Heidelberg Univ. (2008)

Ferg, M. et al. The TATA-binding protein regulates maternal mRNA degradation and differential zygotic transcription in zebrafish. EMBO J. 26, 3945–3956 (2007)

Soler, E. et al. A systems approach to analyze transcription factors in mammalian cells. Methods 53, 151–162 (2011)

Zhang, Y. et al. Model-based Analysis of ChIP-Seq (MACS). Genome Biol. 9, R137 (2008)
Acknowledgements
The authors are grateful to L. Tora, E. Kenyon, G. Chalancon and J. C.-y. Chen for comments on the manuscript, to M. Reischl for Zebrafish Miner software, and to L. O'Neill for technical advice. V.H., C.N., C.Pr., A.A. and X.D. were supported by grants from the Norwegian Research Council (YFF) and the Bergen Research Foundation, awarded to B.L. F.M., U.S. and B.L. acknowledge support from European Union (EU) FP6 integrated project EuTRACC and FP7 integrated project ZF Health. B.L. was additionally supported by the Medical Research Council UK, F.M. and P.C. by the EU FP7 project Dopaminet and U.S. by the EU FP6 project NeuroXSys. C.Pl., A.M.S. and P.C. were supported by a Research Grant from MEXT to RIKEN CLST. (RIKEN Omics Science Center ceased to exist on 1 April 2013 owing to reorganization of RIKEN.)
Ethics declarations
Competing interests
The authors declare no competing financial interests.
Extended data figures and tables
Supplementary information
This file contains a list of 911 shifting promoters with shifting scores, positions of maternal and zygotic dominant TSS and associated annotated gene. (XLS 244 kb)
This file contains single locus deep CAGE (SL-CAGE) steps and sequences of used primers. (XLS 39 kb)
About this article
Cite this article
Haberle, V., Li, N., Hadzhiev, Y. et al. Two independent transcription initiation codes overlap on vertebrate core promoters. Nature 507, 381–385 (2014). https://doi.org/10.1038/nature12974
Received:

Accepted:

Published:

Issue Date:

DOI: https://doi.org/10.1038/nature12974
Comments
By submitting a comment you agree to abide by our Terms and Community Guidelines. If you find something abusive or that does not comply with our terms or guidelines please flag it as inappropriate.