Abstract
Ancient genomic sequences have started to reveal the origin and the demographic impact of farmers from the Neolithic period spreading into Europe1,2,3. The adoption of farming, stock breeding and sedentary societies during the Neolithic may have resulted in adaptive changes in genes associated with immunity and diet4. However, the limited data available from earlier hunter-gatherers preclude an understanding of the selective processes associated with this crucial transition to agriculture in recent human evolution. Here we sequence an approximately 7,000-year-old Mesolithic skeleton discovered at the La Braña-Arintero site in León, Spain, to retrieve a complete pre-agricultural European human genome. Analysis of this genome in the context of other ancient samples suggests the existence of a common ancient genomic signature across western and central Eurasia from the Upper Paleolithic to the Mesolithic. The La Braña individual carries ancestral alleles in several skin pigmentation genes, suggesting that the light skin of modern Europeans was not yet ubiquitous in Mesolithic times. Moreover, we provide evidence that a significant number of derived, putatively adaptive variants associated with pathogen resistance in modern Europeans were already present in this hunter-gatherer.
Relevant articles
Open Access articles citing this article.
Scientific Reports Open Access 28 April 2023

Biologia Futura Open Access 01 December 2022

Gabriele Scorrano

,

Serena Viva

…

Fabio Macciardi

Scientific Reports Open Access 26 May 2022
Access options
Subscribe to this journal
Receive 51 print issues and online access
$199.00 per year
only $3.90 per issue
Rent or buy this article
Get just this article for as long as you need it
$39.95
Prices may be subject to local taxes which are calculated during checkout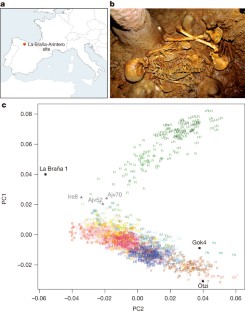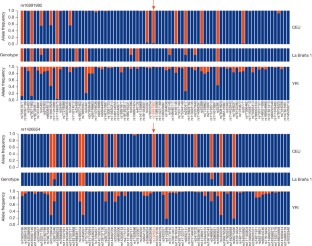 Accession codes
Accessions
Sequence Read Archive
Data deposits
Alignment data are available through the Sequence Read Archive (SRA) under accession numbers PRJNA230689 and SRP033596.
References
Keller, A. et al. New insights into the Tyrolean Iceman's origin and phenotype as inferred by whole-genome sequencing. Nature Commun. 3, 698 (2012)

Sánchez-Quinto, F. et al. Genomic affinities of two 7,000-year-old Iberian hunter-gatherers. Curr. Biol. 22, 1494–1499 (2012)

Skoglund, P. et al. Origins and genetic legacy of Neolithic farmers and hunter-gatherers in Europe. Science 336, 466–469 (2012)

Laland, K. N., Odling-Smee, J. & Myles, S. How culture shaped the human genome: bringing genetics and the human sciences together. Nature Rev. Genet. 11, 137–148 (2010)

Rasmussen, M. et al. Ancient human genome sequence of an extinct Palaeo-Eskimo. Nature 463, 757–762 (2010)

Rasmussen, M. et al. An Aboriginal Australian genome reveals separate human dispersals into Asia. Science 334, 94–98 (2011)

Vidal Encinas, J. M. & Prada Marcos, M. E. Los hombres mesolíticos de La Braña-Arintero (Valdelugueros, León) (León: Junta de Castilla y León, 2010)

Overballe-Petersen, S., Orlando, L. & Willerslev, E. Next-generation sequencing offers new insights into DNA degradation. Trends Biotechnol. 30, 364–368 (2012)

Allentoft, M. E. et al. The half-life of DNA in bone: measuring decay kinetics in 158 dated fossils. Proc. R. Soc. B Biol. Sci. 279, 4824–4733 (2012)

Patterson, N., Price, A. L. & Reich, D. Population structure and eigenanalysis. PLoS Genet. 2, e190 (2006)

Nelson, M. R. et al. The population reference sample, POPRES: a resource for population, disease, and pharmacological genetics research. Am. J. Hum. Genet. 83, 347–358 (2008)

Novembre, J. et al. Genes mirror geography within Europe. Nature 456, 98–101 (2008)

An integrated map of genetic variation from 1,092 human genomes. Nature 491, 56–65 (2012)

Surakka, I. et al. Founder population-specific HapMap panel increases power in GWA studies through improved imputation accuracy and CNV tagging. Genome Res. 20, 1344–1351 (2010)

Raghavan, M. et al. Upper Palaeolithic Siberian genome reveals dual ancestry of Native Americans. Nature 505, 87–91 (2014)

Reich, D., Thangaraj, K., Patterson, N., Price, A. L. & Singh, L. Reconstructing Indian population history. Nature 461, 489–494 (2009)

Green, R. E. et al. A draft sequence of the Neandertal genome. Science 328, 710–722 (2010)

Perry, G. H. et al. Diet and the evolution of human amylase gene copy number variation. Nature Genet. 39, 1256–1260 (2007)

Grossman, S. R. et al. Identifying recent adaptations in large-scale genomic data. Cell 152, 703–713 (2013)

Lamason, R. L. et al. SLC24A5, a putative cation exchanger, affects pigmentation in zebrafish and humans. Science 310, 1782–1786 (2005)

Norton, H. L. et al. Genetic evidence for the convergent evolution of light skin in Europeans and East Asians. Mol. Biol. Evol. 24, 710–722 (2007)

Sturm, R. A. & Duffy, D. L. Human pigmentation genes under environmental selection. Genome Biol. 13, 248 (2012)

Sturm, R. A. et al. A single SNP in an evolutionary conserved region within intron 86 of the HERC2 gene determines human blue-brown eye color. Am. J. Hum. Genet. 82, 424–431 (2008)

Walsh, S. et al. The HIrisPlex system for simultaneous prediction of hair and eye colour from DNA. Forensic Sci. Int. Genet. 7, 98–115 (2013)

Aoshi, T., Koyama, S., Kobiyama, K., Akira, S. & Ishii, K. J. Innate and adaptive immune responses to viral infection and vaccination. Curr. Opin. Virol. 1, 226–232 (2011)

Moresco, E. M. Y., LaVine, D. & Beutler, B. Toll-like receptors. Curr. Biol. 21, R488–R493 (2011)

Li, H. & Durbin, R. Fast and accurate short read alignment with Burrows–Wheeler transform. Bioinformatics 25, 1754–1760 (2009)

Huson, D. H., Mitra, S., Ruscheweyh, H.-J., Weber, N. & Schuster, S. C. Integrative analysis of environmental sequences using MEGAN4. Genome Res. 21, 1552–1560 (2011)

Jónsson, H., Ginolhac, A., Schubert, M., Johnson, P. L. F. & Orlando, L. mapDamage2.0: fast approximate Bayesian estimates of ancient DNA damage parameters. Bioinformatics 29, 1682–1684 (2013)

McKenna, A. et al. The Genome Analysis Toolkit: a MapReduce framework for analyzing next-generation DNA sequencing data. Genome Res. 20, 1297–1303 (2010)
Acknowledgements
The authors thank L. A. Grau Lobo (Museo de León) for access to the La Braña specimen, M. Rasmussen and H. Schroeder for valid input into the experimental work, and M. Raghavan for early access to Mal'ta genome data. Sequencing was performed at the Danish National High-Throughput DNA-Sequencing Centre, University of Copenhagen. The POPRES data were obtained from dbGaP (accession number 2038). The authors are grateful for financial support from the Danish National Research Foundation, ERC Starting Grant (260372) to TM-B, and (310372) to M.G.N., FEDER and Spanish Government Grants BFU2012-38236, the Spanish Multiple Sclerosis Netowrk (REEM) of the Instituto de Salud Carlos III (RD12/0032/0011) to A.N., BFU2011-28549 to T.M.-B., BFU2012-34157 to C.L.-F., ERC (Marie Curie Actions 300554) to M.E.A., NIH NRSA postdoctoral fellowship (F32GM106656) to C.W.K.C., NIH (R01-HG007089) to J.N., NSF postdoctoral fellowship (DBI-1103639) to M.D., the Australian NHMRC to R.A.S. and a predoctoral fellowship from the Basque Government (DEUI) to I.O.
Ethics declarations
Competing interests
The authors declare no competing financial interests.
Extended data figures and tables
Supplementary information
This file contains Supplementary Text, additional references and Supplementary Tables 1-26 (see Contents for more details). (PDF 3741 kb)
About this article
Cite this article
Olalde, I., Allentoft, M., Sánchez-Quinto, F. et al. Derived immune and ancestral pigmentation alleles in a 7,000-year-old Mesolithic European. Nature 507, 225–228 (2014). https://doi.org/10.1038/nature12960
Received:

Accepted:

Published:

Issue Date:

DOI: https://doi.org/10.1038/nature12960
Comments
By submitting a comment you agree to abide by our Terms and Community Guidelines. If you find something abusive or that does not comply with our terms or guidelines please flag it as inappropriate.