Abstract
RNA-directed DNA methylation in Arabidopsis thaliana depends on the upstream synthesis of 24-nucleotide small interfering RNAs (siRNAs) by RNA POLYMERASE IV (Pol IV)1,2 and downstream synthesis of non-coding transcripts by Pol V. Pol V transcripts are thought to interact with siRNAs which then recruit DOMAINS REARRANGED METHYLTRANSFERASE 2 (DRM2) to methylate DNA3,4,5,6,7. The SU(VAR)3-9 homologues SUVH2 and SUVH9 act in this downstream step but the mechanism of their action is unknown8,9. Here we show that genome-wide Pol V association with chromatin redundantly requires SUVH2 and SUVH9. Although SUVH2 and SUVH9 resemble histone methyltransferases, a crystal structure reveals that SUVH9 lacks a peptide-substrate binding cleft and lacks a properly formed S-adenosyl methionine (SAM)-binding pocket necessary for normal catalysis, consistent with a lack of methyltransferase activity for these proteins8. SUVH2 and SUVH9 both contain SRA (SET- and RING-ASSOCIATED) domains capable of binding methylated DNA8, suggesting that they function to recruit Pol V through DNA methylation. Consistent with this model, mutation of DNA METHYLTRANSFERASE 1 (MET1) causes loss of DNA methylation, a nearly complete loss of Pol V at its normal locations, and redistribution of Pol V to sites that become hypermethylated. Furthermore, tethering SUVH2 with a zinc finger to an unmethylated site is sufficient to recruit Pol V and establish DNA methylation and gene silencing. These results indicate that Pol V is recruited to DNA methylation through the methyl-DNA binding SUVH2 and SUVH9 proteins, and our mechanistic findings suggest a means for selectively targeting regions of plant genomes for epigenetic silencing.
This is a preview of subscription content
Access options
Subscribe to Journal
Get full journal access for 1 year
$199.00
only $3.90 per issue
All prices are NET prices.
VAT will be added later in the checkout.
Tax calculation will be finalised during checkout.
Buy article
Get time limited or full article access on ReadCube.
$32.00
All prices are NET prices.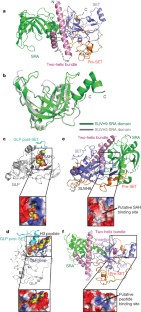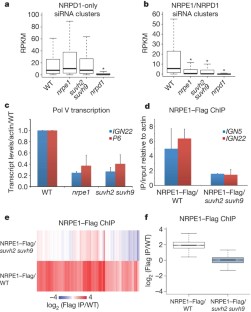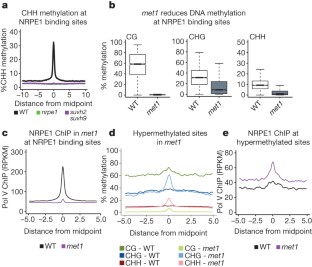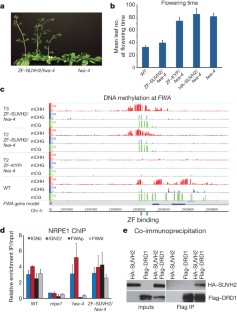 References
Pélissier, T. & Wassenegger, M. A DNA target of 30 bp is sufficient for RNA-directed DNA methylation. RNA 6, 55–65 (2000)

Aufsatz, W., Mette, M. F., van der Winden, J., Matzke, A. J. & Matzke, M. RNA-directed DNA methylation in Arabidopsis. Proc. Natl Acad. Sci. USA 99 (Suppl. 4). 16499–16506 (2002)

Law, J. A. & Jacobsen, S. E. Establishing, maintaining and modifying DNA methylation patterns in plants and animals. Nature Rev. Genet. 11, 204–220 (2010)

Pontier, D. et al. Reinforcement of silencing at transposons and highly repeated sequences requires the concerted action of two distinct RNA polymerases IV in Arabidopsis. Genes Dev. 19, 2030–2040 (2005)

Pikaard, C. S., Haag, J. R., Ream, T. & Wierzbicki, A. T. Roles of RNA polymerase IV in gene silencing. Trends Plant Sci. 13, 390–397 (2008)

Law, J. A. et al. A protein complex required for polymerase V transcripts and RNA-directed DNA methylation in Arabidopsis. Curr. Biol. 20, 951–956 (2010)

Wierzbicki, A. T., Ream, T. S., Haag, J. R. & Pikaard, C. S. RNA polymerase V transcription guides ARGONAUTE4 to chromatin. Nature Genet. 41, 630–634 (2009)

Johnson, L. M., Law, J. A., Khattar, A., Henderson, I. R. & Jacobsen, S. E. SRA-domain proteins required for DRM2-mediated de novo DNA methylation. PLoS Genet. 4, e1000280 (2008)

Kuhlmann, M. & Mette, M. F. Developmentally non-redundant SET domain proteins SUVH2 and SUVH9 are required for transcriptional gene silencing in Arabidopsis thaliana. Plant Mol. Biol. 79, 623–633 (2012)

Hashimoto, H. et al. The SRA domain of UHRF1 flips 5-methylcytosine out of the DNA helix. Nature 455, 826–829 (2008)

Avvakumov, G. V. et al. Structural basis for recognition of hemi-methylated DNA by the SRA domain of human UHRF1. Nature 455, 822–825 (2008)

Arita, K., Ariyoshi, M., Tochio, H., Nakamura, Y. & Shirakawa, M. Recognition of hemi-methylated DNA by the SRA protein UHRF1 by a base-flipping mechanism. Nature 455, 818–821 (2008)

Rajakumara, E. et al. A dual flip-out mechanism for 5mC recognition by the Arabidopsis SUVH5 SRA domain and its impact on DNA methylation and H3K9 dimethylation in vivo. Genes Dev. 25, 137–152 (2011)

Zhang, X. et al. Structure of the Neurospora SET domain protein DIM-5, a histone H3 lysine methyltransferase. Cell 111, 117–127 (2002)

Zhang, X. et al. Structural basis for the product specificity of histone lysine methyltransferases. Mol. Cell 12, 177–185 (2003)

Wu, H. et al. Structural biology of human H3K9 methyltransferases. PLoS ONE 5, e8570 (2010)

Mosher, R. A., Schwach, F., Studholme, D. & Baulcombe, D. C. PolIVb influences RNA-directed DNA methylation independently of its role in siRNA biogenesis. Proc. Natl Acad. Sci. USA 105, 3145–3150 (2008)

Zhong, X. et al. DDR complex facilitates global association of RNA polymerase V to promoters and evolutionarily young transposons. Nature Struct. Mol. Biol. 19, 870–875 (2012)

Wierzbicki, A. T., Haag, J. R. & Pikaard, C. S. Noncoding transcription by RNA polymerase Pol IVb/Pol V mediates transcriptional silencing of overlapping and adjacent genes. Cell 135, 635–648 (2008)

Aufsatz, W., Mette, M. F., Matzke, A. J. & Matzke, M. The role of MET1 in RNA-directed de novo and maintenance methylation of CG dinucleotides. Plant Mol. Biol. 54, 793–804 (2004)

Stroud, H., Greenberg, M. V., Feng, S., Bernatavichute, Y. V. & Jacobsen, S. E. Comprehensive analysis of silencing mutants reveals complex regulation of the Arabidopsis methylome. Cell 152, 352–364 (2013)

Lister, R. et al. Highly integrated single-base resolution maps of the epigenome in Arabidopsis. Cell 133, 523–536 (2008)

Soppe, W. J. et al. The late flowering phenotype of fwa mutants is caused by gain-of-function epigenetic alleles of a homeodomain gene. Mol. Cell 6, 791–802 (2000)

Kakutani, T. Genetic characterization of late-flowering traits induced by DNA hypomethylation mutation in Arabidopsis thaliana. Plant J. 12, 1447–1451 (1997)

Chan, S. W., Zhang, X., Bernatavichute, Y. V. & Jacobsen, S. E. Two-step recruitment of RNA-directed DNA methylation to tandem repeats. PLoS Biol. 4, e363 (2006)

Law, J. A. et al. Polymerase IV occupancy at RNA-directed DNA methylation sites requires SHH1. Nature 498, 385–389 (2013)

Zhang, H. et al. DTF1 is a core component of RNA-directed DNA methylation and may assist in the recruitment of Pol IV. Proc. Natl Acad. Sci. USA 110, 8290–8295 (2013)

Law, J. A., Vashisht, A. A., Wohlschlegel, J. A. & Jacobsen, S. E. SHH1, a homeodomain protein required for DNA methylation, as well as RDR2, RDM4, and chromatin remodeling factors, associate with RNA polymerase IV. PLoS Genet. 7, e1002195 (2011)

Tariq, M. et al. Erasure of CpG methylation in Arabidopsis alters patterns of histone H3 methylation in heterochromatin. Proc. Natl Acad. Sci. USA 100, 8823–8827 (2003)

El-Shami, M. et al. Reiterated WG/GW motifs form functionally and evolutionarily conserved ARGONAUTE-binding platforms in RNAi-related components. Genes Dev. 21, 2539–2544 (2007)

Bernatavichute, Y. V., Zhang, X., Cokus, S., Pellegrini, M. & Jacobsen, S. E. Genome-wide association of histone H3 lysine nine methylation with CHG DNA methylation in Arabidopsis thaliana. PLoS ONE 3, e3156 (2008)

Greenberg, M. V. et al. Interplay between active chromatin marks and RNA-directed DNA methylation in Arabidopsis thaliana. PLoS Genet. 9, e1003946 (2013)

Kinoshita, Y. et al. Control of FWA gene silencing in Arabidopsis thaliana by SINE-related direct repeats. Plant J. 49, 38–45 (2007)

Kolb, A. F. et al. Site-directed genome modification: nucleic acid and protein modules for targeted integration and gene correction. Trends Biotechnol. 23, 399–406 (2005)

Segal, D. J. et al. Evaluation of a modular strategy for the construction of novel polydactyl zinc finger DNA-binding proteins. Biochemistry 42, 2137–2148 (2003)

Otwinowski, Z. & Minor, W. Processing of X-ray diffraction data collected in oscillation mode. Methods Enzymol. 276, 307–326 (1997)

Adams, P. D. et al. PHENIX: a comprehensive Python-based system for macromolecular structure solution. Acta Crystallogr. D 66, 213–221 (2010)

Emsley, P., Lohkamp, B., Scott, W. G. & Cowtan, K. Features and development of Coot. Acta Crystallogr. D 66, 486–501 (2010)

Laskowski, R. A., Macarthur, M. W., Moss, D. S. & Thornton, J. M. PROCHECK: a program to check the stereochemical quality of protein structures. J. Appl. Cryst. 26, 283–291 (1993)

Larkin, M. A. et al. Clustal W and Clustal X version 2.0. Bioinformatics 23, 2947–2948 (2007)

Gouet, P., Courcelle, E., Stuart, D. I. & Metoz, F. ESPript: analysis of multiple sequence alignments in PostScript. Bioinformatics 15, 305–308 (1999)
Acknowledgements
We are grateful to W. Shi at the National Synchrotron Light Source (NSLS) at Brookhaven National Laboratory (BNL) for support in diffraction data collection. We thank C. Pikaard for the NRPE1 antibodies and M. Akhavan for technical assistance. High-throughput sequencing was performed in the UCLA BSCRC BioSequencing Core Facility. This work was supported by the Abby Rockefeller Mauze Trust and the Maloris and STARR foundations to D.J.P., and NIH grant GM60398 to S.E.J. C.J.H. is supported by the Damon Runyon post-doctoral fellowship, S.B. is supported by a post-doctoral fellowship of the Swiss National Science Foundation, S.F. is a Special Fellow of the Leukemia & Lymphoma Society, and X.Z. is supported by Ruth L. Kirschstein National Research Service grant F32GM096483-01. S.E.J. is an Investigator of the Howard Hughes Medical Institute.
Ethics declarations
Competing interests
The authors declare no competing financial interests.
Extended data figures and tables
Supplementary information
About this article
Cite this article
Johnson, L., Du, J., Hale, C. et al. SRA- and SET-domain-containing proteins link RNA polymerase V occupancy to DNA methylation. Nature 507, 124–128 (2014). https://doi.org/10.1038/nature12931
Received:

Accepted:

Published:

Issue Date:

DOI: https://doi.org/10.1038/nature12931
Comments
By submitting a comment you agree to abide by our Terms and Community Guidelines. If you find something abusive or that does not comply with our terms or guidelines please flag it as inappropriate.